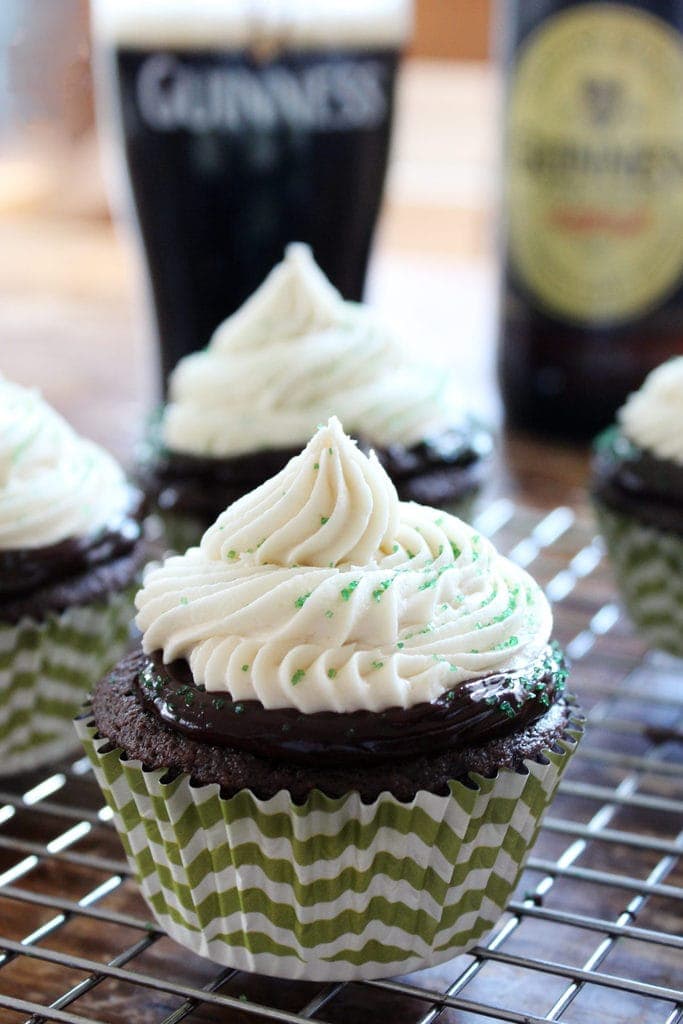 What a lovely day for a Guinness, wouldn't you say? Or perhaps Irish Car Bomb Cupcakes instead! Tomorrow is St. Patrick's Day and everyone has already begun celebrating.  It seems like people will take any excuse to drink, even in the form of a cupcake!
Of all the cocktail cupcakes I've made, these are probably the most alcoholic.  I mean, they are inspired by Irish Car Bombs.  Last year I made these bad boys and people loved them.  From the Guinness infused chocolate cake, and Jameson Whiskey ganache filling, to the creamy Bailey's frosting, these tasty little suckers are sure to pack a punch.  They are the best way to start off your St. Patrick's Day shenanigans.  Don't forget… Everyone is Irish on St. Patrick's Day. Enjoy!
Haley D. Williams
Yields 24
Irish Car Bomb Cupcakes
25 minPrep Time
15 minCook Time
40 minTotal Time
Ingredients
Stout Cupcakes

1 cup Guinness
2 sticks butter
1/2 cup cocoa powder
1/2 cup chocolate chips
2 cups flour
11/2 cups sugar
11/2 teaspoons baking soda
1/2 teaspoon baking powder
1 teaspoon salt
2 eggs
2/3 cup plain Greek yogurt

Whiskey Ganache

2 cups semi sweet chocolate chips
2/3 cup cream
2 tbsp butter or margarine
4 tsp Irish Whiskey (I used Jameson)

Baileys Buttercream Frosting

11/2 stick butter, softened
41/2 cups powdered sugar
6 tbsp Baileys Irish Cream Liqueur (or until desired consistency)
Instructions
Stout Cupcakes

Preheat oven to 350°F.  Line two muffin tins with cupcake liners and set aside.
In a pot or large saucepan, simmer the beer and butter on medium until butter is completely melted.
Add cocoa powder and chocolate chips and stir until your mixture is smooth.  Take off heat and set aside to cool.
In a bowl, whisk together, sugar, flour, baking soda, baking powder, and salt. Set aside.
In the bowl of a stand mixer, stir eggs and yogurt together until smooth.  Slowly add chocolate mixture.
Add flour mixture and stir until well combined.
Scoop batter into prepared cupcake tin.  Cups should be about 2/3 full.
Bake for 15 minutes.  Remove from oven when a toothpick inserted in the center comes out clean. Allow to cool on racks.

Whiskey Ganache

In a large sauce pan, melt chocolate chips, cream, and butter on medium-low. Stir until smooth. Add your whiskey, stir, then remove from heat and set aside to let mixture cool/thicken.
While your ganache is cooling, scoop a hole into the center of each cooled cupcake with a cupcake corer, apple corer, or spoon.*
Fill holes to the brim with thickened ganache.

Baileys Buttercream Frosting

In a bowl with a mixer, cream together butter, Baileys, and powdered sugar. Spoon frosting into a pastry bag and pipe it generously on top of each filled cupcake.  Pour yourself a Guinness and enjoy!
Notes
*Alternatively, you can just spoon some ganache on top of the cupcake and top with the frosting as I did, up to you!
7.6.4
39
https://www.ifyougiveablondeakitchen.com/2014/03/16/irish-car-bomb-cupcakes/
If You Give a Blonde a Kitchen
Guinness for the Cupcakes
Jameson for the Chocolate Ganache
Bailey's Irish Cream for the Buttercream Frosting
Double egg yolk?! Must be the luck of the Irish…
Voila! Irish Car Bomb Cupcakes