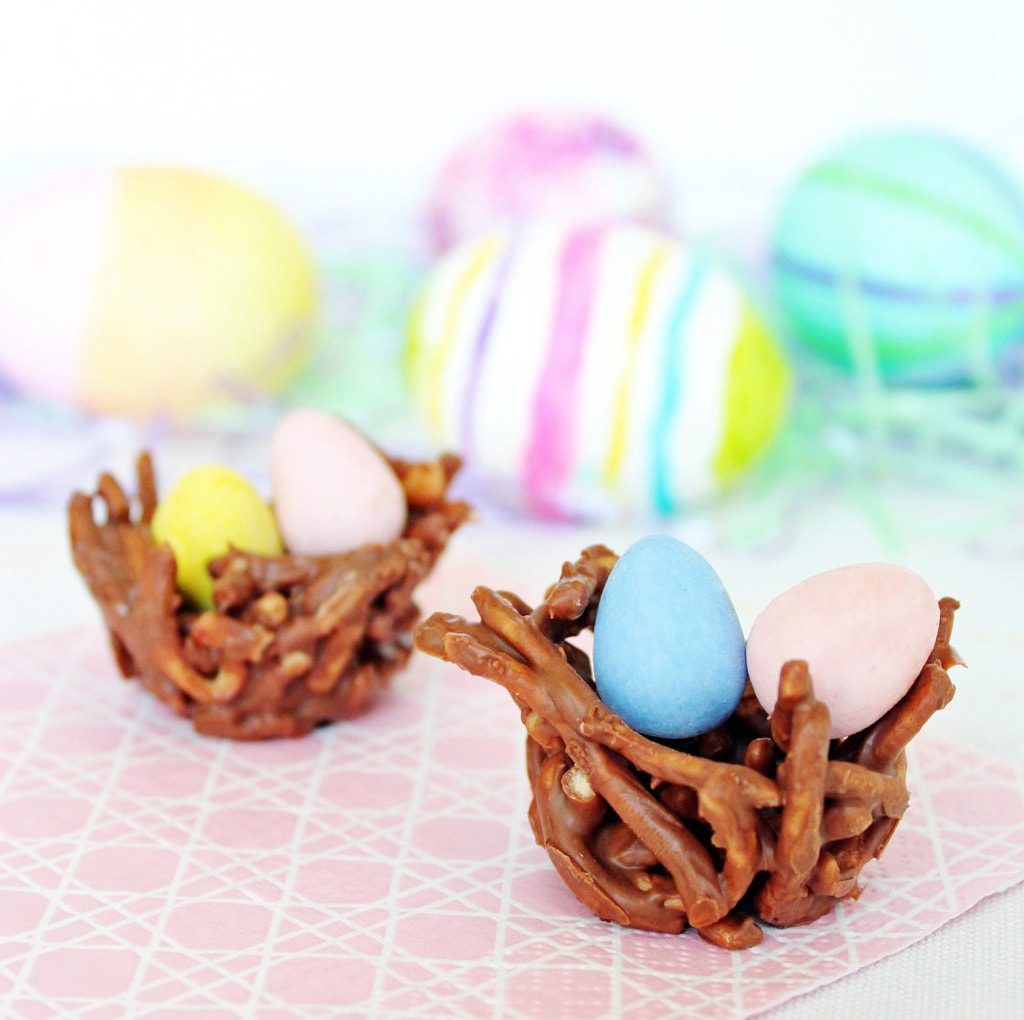 Happy Easter, everyone! Do you have your Easter dresses and baskets ready? I sure do as well as some no-bake chocolate Easter nests and a sugar-high to accompany them! (Hence the exclamation points)
I had quite the dilemma this weekend. The oven broke. And I was supposed to bake cupcakes for the Easter service on Sunday. You know the cupcakes… the ones with the green piped frosting that looks like grass? And cute mini chocolate eggs on top? Well, 86 that.
I scrambled (pun intended) to find some other Easter treat that was no-bake. Enter chow mein noodles. I know, weird right? But apparently this is what people use to make those darling chocolate nests with the eggs in them. And at this point, I was willing to try anything and it was another eggs-cuse for chocolate. (Sorry, I am full of the bad jokes today). So I gathered the few ingredients I needed and got to work.
Honestly, I am happy the oven broke. I baked those cupcakes the past two years and needed to try something different. The recipe took no time at all and was surprisingly delicious–perfect for the kiddos. A combination of chocolate and butterscotch chocolate chips coated the noodles, giving the nests a crunchy bite of salty-sweet goodness. The mini cadbury eggs were the perfect finishing touch. I mean, look at them, aren't they adorable?
Ingredients
12 oz. chow mein noodles
12 oz. semi-sweet chocolate chips
12 oz. butterscotch morsels*
1 bag mini cadbury eggs (or jelly beans!)
Instructions
Prepare a mini muffin tin (or regular size muffin tin for larger nests). Spray with non-stick cooking spray. Set aside.
Using a double boiler, melt together chocolate and butterscotch morsels, stirring often. See tips for melting chocolate.
Once melted, remove from heat and stir in chow mein noodles.
Spoon chocolate coated noodles into the muffin cups. Form the noodles into a nest shape. Place muffin tin in the freezer for 10 minutes to set.
Once set, remove from tin and place mini cadbury eggs (or jelly beans!) inside and serve.
Notes
*You can substitute the butterscotch morsels for peanut butter morsels or more chocolate chips. Also, other recipes call for corn flakes or pretzels in place of the chow mein. I personally think the chow mein gives it a more "natural" look for, you know, all those birds making nests out of chocolate.
7.6.4
41
https://www.ifyougiveablondeakitchen.com/2014/04/19/chocolate-easter-nests/
If You Give a Blonde a Kitchen