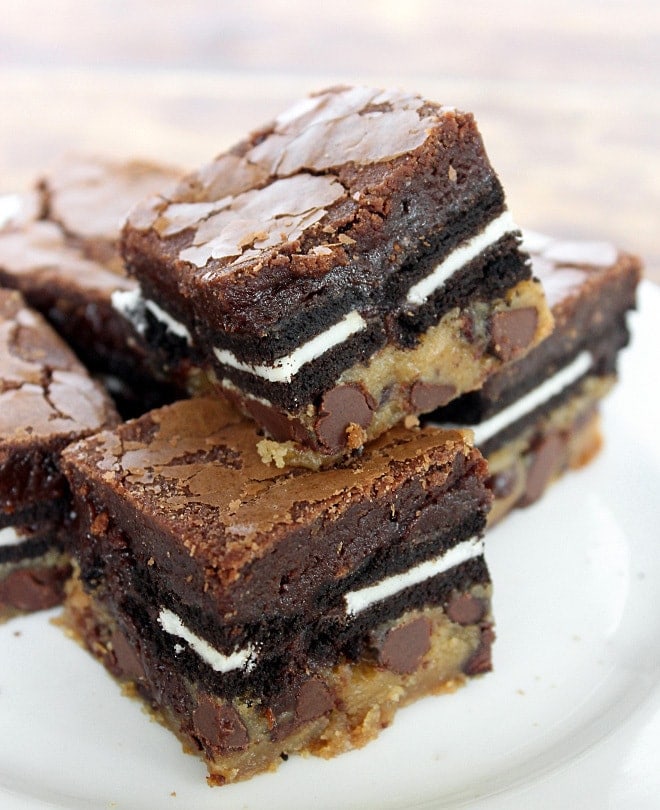 We've all got a sweet tooth, and we all know those times where we can't help but give in to its sugary cravings. Whether it's a delicious dessert, a mid-afternoon snack, or the late night craving, there's that voice in your head saying "treat yoself." My go-to is usually straight up chocolate, but sometimes that voice is a little more indecisive, and pretty much anything sounds appealing. Maybe a chocolate chip cookie? Brownie? Oreos?!
Cue the little girl from Old El Paso: Por que no los dos? Or in this case, los tres?
Recently I was called upon by my younger brother to send his first college care package. It seems he's missed being the official taste tester for my blog, and I think we can all agree that college gives you more than enough reasons to indulge your sweet tooth (study snacks, stress eating, midnight munchies… need I go on?). So, I decided to send him the ultimate baked good: chocolate chip cookie dough Oreo brownies. Now there's a mouthful (pun intended)! You may know these bars as "slutty brownies," but since I made both my brownie batter and cookie dough from scratch, I thought they had a little more class. Behold the High Class Hooker brownies (totally kidding, just call them cookie dough Oreo brownies).
My chocolate chip cookie recipe forms the base. Be sure not to make it too thick, as these babies will already be ooey gooey half-baked goodness. Then follows the Oreos (I used the regular kind), and finally a top layer of brownie batter. My recipe is kicked up a notch with just a hint of espresso, which gives the chocolate flavor of the brownies a big boost. As I mentioned, these cookie dough Oreo brownies are very dense, so be sure to give them the full time in the oven in order to bake through all three layers! But I won't judge if your sweet tooth decides you'd rather chow down on raw cookie dough.

Haley D. Williams
Yields 30
Cookie Dough Oreo Brownies
20 minPrep Time
40 minCook Time
1 hrTotal Time
Ingredients
Brownie Layer

5 oz. semisweet chocolate chips
6 tablespoons cold, unsalted butter, cut into cubes
2 1/4 tablespoons unsweetened cocoa powder
3/4 teaspoon instant espresso
2 large eggs
1 cup sugar
1 1/2 teaspoons vanilla extract
1/2 teaspoon salt
3/4 cup unbleached all-purpose flour

Cookie Dough Layer

7 tablespoons unsalted butter (at room temp)
3/4 cup brown sugar
2 tablespoons white sugar
1 egg
1 1/4 tsp vanilla extract
1 cup, plus 2 tablespoons unbleached all-purpose flour
1/2 tsp salt
1/2 tsp baking soda
1 cup semi-sweet chocolate chips
Instructions
Preheat oven to 350° F. Spray and 9×9 baking pan with nonstick cooking spray. Line with tin foil or parchment paper and spray again. Set aside.

Cookie Dough Layer

In a bowl, whisk together the flour, salt and baking soda. Set aside.
In the mixer fitted with a paddle attachment, cream together the butter and sugars until fluffy and light (I usually mix for 3 minutes).
Beat in the egg and vanilla, making sure to scrape down the sides of the mixing bowl.
Slowly mix in the flour mixture until combined.
Stir the chocolate chips. Set bowl aside (stick it in the fridge if you like).

Brownie Layer

In a double boiler or microwave, melt semisweet chocolate and butter, stirring often. (See tips for melting chocolate here ). Once melted, whisk in cocoa and instant espresso and let cool.
Meanwhile, fit your mixer with a whisk attachment. Whisk together eggs, sugar, vanilla, and salt, just until combined—about 30 seconds.
Whisk in the warm chocolate mixture. Then, stir in the flour with a rubber spatula. Set aside.

Assembly

Layer the cookie dough on the bottom of the prepared 9x9 baking pan, pressing down to form the bottom of the brownies.
Layer as many Oreos that will fit on top of the cookie dough. No need to overlap. (I think I managed 16).
Slowly pour the brownie batter on top of the Oreo layer and make sure it evenly layers on top.
Bake for 40 to 45 minutes. Test with a toothpick: if it comes out clean the center is done, if not, let the brownies cook 5 minutes more. Let the brownies cool before serving!
7.6.4
50
https://www.ifyougiveablondeakitchen.com/2014/11/23/triple-threat-brownies-aka-slutty-brownies/
If You Give a Blonde a Kitchen