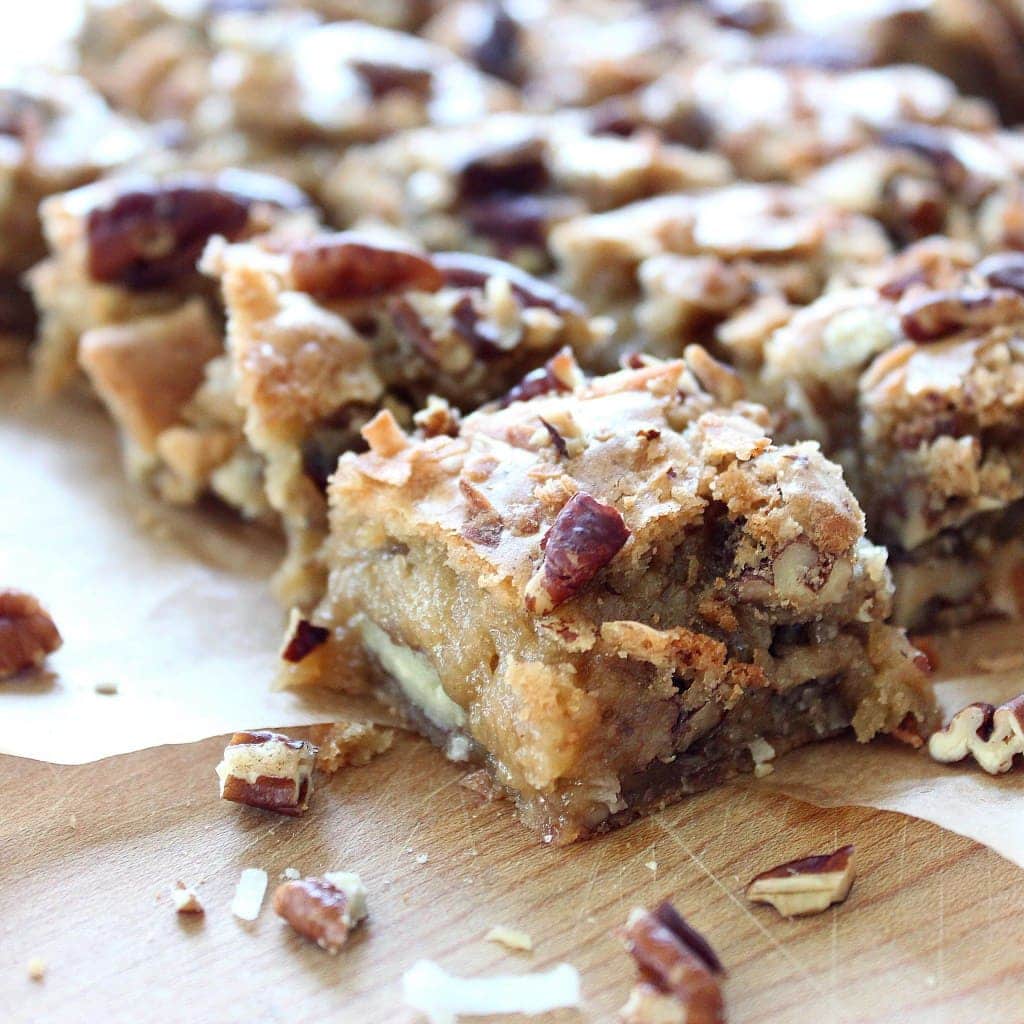 Congo Bars were not something I was introduced to as a kid. I had blondies, but was always more of a chocolate kind of gal (surprise, surprise). I have since grown to enjoy—no crave—sweet and savory treats. The other day I wanted to bake something along the line of blondies, but with a twist. Enter Congo Bars. 
I like to think of Congo Bars as Blondies' cool older brother (or maybe exotic cousin). Blondies on their own are yummy, buttery squares of goodness, but when you go and add toasted coconut and chopped pecans to the mix you begin thinking, "What Blondies?" Congo Bars are so much cooler.
At least that was my train of thought. Like I said, I'm a sucker for the sweet and savory so I was all for taking Blondies up a notch and trying out the Congo Bars. Eventually I'll make good ole fashioned blondies, but in the meantime this Congo Bar recipe is worth while.
Congo Bars
Ingredients
1 1/2

cups

unbleached

all-purpose flour

1

teaspoon

baking powder

1/2

teaspoon

salt

12

tablespoons

1 1/2 sticks unsalted butter, melted and cooled

1 1/2

cups

packed light brown sugar

2

large eggs

1 1/2

teaspoons

vanilla extract

1 1/2

cup

pecans

toasted and chopped coarse

1 1/2

cups

unsweetened

shredded coconut
Instructions
Adjust an oven rack to the middle position and heat the oven to 350 degrees. Toast the shredded coconut on a rimmed baking sheet, stirring 2 to 3 times, until light golden, 5 to 7 minutes. Transfer to a small bowl to cool.

Spray a 13x9-inch pan with nonstick cooking spray. Line the baking sheet with foil or parchment paper and spray the sheets with nonstick cooking spray. Set aside.

Whisk the flour, baking powder and salt together in a medium bowl. Set aside.

Whisk the melted butter and brown sugar together in a medium bowl until combined. Add the eggs and vanilla and mix well. Using a rubber spatula, fold the dry ingredients into the egg mixture until just combined. Do not overmix.

Fold in the pecans and toasted coconut and turn the batter into the prepared pan, smoothing the top with a rubber spatula.

Bake until the top is shiny and cracked and feels firm to the touch, 22 to 25 minutes. Cool completely on a wire rack. Remove the bars from the pan using the foil or parchment and transfer to a cutting board. Cut into 1 1/2 by 2-inch bars and serve.
Recipe from
Baking Illustrated