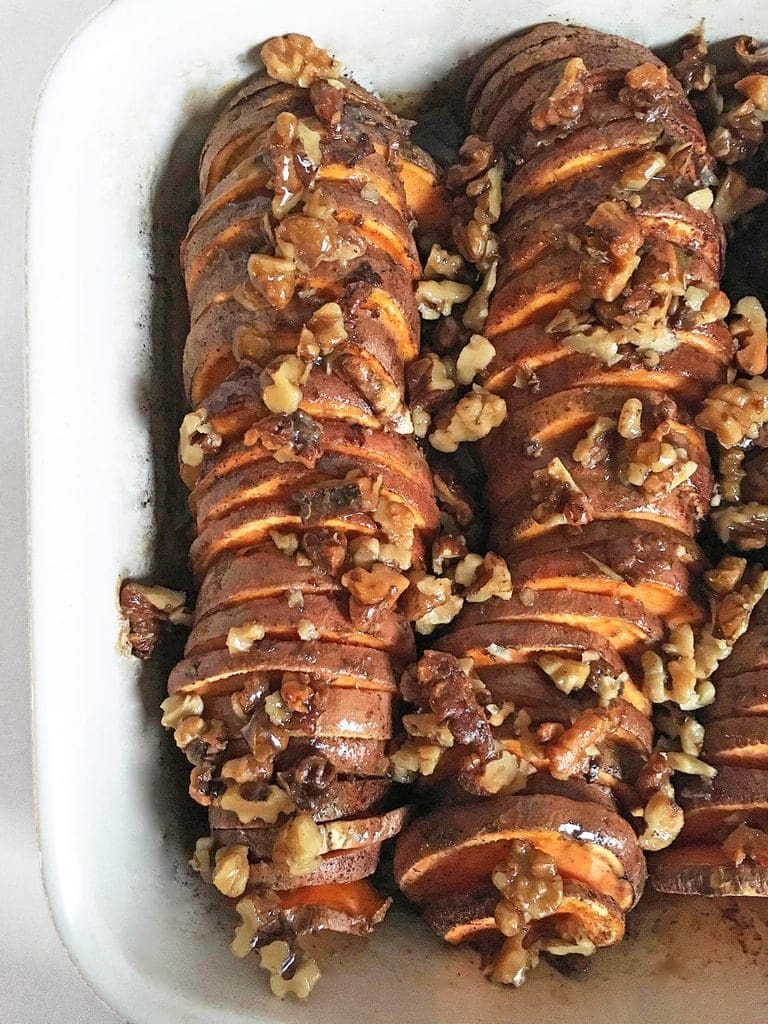 Favorite Thanksgiving food—GO! Okay… that's not fair. Each food has a special place in my heart, but one of my favorites is the sweet potato dish. Yes, that's my sweet tooth talking again and this time it's calling for bourbon sweet potatoes.
Usually I take the reins when it comes to dessert and bake a pecan pie or something, but this year I wanted to try my hand at a side dish. Sweet potatoes it is. To differentiate its consistency from the mashed potatoes, I opted for a gratin-like style of potatoes, sliced into half-inch thick disks. Keeping the skins on also gave the potato slices a crispy edge, but if you aren'y a fan of the skins, it is perfectly acceptable to peel them off.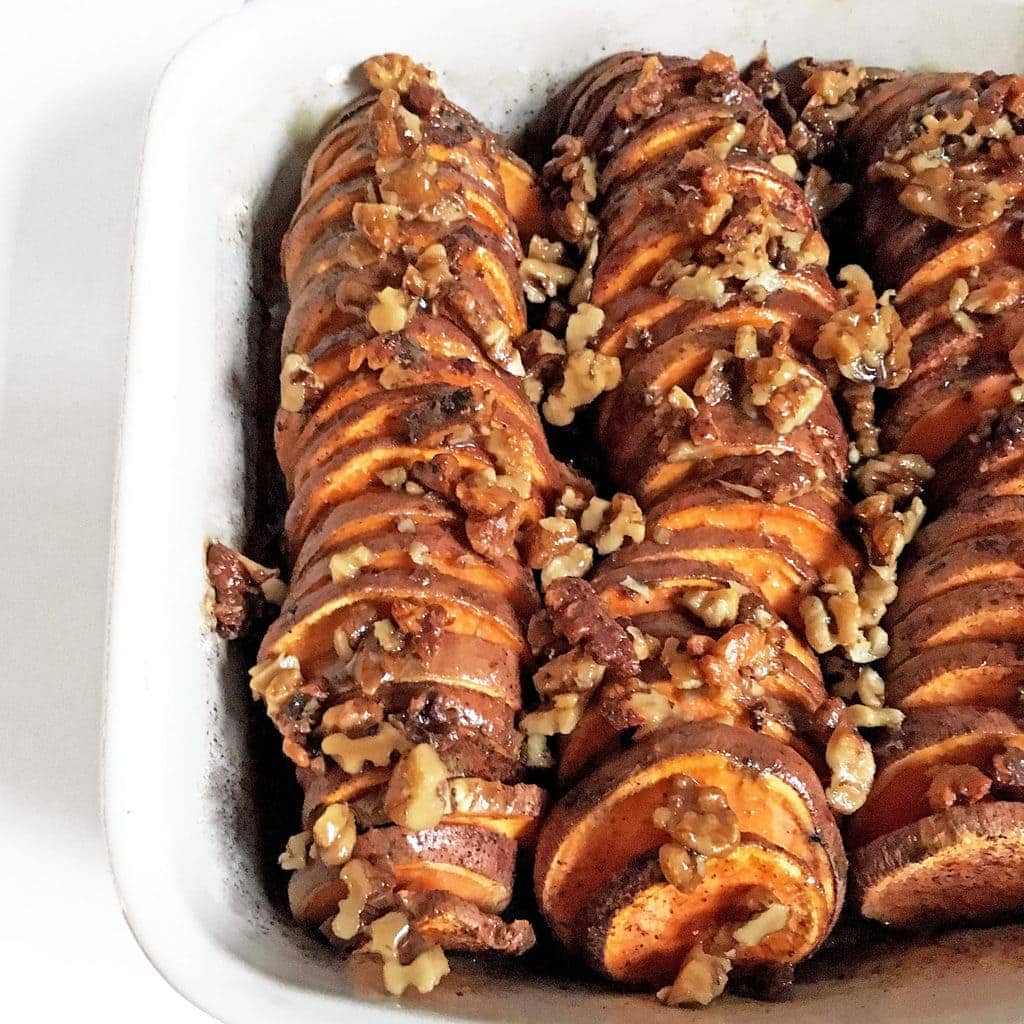 Let's be honest though, the star of this dish is the glaze: Spiced maple bourbon brown sugar butter glaze with chopped walnuts (it wouldn't fit into the title, so here it is now). Yes, it sound like a little much. Yes, it is as good as it sounds. And yes, bourbon sweet potatoes may or may not add to your Thanksgiving buzz you got started during cocktail hour.
The beauty of the recipe is that you have control over that glaze. Half the portion goes on before cooking and the other half goes on halfway through. So you have time to decide how sweet and savory you want this dish to be. Maybe you skip the second glaze altogether and let the sweet potatoes sing or perhaps you drown them in maple bourbon glaze. Either way you really cannot go wrong with these bourbon sweet potatoes.

Haley D. Williams
Yields 6
Bourbon Maple Sweet Potatoes
10 minPrep Time
1 hr, 20 Cook Time
1 hr, 30 Total Time
Ingredients
3 pounds sweet potatoes (about 6 medium-sized sweet potatoes)
1/2 cup bourbon
1/2 cup maple syrup
1/4 cup brown sugar
4 tablespoons butter, melted
1 1/2 teaspoons cinnamon
1 teaspoon nutmeg
1/4 teaspoon all spice (optional)
1 teaspoon cornstarch
1/2 cup chopped walnuts (optional)
Instructions
Preheat oven to 350° F. Spray a 9x9 baking dish with some nonstick cooking spray. Set aside.
In a small bowl stir together the bourbon, maple syrup, brown sugar, butter, cinnamon, nutmeg and all spice. Gradually add corn starch and stir until the mixture reaches a sauce-like consistency. Set aside.
Rinse and scrub sweet potatoes. Cut the ends off and cut the rest of the potatoes into slices about a 1/4-inch to 1/2-inch thick. Place the sliced sweet potatoes into a large bowl and toss with half of the bourbon-maple mixture. Line up the slices in the prepared baking dish. If there is any glaze left in the bowl, pour it over the potatoes in the baking dish. Place dish in the oven to bake for 1 hour to 1 hour and 20 minutes.
While the potatoes are cooking, take the other half of the maple-bourbon mixture and stir in the chopped walnuts. If you feel the glaze is too thick, add a tablespoon more syrup (or bourbon if you're feeling adventurous). After 45 minutes of baking time has passed, pour the walnut glaze on top of the sweet potatoes and place the dish back into the oven to resume baking. The sweet potatoes are finished when they are tender when pierced with a fork.
Notes
This side dish can be made up to 6 hours in advance. Let it stand at room temperature and rewarm before serving.
7.6.4
77
https://www.ifyougiveablondeakitchen.com/2015/11/24/bourbon-maple-sweet-potatoes/
If You Give a Blonde a Kitchen