A good pie is nothing without an equally good crust. Buttery, flakey and sturdy are the three objectives here. All are easy to achieve with the right ingredients and proper steps. Today, I've shared my homemade pie crust recipe.
When I first started baking I used the pre-made pie crusts just out of pure convenience, but I quickly realized that while my pie filling met my taste standards, the crust did not. I attempted a homemade pie crust several times before I finally found my ideal crust.
The ingredients are simple: flour, sugar, salt, shortening, butter and water. The balance of shortening and butter is probably the most vital part of this recipe. Too much butter and the crust becomes greasy. Too much shortening and, well, you lose the buttery taste. I opt for both because they lend flavor and texture respectively. Butter brings its unparalleled taste to the table while shortening's high melting point creates the flakey texture.
As for flour, unbleached all-purpose is the way to go. It has high-protein content, which provides structure for the crust—and all the goodness it is going to hold! I also like to add a tablespoon (or two) of sugar as it adds a little extra flavor and creates that golden color.
A few tips before you start to make your homemade pie crust… Make sure the butter and shortening are really cold. In fact, put all your ingredients and the bowl in the fridge for 30 minutes before starting if you want to be really professional. You want to keep the dough as cool as possible because warmth furthers the development of gluten, which results in a tough dough that is difficult to roll out. So handle the dough with your hands as little as possible. Also, use just enough water so the crust holds together and keep the crust in the fridge until your filling is prepared and the oven is preheated.

Homemade Pie Crust
Prep Time
1
hour
10
minutes
Total Time
1
hour
10
minutes
Ingredients
2 1/2

cups

unbleached all-purpose flour

plus extra for dusting work surface

1

teaspoon

salt

2

tablespoons

granulated sugar

3/4

cup

vegetable shortening

chilled

8

tablespoons

1 stick cold unsalted butter, cut into 1/4-inch cubes

6 to 8

tablespoons

ice water
Instructions
In a large bowl, whisk together flour, salt and sugar. Add the chilled shortening and using a pastry cutter, or two forks, cut the shortening into the flour mixture until it resembles coarse sand. Next, add the cold butter cubes and use the pastry blender, or two forks, to cut the butter into the mixture until it resembles coarse crumbs, with bits about the size of small peas. If there are a few larger bits, no worries, that bite of pie will be extra good.

Sprinkle the ice-cold water, one tablespoon at a time, into the bowl. With a rubber spatula, use a folding motion to mix. Once large clumps start to form, do not add any more water. I typically use about 6 or 7 tablespoons.

With your hands, form the dough into a large ball and transfer to a lightly floured work surface. Divide the dough into two equally-sized disks. Wrap tightly in plastic wrap and refrigerate for at least 1 hour, or up to 2 days, before rolling.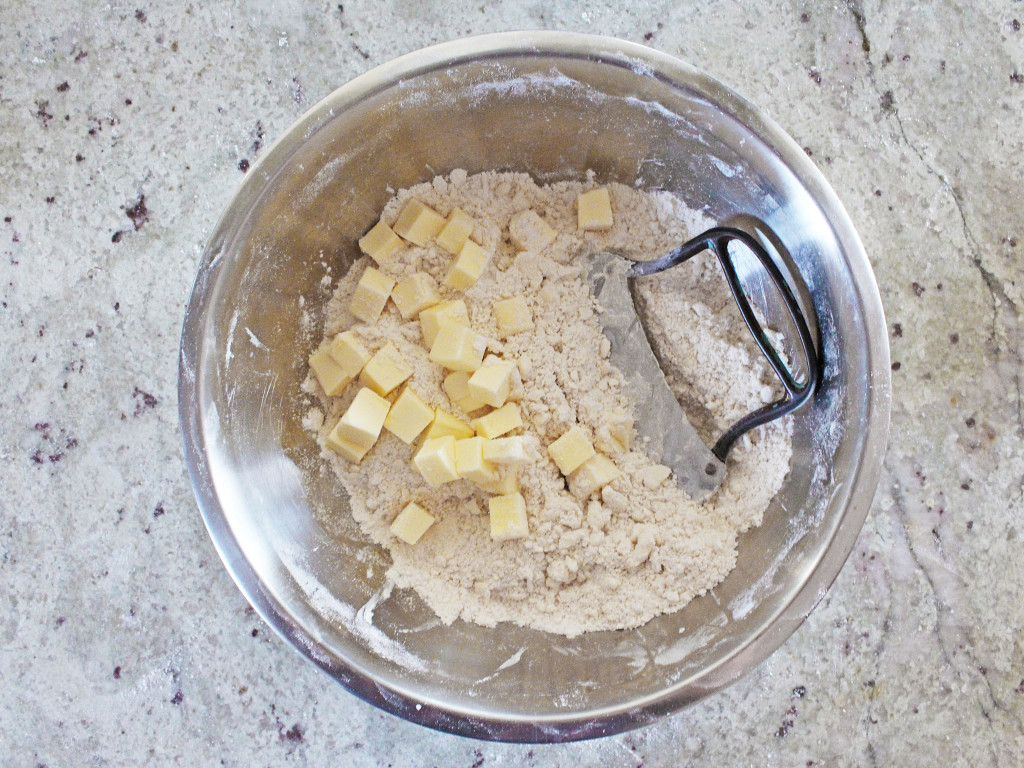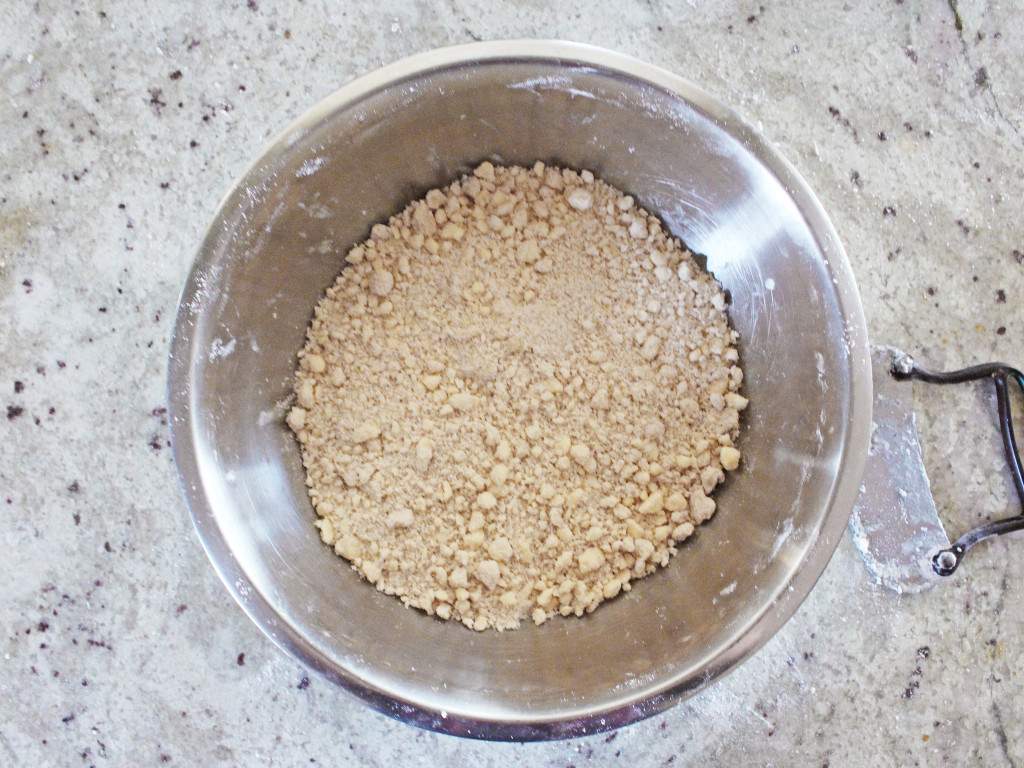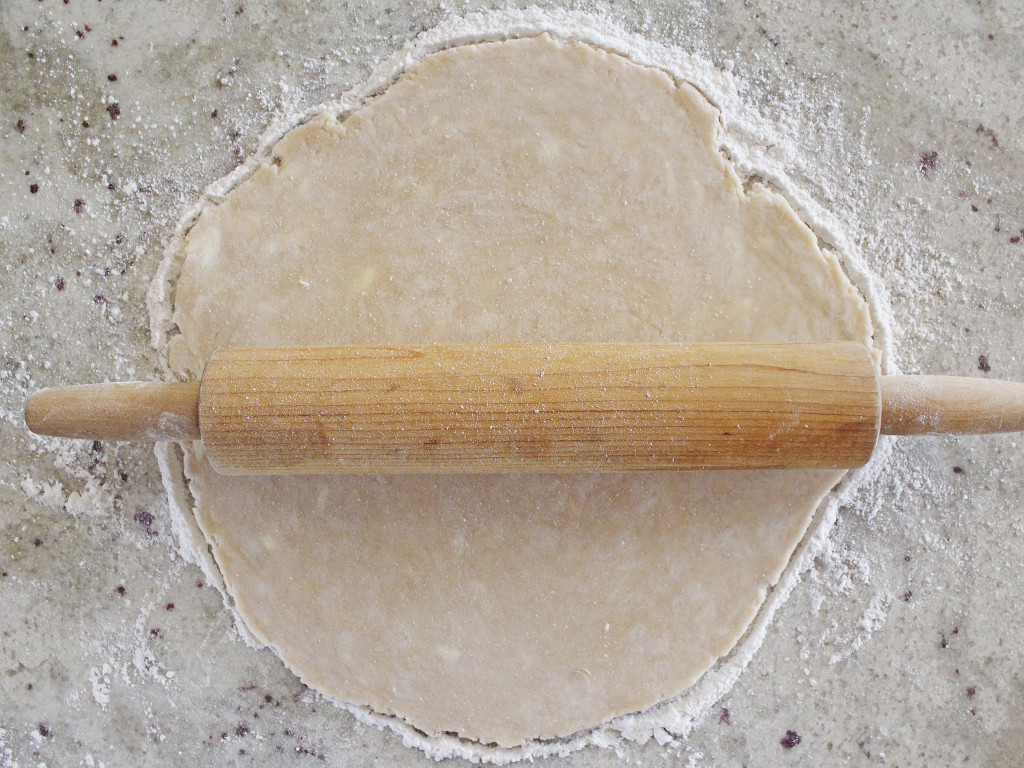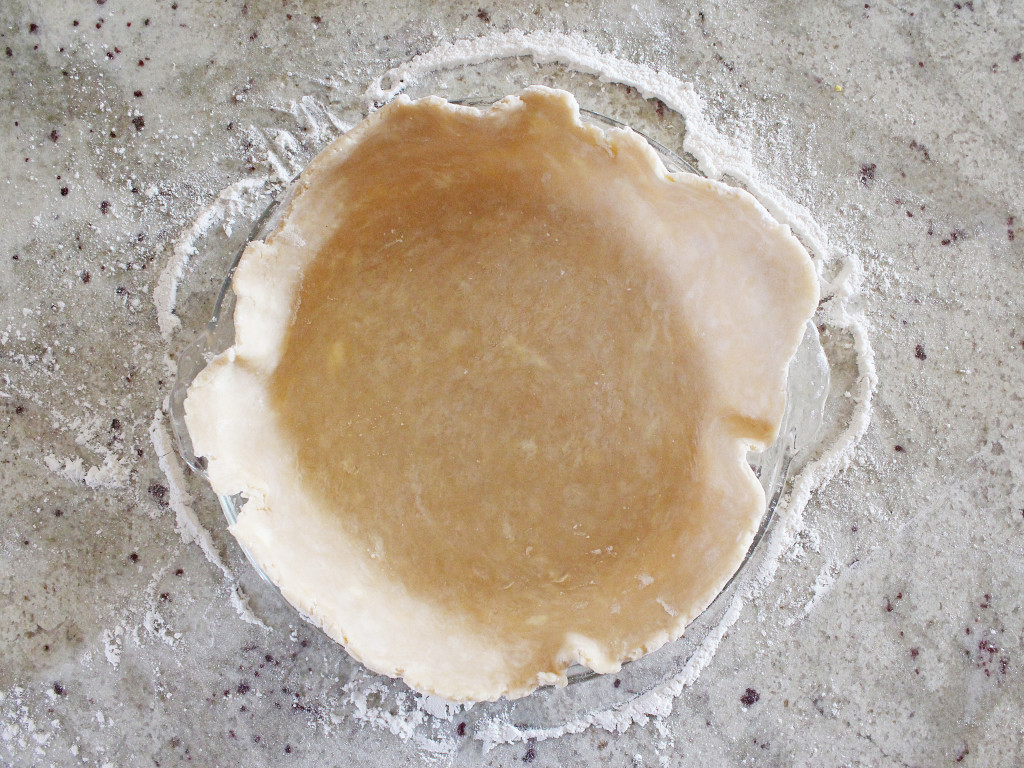 References: Martha Stewart and Baking Illustrated.