New year means new recipes! My homemade toasted coconut almond granola is the first recipe on the blog for 2016. Made with shredded coconut, slivered almonds, sunflower seeds and brown sugar, this granola is just the right amount of sweet with plenty of flavor.
Toasting is one of my favorite methods to make flavors really sing. You can toast ingredients on the stovetop, in the oven or even in the microwave. Now since my granola is already made in the oven, the shreds of coconut and slivered almonds are going to get nice and toasted on their own and share their tender aromas with the oats and sunflower seeds.
For sweetness I included dark brown sugar, which adds a hint of molasses flavor, and real vanilla extract. The extract gets mixed with the water and oil so it distributes evenly throughout the dry ingredients. Yep, that means every bit of granola receives a taste of vanilla, which I find melds well with toasted almond and coconut.
The beauty of this recipe is that it achieves a borderline sweetness that can be enjoyable on its own without the guilt or paired nicely with your morning yogurt. If you're one of those people who can't seem to stomach plain, nonfat yogurt—I'll be the first to admit that it's not all that great without at least some fruit—than I suggest sprinkling tablespoon or two of this toasted coconut almond granola on top. It will do the trick without breaking the calorie bank!
Haley D. Williams
Toasted Coconut Almond Granola
5 minPrep Time
25 minCook Time
30 minTotal Time
Ingredients
3 cups rolled oats
1 1/4 cup sweetened shredded coconut
1/4 cup dark brown sugar
1/2 cup slivered almonds
1/4 cup sunflower seeds
1/4 cup water
1/4 cup oil
1 tablespoon vanilla
Instructions
Preheat oven to 325° F. Line a cookie sheet with parchment paper and set aside.
In a large bowl, whisk together dry ingredients: oats, coconut, brown sugar, almonds and sunflower seeds. In a separate, smaller bowl, whisk together wet ingredients: water, oil and vanilla. Pour the wet ingredients over the dry ingredients and mix with a wooden spoon until combined.
Evenly spread the granola over the baking sheet.* Bake for 15 minutes, stir the granola so it toasts evenly, then bake for another 10 minutes. Remove granola from the oven and allow to cool to room temp on the baking sheet. Store in an airtight container at room temperature.
Notes
*If your baking sheets are on the smaller side or you feel the sheet is too crowded, bake the granola in two batches. This will allow the granola to get toasted evenly.
7.6.4
85
https://www.ifyougiveablondeakitchen.com/2016/01/01/toasted-coconut-almond-granola/
If You Give a Blonde a Kitchen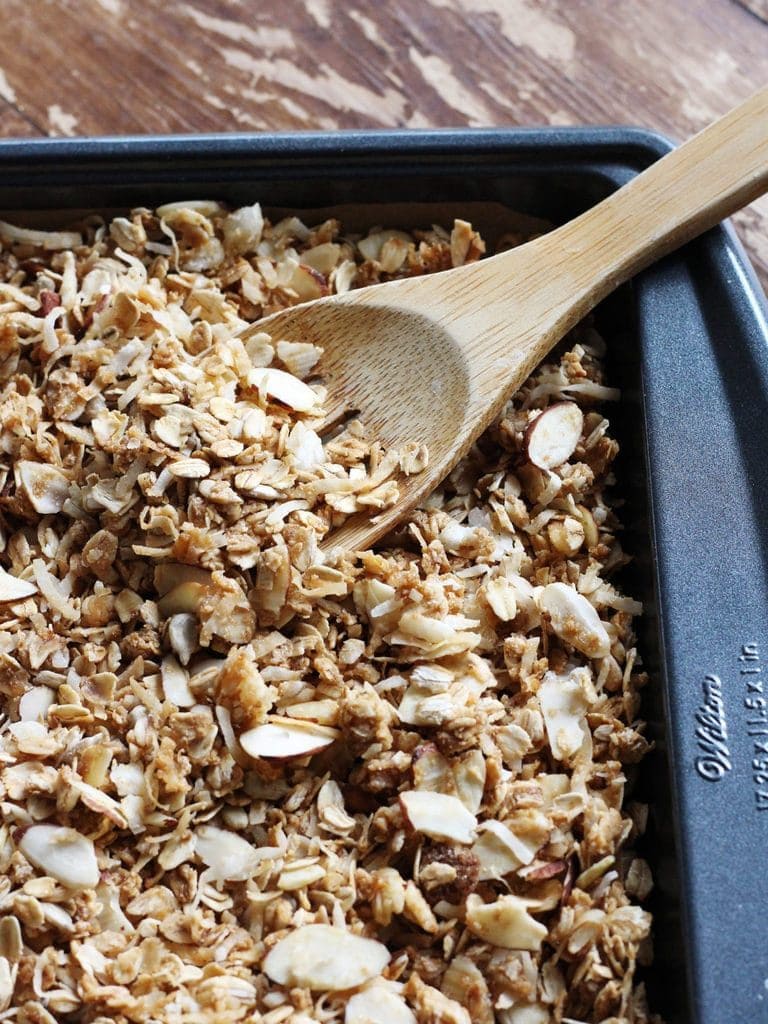 This recipe is inspired by granola served at the Sconset Market in Nantucket, Massachusetts.