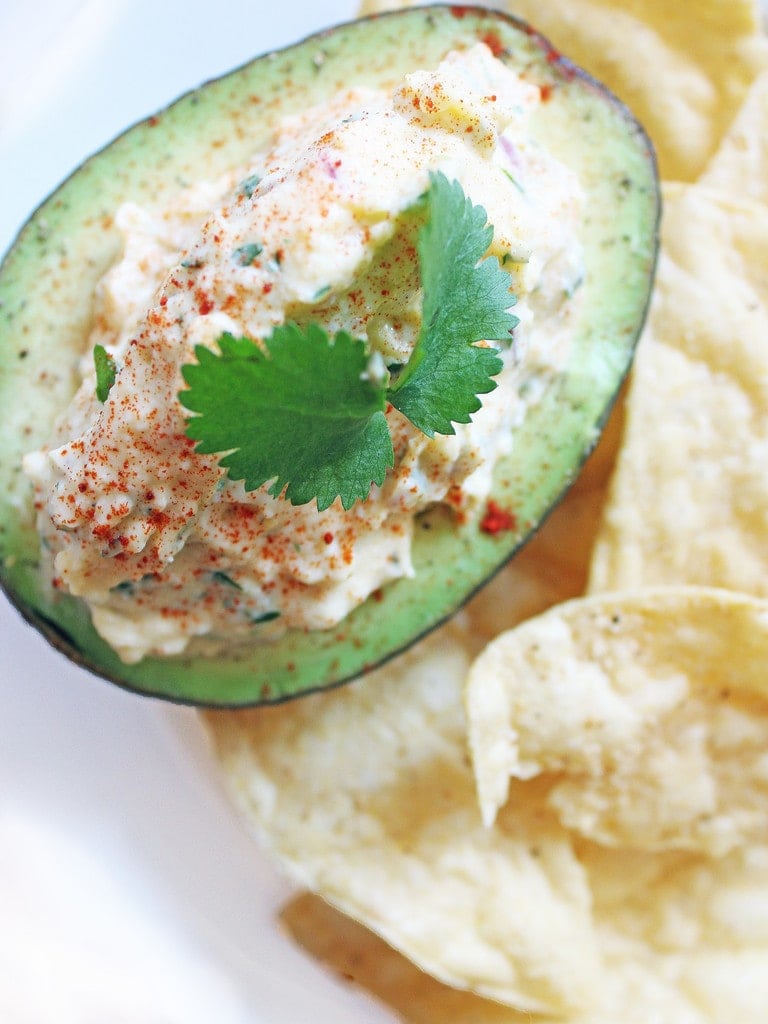 Avocado deviled eggs are quiet simple, yet delightfully delicious. To put it simply, the recipe is a cross between a deviled egg and guacamole. It is half an avocado filled with a deviled egg mixture with a Mexican twist.
I was first introduced to the deviled avocado during my trip to Tulum. To those of you who follow me on Instagram, I applaud you. It must have been difficult (or perhaps a breath of fresh air) to see your feed become cluttered with stunning shots of the shore with my occasional selfie. Thank you for sticking through that so I could share my foodie finds from the solo vacation. (See my Foodie's Travel Guide to Tulum here).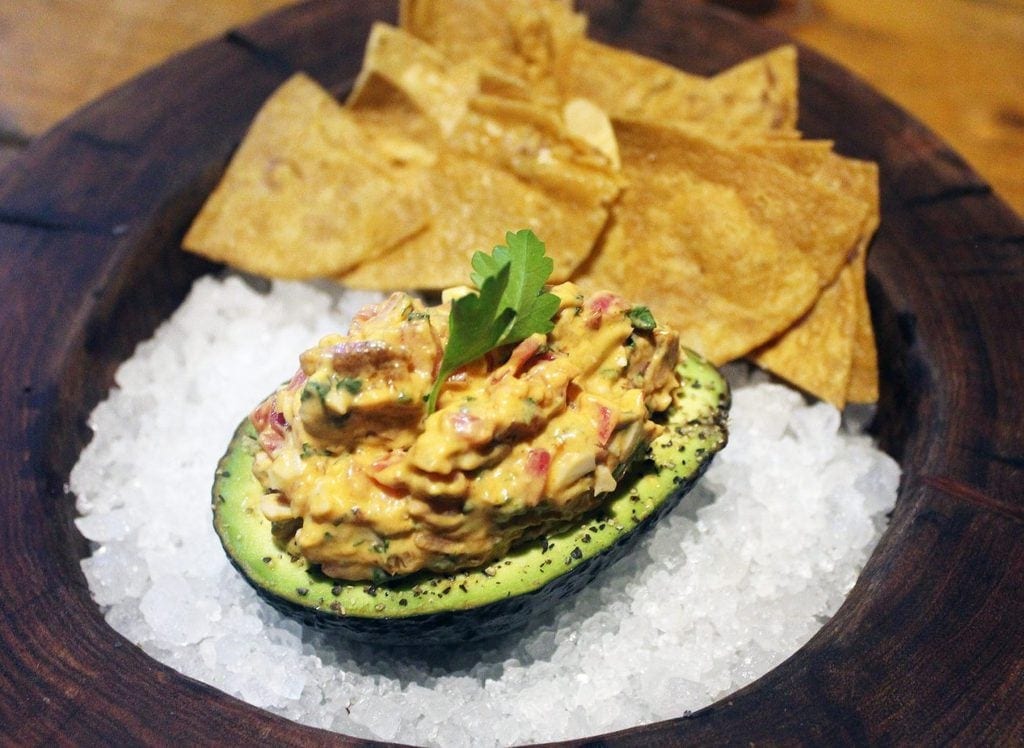 Deviled Avocado served at The Kitchen Table in Tulum, Mexico
My last night in Tulum, I went to The Kitchen Table for dinner. This deviled avocado intrigued me so I didn't hesitate to order it right off the bat. I assumed it would be an avocado deviled eggs mixture, but it arrived in a more beautiful presentation than I imagined. Served in a deep, heavy wooden plate with a hefty portion of chips on the side, the avocado half was generously filled with a creamy aioli egg mixture seasoned with chipotle and cilantro. The aioli gave the filling a buttery taste while the chopped red onions and chipotle made me think of guacamole.
Becoming more and more in love with this dish with every bite, I asked the waiter if the chef would mind sharing how she made her avocado deviled eggs. To my delight she did! And I'm happy to share it with you today. The Mexican deviled avocado is a step up from both a deviled egg and guacamole, but does not require any more time or effort to make.

Ingredients
1 avocado, cut in half with the seed removed
1/3 cup mayonnaise
2 teaspoons minced garlic
2 teaspoons lime juice
2 hardboiled eggs
3 tablespoons chopped red onion
1 tablespoon chopped cilantro
1-2 teaspoons chipotle powder (to taste)
1/4 teaspoon salt
Freshly ground pepper
Instructions
In a bowl, mix together the mayonnaise, garlic and lime juice. Set aside.
In a separate bowl, mash the hardboiled eggs using a fork until the eggs reach a fine crumble. Add the mayonnaise and stir until combined. Add the red onion, cilantro, chipotle powder, salt and pepper. Stir until the ingredients are incorporated.
Spoon half the mixture into one avocado half. Sprinkle with chipotle powder and garnish with cilantro. Repeat for the other half. Serve with tortilla chips.
Notes
Lemon juice can be substituted for the lime juice. Smoked paprika can be substituted for the chipotle powder.
7.6.4
96
https://www.ifyougiveablondeakitchen.com/2016/03/06/mexican-deviled-avocado/
If You Give a Blonde a Kitchen