The June smoothie bowl is here people and don't be fooled by its green color. This fruit green smoothie bowl is delicious. Made with vegetables and fruit, the green smoothie bowl will give you all the nutrients you need to get your day started!
I normally do not do the whole liquid green meal thing for one reason: 95% of the time those green smoothies taste like a garden, and not in a good way. If I'm going to drink my calories I want it to taste good and I don't see why a green smoothie can't taste good and be good for you. Hence why I made a fruity green smoothie bowl.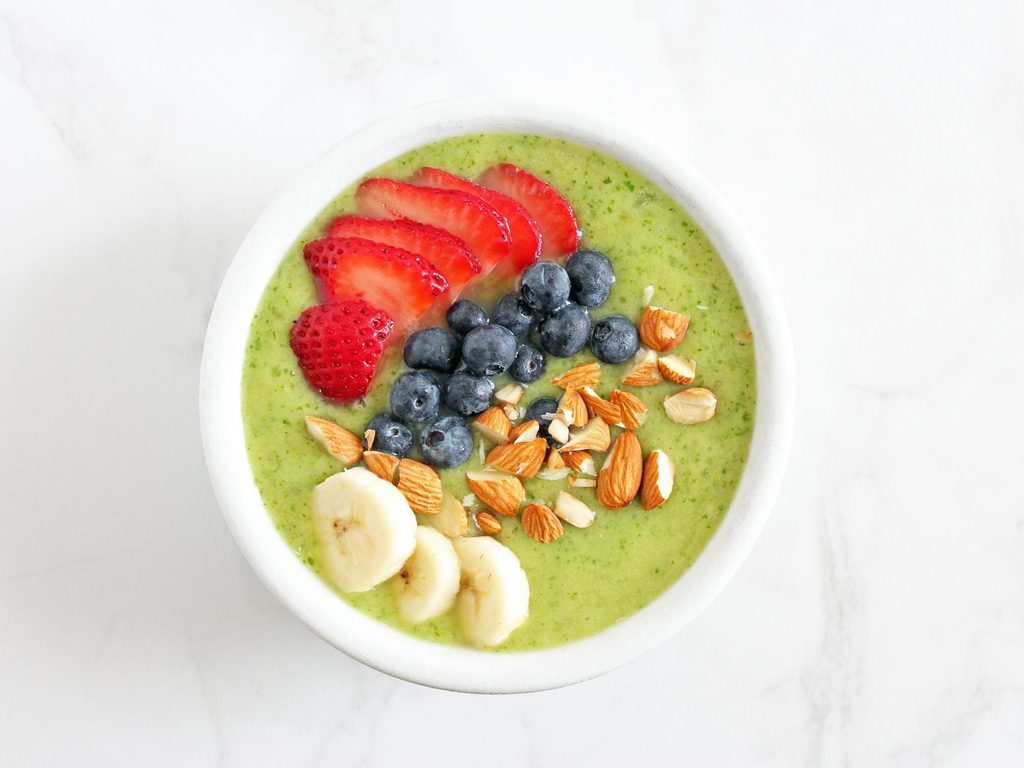 This smoothie bowl is packed with all the nutrients to get your day started. To get that nice green color I used two cups of baby kale, half an avocado and a whole kiwi. To get rid of that garden flavor I added a whole banana, pineapple chunks and pineapple flavored coconut water.
Now I can happily eat a green smoothie bowl and feel completely satisfied with myself. I have healthy fats from the avocado, plenty of fiber courtesy of the kale and a kick of potassium thanks to the banana (not to mention plenty of other vitamins from the other fruits!). Nothing beats a super healthy breakfast that tastes good too!
Ingredients
1-2 cups baby kale (I usually use two)
1 frozen banana (peel, slice, and freeze)
1/2 cup frozen pineapple
1 kiwi, peeled and sliced
Half an avocado, sliced
1/2 cup pineapple flavored coconut water
Assorted toppings: fruit, oats, seeds, nuts, etc
Instructions
Use a strong, powerful blender that will easily blend up the frozen fruit. I use this Ninja .
Add all of the ingredients to the blender in the order listed. Blend on high for at least 2 minutes or until smooth. Scrape down the sides of the blender as needed.
Pour into a bowl and add toppings. Store any leftover smoothie covered in the refrigerator for 8-10 hours.
Notes
Nutrition does not account for additional toppings.
7.6.4
119
https://www.ifyougiveablondeakitchen.com/2016/06/02/fruity-green-smoothie-bowl/
If You Give a Blonde a Kitchen