These peanut butter graham cracker brownies spawn from my fudgy, chewy brownie recipe and my love for peanut butter-covered graham crackers. They are the peanut butter chocolate lover's dream!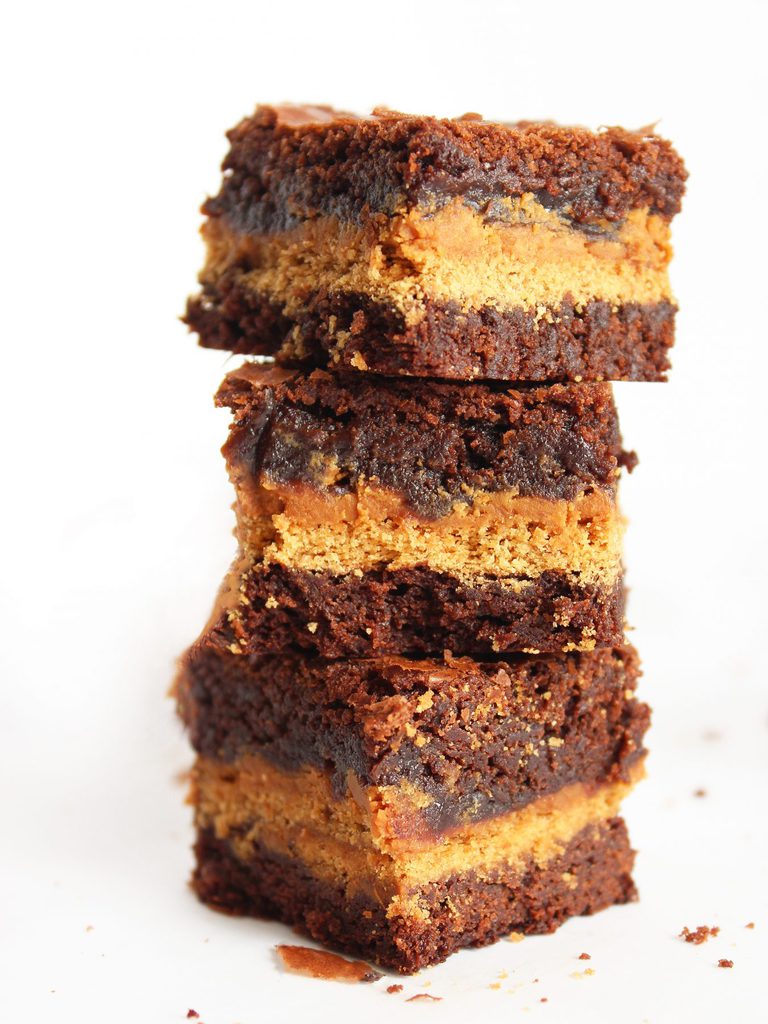 How do you make brownies better than they already are? Layer whatever you want in the middle. For this recipe, I covered graham crackers with peanut butter and placed them in the center of some chocolatey brownie batter resulting in peanut butter graham cracker brownies.
A quick spiel on brownies. I go for rich, fudgy, chewy brownies—none of that cakey business. Okay moving on.
Look at these marvelous, bites of brownie goodness! The love child of peanut butter chocolate lovers and graham cracker fanatics if you will. I really didn't think it could get better than slutty brownies, but these come pretty darn close.
Crunchy graham crackers coated with creamy peanut butter is already a satisfying snack on its own, but I'm not doing snacks on If You Give a Blonde a Kitchen today.
I'm doing a wondrous decadent dessert. So that peanut butter-coated graham cracker is going inside a brownie.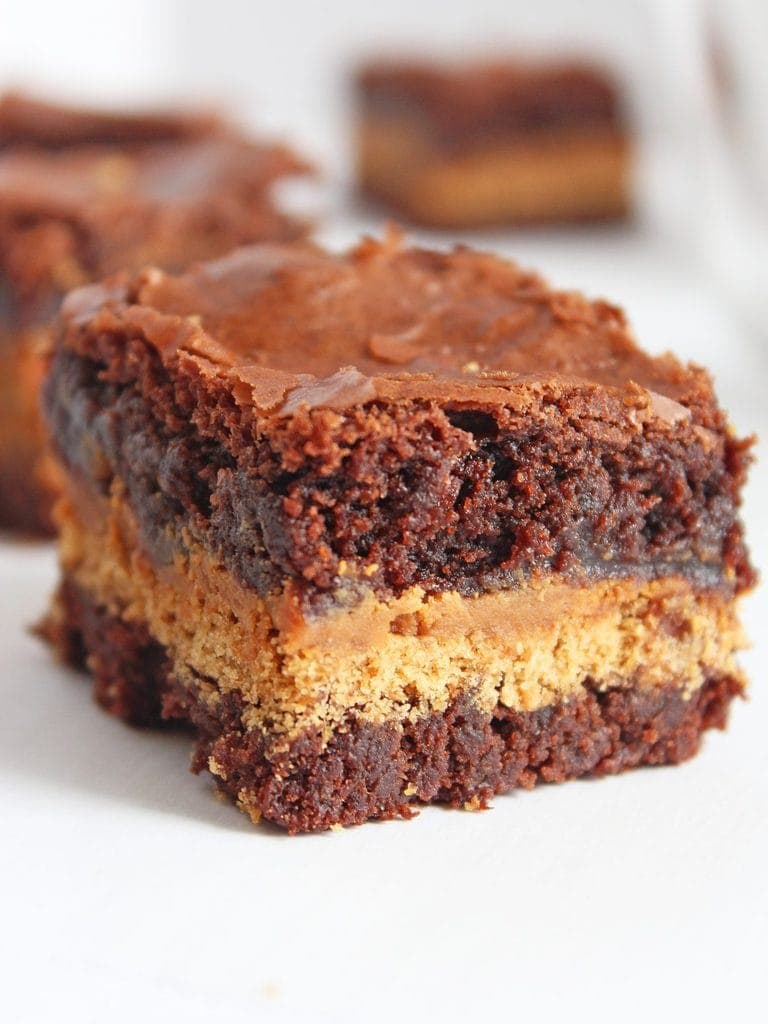 These peanut butter graham cracker brownies are SO easy to make. Prepare my go-to chewy, fudgy brownie recipe (or a box brownie mix if you're in a hurry) and pour half of it into a prepared pan.
Take some graham cracker squares and give them a generous smear of creamy peanut butter. Layer them on top of the brownie batter and then pour the remaining batter on top. Gently spread evenly and bake for 40 to 50 minutes at 350° F. Easy peasy!
Below is a quick video of adding the layer of peanut butter graham crackers on top of the brownie mix.
How easy (and delicious) does that look? To be honest, I could have just dipped the peanut butter graham crackers into the brownie batter and called it a day.
BUT ooey gooey peanut butter graham cracker brownies are well worth the bake wait. Give the recipe a try and enjoy!
Haley D. Williams
Yields 25
Peanut Butter Graham Cracker Brownies
10 minPrep Time
40 minCook Time
50 minTotal Time
Ingredients
1 fudgy brownie recipe ( here )
9 graham cracker squares
1/2 cup peanut butter
Instructions
Preheat oven to 350° F. Spray a 9-inch square baking pan with nonstick cooking spray. Set aside.
Prepare brownie batter according to instructions ( here ).
Pour half the brownie batter into the prepared dish. Using a spatula, spread the batter evenly across the bottom of the dish. Next, spread peanut butter onto graham cracker squares and place onto the brownie batter in the dish. Nine squares should fit into the pan. Pour remaining brownie batter on top of the graham crackers with peanut butter. Using the spatula, gently spread the brownie batter evenly.
Bake at 350° F for 40-50 minutes, or until the top of the brownies begin to get a shiny crust. Let brownies cool completely before cutting and serving. Store at room temperature in an air-tight container.
Notes
Boxed brownies can be used in place of the homemade brownie recipe.
7.6.4
121
https://www.ifyougiveablondeakitchen.com/2016/06/09/peanut-butter-graham-cracker-brownies/
If You Give a Blonde a Kitchen