This Beer Ice Cream Float recipe pairs a chocolatey stout with vanilla bean ice cream to create a drinkable summer dessert just for adults.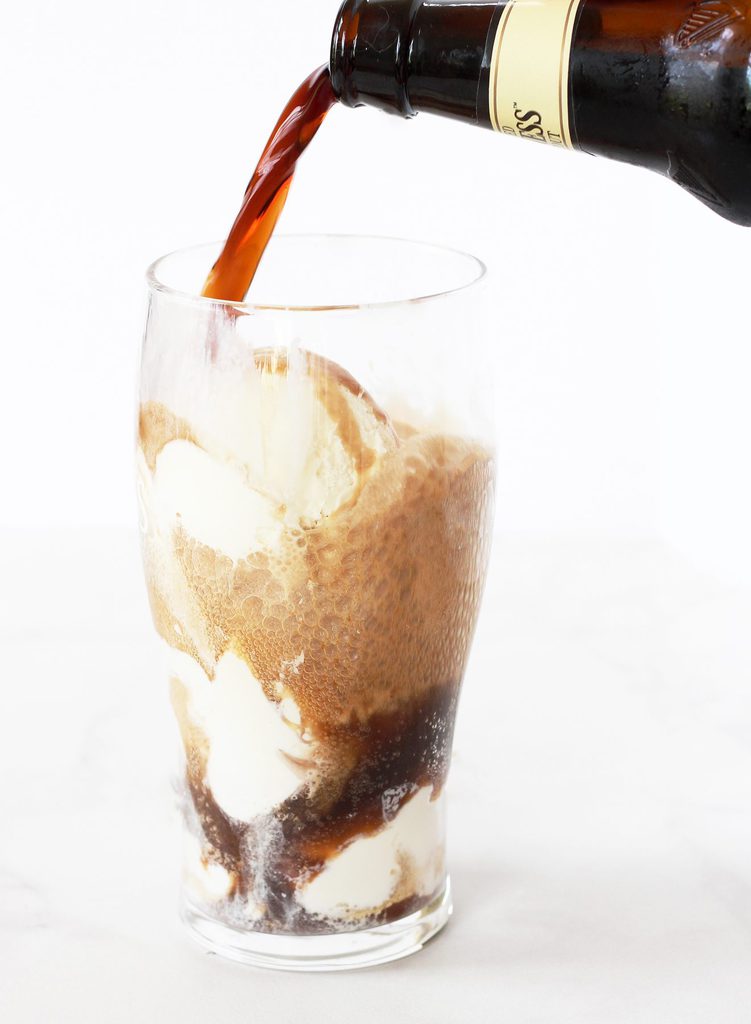 Remember those summer nights (don't worry I'm not breaking out into song a la Grease) when after dinner your parents would treat you to ice cream? And maybe if you were really good and your parents were prepared for the inevitable sugar high they would serve it in root beer? Well, I'm here to introduce the adult version of root beer floats, also known as beer ice cream floats.
Let's be honest. The real people who deserved those floats were our parents and they sure as hell needed something a little stronger than root beer. Shout out to my parents who treated me, my brother and sister to ice cream almost every summer night. You've instilled in us an everlasting love for dessert.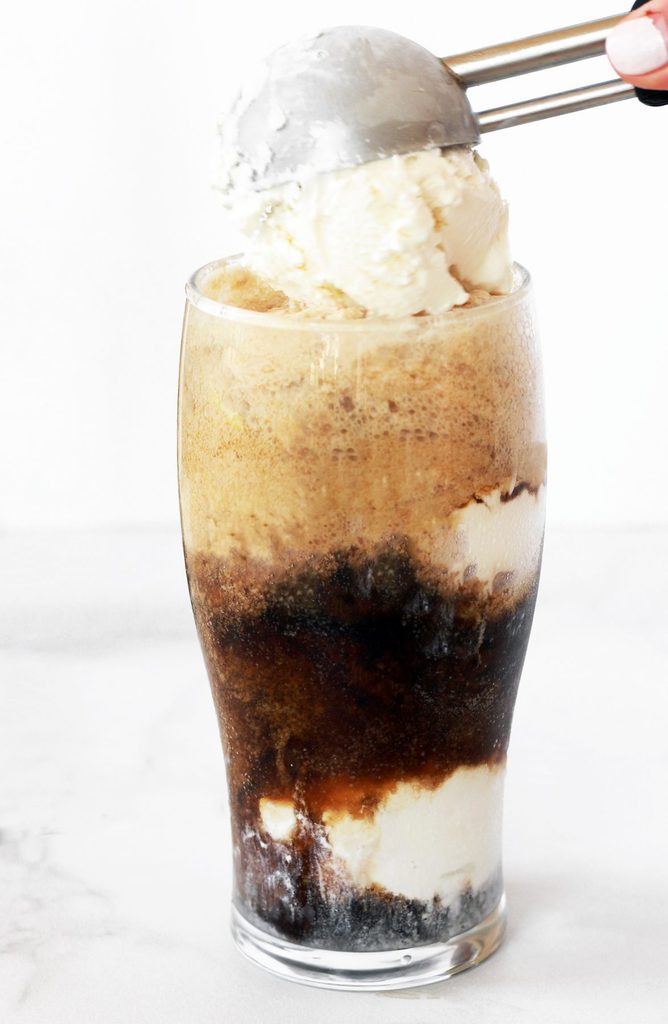 That ode to my parents definitely just signed me up for making beer ice cream floats next time I'm in Connecticut. Anyway, these floats are a wonderful indulgence for adults, especially those who love a good stout and vanilla ice cream.
Although somewhat bitter, the chocolatey coffee notes in stout makes for a good pair with rich, creamy vanilla bean ice cream. When the two meld together and start to melt on a hot summer's night, the beer ice cream float is like a deconstructed boozy milkshake. Carbonated, rich stout beer with scoops of sweet vanilla bean ice cream floating in it… drinking that is my ideal way to cool down.
Now before you go pouring beer all over your ice cream, a couple notes. Scoop the ice cream into the pint glass, then be sure to tilt your glass while pouring the stout down the side of the glass. This will lessen the carbonation and keep your ice cream scoops in tact. Wait until there is a noticeable distinction between the stout's dark body and the creamy white head, then pour the rest of the beer into the glass and settle once more. You have the option to top with another scoop of ice cream before serving.
Got that? Okay, good. You're ready to start serving up some beer ice cream floats!

Ingredients
1 bottle (12 oz.) chocolate stout beer
1/2 cup Tipsy Scoop Vanilla Bean Bourbon ice cream
Instructions
In a glass mug or pint glass, add two scoops of vanilla bean ice cream.
Tilt the mug or glass slightly and then slowly straighten it while you pour. The beer will settle in around the ice cream. Once three-quarters full, stop and allow the beer to settle, about 90 seconds. Then fill the glass the rest of the way and top off with another scoop of ice cream if you want to really treat yo self.
Serve immediately with a spoon or straw.
7.6.4
120
https://www.ifyougiveablondeakitchen.com/2016/06/10/beer-ice-cream-float/
If You Give a Blonde a Kitchen