Cinnamon Oat Peach Crumble is a skillet bake using sliced peaches lightly coated in sugar and lemon zest then topped with a cinnamon brown sugar oat crumble.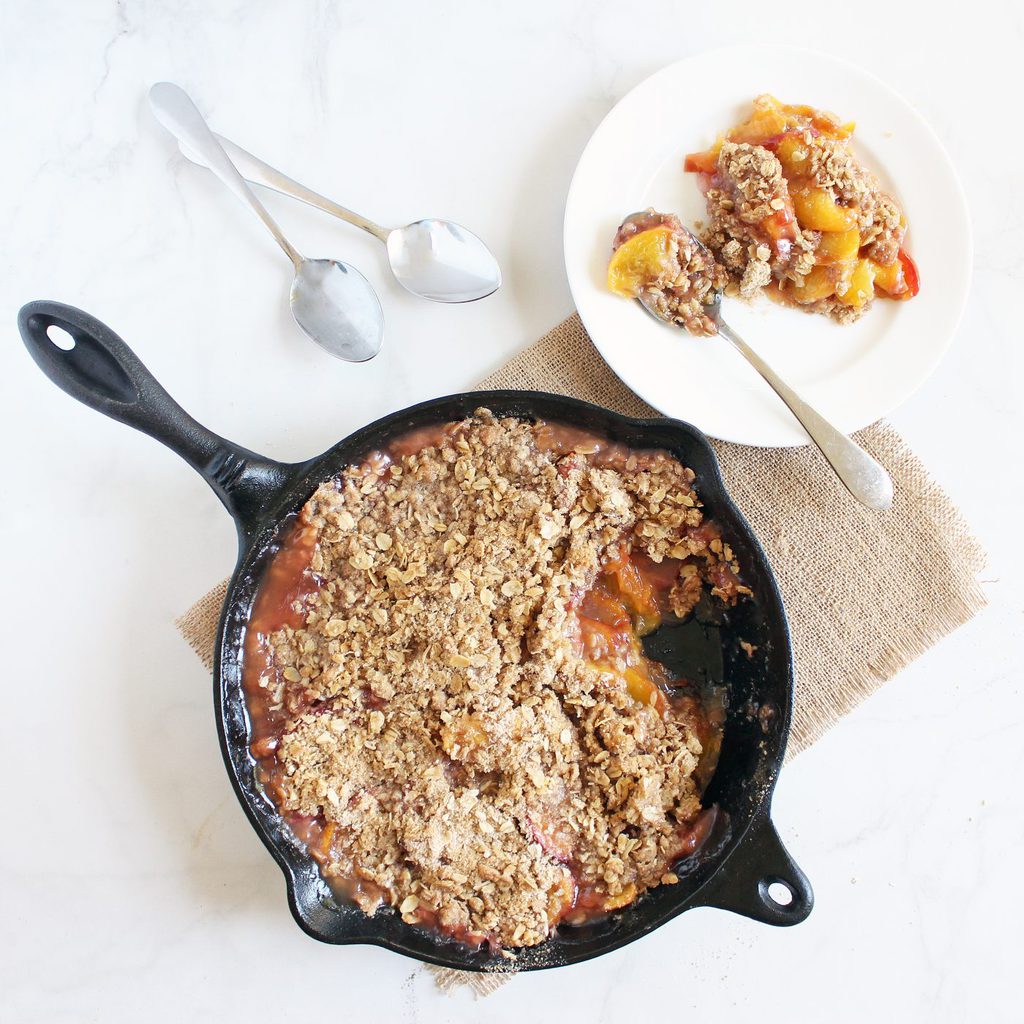 Peaches are coming back in season, people! Which means galettes, pies, cobblers and crumbles galore. For Father's Day last Sunday I picked up a bag of ripe peaches at the store and made a cinnamon oat peach crumble for dessert.
The only thing better than a juicy, ripe peach on a warm summer day is a delectable oat peach crumble served on a cool summer night. I made a similar crumble with blueberries a couple summers ago during my family's annual trip to Maine. It was such a hit, I was aching to try it again.
I opted for only peaches in this crumble to see how they tasted with a cinnamon oat topping sans blueberries (it seems as though blueberries are always paired with that streusel-like flavor combo). To my delight the topping complemented the peaches perfectly. The softly baked peaches oozed with juices that sweetened up the oat-y cinnamon crumble layered on top.
This cinnamon oat peach crumble couldn't have turned out better. A hefty serving on top of a scoop of vanilla ice cream is really the ultimate summer dessert. And if you're lucky enough to have leftovers, you can even serve it over vanilla yogurt for breakfast! I mean cinnamon is packed with health benefits. Treat yo self.

Haley D. Williams
Yields 8
Cinnamon Oat Peach Crumble
10 minPrep Time
40 minCook Time
50 minTotal Time
Ingredients
Peach Filling

7-8 peaches, sliced
1 tablespoon fresh lemon juice
1 teaspoon lemon zest
1/4 teaspoon vanilla extract
1/2 cup granulated sugar
1/4 cup all-purpose flour

Crumble Topping

1/2 cup all-purpose flour
3/4 cup old-fashioned oats
1/3 cup brown sugar
1/4 cup granulated sugar
1/2 teaspoon salt
1 teaspoon ground cinnamon
6 tablespoons cold butter, cubed
Instructions
Preheat the oven to 350° F.
In a large bowl, combine sliced peaches, lemon juice, lemon zest, vanilla extract, granulated sugar and flour. Gently toss until fruit is well coated. Allow the fruit mixture sit while you prepare the crumble topping.
For the crumble topping, take a large bowl and combine the flour, oatmeal, brown sugar, granulated sugar, salt, and cinnamon. Stir together with a whisk. Mix in the butter with your hands until its forms a coarse mixture and there are big crumbles.
Place the fruit mixture in a 10-inch skillet or glass baking dish. Sprinkle the crumble mixture evenly over the fruit. Bake for 40 to 45 minutes, or until the top is browned and crisp and the juices are bubbling. Serve warm with vanilla ice cream.
7.6.4
122
https://www.ifyougiveablondeakitchen.com/2016/06/23/cinnamon-oat-peach-crumble/
If You Give a Blonde a Kitchen