These perfect lemon bars are gooey and lemony with a soft, buttery shortbread crust. It's my mom's go-to recipe so you know it's good!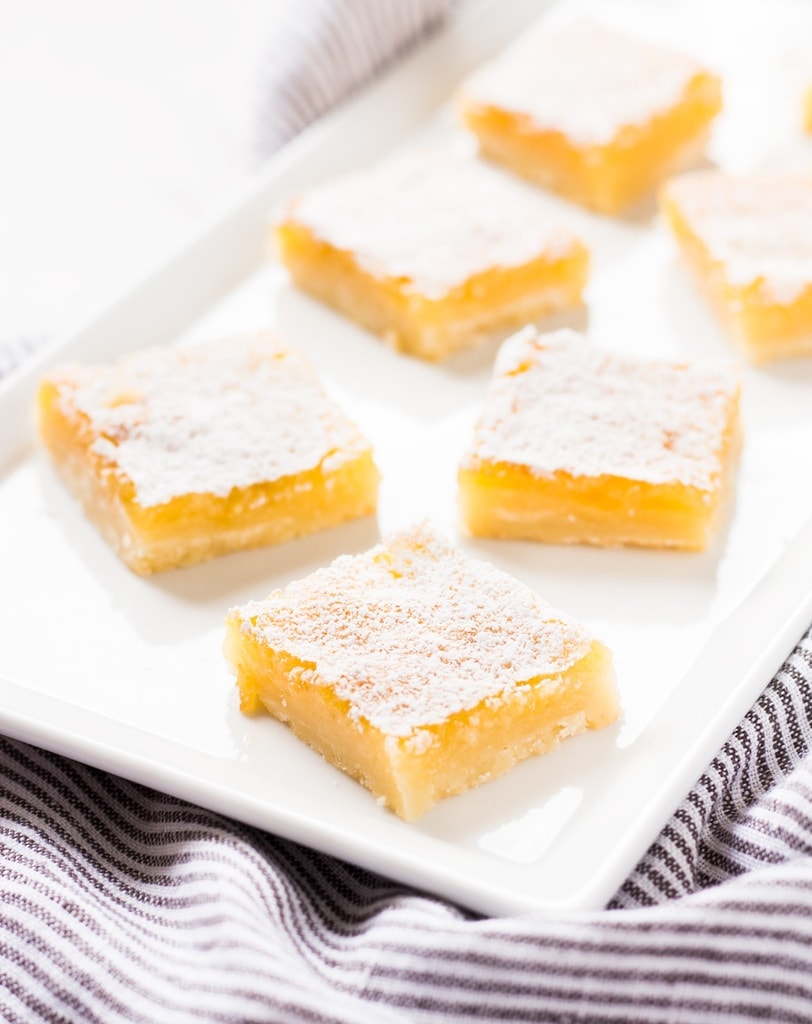 Getting all the summer recipes in before the end of August is more difficult than it seems. There are just so many! But it wouldn't be summer if I didn't make my mom's perfect lemon bars.
Her recipe is on point. She has taken the time to perfect it over the years. The lemon bars hit all the right textures all while keeping the recipe easy to master.
She told me that the key to a good shortbread crust is using confectioners' sugar as opposed to the typical granulated sugar. The crust is becomes extra smooth and buttery—the perfect base for the lemon filling.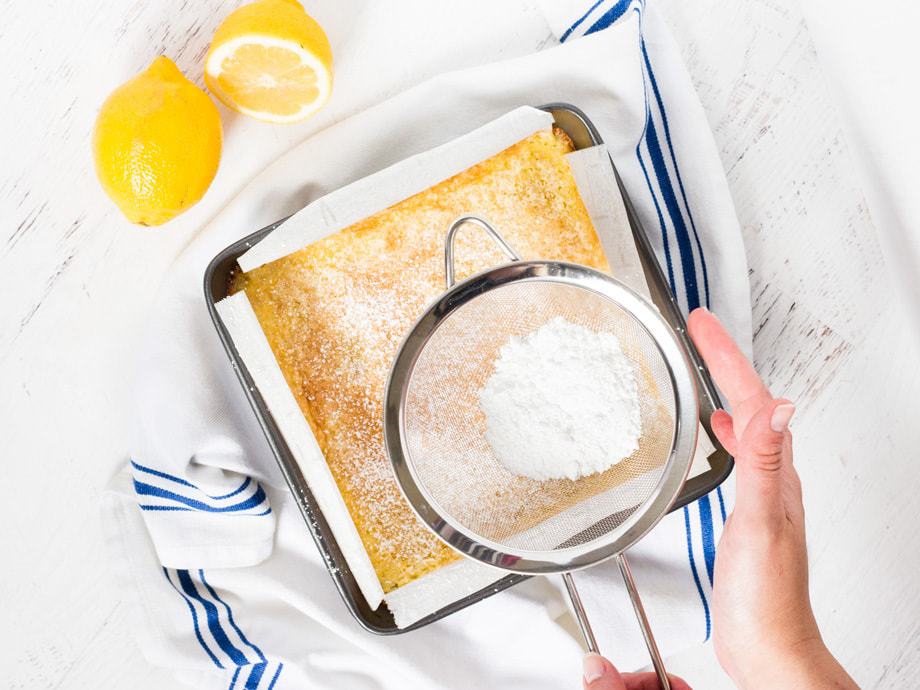 Speaking of the filling… Perfect lemon bars have a gooey (but not too gooey) filling that is smooth, sweet and lemony. Mixing the filling until frothy ensures extra smoothness.
I'm always tempted to add extra lemon juice to my bars for extra lemony goodness, but if you add too much the bars get too gooey and lose their shape. Yeah, they still taste good, but boy are they a mess!
The solution? Add lemon zest. You get that extra kick of lemon without making the bars all mushy.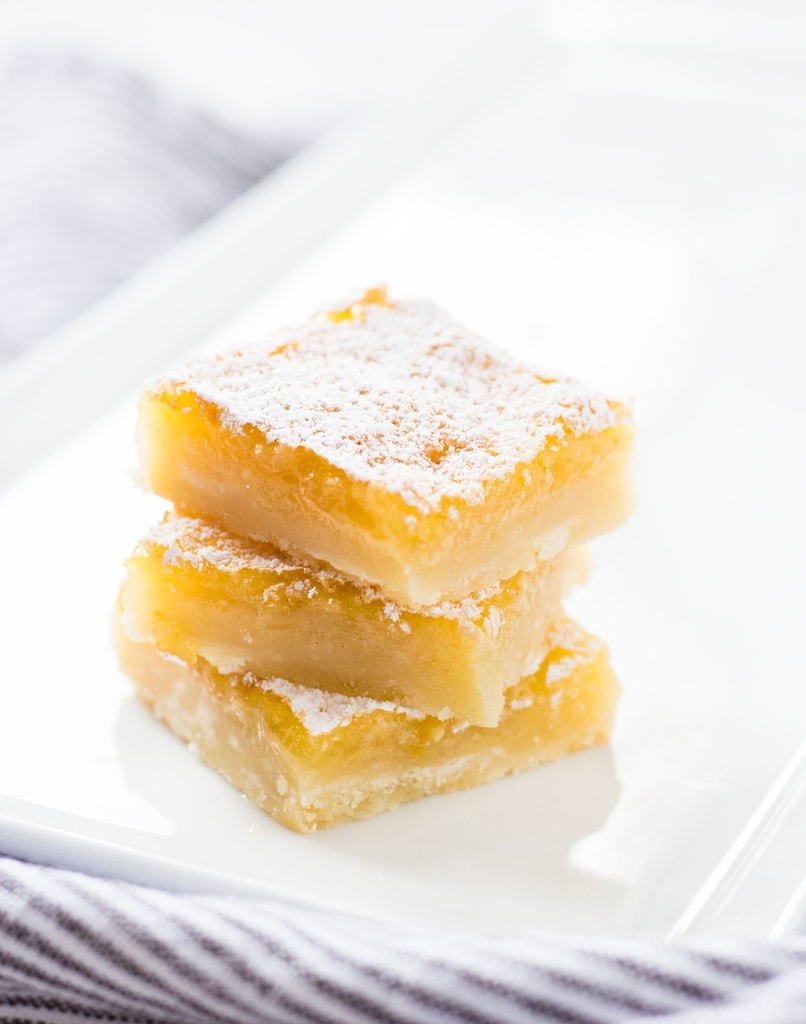 Another trick of the trade: Store lemon bars either in the fridge or at room temp. Don't go between the two in the summer especially. I find that when I store the lemon bars in the fridge and then take them out, they sweat and can fall apart from the extra moisture.
So stick with one temperature to store your lemon bars. Room temp in an air tight container is fine if you keep 'em there until they are eaten (which won't take long because they're SO good!)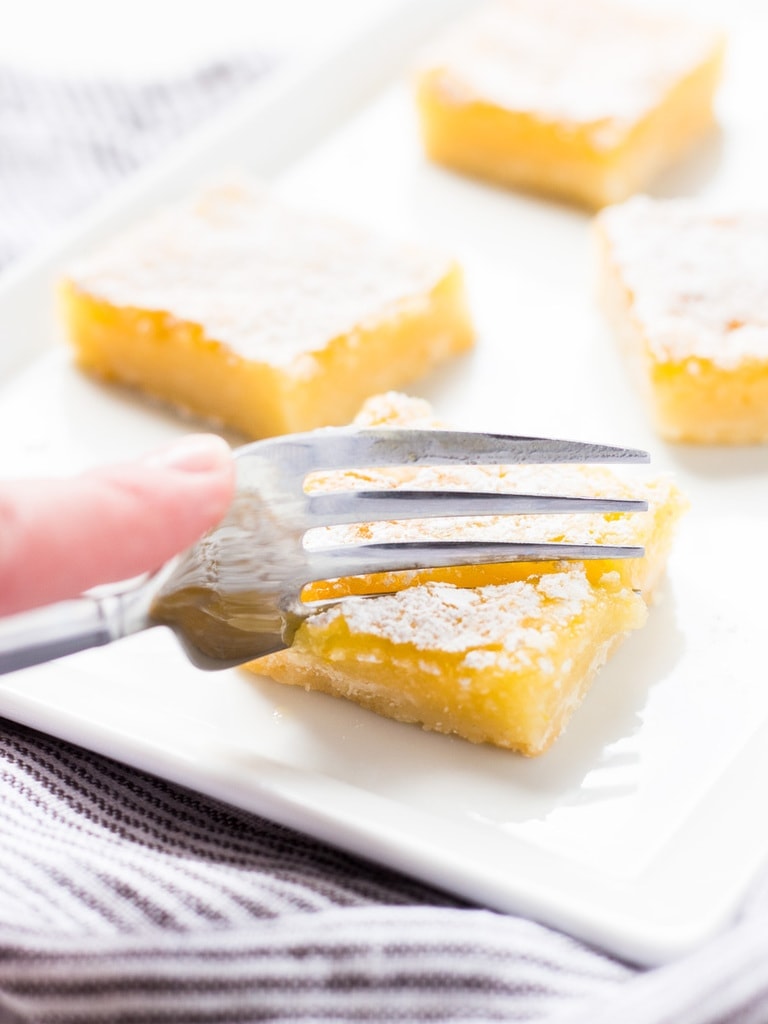 And there you have it. A few tricks of the trade to making perfect lemon bars. Thanks, mom 🙂
Mom's Perfect Lemon Bars
These perfect lemon bars are gooey and lemony with a soft, buttery shortbread crust. It's my mom's go-to recipe so you know it's good!

Ingredients
Shortbread Crust
1

cup

flour

1/2

cup

(1 stick) unsalted butter,

room temperature

1/4

cup

powdered sugar
Lemon Filling
1

cup

sugar

2

tablespoons

flour

1/2

teaspoon

baking powder

Dash of salt

2

eggs

beaten

2

tablespoons

fresh lemon juice

strained

1

teaspoon

lemon zest

Confectioners' sugar for dusting
Instructions
Shortbread crust
Preheat oven to 350° F. Line an 8x8 baking pan with parchment paper and spray with nonstick cooking spray.

In the bowl of a stand mixer, combine the flour, butter and confectioners' sugar with a mixer until combined (about 2-3 minutes). Press mixture into the prepared pan. Bake 20 minutes, or until light brown and fragrant.
Lemon Filling
Using a stand mixer or hand mixer and a large bowl, mix together sugar, flour, baking powder and salt until combined. Add eggs, lemon juice and zest. Beat until frothy.

Pour lemon filling over the crust (it's okay if it's still warm). Bake 25 minutes longer or until light golden. Cool in the pan on a wire rack. Dust with confectioners' sugar and cut into 1 1/2-inch squares. Store in an airtight container at room temperature for up to five days.