Maine blueberry pie uses fresh blueberries from Maine and a buttery, flaky crust. The filling is simple and flavorful. It holds together without losing its juiciness!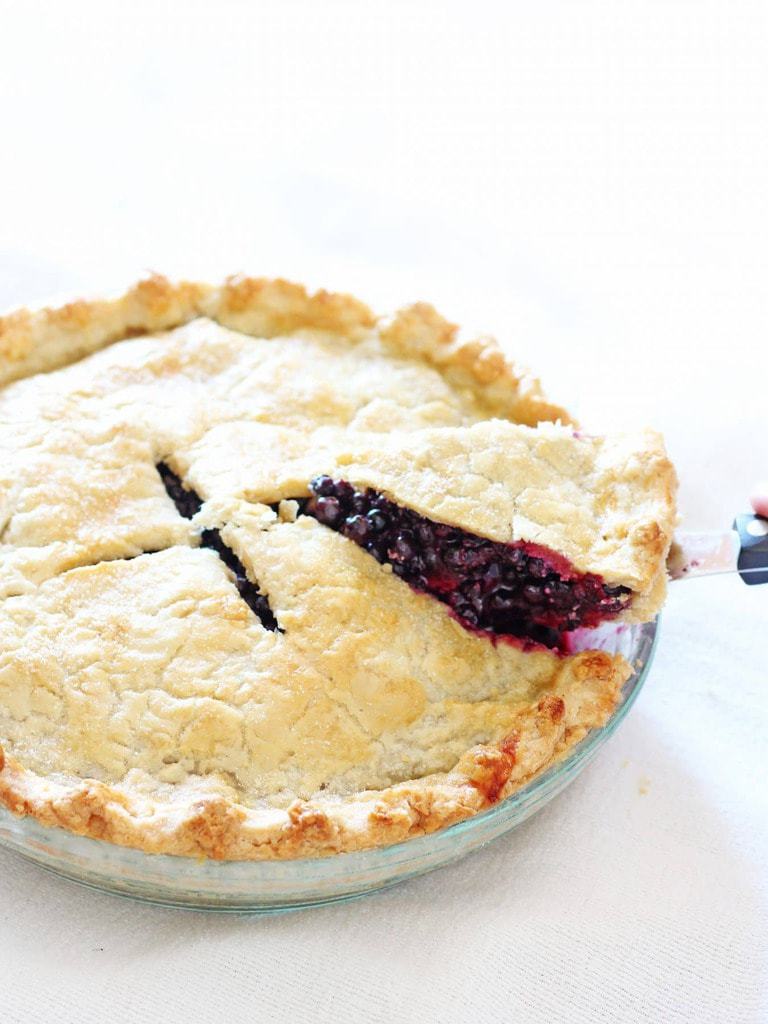 That time of year is here again. My family travels up to Maine for our annual summer vacation and I get giddy with excitement over blueberries. This year I used the state's official berry to make a fresh Maine blueberry pie.
Blueberries are my favorite fruit and Maine blueberries are 100 times better than those giant berries at the super markets. These tiny berries are bursting with flavor and reach their peak at the beginning of August—right when we go on vacation.
So naturally on the car ride up I start brainstorming what desserts I'm going to bake. This vacation I kept it simple and made a blueberry pie using fresh Maine blueberries.
A good pie is nothing without a buttery, flaky crust. I used my homemade pie crust recipe (spoiler alert it uses butter and shortening), which takes an otherwise good pie and makes it great. And the secret to that glistening, golden top crust? A generous brushing of beaten egg and a sprinkle of sugar.
As for the filling, the blueberries contribute most of the flavor. I added some sugar and lemon juice to make the flavor pop and some flour and corn starch to hold the filling together. Take that mixture, pour it into your prepared crust and put the pie into the oven. Now you're just an hour away from a fresh Maine blueberry pie.
Ideally you'd like the pie to cool for at least an hour before serving. This way the filling has time to set. When you're ready to serve, don't forget a scoop of vanilla ice cream. It is blueberry pie's best friend 🙂
Maine Blueberry Pie
10 minPrep Time
1 hrCook Time
1 hr, 10 Total Time
Ingredients
1 homemade pie crust recipe
5 cups fresh Maine blueberries
1/2 cup sugar
2 Tbs flour
2 Tbs cornstarch
1 Tbs lemon juice
1/2 Tbs melted butter
Instructions
Preheat the oven to 425°F.
Set crust in a 9" pie pan and refrigerate the pie while you prepare the filling.
In a large bowl, whisk together the sugar, flour and cornstarch. Add the berries, lemon juice and melted butter. Stir until the berries are coated. Scoop the mixture into the prepared crust.
Roll out the top crust, making a lattice if you like; place it over the berries. Trim any excess overhang, and crimp the edges together. Cut several slashes to allow steam to escape (if you haven't made a lattice crust). Spritz with water, and sprinkle with sparkling sugar or cinnamon-sugar.
Bake the pie for 15 minutes at 425°F, then reduce the oven heat to 350°F and bake for another 40 to 50 minutes, covering the edges if they seem to be browning too quickly. When done, the filling will be bubbling, and the crust golden brown.
Remove the pie from the oven, and cool it for at least 1 hour before serving.
7.6.4
138
https://www.ifyougiveablondeakitchen.com/2016/09/01/maine-blueberry-pie/
If You Give a Blonde a Kitchen
Inspired by King Arthur Flour.