Pour yourself and friends some apple cider mimosas! The deliciously simple fall cocktail is made with apple cider, champagne and a cinnamon sugar rim.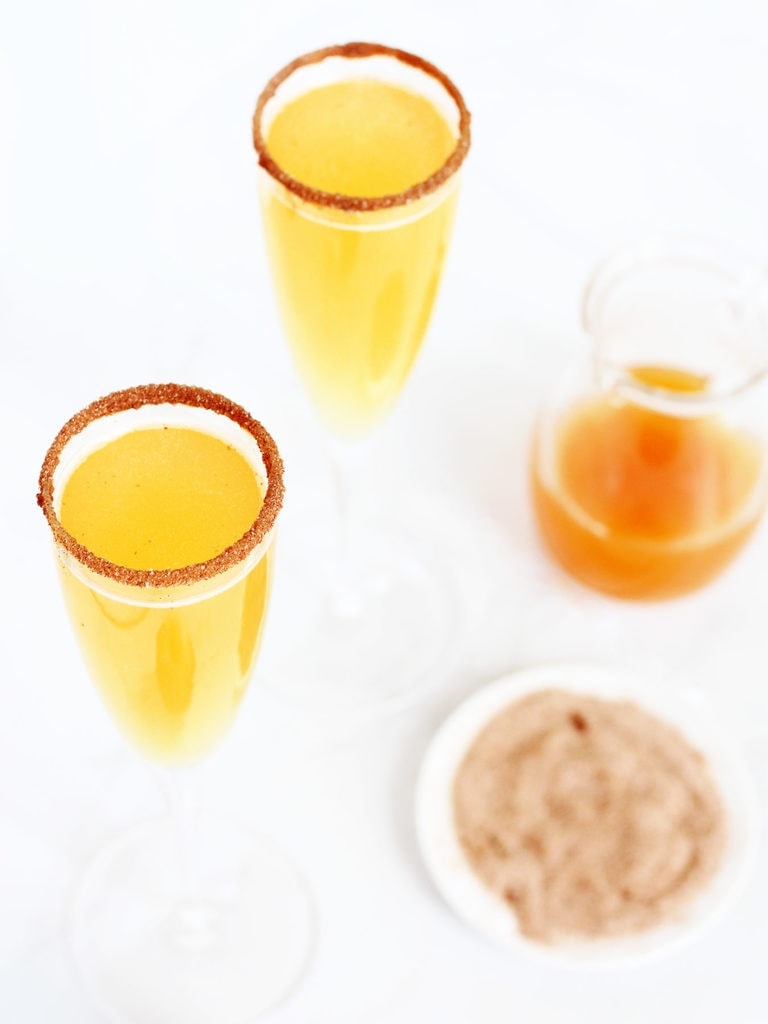 Favorite cocktail—GO! Mimosas, no question. Champagne is my alcohol of choice so naturally I love a good mimosa. With fall on the horizon I decided to switch up the typical orange juice and champagne combo. Allow me to introduce… apple cider mimosas!
Aside from pumpkin-flavored desserts, apple cider is next in line when it comes to my favorite fall foods and drinks. You can sip it cold or hot, pour it in a cocktail or enjoy it in a dessert (have you seen my loaded apple cider bread?).
With fall quickly approaching, I decided to do some experimenting with using apple cider in cocktails.

My first thought was champagne for a few reasons. One, it's my favorite alcoholic beverage; two, it was a Saturday morning; and three, I had a bottle in the fridge. Rereading that sentence screams, "I'm 25, living in NYC and go to brunch every weekend."
Well, it's true.
Anyway, back to the apple cider mimosas. I had champagne and apple cider so why not make mimosas designed specifically for fall?

So I tested out the apple cider champagne combo and it was insanely good. But I wanted to make it better. So I decided to rim the champagne glass with cinnamon sugar. Like garnishing a dessert, rimming a glass is one of those things that makes a cocktail look professional.
It's easy to do too. Place a couple tablespoons of apple cider in a small dish and cinnamon sugar in another. Dip the glass rim in the apple cider first to get it wet and then dip it in the cinnamon sugar to coat.
Voila, a cinnamon sugar rim for apple cider mimosas.
One last note, I don't know about you, but my champagne to orange juice ratio is mostly champagne and a touch of orange juice. But for these apple cider mimosas, I poured a little more apple cider to get the full fall effect. Cheers!
Apple Cider Mimosas
Ingredients
Cinnamon Sugar Rim
1/4

cup

56 g sugar

1

tablespoon

cinnamon

1/4

cup

2 oz apple cider
Apple Cider Mimosas
1/2 to 1

cup

4-8 oz apple cider

1

bottle

750 ml Champagne

Apple slices

optional garnish
Instructions
Cinnamon Sugar Rim
Mix together sugar and cinnamon. Pour cinnamon sugar on a saucer or plate. Make sure the circle of cinnamon sugar is bigger in diameter than the rim of your champagne glass. Pour apple cider onto another saucer. Dip the champagne glass in the cider, then in the cinnamon sugar mixture. Tap off any excess and turn glass upright.
Apple Cider Mimosas
Pour champagne glass two-thirds to three-quarters full with champagne. Top off with apple cider. Be careful pouring so not to mess up your cinnamon sugar rim! Garnish with an apple slice if desired. Serve immediately.