Pumpkin thumbprint cookies are the epitome of fall. They are rolled in cinnamon sugar then topped with a dollop of caramel and a pecan half for garnish.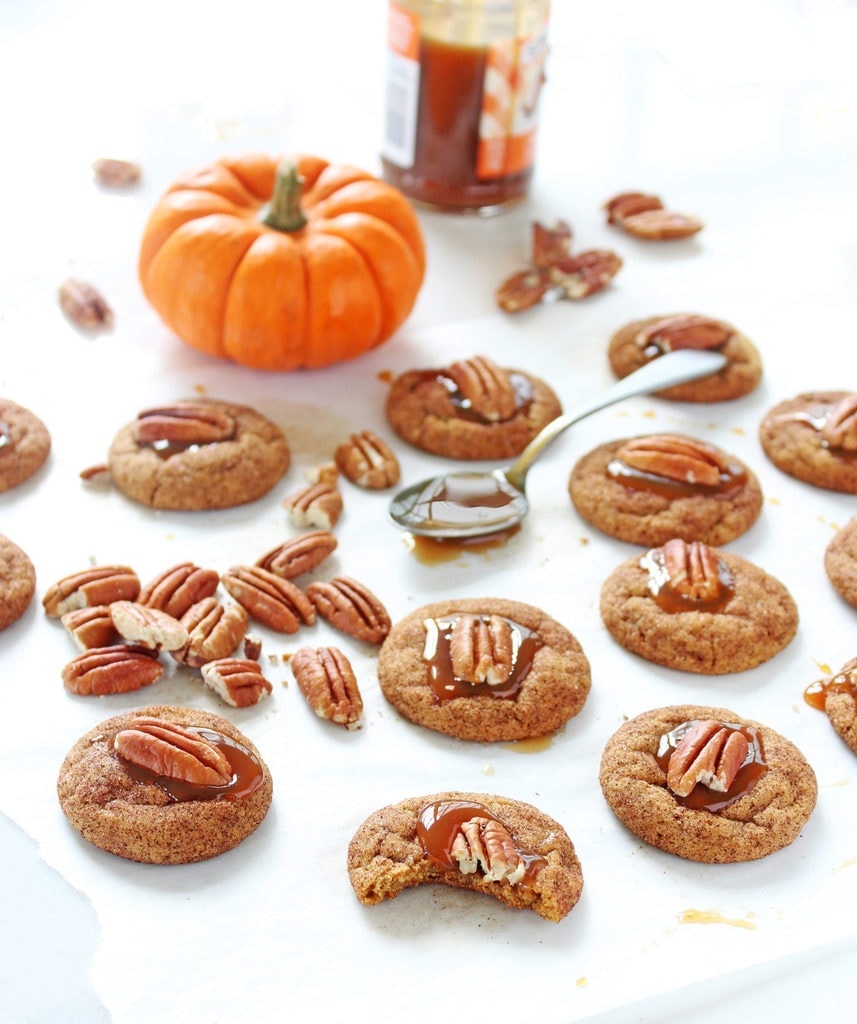 I am in fall mode and it is full steam ahead. I've been dreaming of pumpkin desserts and cannot crank them out of the kitchen fast enough. My latest baking endeavor are pecan pumpkin thumbprint cookies with caramel—the perfect fall cookie.
When it comes to pumpkin cookies, the possibilities are endless. Pumpkin chocolate chip cookies, pumpkin snickerdoodles, pumpkin cheesecake cookies… you get the idea. So you can see why I was having trouble deciding on what kind of pumpkin cookies to make.
I really liked the idea of pumpkin snickerdoodle cookies and from here my creative genius took over. I decided I wanted to roll the balls of cookie dough in cinnamon sugar and make thumbprint cookies. Of course this meant I had to decide what to put in the thumbprints!
Chocolate? Peanut butter? Cream cheese? I really couldn't decide until I thought of caramel. It seemed like the perfect pair for cinnamon pumpkin thumbprint cookies. But to make it even better (and more fall-esque) I added a pecan half for garnish and a bit of crunch.
When I first bit into one of these cookies my tastebuds were experiencing every fall flavor. Really though, you have pumpkin, fall spices, cinnamon sugar, caramel and pecan. What more could you want from a fall cookie?
And they are so easy to make. A pretty basic cookie dough makes up the base, then you roll the dough into one-inch balls, coat them in cinnamon sugar and bake.
After the cookies cool for a few minutes, but are still warm to the touch, use your thumb to create the thumbprint. This little indentation will hold the gooey caramel and pecan half. Of course, if you prefer not to put your thumbprints all over the cookies, feel free to use the back of a spoon.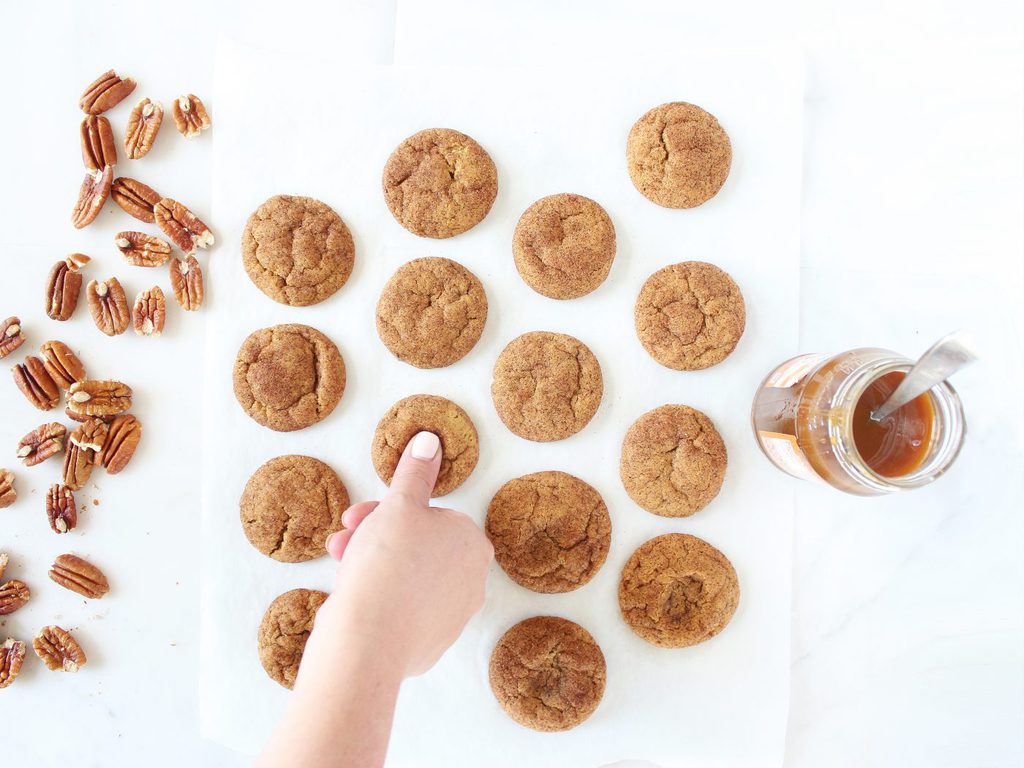 Oh, and did I mention how perfectly chewy these cookies are? Just the way I like my cookies and this batch gets a little extra lovin' with the caramel and pecans.
The cookies are layered with texture and flavor. Chewy, cinnamon sugar pumpkin cookies topped with gooey, sweet caramel and crunchy pecans—I'm reaching for another just typing that sentence.
Yep, that right there is the perfect fall cookie. Just try these pumpkin thumbprint cookies out yourself—they're pretty irresistible!
Yields 32 cookies
Pecan Pumpkin Thumbprint Cookies
Pumpkin thumbprint cookies are the epitome of fall. They are rolled in cinnamon sugar then topped with a dollop of caramel and a pecan half for garnish.
15 minPrep Time
10 minCook Time
25 minTotal Time
Ingredients
Pumpkin Thumbprint Cookies

1 1/2 cups all-purpose flour
1/2 teaspoon cinnamon
1/4 teaspoon ground cloves
1/4 teaspoon ground ginger
Pinch of nutmeg (optional)
1/2 teaspoon baking soda
1/4 teaspoon baking powder
1/4 teaspoon salt
1/2 cup (1 stick) unsalted butter
1/2 cup granulated sugar
1/2 cup dark brown sugar
1/2 cup pumpkin purée
1/2 teaspoon vanilla

Cinnamon Sugar (for rolling)

1/4 cup granulated sugar
1 tablespoon cinnamon

Topping

1/2 cup caramel
1 cup pecan halves
Instructions
Pumpkin Thumbprint Cookies

Preheat oven to 350° F. Line two cookie sheets with parchment paper and set aside.
In a large bowl, whisk together flour, spices (cinnamon, cloves, ginger, nutmeg), baking soda, baking powder and salt. Set aside.
In a large bowl of a stand mixer, beat together butter, sugar and brown sugar on medium speed until well combined, about 2 minutes. Add pumpkin purée and vanilla and mix until incorporated, about 1 minute.
With the mixer on low, slowly add the flour mixture to the butter/sugar mixture. Mix until combined, about 1 minute. Set aside the cookie dough for a moment and make the cinnamon sugar by whisking together 1/4 cup sugar and 1 tablespoon cinnamon in a separate small bowl.
Scoop about a tablespoon of cookie dough and roll into a 1-inch ball. Roll the ball of dough in the cinnamon sugar until coated. Place on prepared cookie sheet. Repeat with remaining cookie dough placing each ball about 2 inches apart on the cookie sheet.
Bake for 10-12 minutes, or until the cookie edges are set and the center is soft. Let the cookies cool for a couple minutes on the cookie sheet. While the cookies are still warm, use your thumb or the back of a spoon to dent each cookie. Transfer to a cooling rack.

Assembly

Once the cookies are cooled, fill the thumb imprints with about a teaspoon or two of caramel. Top with a pecan half. Store at room temperature in an airtight container for up to a week.
7.6.4
147
https://www.ifyougiveablondeakitchen.com/2016/09/25/pecan-pumpkin-thumbprint-cookies/
If You Give a Blonde a Kitchen
Inspired by Cinnamon Spice and Everything Nice.