Chocolate Reese's cookie cups are chocolate cookies baked in a mini muffin tin, stuffed with mini Reese's and topped with peanut butter frosting.
Candy season is here! With Halloween and Christmas within sight, I've been brainstorming dessert recipes using candy lying around the house. Enter chocolate Reese's cookie cups.
The chocolate peanut butter pairing is alive and well in this recipe. Chocolate cookie dough is baked in a mini muffin tin, then stuffed with mini Reese's cups and topped with peanut butter frosting. And just in case that wasn't enough, I added a drizzle of chocolate syrup.
So this is any peanut butter chocolate lover's dream.
These little guys pack a punch. Layers of chocolate and peanut butter flavors and textures all in one little mini cookie cup. They are fun to make too!
Chocolate cookie dough bakes for a bit in the mini muffin tin and as soon as they come out of the oven (the centers will still be rather soft) you press a mini Reese's cup right into the center.
You have no idea how satisfying that is. It's like, "Oh hey there, cute little cookie, I'm going to give you an upgrade." *giant thumb presses in a Reese's cup*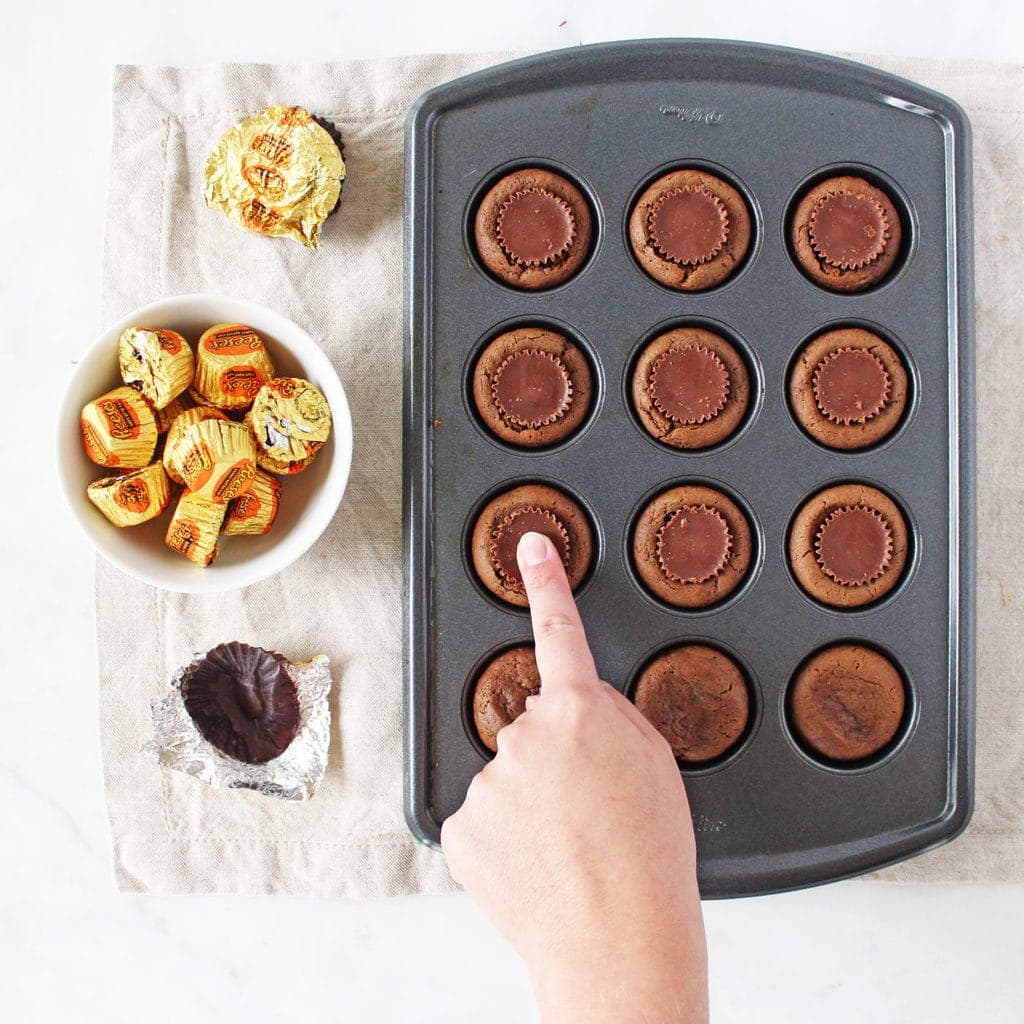 Now, to take that upgrade to the next level, a nice dollop of peanut butter frosting and chocolate syrup to top it all off. And frosting these Reese's cookie cups is pretty satisfying too.
As the frosting hits the top, the mini Reese's has just started to melt from the warmth of the cookie cups and the frosting pushes the melted chocolate aside slightly.
If you look closely in the photo below you can see a bit of the melted Reese's oozing out from under the frosting.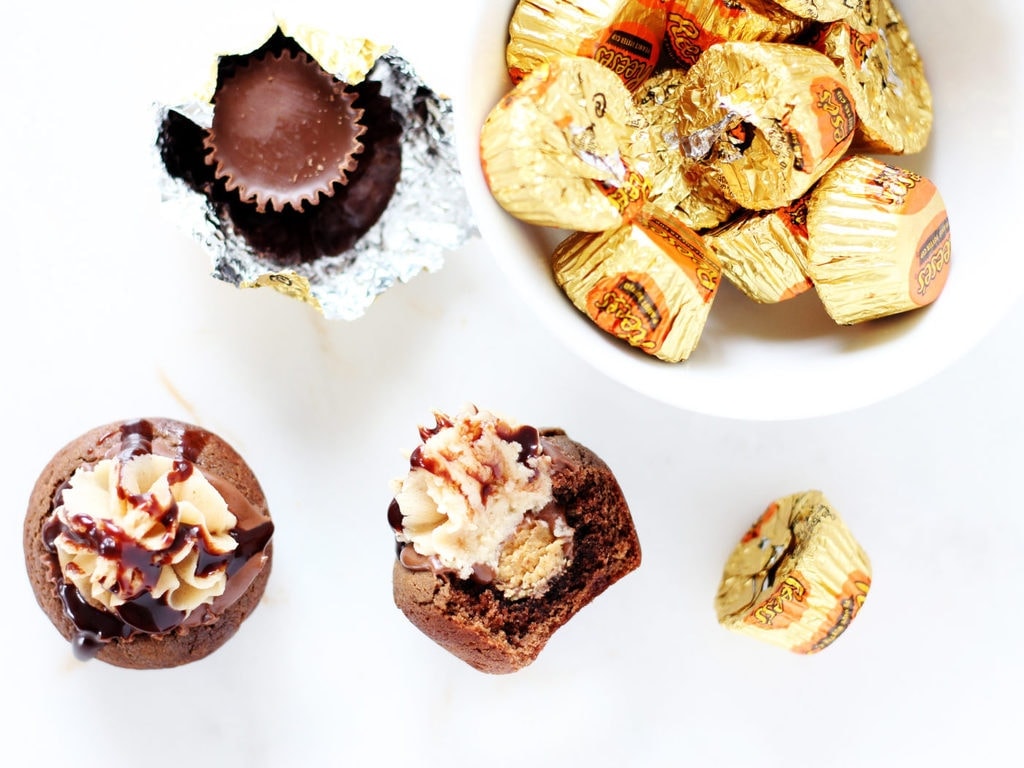 Yeah, that's the stuff… oozing chocolate and peanut butter goodness in a cute little cookie cup.
And I've made it super easy for you to make these chocolate Reese's cookie cups. Check out the recipe video below and use the recipe card for full instructions. Enjoy!
Yields 36 cookie cups
Chocolate Reese's Cookie Cups
10 minPrep Time
8 minCook Time
18 minTotal Time
Ingredients
Chocolate Reese's Cookie Cups

2 1/2 cups (300g) flour
1/4 cup (21 g) cocoa
1 tsp cornstarch
1 tsp baking soda
1/4 tsp salt
3/4 cup (1 1/2 sticks, 170 g) butter, room temperature
1/2 cup (100 g) sugar
1/2 cup (110 g) packed brown sugar
1/4 cup (60 ml) milk, room temperature
1 large egg
1/2 tsp vanilla extract
36 mini Reese's cups

Peanut Butter Frosting

1/4 cup (57 g) butter
1/4 cup (50 g) shortening
1/4 cup (65 g) peanut butter
2 cups (220 g) powdered sugar, sifted
1-2 tablespoons milk
Chocolate syrup (optional)
Instructions
Chocolate Reese's Cookie Cups

Preheat oven to 350° F. Grease a mini muffin tin.
In a medium bowl, whisk together flour, cocoa, corn starch, baking soda and salt. Set aside.
In the bowl of a stand mixer (or using a hand mixer), cream butter, sugar and brown sugar together until light and fluffy, 3-4 minutes. Add milk, egg and vanilla, and mix until well combined.
With the mixer on low, slowly add dry ingredients and mix thoroughly. Dough will be thick.
Make balls of about 1 tablespoon in size and place into each mini muffin cup. Use your thumb to press the center down just a bit to make an indention (for the Reese's later). Each mini muffin cup will be about 3/4 full.
Bake at 350° F for 8-9 minutes. Remove from oven and press mini Reese's into the center of the cookie cups. Allow to cool for 3-4 minutes in the muffin tin. The mini Reese's will start to melt.
Remove cookies to a cooling rack to finish cooling.

Peanut Butter Frosting

In a medium bowl of a stand mixer, beat the butter and shortening together until smooth. Beat in peanut butter until combined.
Slowly add the powdered sugar to the butter mixture, one cup at a time, and mix until smooth. Add 1-2 tbsp of milk until the frosting is desired consistency.
Transfer frosting to a bag fitted with an icing tip and frost cookie cups. Drizzle with chocolate syrup (optional) and serve. Store in an airtight container at room temperature for 3 to 5 days.
7.6.4
150
https://www.ifyougiveablondeakitchen.com/2016/10/09/chocolate-reeses-cookie-cups/
If You Give a Blonde a Kitchen
Recipe inspired by Life, Love and Sugar.