Peppermint Oreo cookies are a treat for the Christmas cookie swap! Peppermint Oreos are wrapped up in white chocolate chip cookie dough with candy cane bits.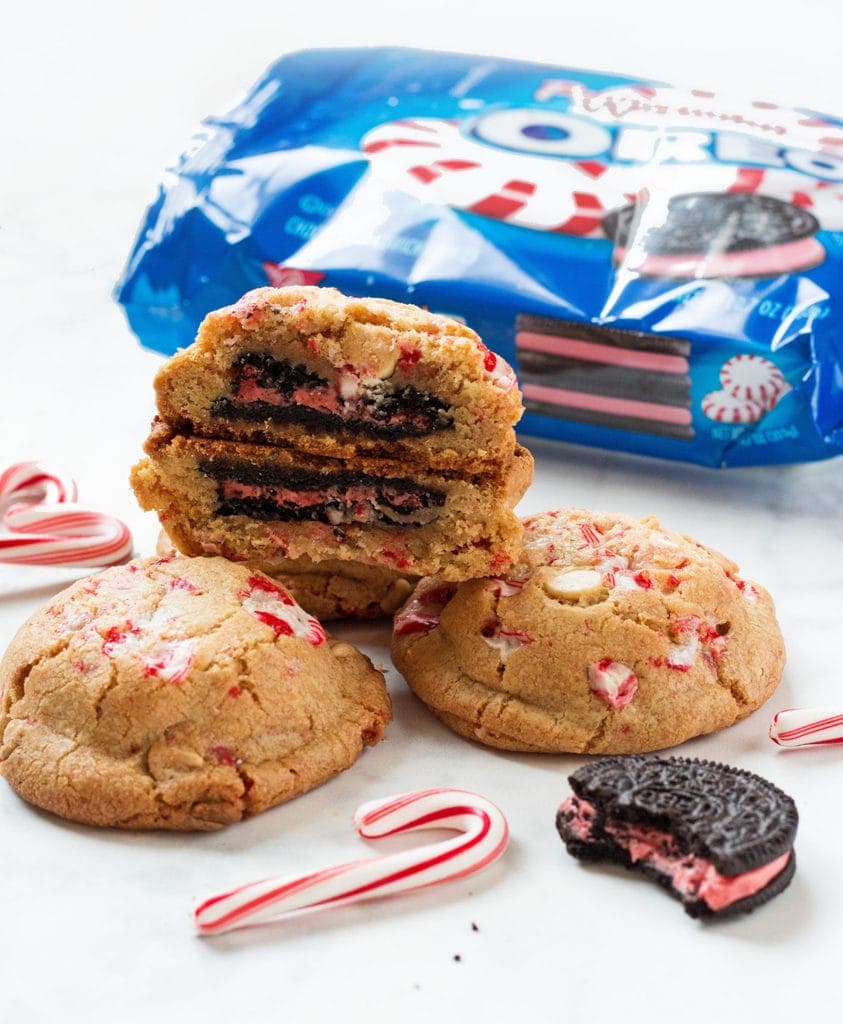 So many holiday cookies, so little time! There are so many cookies I want to make this season and the list keeps on growing. I'm kicking off the cookie season with white chocolate chip peppermint Oreo cookies.
I made Oreo stuffed cookies once before back in college and it basically blew my friends minds. A cookie within a cookie?! You can imagine their reactions. I hadn't made the cookie inception treat since and I've been longing for them.
With Christmas on the horizon I decided to make a holiday version and baked peppermint Oreo cookies.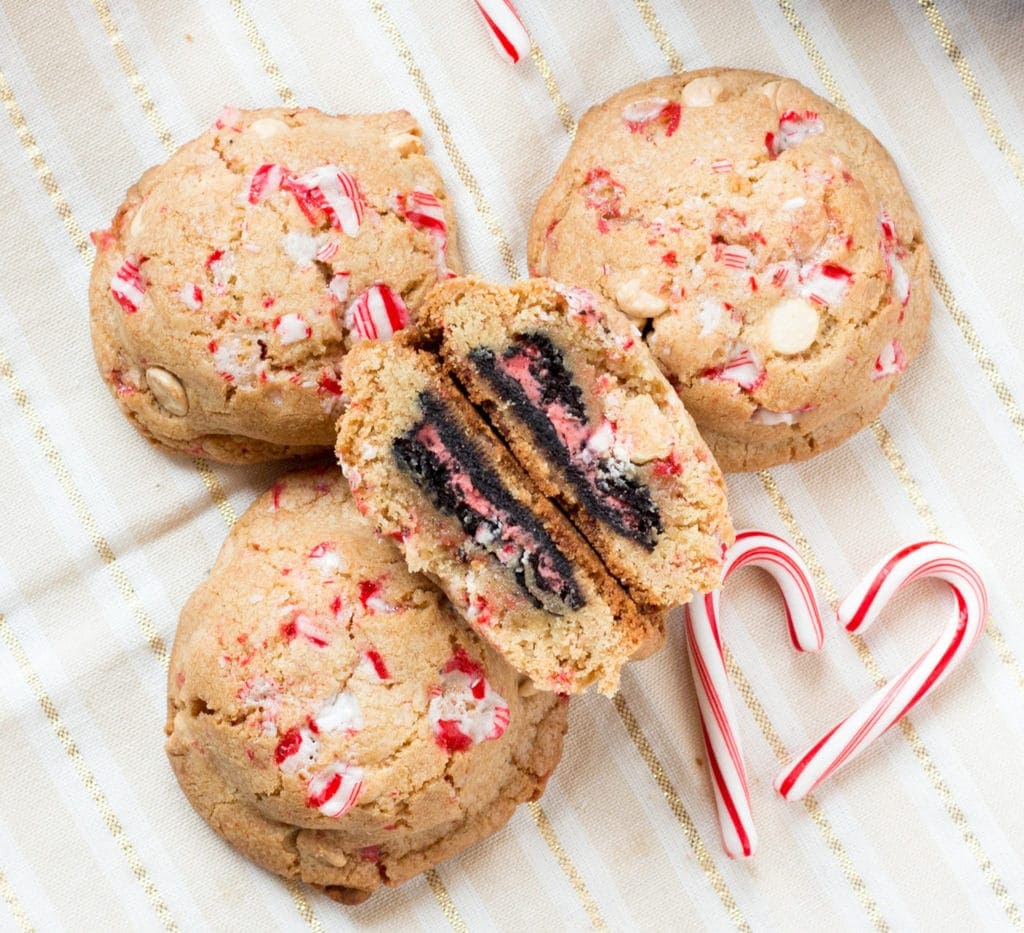 Yeah, that's right, peppermint Oreo cookies. I won't lie, they are Christmas overload cookies. Candy cane bits are stirred into white chocolate chip cookie dough for a peppermint crunch. Then, that cookie dough is wrapped around a peppermint Oreo. It is a candy cane lover's dream!
I am without a doubt a candy cane lover. Peppermint-flavored desserts instantly put me in the Christmas mood. So naturally that is exactly what these peppermint Oreo cookies did. I just love the crunchy candy cane bits in the cookie dough—it pairs perfectly with the white chocolate chips.
But the real kicker here are the peppermint Oreos. Did you even know they made these? I mean, I know they make a lot of flavored Oreos (Swedish Fish flavor, really?), but I had never seen peppermint.
Granted, they are limited edition and will probably just stick around for the holidays so I suggest getting them now. The peppermint filling is so good between the chocolate Oreo cookie wafers. It was hard for me to save some for the Oreo stuffed cookies!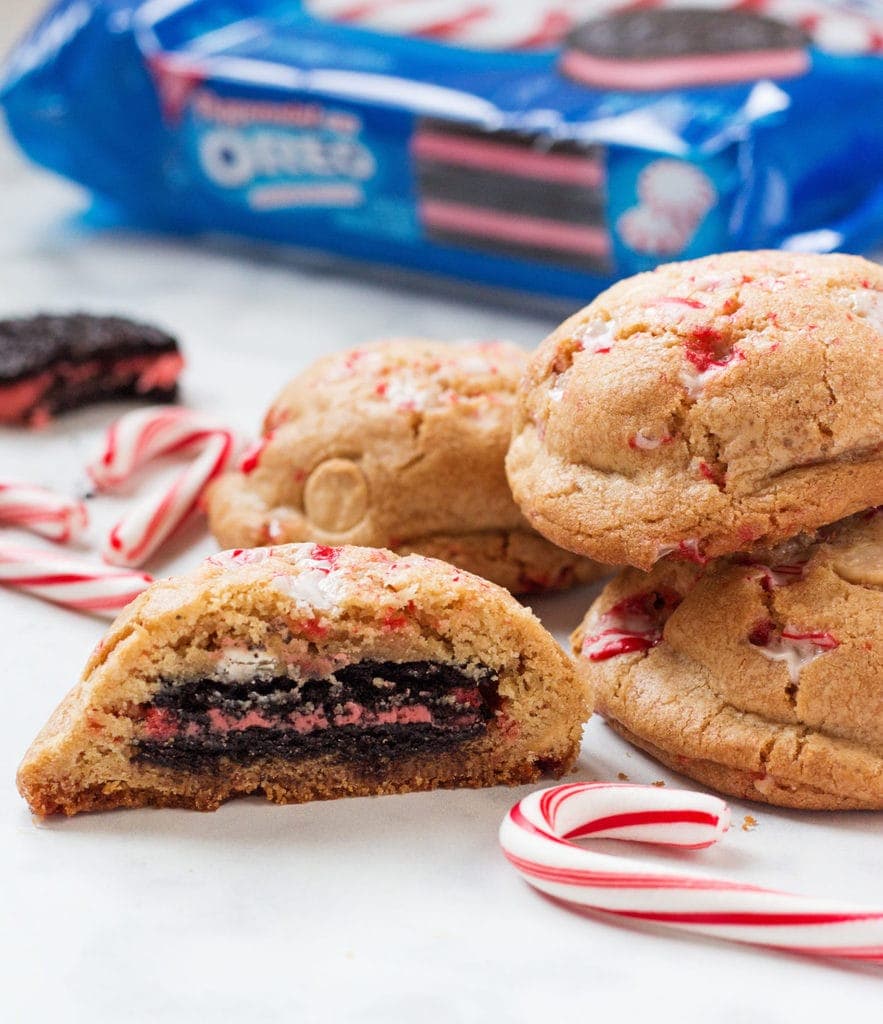 These peppermint Oreo cookies went fast. Between packing them up tupperwares and sharing with friends to me not so sneakily breaking off a piece every time I passed through the kitchen, they were easily consumed within 24 hours.
This of course means I'm going to have to make them again before December 25. There are still a whole lot of cookie swaps, and holiday parties to come!
Peppermint Oreo Cookies
Peppermint Oreo cookies are a treat for the Christmas cookie swap! Peppermint Oreos are wrapped up in white chocolate chip cookie dough with candy cane bits.
Ingredients
1/2

cup

butter

softened (1 stick, 113 g)

1/3

cup

light brown sugar packed

1/2

cup

sugar

1

large egg

1 1/2

teaspoons

vanilla extract

1 3/4

cups

flour

1/2

teaspoon

salt

1/2

teaspoon

baking soda

1/2

cup

white chocolate chips

1/4

cup

crushed candy canes

1

package peppermint Oreo™ cookies*
Instructions
Preheat oven to 350°F. Line a cookie sheet with parchment paper and set aside.

In a medium bowl, whisk together the flour, salt and baking soda. Set aside.

Cream butter and sugars together with a mixer until light and fluffy, about 2 minutes. Beat in eggs and vanilla until combined, about 30 seconds.

Slowly add dry ingredients to wet and mix until just combined. Stir in chocolate chips and candy cane bits until incorporated.

Using a one-inch cookie scoop to measure out dough, place a single Oreo between two equal scoops of cookie dough. Use your hands to mold the dough around the Oreo until edges are sealed and cookie is completely enclosed in dough. Repeat with each cookie until all dough is used.

Place cookies 2-inches apart on the prepared baking sheet (the cookies will expand a bit when baking). Bake 11-15 minutes or until golden brown. Let cool for 5 minutes before transferring to cooling rack. Cookies are best served day of. They should be stored in an airtight container at room temperature for up to a week.
Recipe Notes
* If you can't find peppermint Oreos, substitute with mint Oreos or regular Oreos.
Inspired by Tablespoon.