No knead artisan bread is a recipe that everyone should have on hand. Making artisan bread from scratch is easy and will impress your friends and family!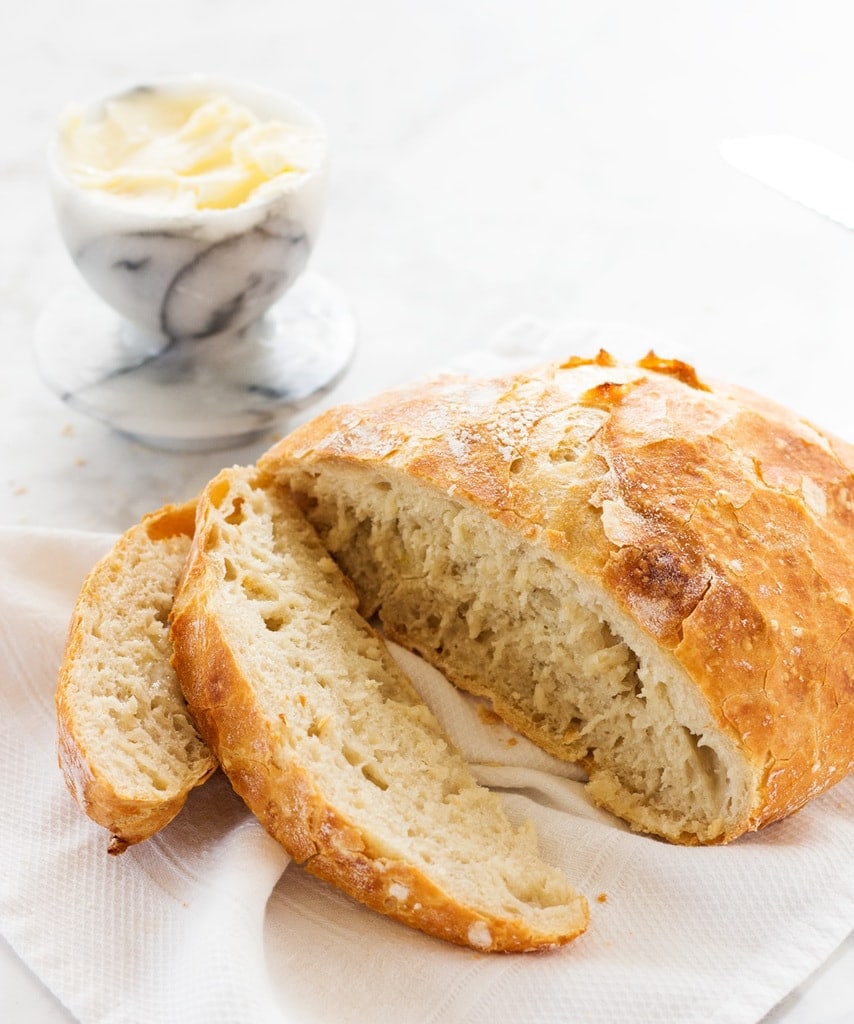 There are certain recipes that everyone should master in the kitchen and bread is one of them. This no knead artisan bread recipe is simple to learn and will without a doubt impress house guests.
Many think that in order to make good bread from scratch a bread maker is necessary (or at the very least a lot of kneading by hand). I will even admit that I once believed one of the two were needed.
Lucky for all of us, that turns out to be false. Good artisan bread is achievable sans bread maker (as for the hand kneading, you can leave the arm work out for the gym).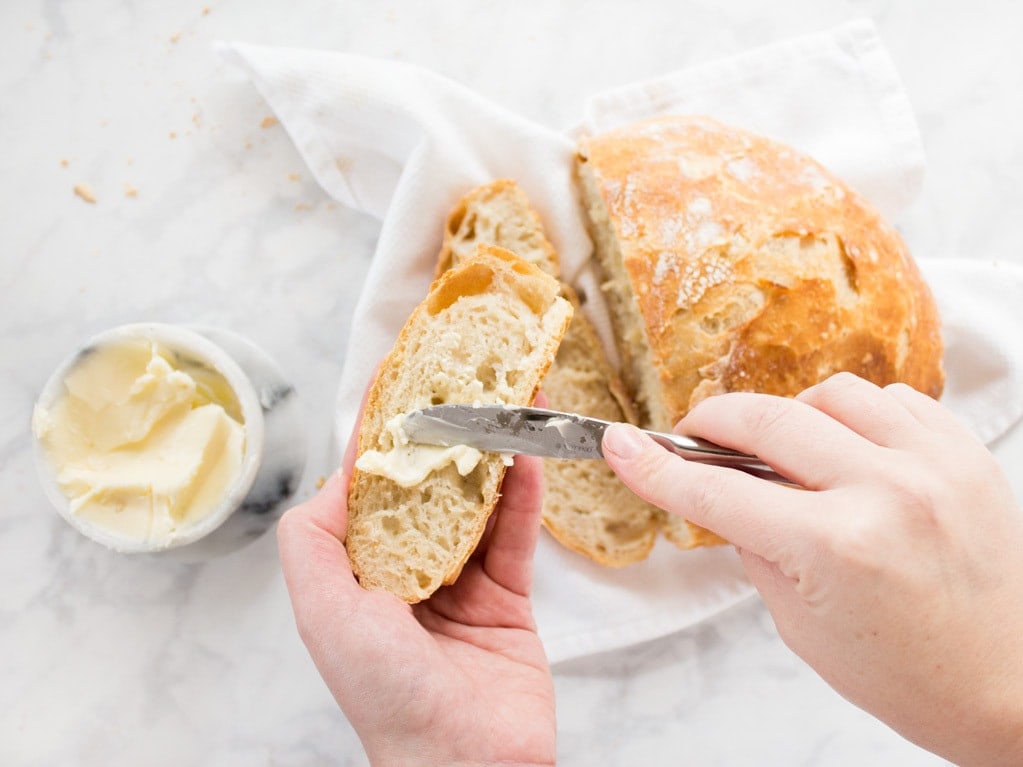 I could hardly believe how incredible this no knead artisan bread turned out the first time I made it. I expected it to be decent, but nothing near what you would get at the bakery. Boy was I wrong.
This bread is just like the loaves at the bakery. Tender, soft bread with the absolute crunchiest crust. I once was watching Barefoot Contessa and Ina mentioned that the key to knowing a bread is good is by how crunchy its crust is.
Well, if that's the tell tale sign of a good bread, then this no-knead artisan bread passes.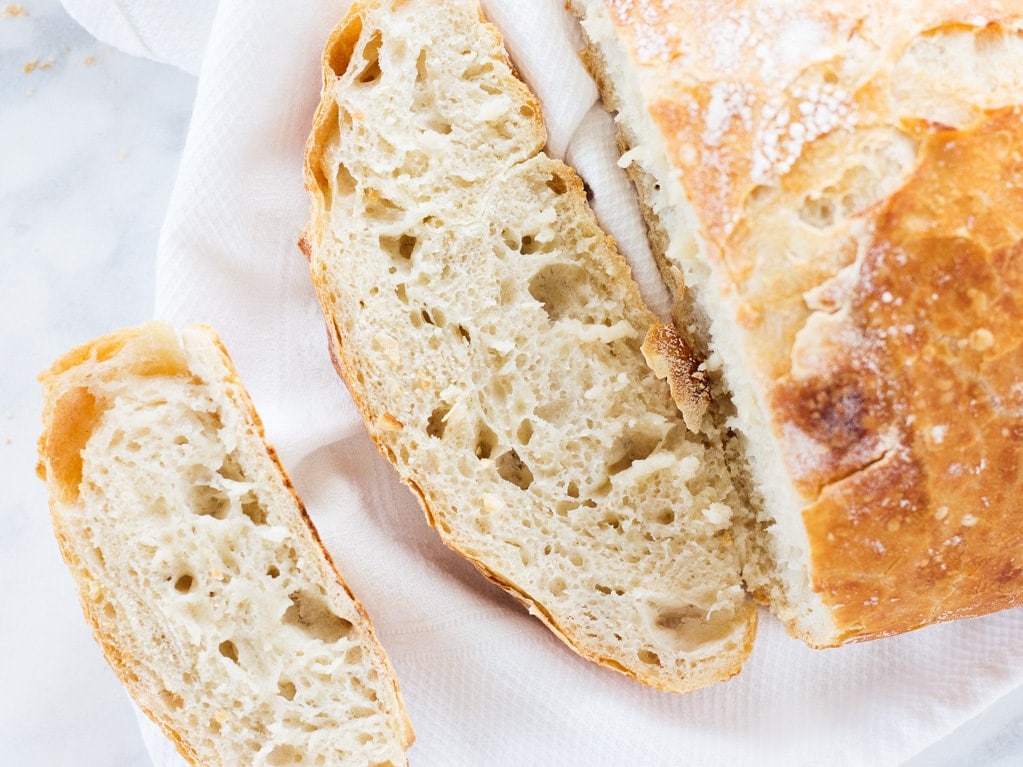 If you're still on the fence about making your own bread from scratch, then watch the recipe video below. It shows you how easy it is to make no knead artisan bread right at home!
Not only does this bread taste and look like it came from the bakery, it makes your entire kitchen smell like a bakery too! So if you have ever had the desire to make bread in your kitchen, now is the time to try. No kneading, no bread machine, no excuses!
Tools you need for this recipe
No Knead Artisan Bread
12 hrPrep Time
45 minCook Time
12 hr, 45 Total Time
Ingredients
3 cups (360 g) all-purpose flour
1 3/4 tsp salt
1/2 tsp active dry yeast
1 1/2 cups (355 ml) warm water (about 110° F)
Instructions
In a large bowl, whisk together flour, salt and yeast. Pour in warm water and stir mixture with a wooden spoon (or with your hands, best tool in the kitchen!) until a shaggy ball forms. Cover bowl tightly with plastic wrap and allow to rise for 12 - 18 hours at room temperature.
Preheat oven to 450° F. Once the oven has reached 450°, place a cast iron pot covered with a lid into the preheated oven. Heat pot for 30 minutes.
Meanwhile, turn dough out onto a heavily floured cloth towel then shape dough into a ball. Push any seams on the underside of the ball. Cover dough with cloth and allow to rest while pot is heating.
Carefully remove pot from oven. With floured hands, carefully drop dough into hot pot (you DO NOT need to grease the pot) cover with lid, then immediately return pot to oven and bake 30 minutes (at 450°).
After 30 minutes, remove lid from pot and bake uncovered for 15 minutes.
Remove from oven and allow bread to cool on a cooling rack. Once completely cooled, bread stores well in an open paper bag--it helps the bread maintain it's crisp crust.
7.6.4
169
https://www.ifyougiveablondeakitchen.com/2016/12/30/no-knead-artisan-bread/
If You Give a Blonde a Kitchen
Recipe adapted from Cooking Classy