Mermaid cupcakes look like they could be served under the sea with ombre blue frosting. This recipe for vanilla cupcakes and buttercream frosting uses blue dye to create cupcakes fit for a mermaid!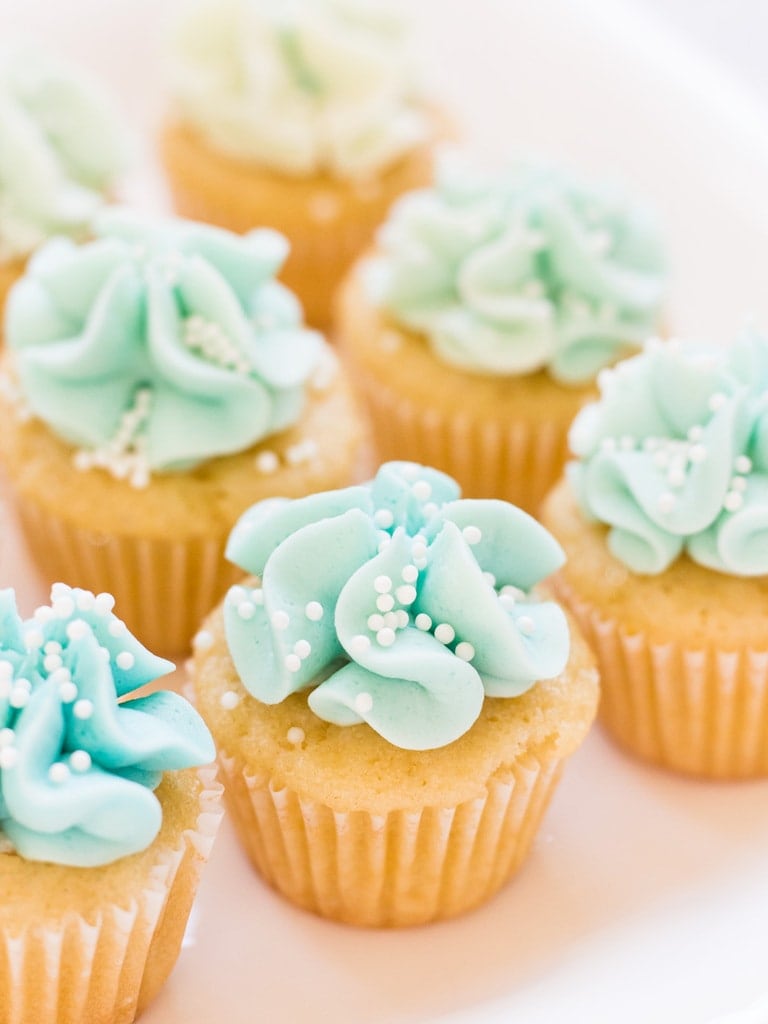 Can you believe summer is within sight? I cannot wait. I've been laying out in Connecticut's 60-degree spring weather yearning for summer. To really put me in the mood, I baked blue mermaid cupcakes.
So what makes these mermaid cupcakes? Well, it's all the decoration. I topped these vanilla cupcakes with ombre blue frosting and nonpareil sprinkles, which remind me of pearls. These little guys look like they could be served under the sea!
These mermaid cupcakes started off as an experiment in the kitchen tbh. I was baking cupcakes for a baby shower and was curious how creating blue ombre frosting would look. So I started by making the buttercream frosting and slowly adding more and more blue food dye.
This process is really easy and gives a professional look to the cupcakes. Let me break it down for you.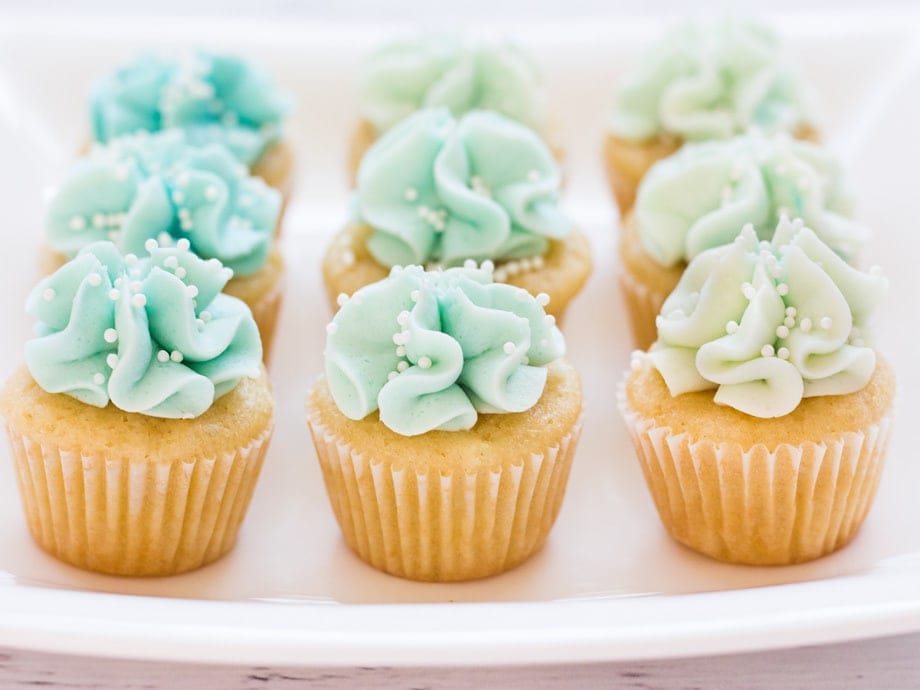 After making the buttercream frosting per usual, I added one drop of blue food dye and mixed it in. The frosting turned a pale blue and I scooped about a quarter cup of frosting into a piping bag.
I added another drop of blue food dye to the bowl of frosting, mixed again and the frosting turned slightly more blue. I scooped out another quarter cup of frosting and added it to the piping bag.
I repeated this process until there was no more frosting in the bowl and by that time the frosting was the perfect ocean blue. See? A lot easier than you may think.
A key step I discovered was when I added the frosting to the piping bag each time, I had to press it down to the end of the bag near the tip. This way the different blues are layered in order of lightest to darkness. As you frost the cupcakes, the frosting will get darker and darker as you go.
I chose to make mini cupcakes as bite sized tend to do really well at parties. However, this recipe will work just as well for regular-sized cupcakes!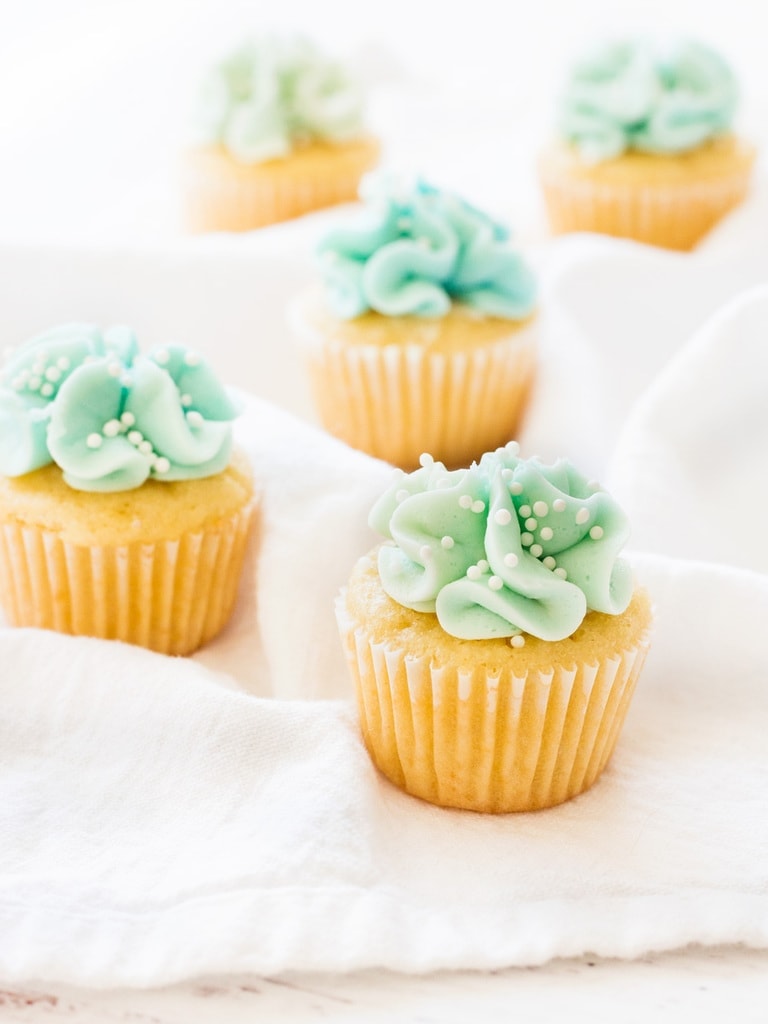 This is your chance to test your baking skills and try making this ombre blue frosting. Garnish each cupcake with white nonpareils, which look like pearls against the ocean blue frosting.
If you are aching for summer like I am, these mermaid cupcakes will most definitely get you in the mood.
Tools needed to bake mermaid cupcakes:
Blue Mermaid Cupcakes
15 minPrep Time
10 minCook Time
25 minTotal Time
Ingredients
Vanilla Cupcake Ingredients

1 3/4 (224 g) cups cake flour
1 1/2 teaspoons baking powder
1/2 teaspoon baking soda
1/2 teaspoon salt
1/4 cup (57 g or 1/2 stick) unsalted butter, room temperature
1 cup (200 g ) granulated sugar
2 large eggs
1/3 cup (75 g) sour cream (or plain, low-fat yogurt)
1/4 cup (60 ml) vegetable oil
2 tablespoons vanilla extract
2/3 (160 ml) cup milk

Ombre Blue Buttercream Ingredients

1 cup (2 sticks or 223 g) unsalted butter
2 1/2 cups (300 g) powdered sugar, sifted
2 teaspoons vanilla extract
1/8 teaspoon salt
1-2 tablespoons milk
Instructions
Vanilla Cupcakes
Preheat oven to 350° F. Line a mini cupcake pan with baking cups.
In a medium bowl, whisk together cake flour, baking powder, baking soda and salt. Set aside.
In a large mixing bowl, cream together the butter and sugar until light and fluffy. Add the eggs one at a time, beating well after each addition. Beat in the sour cream, vegetable oil, and vanilla extract.
Gradually add in the flour mixture in three parts, alternating with milk (So it goes flour, milk, flour, milk, flour). Mix until batter is uniform and smooth.
Fill baking cups about 2/3 full and bake for 10 minutes, or until a toothpick inserted into the center comes out clean.* Remove from the oven, transfer cupcakes to a cooling rack, and allow them to cool to room temperature before frosting.

Ombre Blue Buttercream Frosting

In a large mixing bowl, whip the butter (with a stand mixer or electric hand mixer) until fluffy, about 5 minutes.
With the mixer on low speed, gradually add in the powdered sugar until completely incorporated.
With the mixer on medium speed, add the vanilla and salt, and beat for a minute, until fluffy. Add milk until desired consistency is reached.
Add one drop of blue food dye to the frosting and mix until the frosting turns pale blue. Scoop about a quarter cup of frosting into a piping bag fitted with desired tip. Push frosting to the end of the bag where the tip is.
Add another drop of blue food dye to the bowl of frosting, mix again and scoop out another quarter cup of frosting and add it to the piping bag. Repeat process until there is no more frosting left.
Frost cupcakes (the first cupcake should be pale blue and the last cupcake will be sea blue). Garnish with white nonpareils and serve.
Notes
*If baking regular-sized cupcakes, bake for 12 to 14 minutes. Cupcakes are best served day of, but can be stored in an airtight container at room temperature for up to 4 days.
7.6.4
190
https://www.ifyougiveablondeakitchen.com/2017/04/18/blue-mermaid-cupcakes/
If You Give a Blonde a Kitchen