Strawberry cheesecake no churn ice cream is made using a blender and delicious ingredients—fresh strawberries, cream cheese and graham crackers!
Ice cream has always been my favorite dessert, especially in hot summer months. To celebrate national ice cream month (hello, July!), I made strawberry cheesecake no churn ice cream.
This no churn ice cream recipe is so easy to make. All you need is a blender (or large food processor) and you will have a smooth ice cream base to work with. I used a Hamilton Beach blender and it worked like a charm.
The ice cream base consists of heavy cream, cream cheese, sour cream, sugar, vanilla, and lemon juice. Processing this in a blender makes a really smooth ice cream and the high speed whipping gives it a fluffy texture. The sour cream, cream cheese and lemon juice provide a cheesecake flavor.
But the fun part are the mix-ins—chopped strawberries and crushed graham crackers. They add a lot of flavor and texture to this no churn ice cream.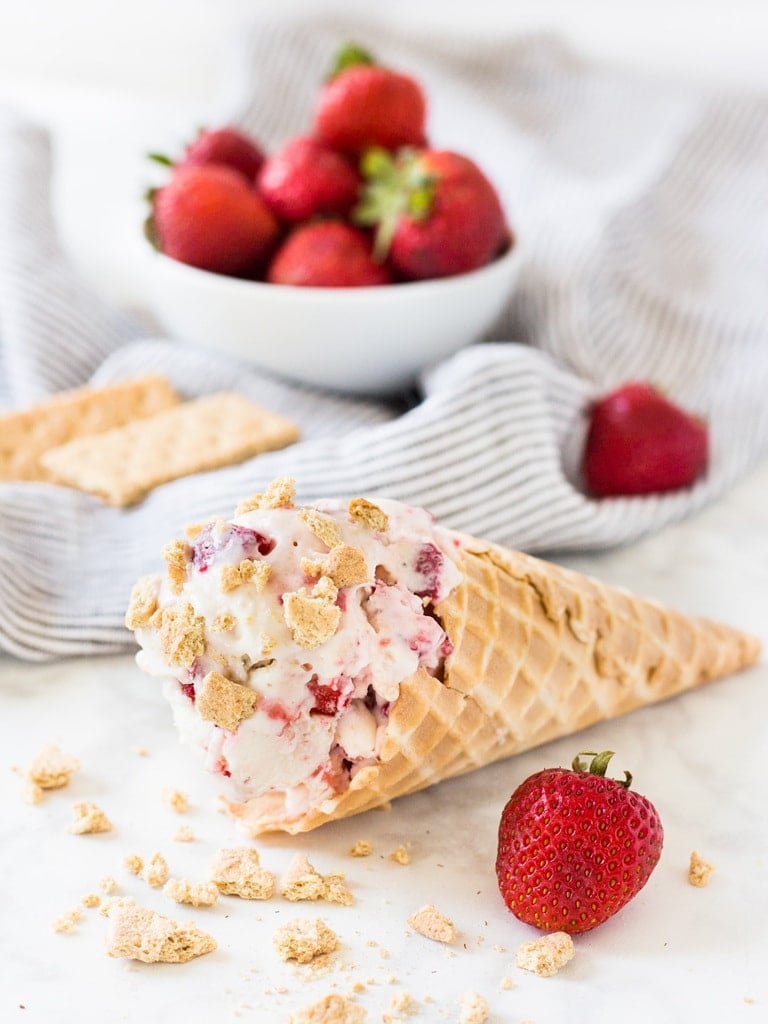 For a noticeable strawberry flavor, I chopped up fresh strawberries and let them sit in granulated sugar to get the juices flowing. Then stir the strawberry mixture into the ice cream base. The juice will create an intense flavor and tint the ice cream pink!
The graham crackers make the ice cream a little crunchy, which I really like. To avoid soggy graham cracker bits, I layered the crumbs in between the ice cream when I transferred it to a baking dish. Stirring them in will make them soak up too much liquid.
You can of course serve the ice cream with extra strawberries and graham crackers on top!
Once this no churn ice cream sets in the freezer, scoop yourself some and see how all the flavors melt together. Each bite tastes just like strawberry cheesecake!