Christmas M&M cookies are a classic holiday dessert perfect for gifting. This simple cookie recipe is loaded with red and green M&M candies!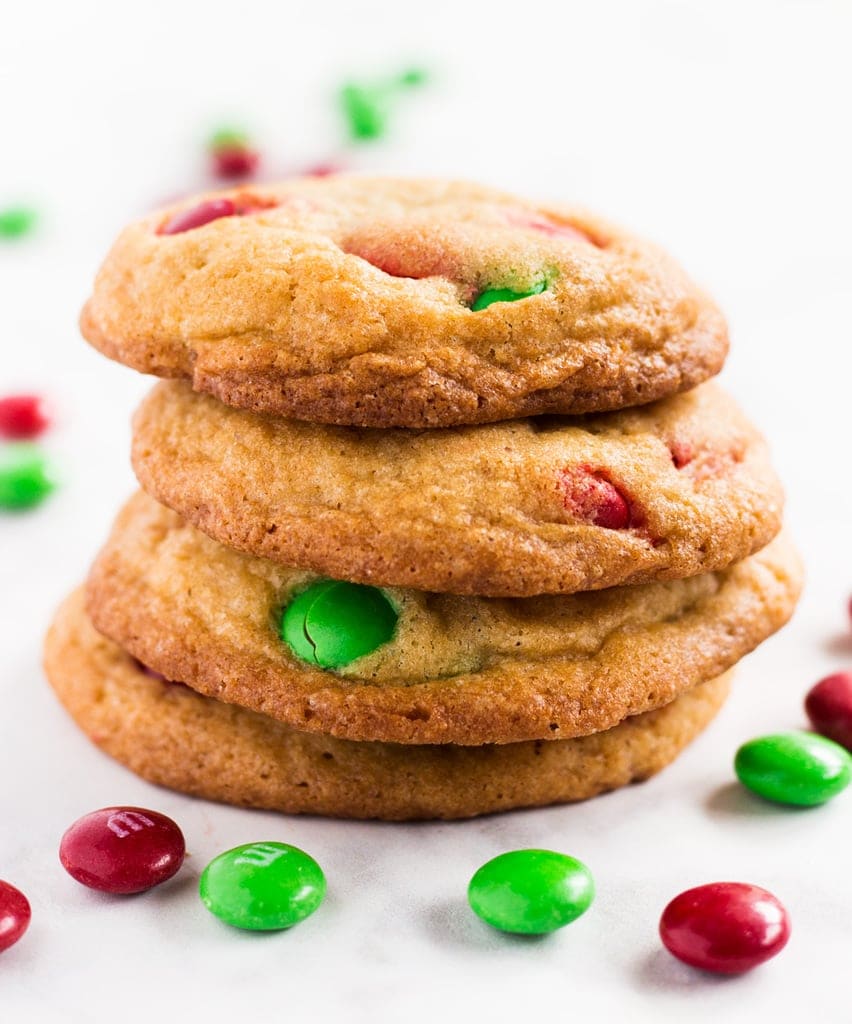 'Tis the season of giving! I absolutely love giving baked goods this time of year. As my giving list grows, I need a simple recipe that makes a lot of cookies. These Christmas M&M cookies are just the trick!
Christmas M&M cookies are soft, chewy cookies packed with red and green M&M candies. It's a simple recipe that doubles (and triples) quite easily!
I used my chocolate chip cookie recipe and swapped the chocolate chips for M&M's. People are always begging me for my chocolate chip cookies so I figured putting a holiday spin on the recipe would be fun!
Who else loves the look on someone's face when you  give them a gift? It puts a smile on my face to see my friends so happy. Hence, why I love baking and sharing my baked goods.
This thinking also explains why I love Christmas. It's the season of baking and the season of giving! My kitchen becomes stacked with cookie tins and trays ready to go as I visit friends and family.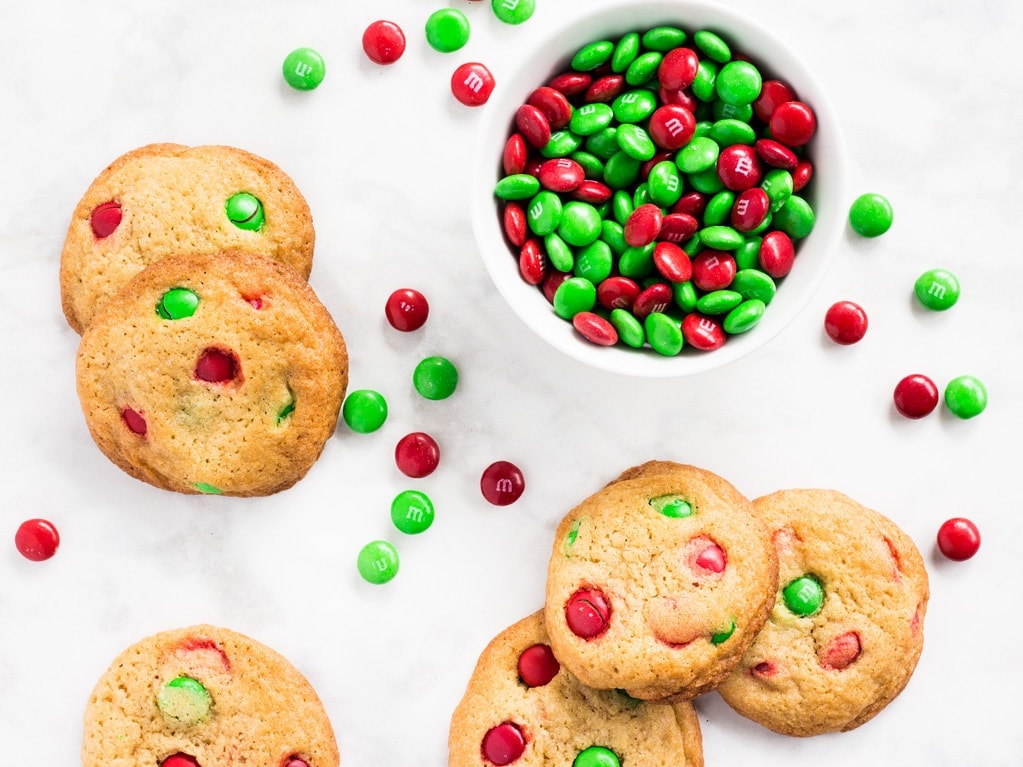 Cookies aren't the only thing you can give this year. I chose to give back to a charity this year, Cookies for Kid's Cancer. The non-profit organization was founded by a mom whose 2-year-old son battled cancer.
She and her husband pledged to support the funding of research for safer, more effective treatments for children battling cancer. To kickstart the funding, she and 250 volunteers baked and sold 96,000 cookies, raising more than $400,000 for research.
Now if that's not a reason to bake cookies, I don't know what is!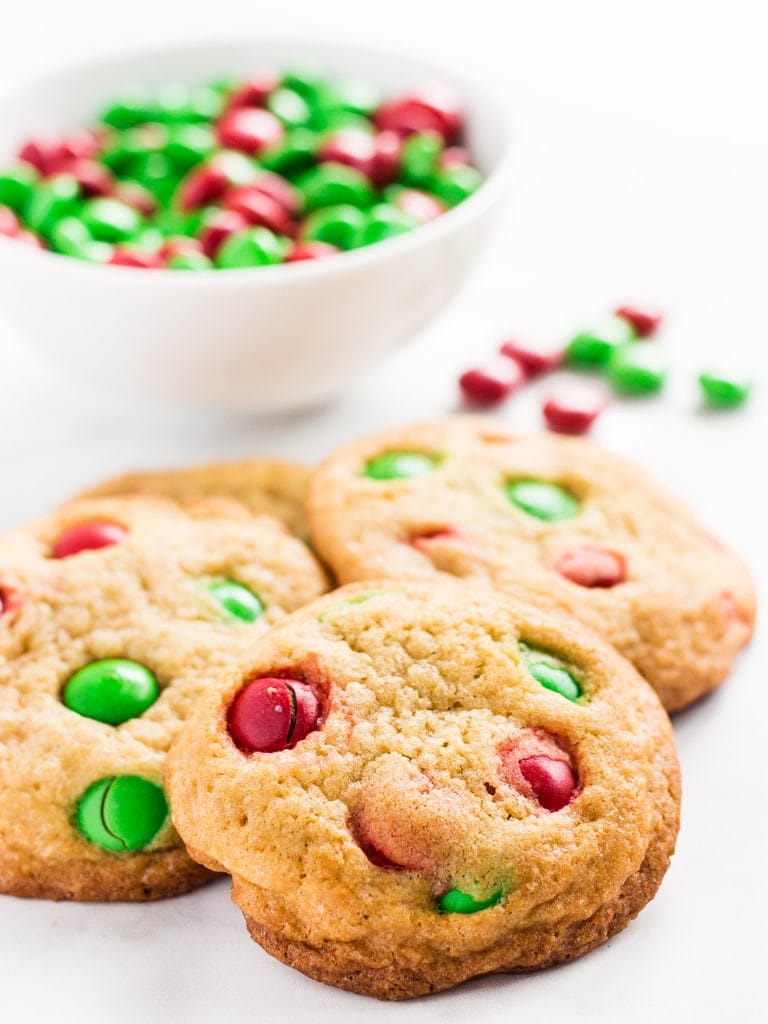 This holiday season I encourage you to give cookies not only to your family and friends, but also those outside your circle of loved ones!
If you'd like to donate to Cookies for Kid's Cancer, click here. I personally love the idea of hosting a holiday bake sale to raise money for the charity!
Yields 36 cookies
Christmas M&M Cookies
10 minPrep Time
12 minCook Time
22 minTotal Time
Ingredients
2 1/2 cups (312 g) unbleached all-purpose flour
3/4 teaspoon baking powder
1/2 teaspoon baking soda
3/4 teaspoon salt
14 tablespoons (198 g) unsalted butter, softened
1 1/2 cups (300 g) brown sugar, packed
1/4 cup (50 g) granulated sugar
1 large egg plus 1 egg yolk
2 teaspoons vanilla
2 cups M&M's
Instructions
Preheat oven to 350 F. Line a baking sheet with parchment paper and set aside.
In a medium bowl, whisk together the flour, baking powder, baking soda and salt. Set aside.
In the bowl of a stand mixer fitted with a paddle attachment, beat on medium speed the butter, brown sugar and granulated sugar until light and fluffy, about four minutes. Scrape down the sides of the bowl when necessary. Add the egg, egg yolk and vanilla. Beat until combined, 20 to 30 seconds.
With the mixer on low, slowly add the flour mixture to the dough. Careful not to over beat. With a wooden spoon or rubber spatula, stir in the M&M's by hand.
Scoop about 2 tablespoons of cookie dough, shape into a ball, and place onto the prepared baking sheet. Repeat placing each ball of cookie dough about 1- to 2-inches apart. Bake for about 12 minutes or until the edges start to turn brown. Cool on the pan for 5 minutes and then transfer to a wire rack to cool completely. Store in an airtight container at room temperature.
7.6.6
208
https://www.ifyougiveablondeakitchen.com/2017/11/30/christmas-mm-cookies/
If You Give a Blonde a Kitchen