Sugar cookie bars are incredibly easy to make and fun too! Frosted with a cream cheese frosting and cut into triangles, these bars look like Christmas trees.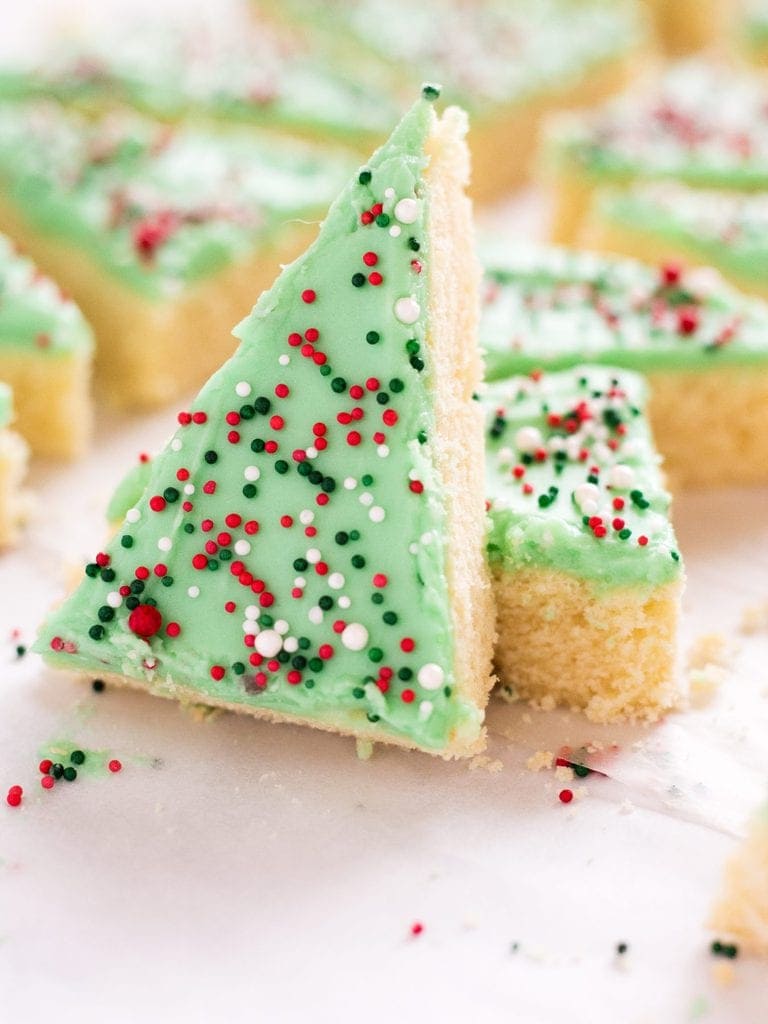 It's the most wonderful time of the year to bake! I'm whipping out recipes left and right (have you seen my sugar cookie truffles?). Today I made these quick and easy sugar cookie bars shaped like Christmas trees!
It's only the day after Thanksgiving and I'm already decorating the Christmas tree (both the one standing in my living room and the cookie ones I just baked in the oven). I can't help myself. The Christmas season flies by and I like to take advantage of every minute of it!
The fam and I went up to the Christmas tree farm today to cut down a tree (family tradition) and as soon as we got home I started baking. I was craving sugar cookies and inspired to make Christmas tree-shaped treats after being on the farm.
A quick and easy recipe was called for, and while I love rolling out sugar cookie dough and going at it with some cookie cutters, I didn't have the time to individually decorate each cookie (we've all been there). So I figured, why not make sugar cookie bars and decorate the whole sheet?
Frosting bars with green frosting and cutting them into triangles made them look just like Christmas trees and it literally took minutes to frost and cut! This is seriously such a good recipe when you're short on time or need to serve a crowd.
For this recipe, I teamed up with SoFabFood. Click here to make these Christmas sugar cookie bars