Iced pistachio oatmeal cookies are made using a basic chewy oatmeal cookie recipe with pistachios mixed into the batter and sprinkled on top of the icing. Delicious!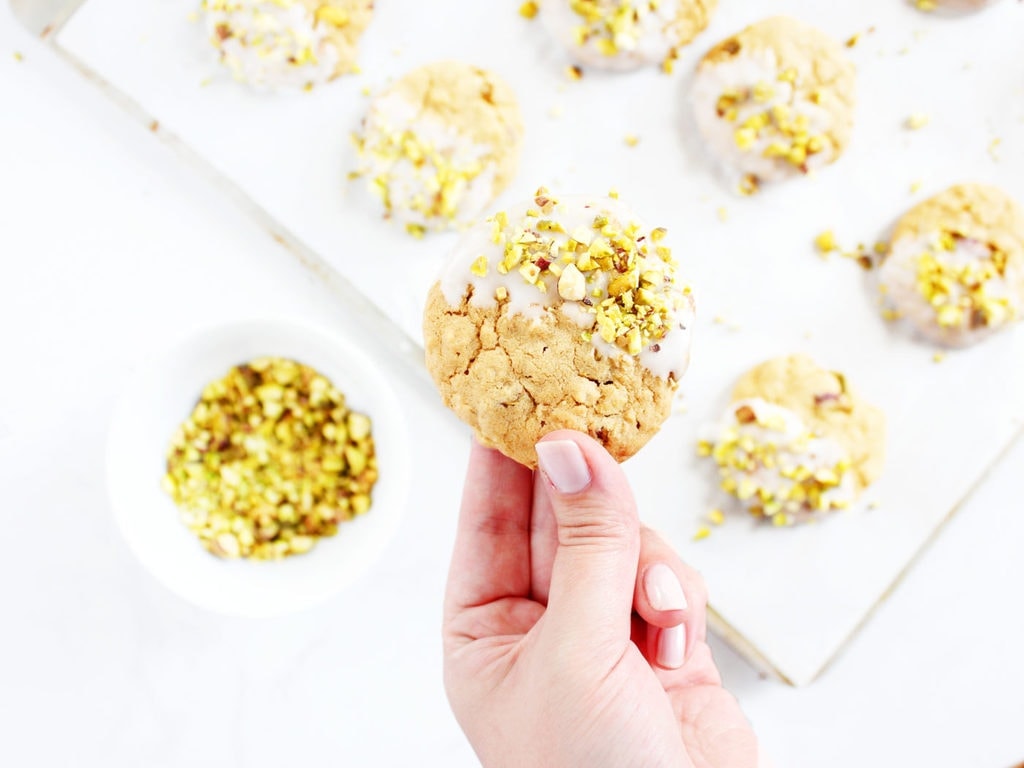 Pistachios are good, but pistachios in oatmeal cookies? Now that's even better. The crunchy, flavorful nuts are the perfect pair for chewy, soft oatmeal cookies. And to top it all off is some icing and even more pistachios!
I love me some pistachios. They are definitely one of my favorite nuts (right up there with almonds), but there's one person I know who loves pistachios even more than I do and that's my dad. He shells these babies and eats them like popcorn. So when I mentioned making pistachio cookies he was all for it.
I figured if I was going to bake something my dad will love, than I might as well hit it out of the ball park and put the pistachios in his favorite cookies—oatmeal! I used my chewy oatmeal raisin cookie recipe as the base and replaced the raisins with pistachios.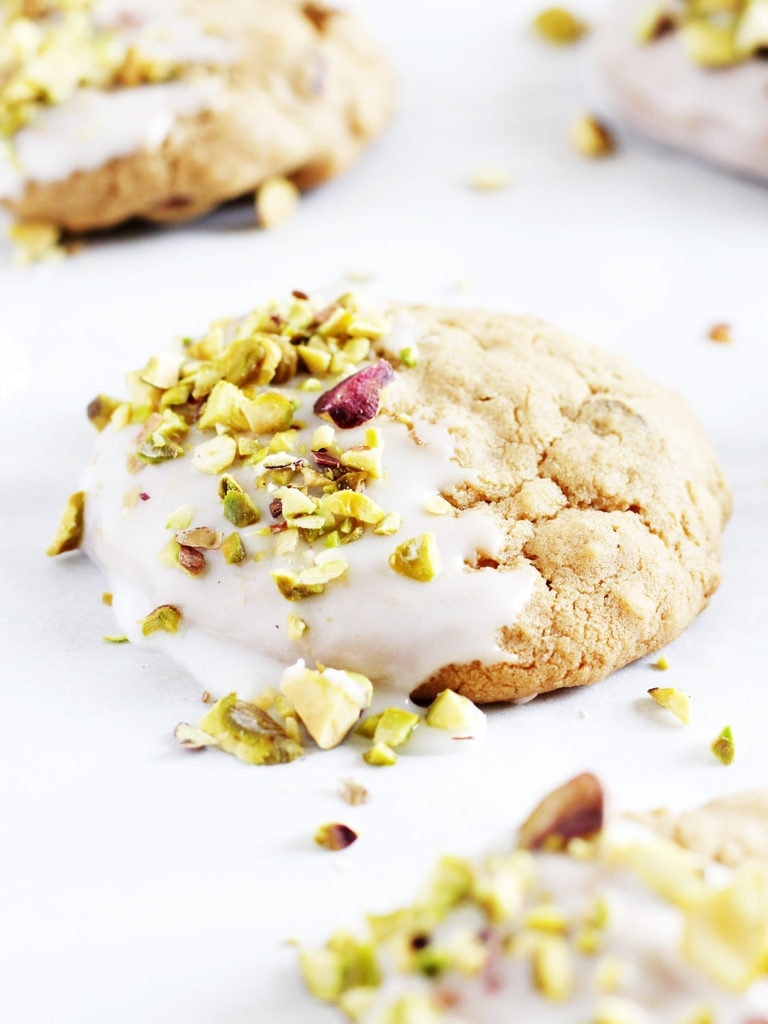 The pistachio oatmeal cookies were a hit! I was curious as to how much the nuts were going to change the cookies aside from adding a little crunch. To my delight, the pistachios infused the oatmeal cookie dough with its intense nutty flavor and it is so good.
Insanely delicious. I love my oatmeal cookie recipe so adding this new flavor with success made me jump with joy! But I wanted to make them even better so I dipped the cookies in a simple icing and sprinkled crushed pistachios on top. That extra step took the cookies to another level.
Let's just say, they are a pistachio lover's dream.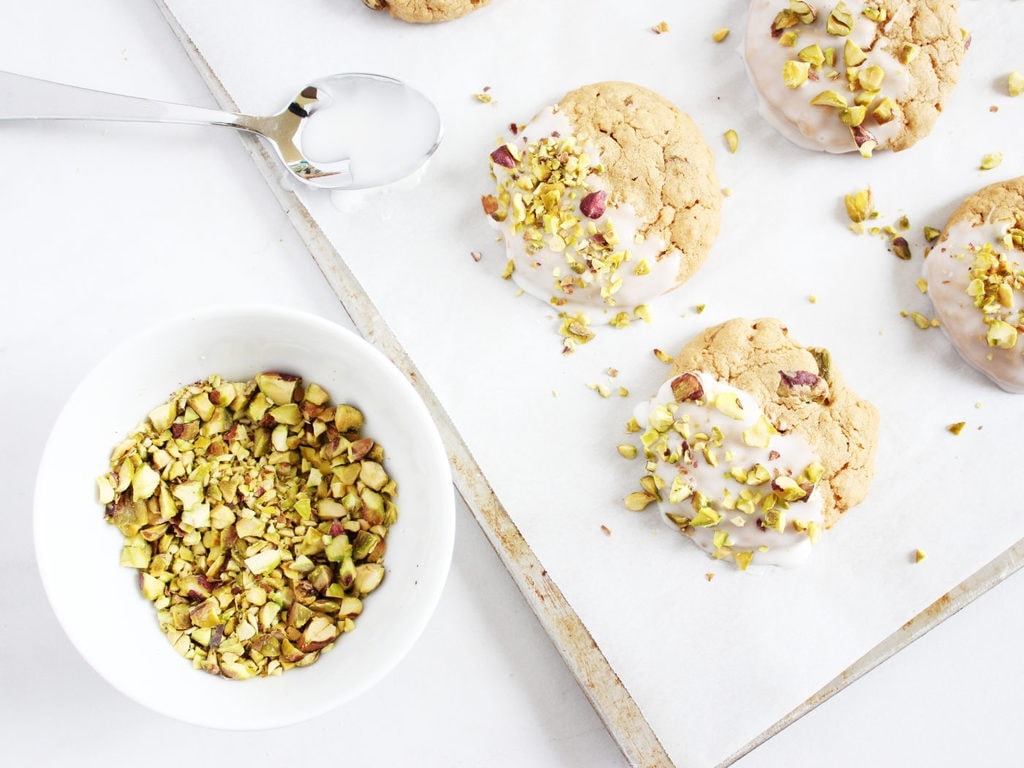 These pistachio oatmeal cookies truly are delicious though. Not only do you have the whole chewy oatmeal cookie thing going on, but you also have the crunchy pistachios making their way in there infusing their delicious flavor. And what's more? You have a little extra lovin' on top with the icing and chopped pistachios.
Now that is how you do a pistachio cookie.

Iced Pistachio Oatmeal Cookies
Iced pistachio oatmeal cookies are made using a basic chewy oatmeal cookie recipe with pistachios mixed into the batter and sprinkled on top of the icing. Delicious!

Ingredients
2

cups

(250 g) all-purpose flour

1 1/2

cups

(128 g) old-fashioned oats

1/2

teaspoon

baking soda

1/2

teaspoon

salt

3/4

cup

(1 1/2 sticks or 170 g) unsalted butter, melted

1

cup

(220 g) packed brown brown sugar

1/2

cup

(100 g) white sugar

2

teaspoons

pure vanilla extract

1

egg plus 1 egg yolk

1

cup

(124 g) whole shelled pistachios
Icing
1

cup

(128 g) confectioners' sugar

1

tablespoon

plus 1 teaspoon milk

1/2

cup

(62 g) finely chopped pistachios
Instructions
Preheat the oven to 325° F. Line cookie sheets with parchment paper, set aside.

Melt butter and let cool slightly.

While butter is cooling, whisk together flour, oats, baking soda and salt. Set aside.

In a medium bowl of a stand mixer, mix together the melted butter, brown sugar and white sugar until well blended. Beat in vanilla, egg, and egg yolk for 2-3 minutes until light and creamy. Scrape down sides when necessary.

Gradually add the flour oat mixture and mix until just blended. Stir in the pistachios.

Scoop 1 heaping tablespoon of dough and roll into a ball. Place onto parchment lined cookie sheet and flatten slightly with the palm of your hand. Bake for 14-16 minutes. The edges will look lightly browned and the centers soft. Let the cookies cool on the cookie sheet for 3 minutes and then transfer to a cooling rack.

To make the icing, stir together the confectioner's sugar and milk until smooth and the icing reaches a drizzle consistency.

Dip half of a cookie into the icing and let the excess drip off. Return it to the cooling rack and sprinkle with chopped pistachios.
Recipe Notes
· Store cookies in an airtight container at room temperature for up to a week.
· Dough can be stored in the freezer for up to three months. Let dough come to room temperature before baking cookies.