Raspberry coffee cake has pockets of tart raspberries and a cinnamon streusel topping. It is a delightful breakfast food to enjoy this summer!
Berry season is within sight! I'm getting a jumpstart on my berry recipes and baked raspberry coffee cake. This breakfast cake is bursting with tart raspberry flavor—perfect for summer.
Raspberries always give me a bit of nostalgia (yup, a fruit gives me nostalgia). They make me think of my childhood summer where my sister and I would pick raspberries from the bush in my parents' backyard.
It's probably just me, but I swear the raspberries still taste better from their backyard bush!
Fresh or frozen raspberries will work for this coffee cake. Both will create remarkable flavor and color in the cake. With every bite, you get a tarty, sweet sensation from the berries.
The batter will turn a little pink when you add the berries, but it will bake off! To control the color, limit how much you stir when adding the berries to the batter. Gently fold in the berries with a couple stirs and you're good to go!
If using frozen raspberries, I suggest dusting the berries in a bit of flour before adding them to the batter. It will control the juices as the berries defrost and will keep them from sinking to the bottom of the cake.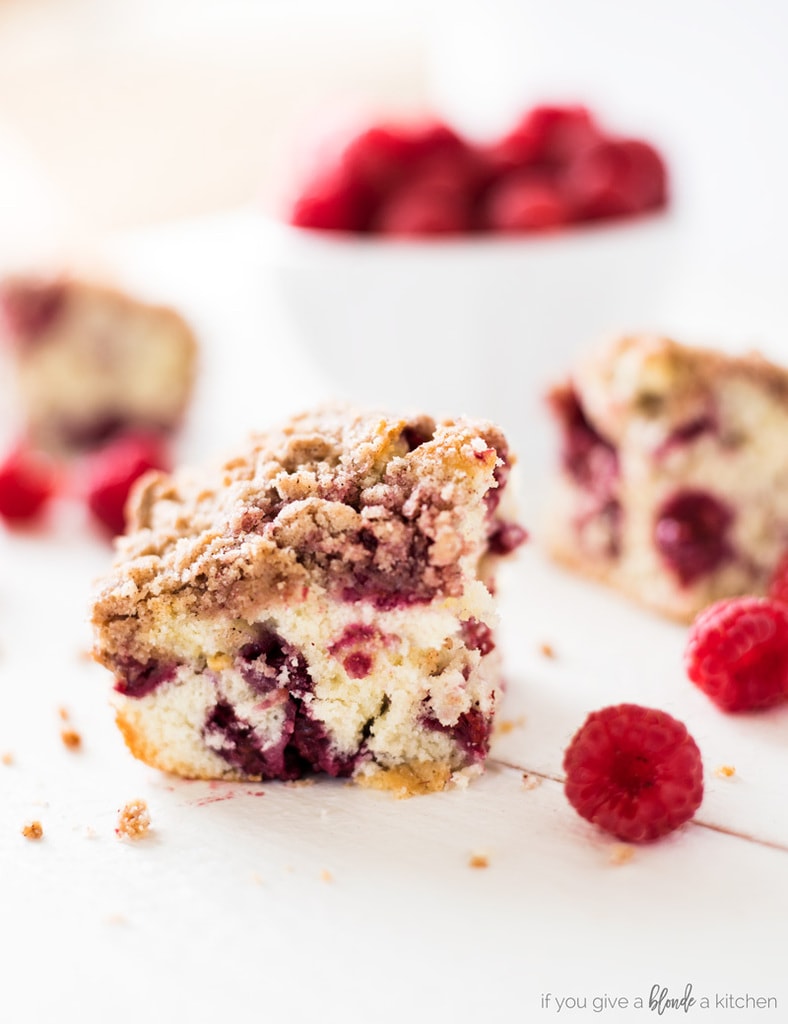 This raspberry coffee cake has a tender crumb as well. It falls apart in your mouth and has a subtle buttery taste to it—a perfect compliment to the tart raspberries.
And like any classic coffee cake, it is topped with a simple cinnamon streusel. I tell you, this is the type of cake you want to have for breakfast!
Raspberry coffee cake is perfect to serve for breakfast when you're relaxing on summer vacation. Pour yourself an iced coffee and treat yourself to a slice of this cake.
For this recipe, I teamed up with Ashley from Spoonful of Flavor. Head on over to her website for the full list of ingredients and instructions!