Fall mornings call for two-bite mini pumpkin scones. Coated with a spiced glaze, these little treats are good to eat for breakfast or an afternoon snack.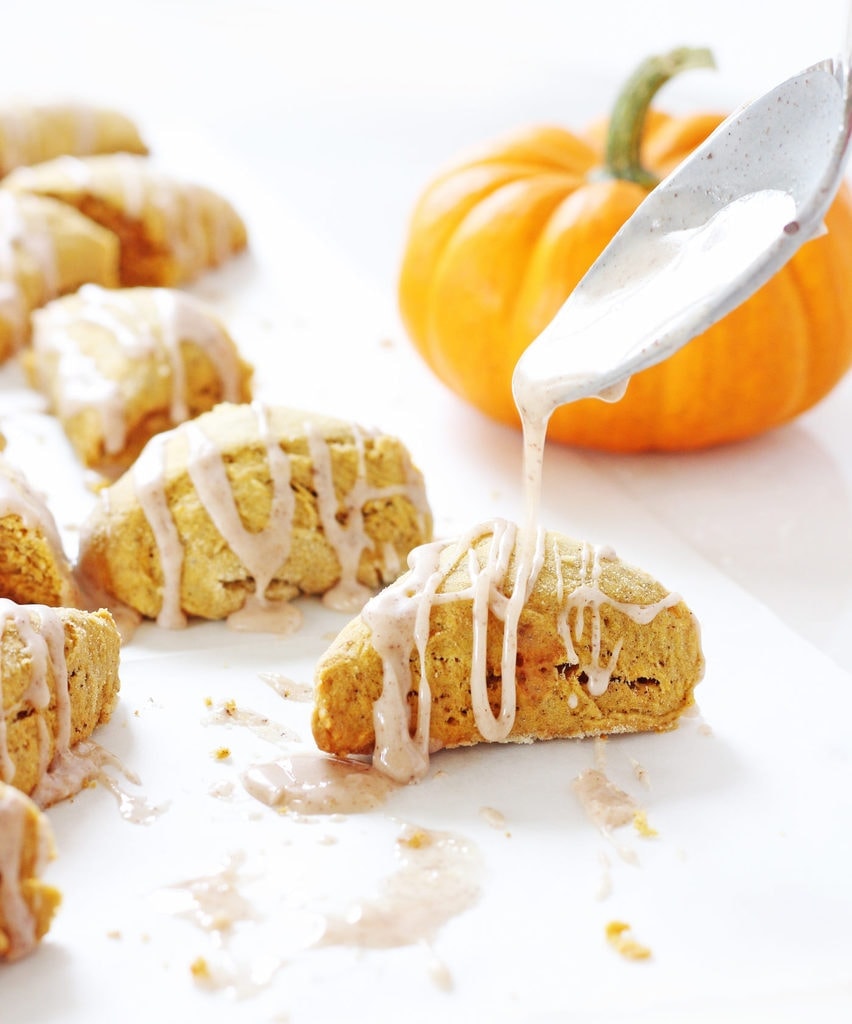 Pumpkin spice everything, please. Yes, I'm one of those girls. It's fall and I want fall flavors, which is precisely why I made these two-bite mini pumpkin scones. They are just what I need for breakfast or a mid-afternoon snack.
Two-bite scones have been my favorite thing to bake recently (mostly because I love a grab-and-go breakfast). All the joy of a scone in two bites—that's what I'm talking about.
With leaves beginning to turn colors I didn't hesitate a minute to jump on the pumpkin spice train. I've been eagerly waiting to make mini pumpkin scones since my last two-bite scone recipe. Well, the time has arrived.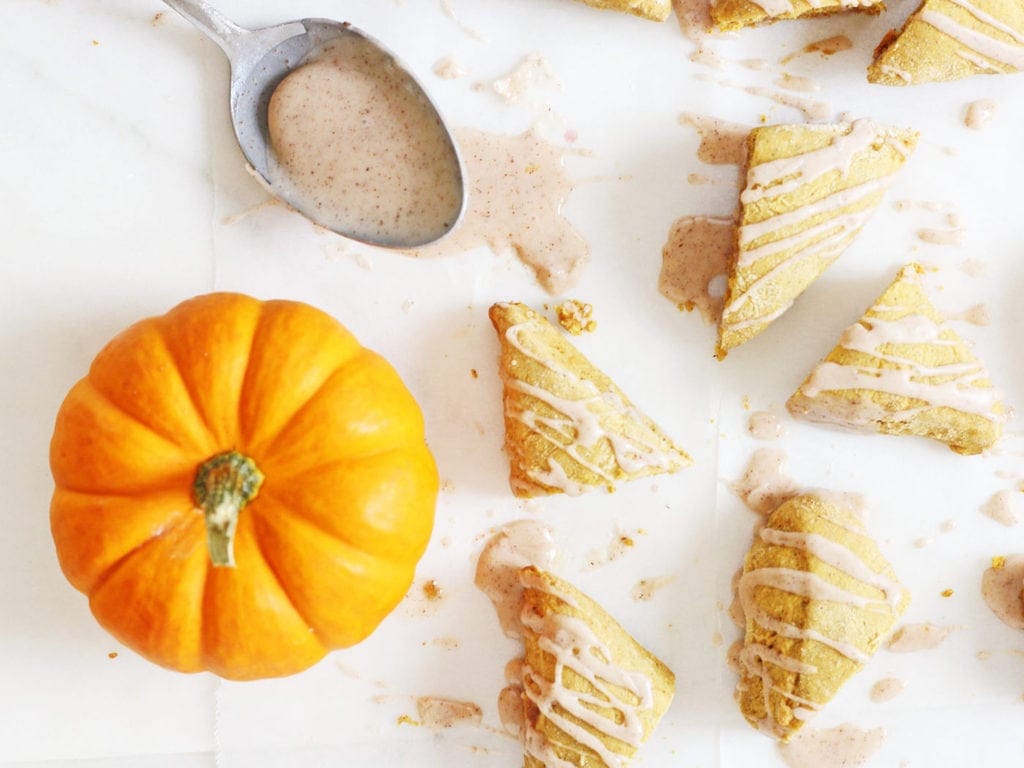 I pulled out all the fall spices from the cabinet and lined them up next to a can of pumpkin purée, which reminds me of another reason I love to make scones. They require no mixer! Mix the dry ingredients in one bowl and the wet ingredients in another and then combine the two. Easy, peasy.
The most brain power you'll need for this recipe is cutting up the scones into the correct proportions. So follow the instructions carefully. Or you can just watch this recipe video I made for you 🙂
And not only are they easy to make, but the flavor encompasses fall. Cinnamon, nutmeg, ginger, ground cloves make up the spices, and then the pumpkin purée brings that warm autumn hue.
And just to make sure there is enough pumpkin spice goodness in the two-bites, top off these mini pumpkin scones with a spiced icing. After all, icing on scones is equivalent to frosting on cupcakes, right?
Plus, it makes them look extra pretty!
Be prepared to share too. You get a lot of scones from this little recipe! Sixty four to be exact. That is, if you take the option to cut the scones again once they're out of the oven.
If you prefer to have 32 scones, then you can serve the scones as is when they are baked. That is completely up to you and what you consider the size of two bites to be!
Either way, you will enjoy these mini pumpkin scones and so will your friends!
Two-Bite Mini Pumpkin Scones
Fall mornings call for two-bite mini pumpkin scones. Coated with a spiced glaze, these little treats are good to eat for breakfast or an afternoon snack.

Print
Pin
Rate
Servings:
64
two-bite pumpkin scones
Ingredients
Mini Pumpkin Scones
2

cups

all-purpose flour

1/3

cup

brown sugar

packed

1

teaspoon

cinnamon

1

teaspoon

baking powder

3/4

teaspoon

ground cloves

1/2

teaspoon

ground ginger

1/2

teaspoon

ground nutmeg

1/2

teaspoon

baking soda

1/4

teaspoon

salt

1/2

cup

(1 stick) unsalted butter, cut into cubes

1/2

cup

pumpkin puree

3

tablespoons

milk

1

large egg

2

teaspoons

vanilla extract
Spiced Icing
1

cup

confectioners' sugar

1/4

teaspoon

cinnamon

1/4

teaspoon

ground cloves

1/4

teaspoon

ground ginger

Pinch

of nutmeg

2

tablespoons

milk
Instructions
Preheat oven to 400° F. Line a baking sheet with parchment paper. Set aside.

In a large bowl, whisk together flour, sugar, cinnamon, baking powder, cloves, ginger, nutmeg, baking soda and salt. Work in the butter just until the mixture is a crumbly sand texture. It's okay for some larger chunks of butter to remain unincorporated. Set aside.

In another bowl, whisk together pumpkin purée, milk, egg and vanilla until well combined.

Pour pumpkin mixture over the flour mixture. Stir using a rubber spatula until a soft dough forms.

Transfer dough to lightly floured work surface. Knead dough 6 to 8 times, until it just holds together.* Pat/roll the dough into an 8″ to 8 1/2″ square, a scant 3/4″ thick. Make sure the surface underneath the dough is very well floured. If necessary, use a giant spatula to lift the square, and sprinkle more flour underneath.

Cut the square four times horizontally and four times vertically to create 16 two-inch squares (see video above). Now, cut each square in half diagonally, to make 32 small triangles.**

Place scones onto prepared baking sheet. Place into oven and bake for 10-12 minutes, or until a tester inserted in the center comes out clean.

To make the spiced icing, combine confectioners' sugar and spices. Whisk until combined. Add milk and whisk until smooth. If the glaze is too thick, add more milk as needed. Set aside.

When the scones are done, cool for 10 minutes and drizzle with spiced icing. Allow glazes to set before serving.
Notes
*Flour your knife each time you make a cut to prevent the dough from sticking to your knife.
**Don't be too particular here; in fact, if the scones are already a size you like, don't bother to cut them again.
Recipe adapted from Damn Delicious.
You may also like…