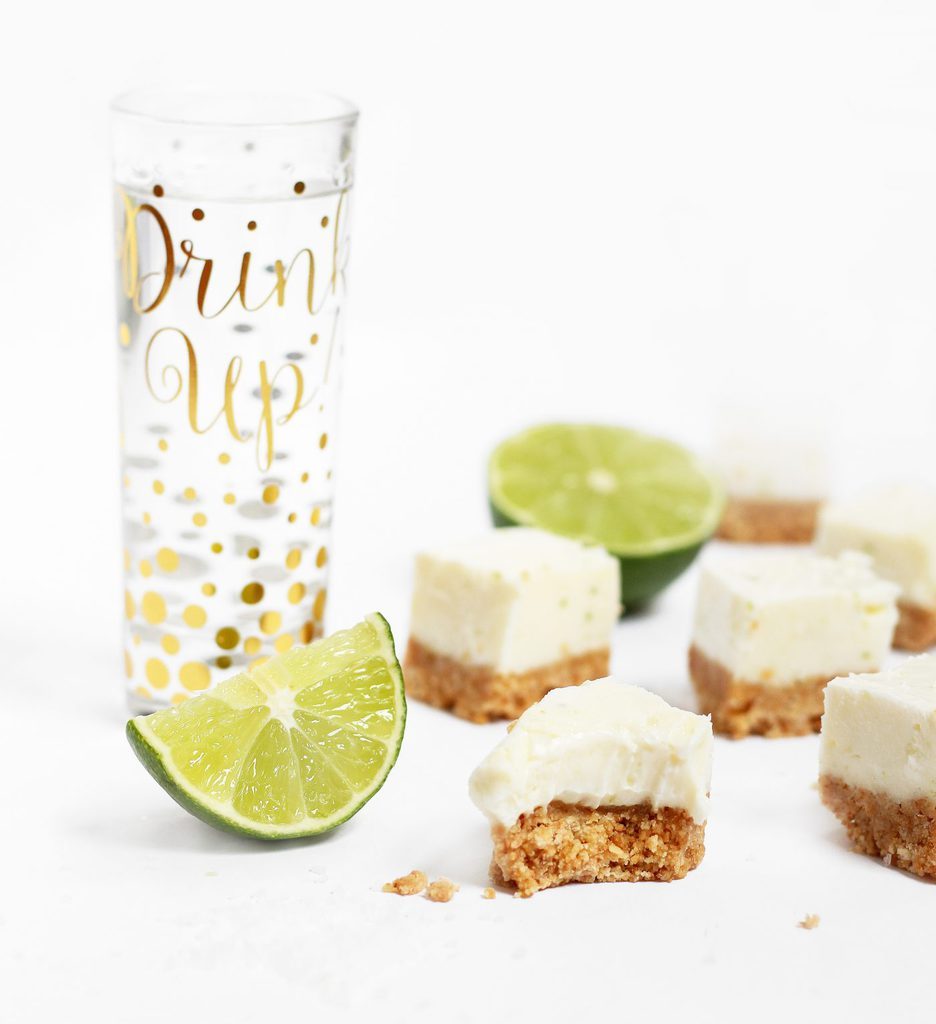 Cinco de Mayo is just two days away… Let the margarita mixing and taco eating begin! This year I've made no bake margarita cheesecake bites. Now, I don't know about you, but I would much rather chase a shot of tequila with a bite of margarita cheesecake than with a lime.
This recipe is incredibly easy and wonderfully delicious if you like lime-flavored desserts. It starts with your typical graham cracker crust, but instead of baking the crust, you simply mix crushed graham crackers with confectioners' sugar and melted butter. Let that freeze in a 9-by-9 pan lined with parchment paper for 10 to 15 minutes and you already have your base.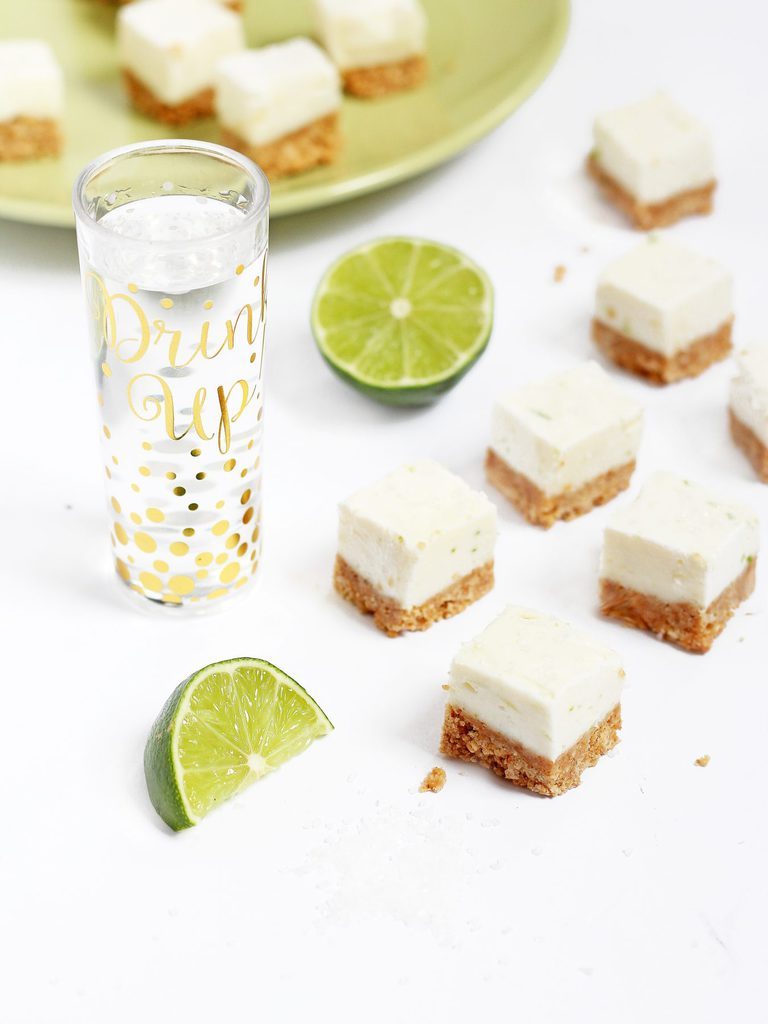 Now for the margarita cheesecake filling, I used my mixer to combine the cream cheese, confectioners' sugar, tequila, lime juice, lime zest and vanilla. Pour that filling evenly over the crust, sprinkle with some salt (after all it is a margarita cheesecake!) and freeze for an hour. During this hour I suggest making yourself and anyone you're entertaining some tacos and margaritas.
Once it's time for dessert, take the cheesecake out of the freezer and transfer it to a cutting board (it should come out of the baking dish pretty easily since you lined it with parchment paper). Use an extra sharp knife to cut the cheesecake into 1-centimeter wide strips horizontally and then vertically to create squares. Pour your guests a shot of tequila and hand them a margarita cheesecake bite for the best chaser of their lives. Happy Cinco de Mayo!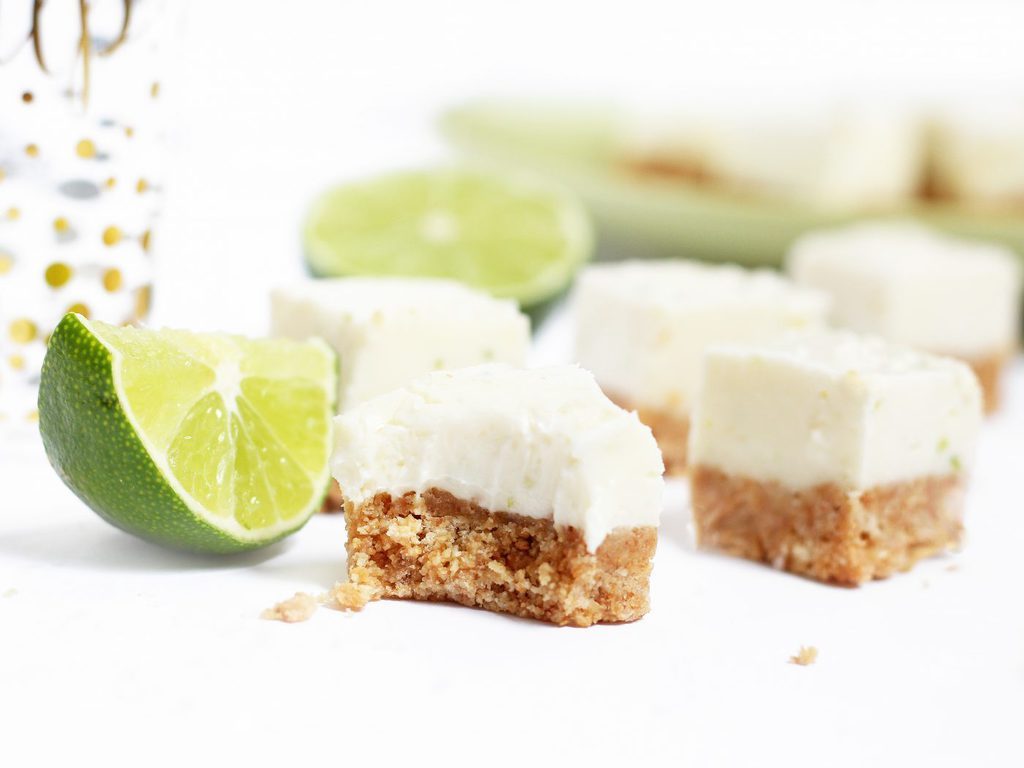 Haley D. Williams
Yields 30-40
No Bake Margarita Cheesecake Bites
10 minPrep Time
1 hr, 10 Cook Time
1 hr, 20 Total Time
Ingredients
Graham Cracker Crust

10 graham cracker sheets
?1/4 cup confectioners' sugar
1 teaspoon Kosher salt
1 stick melted butter

Margarita Cheesecake

?16 ounces cream cheese, softened
1 cup confectioners' sugar
2 tablespoons premium tequila
2 tablespoons fresh lime juice
1 tablespoon lime zest
?1/2 teaspoon vanilla extract
1 teaspoon Kosher salt
Instructions
Graham Cracker Crust

In a plastic bag, crush the graham crackers finely with the back of a large pot or pan. ?In a large bowl, combine graham crackers, 1/4 cup confectioners' sugar, salt, and melted butter, stirring until the mixture is the texture of wet sand. Dump the graham cracker mixture into a 9×9 baking dish lined with parchment paper. Press the mixture down with your hands to create an even layer. Freeze for 10 minutes.

Margarita Cheesecake

In a separate bowl, combine cream cheese, 1 cup confectioner's sugar, tequila lime juice, lime zest and vanilla, stirring until smooth. Spread the cream cheese mixture evenly on top of the graham cracker crust. Sprinkle salt on top of the cheesecake. Freeze for one hour.
Transfer the frozen cheesecake onto a cutting board, peeling away the parchment paper. With a sharp knife, slice 1-centimeter-wide strips horizontally, then vertically, creating little cheesecake cubes. Store in an airtight container in the fridge. Serve chilled and with a shot of tequila!
6.8
http://www.ifyougiveablondeakitchen.com/2016/05/03/no-bake-margarita-cheesecake-bites/
If You Give a Blonde a Kitchen