About Haley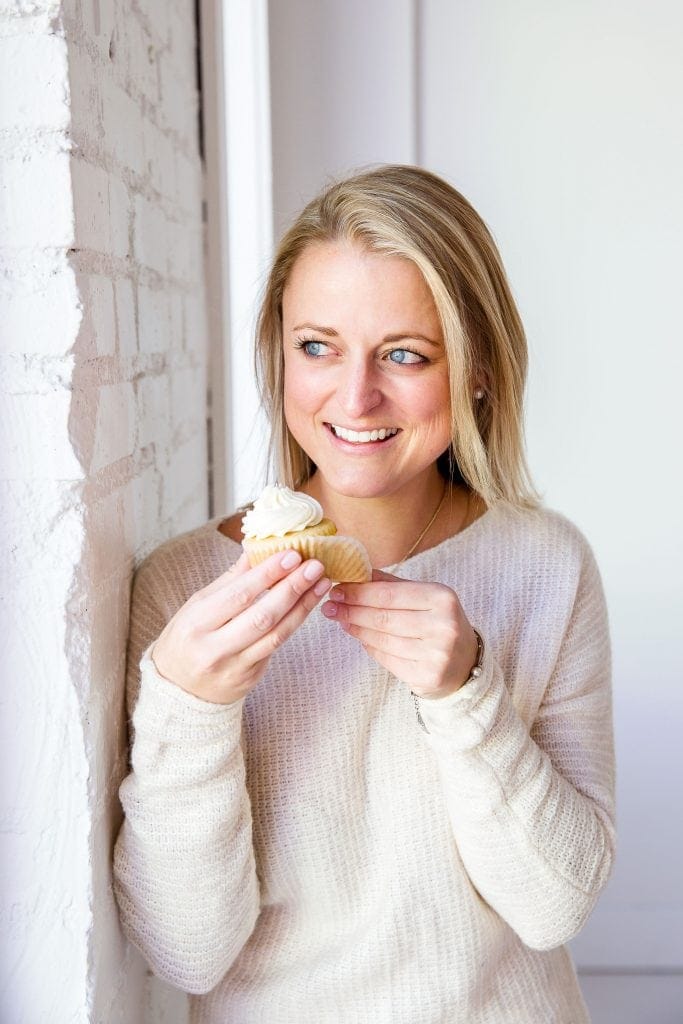 Hi there! I'm Haley and I'm happy you are visiting my blog! I am a 31-year-old native New Englander living in Denver, CO.  Note my recipes are written and tested at sea level. As you might have gathered from a quick peek at my blog, I am a lover of all things food… and blonde.

For years, I have experimented in the kitchen, always keeping my eye out for new recipes to try, whipping up an endless array of creations, and often tweaking the recipes as I go, until I wind up with the desired result.
Julia Child, in a timeless pearl of wisdom, advised, "Find something you're passionate about and keep tremendously interested in it." In food, I have found that passion, and whether my recipe comes together perfectly, or ends in flour-covered disaster, I make the most of my adventurous nature in the kitchen. I offer the not so perfect dishes and baked goods to my brother, who gladly eats them without complaint, and I fearlessly carry on.
When it comes down to it, creating in the kitchen is, among other things, a labor of love—not merely about creating meals, but about creating connections with those who enjoy the fruits of my labor. After all, the way to a person's heart is through their stomach.
So, take a look at the recipes I've compiled and photos I've taken (presentation is almost as important as taste!) and check back often. Be sure to say hi on Instagram, Facebook, Youtube and Pinterest where you will also see what happens If You Give a Blonde a Kitchen. Readers, you can use the Yum button (at the bottom of each post) to save your recipes to your personal recipe box! You can visit my Yummly publisher page so you can easily find and Yum my recipes.
All photos are taken by me unless otherwise noted. I ask that my photos are used only with my permission and are given proper credit and a link back to my page. Bio headshots are by local Denver photographer Liz Fendell. Website theme is Purr Design.
Any questions or comments? Feel free to send over a message.​​​​​​​​​​​​​​
Interested in starting a blog? Consider reading Blogging for Passion & Profit, a nonprofit ebook sharing stories of successful bloggers. Buy the ebook here.
Fun facts about Haley
My favorite dessert to eat is ice cream. It's even better between two cookies as a Chipwich!
My favorite dessert to bake is cupcakes. It is so satisfying to frost cupcakes.
I own a golden retriever named Hudson. If you have a pup, trying making homemade dog treats.
I have lived in Fairfield, Connecticut; New York City; Charlotte, North Carolina; and Denver, Colorado. I moved to Denver summer of 2019, which gave me the opportunity to bake at high altitudes. All my recipes are still written and tested at sea level. Newer recipes will have high altitude adjustments in the notes.
When I'm not baking, I enjoy sailing, hiking, skiing and attending concerts. I also have my lazy days watching Netflix and cuddling with Hudson!
I worked at an interior design publication for two years in NYC before pursuing my blog full-time. There I produced videos and met remarkably talented interior designers who gave me serious apartment envy.
I graduated from Trinity College with a degree in Art History focusing in Architecture.
I lived in Nantucket the summer after I graduated college and I go back to visit every year. I worked at the Sconset Café and Market as the baker for three months.
Christmas is my absolute favorite holiday. 'Tis the season to bake so try not to act so surprised. I will play Christmas music from Thanksgiving until New Year's Day.
I'm a certified barre instructor. If you're ever in the Denver area, you should take a class at Bar Method!
I love the classic movies (especially musicals). My mom popped in Rodgers & Hammerstein VHS tapes for my sister and me to watch when we were kids. She also regularly watches Turner Classic Movie channel so I've watched quite a few of the oldies, but goodies aired on there too.