Chewy Fudgy Brownies from Scratch
This post may contain affiliate sales links. Please see my
privacy policy
for details.
Looking for the perfect brownie recipe? Look no further. These are the ultimate fudgy brownies. They have a shiny, crackly top and thick chocolate texture. Seriously, you will never buy boxed mix or use another recipe again!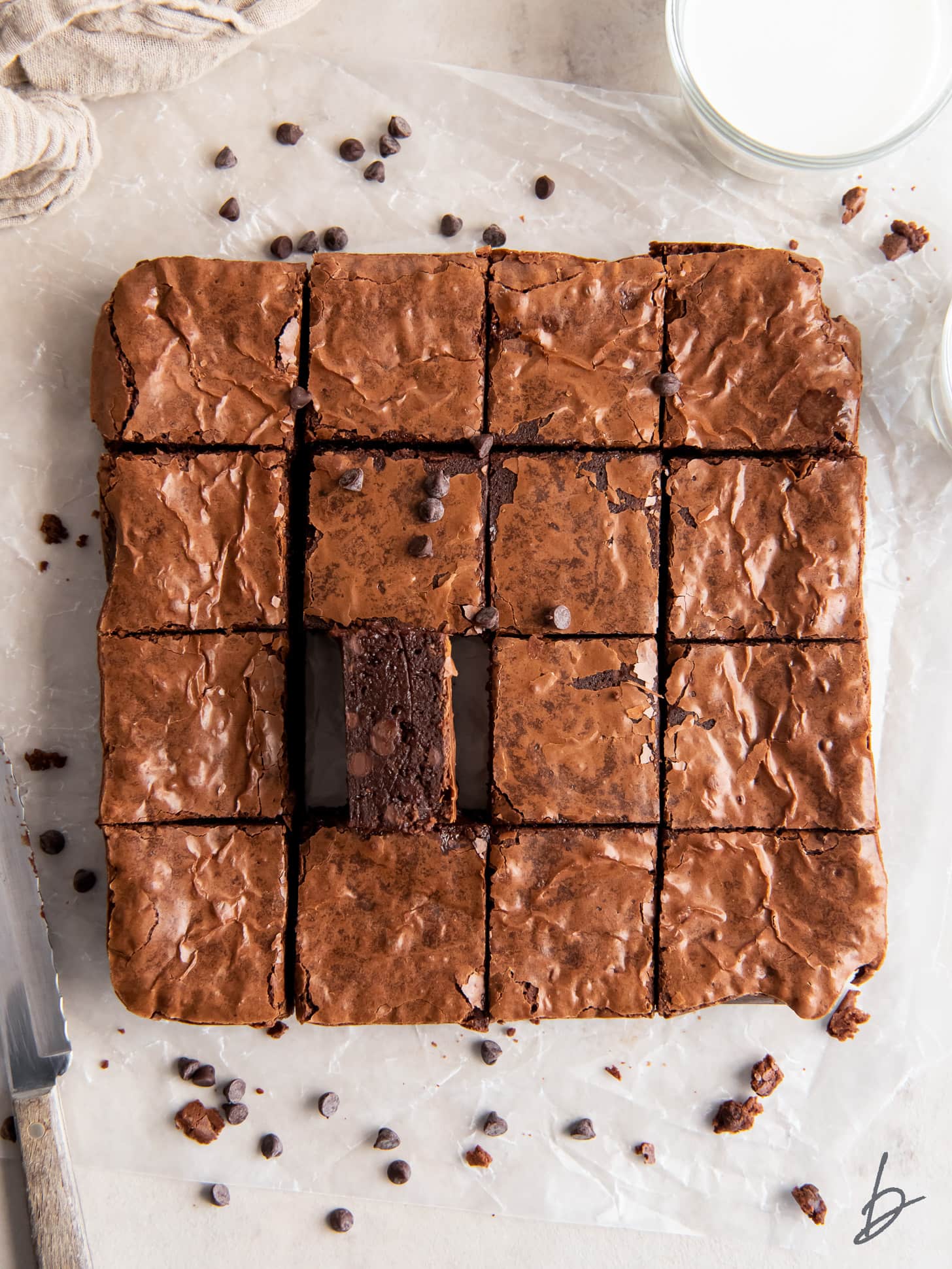 Hello, my name is Haley and I am a chocoholic. And what better way to eat chocolate than in brownie form? If you like chewy, fudgy brownies, then I have got you covered with my go-to recipe. It's the best of the best! You will never used boxed brownie mix again.
Why this recipe works
Super fudgy and chocolate-y: The ratio of ingredients makes for a deliciously fudgy texture that is guaranteed. There's melted chocolate, cocoa powder and chocolate chips for the ultimate dose of chocolate too!
Shiny top: The recipe steps and the use of 3 eggs makes a shiny, crinkly top that is oh-so-satisfying to bite into.
Easy to make: The recipe uses common ingredients with easy-to-follow instructions.
Perfect for sharing: You can bring this dessert to any holiday, birthday or special occasion.
Five star reviews: If I haven't sold you yet, check out the reviews! This has been a go-to recipe of mine for years and readers love it too.
Ingredient notes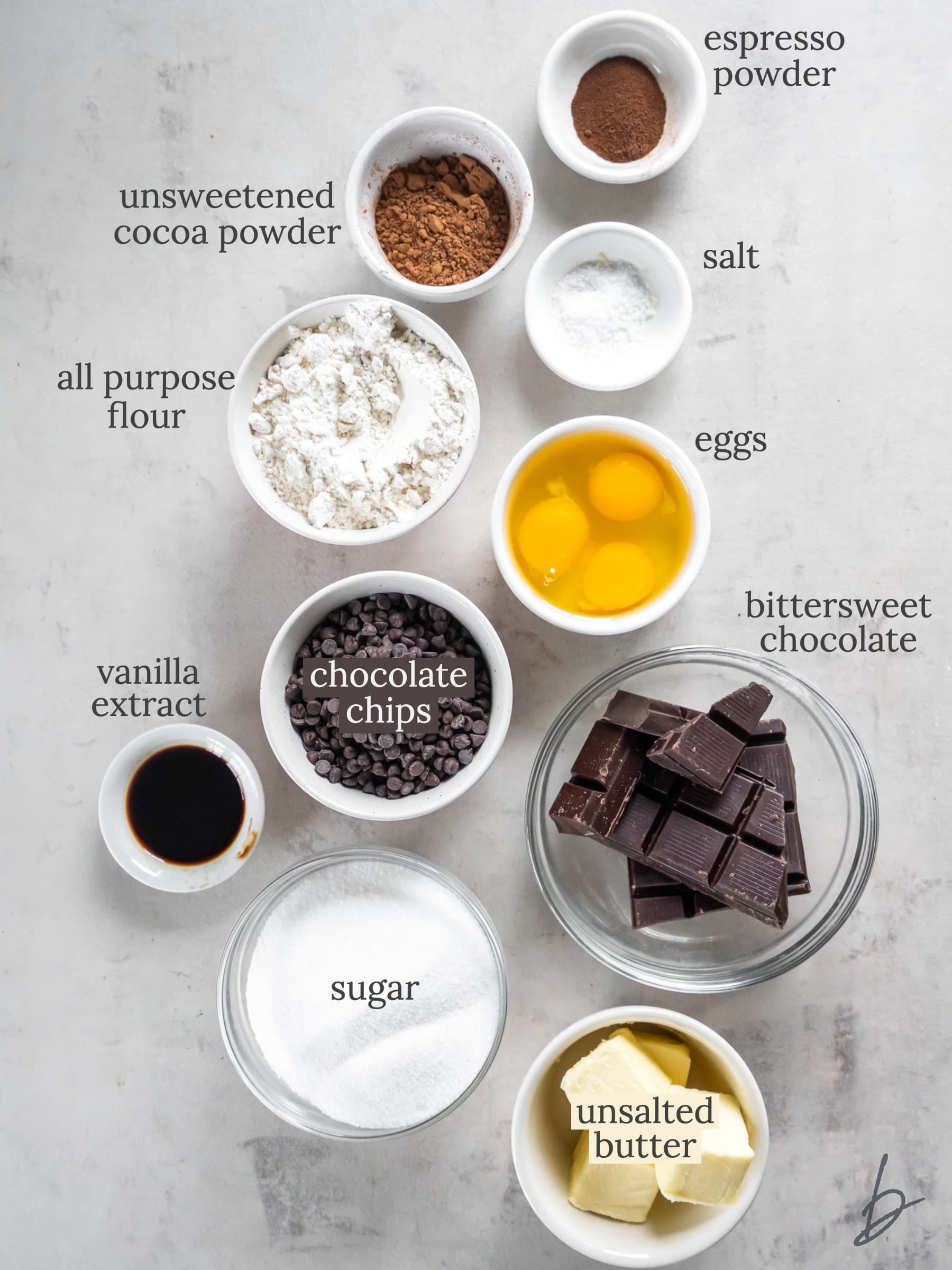 Bittersweet chocolate: This is melted down with the butter to make a dense and fudgy texture. Use good quality chocolate chopped into similar sized pieces for best results.
Semisweet chocolate chips: These are mixed in at the end for another dose of chocolate!
Cocoa powder: Unsweetened or Dutch-processed cocoa is required for the best brownies.
Espresso powder (or instant coffee): This secret ingredient is barely noticeable, but makes all the difference. It enhances the chocolate flavor!
Butter: Unsalted butter works best. Cut the stick into squares so it melts evenly and quickly.
Eggs: Large eggs at room temperature help combine the ingredients and leaven the batter. It's also the secret to a shiny, crinkly top!
High altitude adjustments
This recipe is written for sea level, but I have tested this recipe at high altitude in Denver, CO (5280 ft or 1609 m). Here were my adjustments:
Substitute espresso powder for 1 tablespoon of strongly brewed coffee. Ingredients are drier at higher altitudes. Coffee will add moisture. If you don't have coffee, use milk instead. At higher altitudes you may need more liquid.
Reduce sugar by 2 tablespoons. Evaporation proceeds more quickly at high altitude, which increases the concentration to sugar. This can affect the structure of baked goods.
Recipe variations
Add mix-ins. I always add extra chocolate chips, but you can add 1/2 cup nuts such as walnuts or macadamia nuts. Another option is substituting white chocolate chips or peanut butter chips into the recipe or mini marshmallows like I do for my hot cocoa brownies.
Frost and decorate. I love adding frosting or ganache to brownies! Try a chocolate buttercream frosting or peanut butter frosting and add sprinkles. You can also add peppermint ganache by making peppermint brownies for Christmas or spread Bailey's buttercream like I did on my St. Patrick's Day brownies.
Add a cream cheese swirl. Mix together 1 cup cream cheese, 1 egg, 1/4 cup sugar and 1/2 teaspoon vanilla. Spread cheesecake mixture over brownie batter. Swirl with a knife and bake at 350 for 25 to 30 minutes.
Double the recipe and bake it in a 9×13 pan. Baking time will be closer to 30 minutes. If you have any allergy restrictions, I suggest trying this almond flour brownies instead!
How to make brownies from scratch
Melt the chocolate and butter over a low heat in a makeshift double boiler. See tips for melting chocolate.
Whisk in the cocoa powder and espresso. Set the mixture aside to cool slightly.
Beat the sugar and eggs together until combined and mixture is a pale yellow, about 1 to 2 minutes. Add the vanilla and salt.
Stir in the melted chocolate mixture. Do this gently until fully incorporated.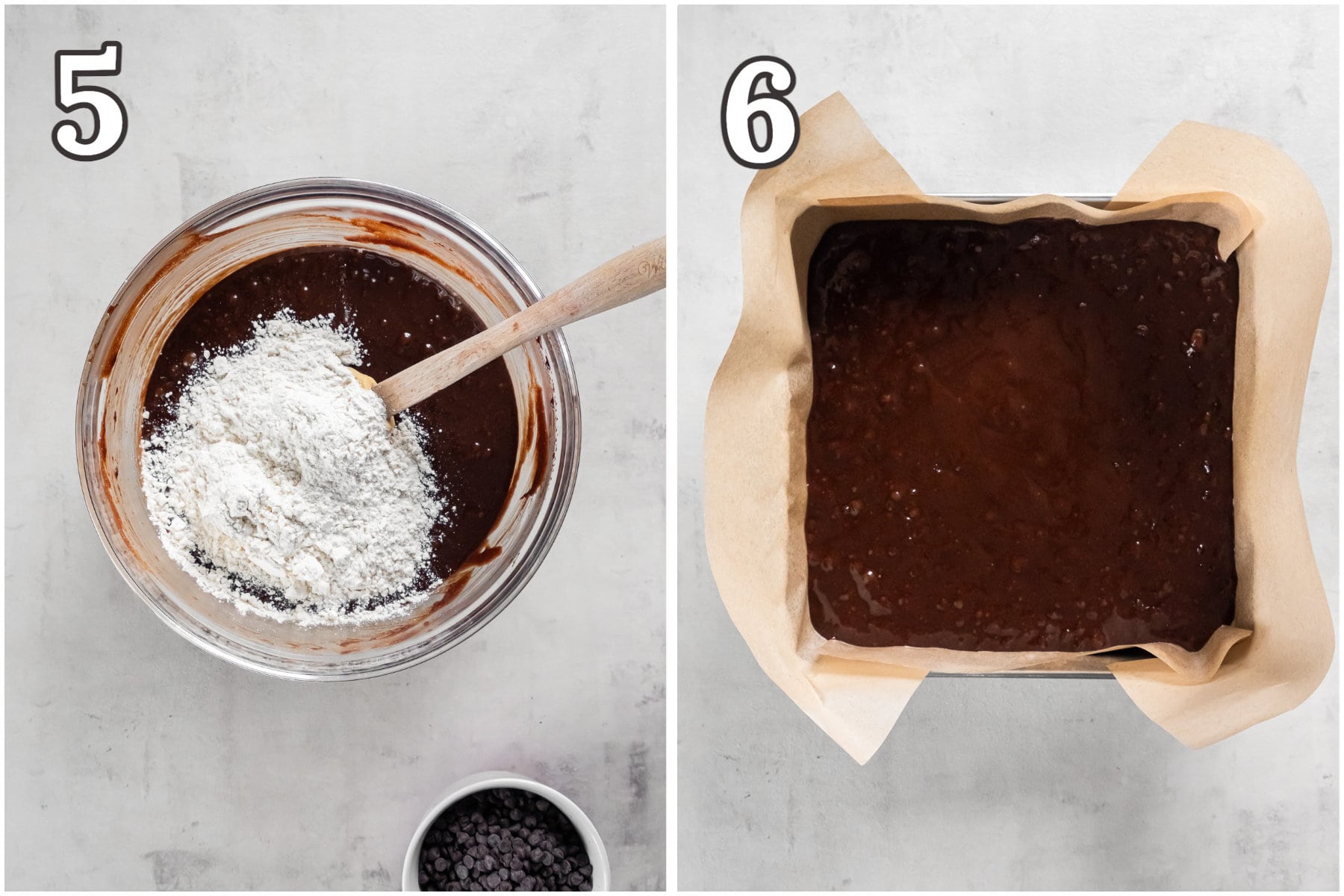 Add flour to the chocolate mixture and stir just until combined. Fold in the chocolate chips.
Transfer batter to prepared baking pan. Bake at 350 F for 25 minutes or until the top is shiny and edges are set.
Expert tips
Weigh your ingredients. This is important especially for the dry ingredients. If you don't measure the flour and cocoa properly, the brownies will turn out cakey and dry. Either use a scale or spoon the flour into a measuring cup and level with a knife (don't pack it down).
Do not use a glass pan. It retains heat longer than metal pans, which can cause the edges to cook faster than then center. I prefer a light metal pan as it distributes heat less quickly than a dark metal pan.
Use good quality chocolate. It makes all the difference in flavor! I prefer Ghirardelli unsweetened cocoa powder and Ghirardelli bittersweet chocolate. If it's your first time melting chocolate, read my how to melt chocolate guide.
Do not overbake the brownies. The secret to super fudgy brownies is to slightly under-bake them. Don't worry, after they are out of the oven they will continue baking for a bit as they cool.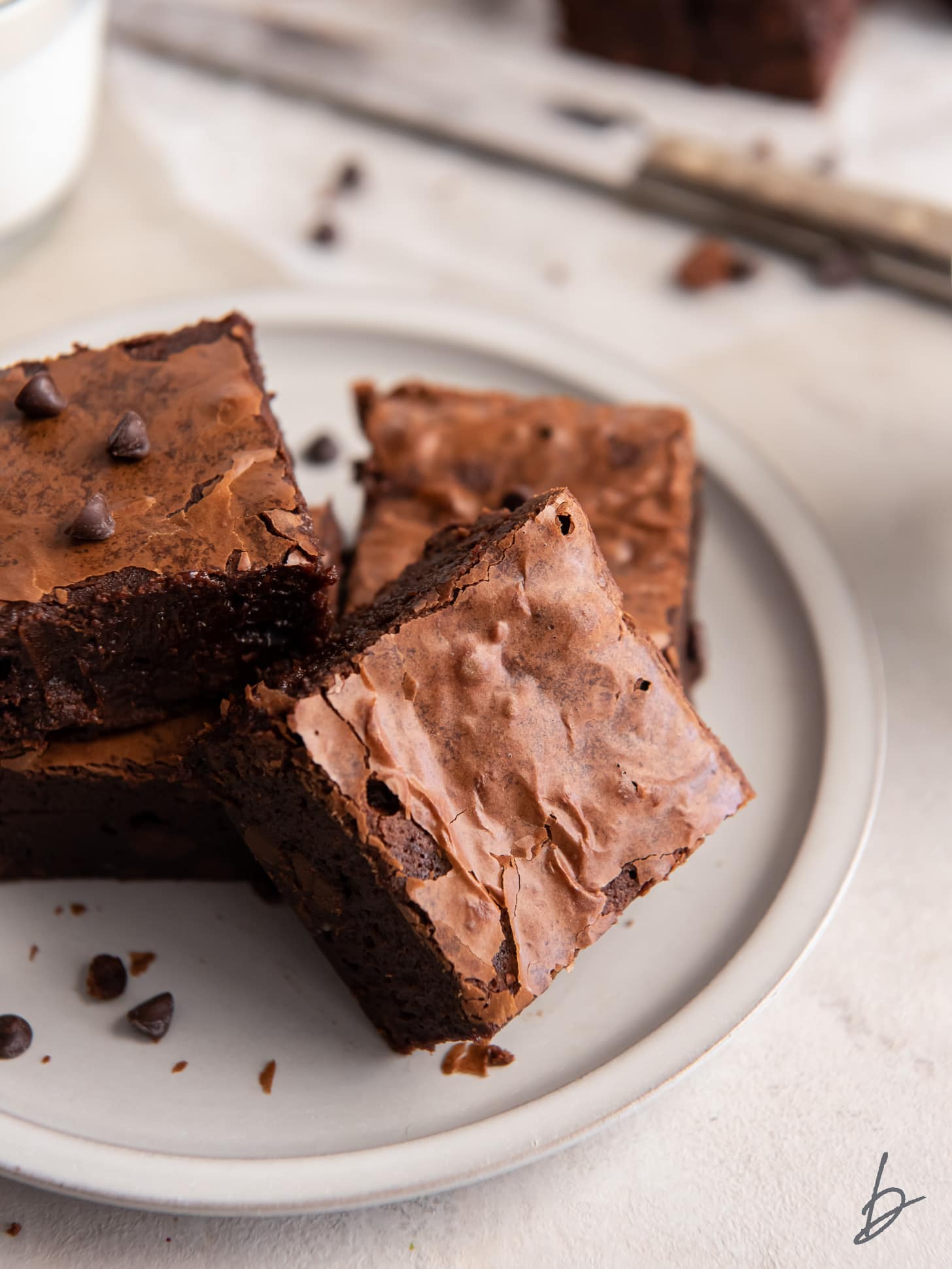 Storage tips
Homemade brownies will stay fresh for up to 5 days when kept at room temperature in an airtight container. You can also freeze baked brownies! After they have cooled completely, remove the bar from the pan and wrap the entire thing in plastic wrap. Alternatively, you can cut and wrap each individual brownie. Store in a freezer bag for up to 3 months. Defrost in the refrigerator before bringing to room temperature.
Frequently Asked Questions
What makes brownies fudgy?
Brownies are fudgy when there is a higher fat to flour ratio. In other words, there is more butter and chocolate than flour in the recipe.
Why are my brownies cakey?
When there is more flour than fat, they will turn out cake-y. Be sure to measure your flour properly using a kitchen scale. This texture can also happen if you use baking powder or baking soda.
How do you know when fudgy brownies are done?
Fudgy brownies are done when the top is shiny and set, and the edges are baked and still touching the sides of the pan. The center of the brownies will be dense, but it will continue baking for a few minutes after exiting the oven.
Why add espresso to brownies?
Espresso heightens the chocolate flavor of brownies without making them taste like coffee.
What does egg do in brownies?
Eggs make a rich flavor and help bind ingredients together. When they are beaten into the mixture, they trap air pockets and help the batter rise.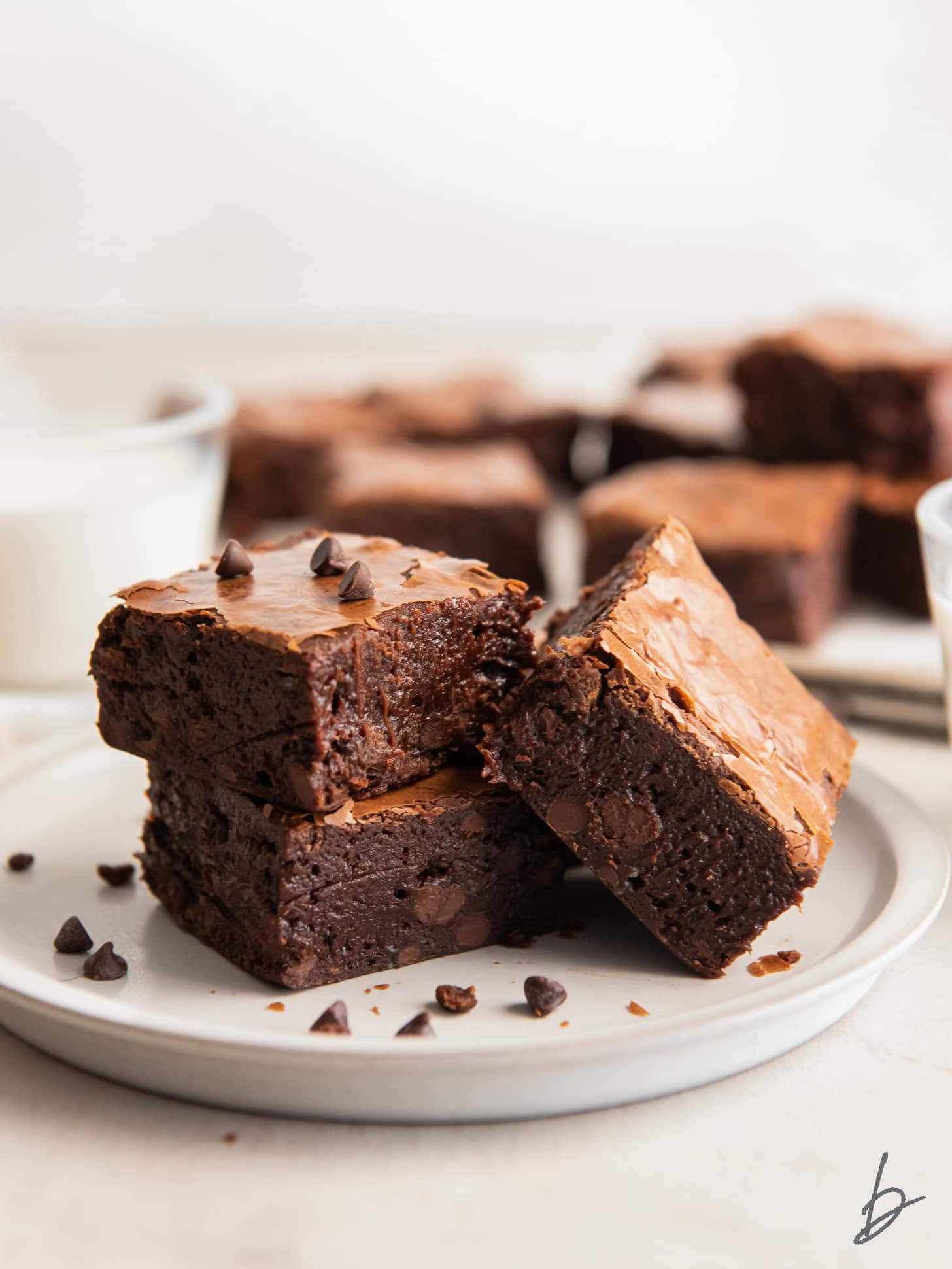 Related recipes
Do you love this recipe? Try these different interpretations:
Did you love this recipe? Please leave a 5-star 🌟🌟🌟🌟🌟 rating in the recipe card below and if you REALLY loved it, consider leaving a comment further down the page.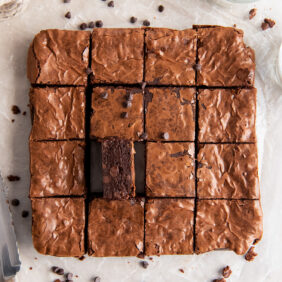 Get the Recipe:
Homemade Brownies from Scratch
Looking for the perfect brownie recipe? Look no further. These are the ultimate fudgy brownies. They have a shiny, crackly top and thick chocolate texture.
Ingredients
1

cup

plus 2 tablespoons (200 g) good quality bittersweet chocolate,

chopped (or chocolate chips)

½

cup

(113 g or 1 stick) unsalted butter

,

cut into quarters

3

tablespoons

(18 g) unsweetened cocoa powder

1

teaspoon

espresso powder

,

or instant coffee

3

large eggs

,

room temperature

1 ¼

cups

(250 g) granulated sugar

2

teaspoons

pure vanilla extract

½

teaspoon

salt

1

cup

(125 g) all-purpose flour

1

cup

(170 g or 6 oz) semisweet chocolate chips
Instructions 
Preheat oven to 350° F. Line an 8 by 8-inch square baking pan with parchment paper and lightly grease with nonstick cooking spray. Set aside.

In the bowl of a stand mixer, beat together eggs and sugar on medium-high speed for 1 minute. Reduce speed to low and add vanilla and salt until combined, about 15 seconds. Keep mixer on low and slowly pour in chocolate mixture into the egg mixture (you can also stir it in by hand).

Remove bowl from mixer and stir in the flour with a wooden spoon until just combined. It is okay if there is a little flour showing at this point, it will disappear when you stir in the chocolate chips! Add chocolate chips and stir until incorporated.

Pour the mixture into the prepared pan, spread into the corners and level with a rubber spatula. Bake 25 minutes, or until the top is shiny and the center is still dense. Brownies will continue to bake once removed from oven.

Cool on a wire rack to room temperature, about 2 hours. When ready to serve, cut into squares and serve.
Notes
Melting chocolate: Ideally use a double boiler (or makeshift double boiler). You can also melt the chocolate and butter in the microwave on 50% power level stirring every 30 seconds until melted. See more tips on melting chocolate.
Pro tip: For a clean cut, wipe the knife with a slightly damp cloth after every slice. You can also use a plastic knife.
Storage: Store in an airtight container at room temperature for up to 5 days. Brownies can also be wrapped tightly in plastic wrap and stored in the freezer for up to 3 months.
High altitude adjustments: This recipe was written for sea level, but I have tested it in Denver, CO (altitude 5,280 ft). Substitute espresso powder for 1 tablespoon strongly brewed coffee. If you don't have coffee, use water. Decrease sugar by 2 tablespoons. Baking time remains the same.
Serving:
1
brownie
,
Calories:
281
kcal
,
Carbohydrates:
35
g
,
Protein:
4
g
,
Fat:
15
g
,
Saturated Fat:
10
g
,
Cholesterol:
47
mg
,
Sodium:
99
mg
,
Potassium:
171
mg
,
Fiber:
2
g
,
Sugar:
24
g
,
Vitamin A:
227
IU
,
Vitamin C:
1
mg
,
Calcium:
50
mg
,
Iron:
1
mg
Recipe adapted from Baking Illustrated