Pumpkin Peanut Butter Pupcakes
This post may contain affiliate sales links. Please see my
privacy policy
for details.
Pumpkin peanut butter pupcakes are homemade dog cupcakes made with pumpkin pureé, carrots, peanut butter and oat flour.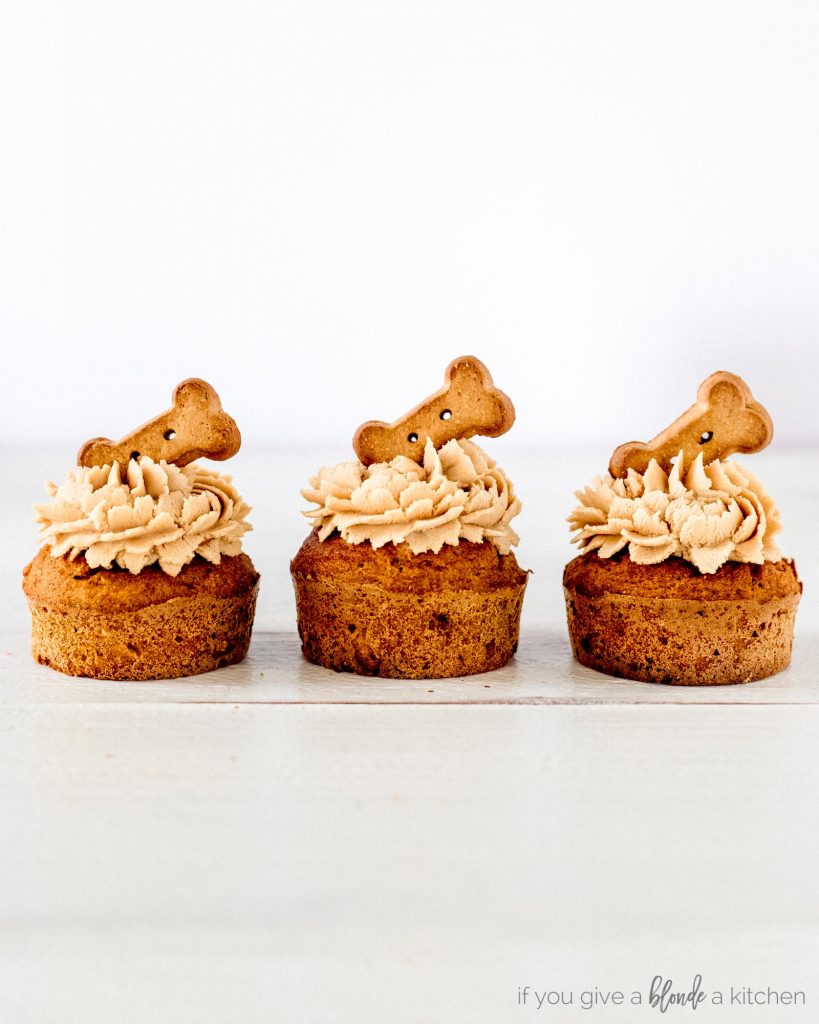 I can't believe Hudson is one year old! It feels like I brought his little fur butt home just yesterday and now we're celebrating his first birthday with some pumpkin peanut butter pupcakes!
Hudson (or Huddybear as I lovingly call him) has been the biggest joy in my life this past year. He is always full of cuddles, kisses and excitement so he deserves a special treat on his birthday.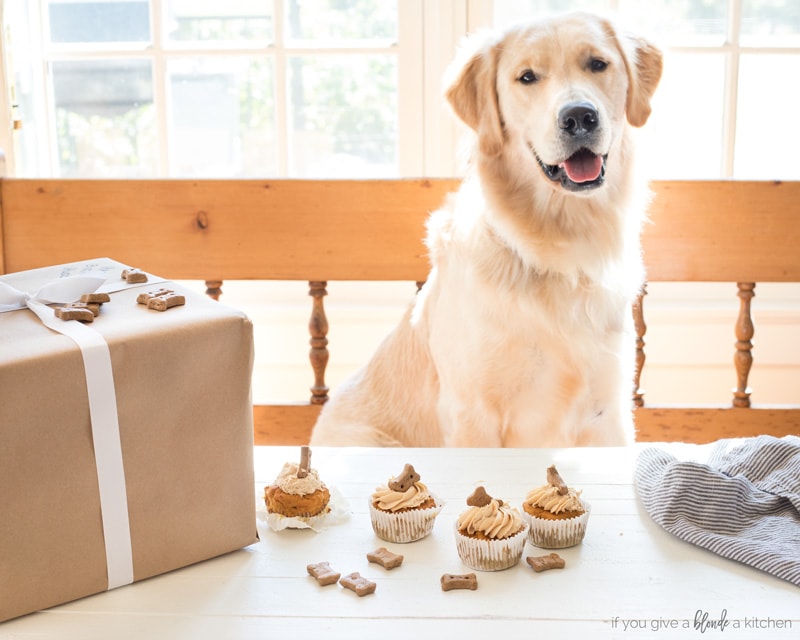 This was my first time baking pupcakes and I wanted to make sure I was using ingredients that Hudson would love and keep his tummy happy. When I first got Hudson I baked pumpkin peanut butter treats and he loved them.
I figured the flavor combo would be fitting for dog cupcakes too! The pumpkin is really easy on puppy tummies while the peanut butter adds a flavor that dogs can't resist.
How to make dog cupcakes
These pupcakes are super easy to make. All you need is a mixing bowl to combine the ingredients! The cupcake batter calls for pumpkin pureé, shredded carrot and creamy peanut butter, which provide tons of vitamins and nutrients for my fur baby.
I also chose oat flour over whole wheat flour to keep the pupcakes gluten free. Hudson's favorite part, however, was the frosting (he is my dog after all!)
The frosting is simply unsweetened Greek yogurt, peanut butter and a touch of maple syrup for sweetness. Huddybear went to town on the frosting and biscuit garnish.
Helpful recipe tips
I've made these pupcakes a couple times and in order to guarantee success I suggest using whole ingredients with no added sweeteners. Not only is this healthier for your dog, but the pupcakes will turn out even better! You can use regular flour, whole wheat flour or oat flour in the pupcakes. For the frosting, use plain unsweetened Greek yogurt. If it's too thick, you can always add a little milk or water to thin it out.
Health benefits of pumpkin for dogs
Hudson has been a fan of pumpkin since he was a puppy. He used to have a sensitive stomach and pumpkin would ease his tummy aches. Pumpkin provides dogs with fiber and aids in digestive health according to Pets WebMD. Plus, it's low in calories if your watching your dog's weight!
Health benefits of peanut butter for dogs
Peanut butter is packed with natural protein and healthy fats according to the American Kennel Club. It also contains vitamin E, which is good for the immune system. However, peanut butter should be given in moderation since it is a high-calorie food. Also, choose natural, unsalted peanut butter. Avoid artificial sweeteners, which are found in low-fat and light peanut butters.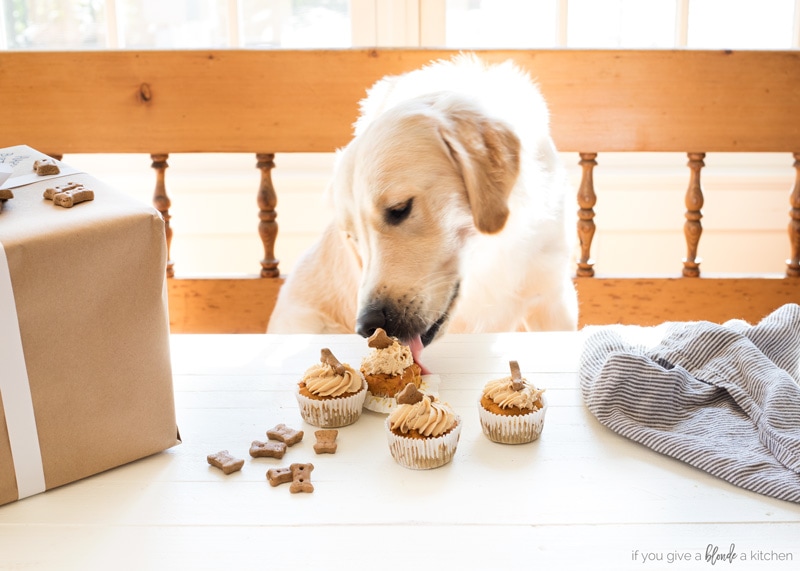 Homemade dog treat recipes
As I was taking these photos I couldn't help but think, "It's official, I'm a crazy dog mom." And it's true. I love this furry handful so much that he gets his own pupcakes #sorryimnotsorry.
I know some of you are dog parents as well and let me tell you you will love baking these dog cupcakes for your pup. You could even bake him/her a full dog cake if you wanted!
Other canine recipes you might like are my homemade peanut butter dog treats and snickerdoodle cinnamon dog treats. I also made Hudson peanut butter dog donuts, which were a hit!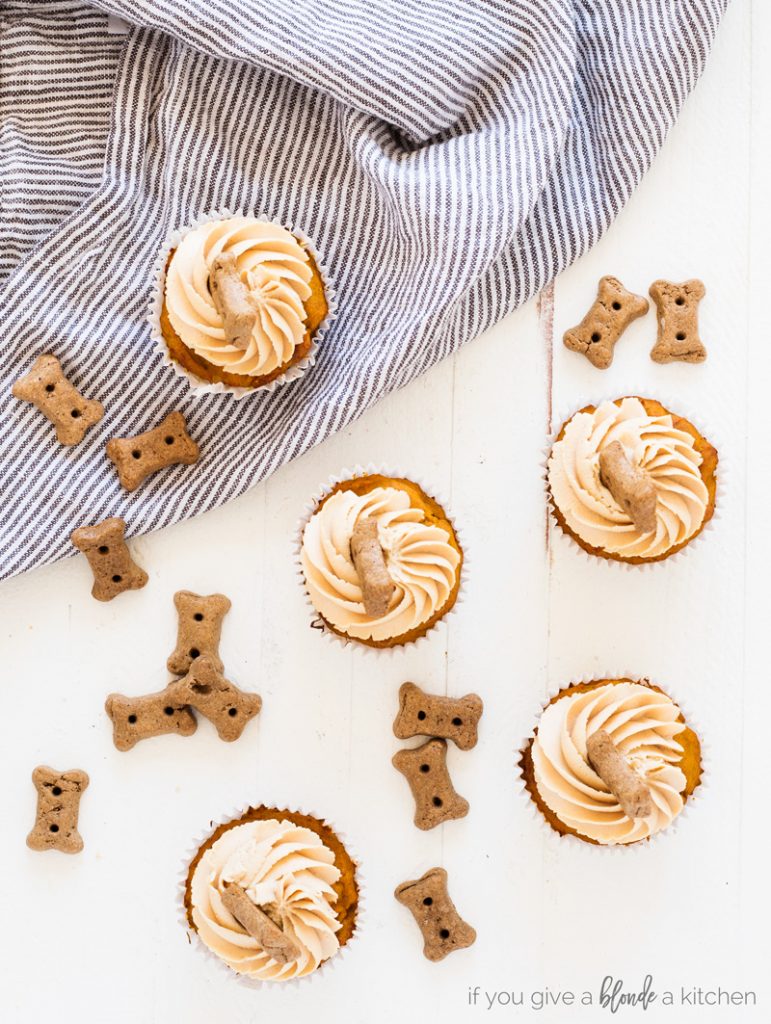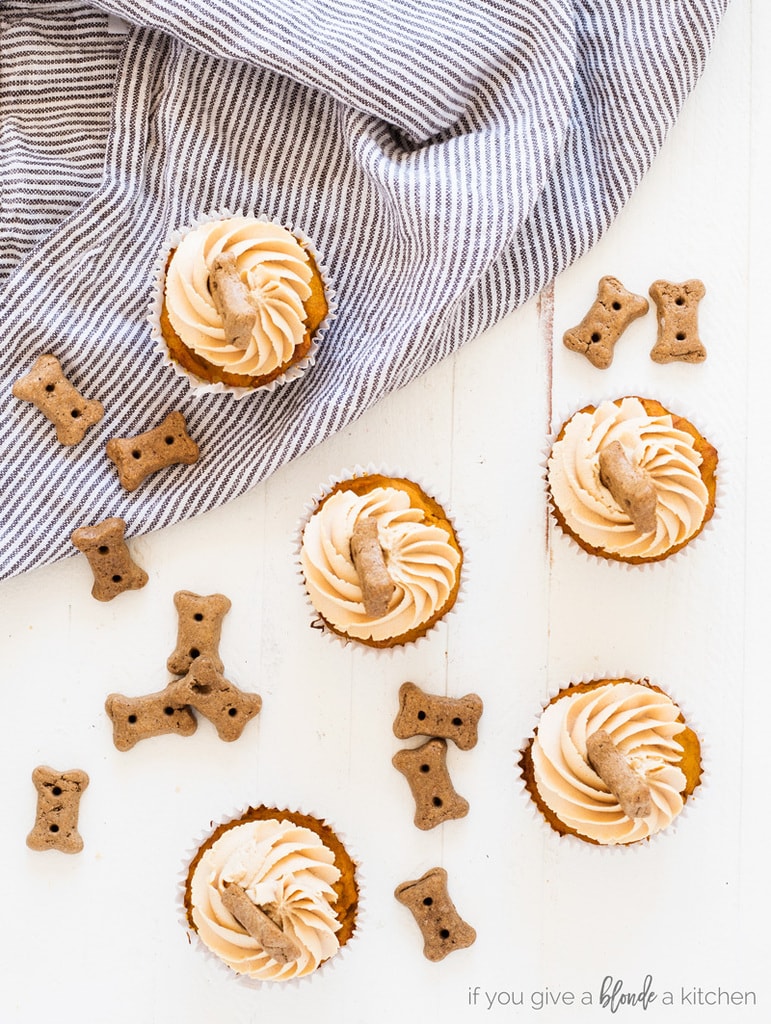 If your pup has a birthday coming up, you have to treat them to these pumpkin peanut butter pupcakes. Their tails will be wagging so fast when they get a lick of this peanut butter frosting. Hudson managed to gobble a couple cupcakes up in mere minutes. I had to stash the rest in the fridge so he wouldn't eat them all in one day!
If you try this recipe, be sure to tag @ifyougiveablondeakitchen on social media so I can see your baking creation (and pup!)
Pumpkin Peanut Butter Pupcakes
Pumpkin peanut butter pupcakes are homemade dog cupcakes made with pumpkin pureé, carrots, peanut butter and oat flour.

Ingredients
Pumpkin Pupcakes
½

cup

whole grain oat flour

,

(whole wheat flour works too)

½

teaspoon

ground cinnamon

,

optional

1

teaspoon

baking powder

1

large egg

,

room temperature

1

tablespoon

maple syrup

1

tablespoon

(28 g) peanut butter

½

cup

(113 g) pumpkin pureé

½

cup

(50 g) shredded carrot

¼

cup

(57 g) greek yogurt
Peanut Butter Frosting
½

cup

(114 g) greek yogurt

,

cold

¼

cup

(2 oz or 57 g) peanut butter

½

tablespoon

maple syrup
Instructions 
Preheat oven to 350° F. Spray a muffin tin with nonstick spray/butter/olive oil*. Set aside.

In a medium bowl, whisk all the ingredients together until well incorporated, about 2 minutes.

Scoop batter evenly into prepared tin. Bake for 35-40 minutes until firm. Cool completely.

Place all of the frosting ingredients in a bowl and mix well. 

Transfer mixture to a frosting bag with desired tip. Pipe frosting onto cooled cupcakes and let your pup enjoy!
Notes
Don't use paper liners in this recipe. Since there is no butter/oil in the reicpe, the pupcakes will stick to the liners. Instead, grease your muffin tin with butter or oil.
Store pupcakes in an airtight container in the refrigerator for up to 3 days.
Cinnamon in small amounts is okay for dogs according to the American Kennel Club, but for dogs with sensitive digestive systems I suggest omitting cinnamon.
Consult your pet's veterinarian regarding possible allergies your dog may have.
Serving:
1
pupcake
,
Calories:
170
kcal
,
Carbohydrates:
17
g
,
Protein:
9
g
,
Fat:
9
g
,
Saturated Fat:
2
g
,
Polyunsaturated Fat:
2
g
,
Monounsaturated Fat:
4
g
,
Trans Fat:
1
g
,
Cholesterol:
29
mg
,
Sodium:
92
mg
,
Potassium:
325
mg
,
Fiber:
2
g
,
Sugar:
6
g
,
Vitamin A:
5001
IU
,
Vitamin C:
1
mg
,
Calcium:
88
mg
,
Iron:
1
mg