Learn how to melt chocolate in a makeshift double boiler or the microwave. This quick and easy how-to guide is helpful for baking and making candy.
This post was originally published December 2013. It was last updated December 2019.

Ahh… Melted chocolate is simply delightful. It gives any dessert a tasteful finish. However, it is not always easy to work with. If you follow these easy tips and tricks, you will surely have no trouble at all!
Tips for Melting Chocolate
Before we get started on the methods of melted chocolate, read over these tips to guarantee perfection.
Always make sure the chocolate you are melting is chopped in uniform pieces. You can use chocolate chips, baking chocolate or wafers.
NEVER add water when melting chocolate. The chocolate will become lumpy and unmanageable. If you must add a liquid (such as heavy cream of milk) to chocolate, do so before the chocolate melts. Heat up the liquid first, then add the chocolate. The chocolate will melt more evenly and distribute into the liquid.
Once the chocolate is melted, remove it from the heat source immediately. You can always reheat if it starts to harden.
Shortening will add an even, shiny coating to the chocolate when it hardens. I recommend one tablespoon shortening per cup of chocolate.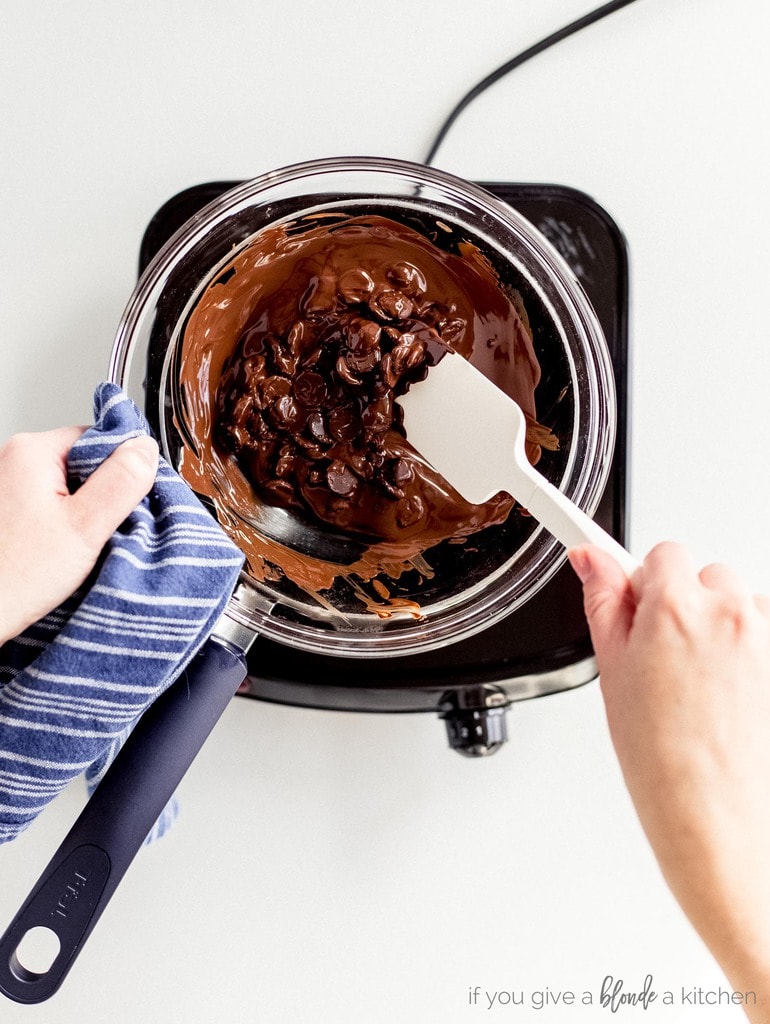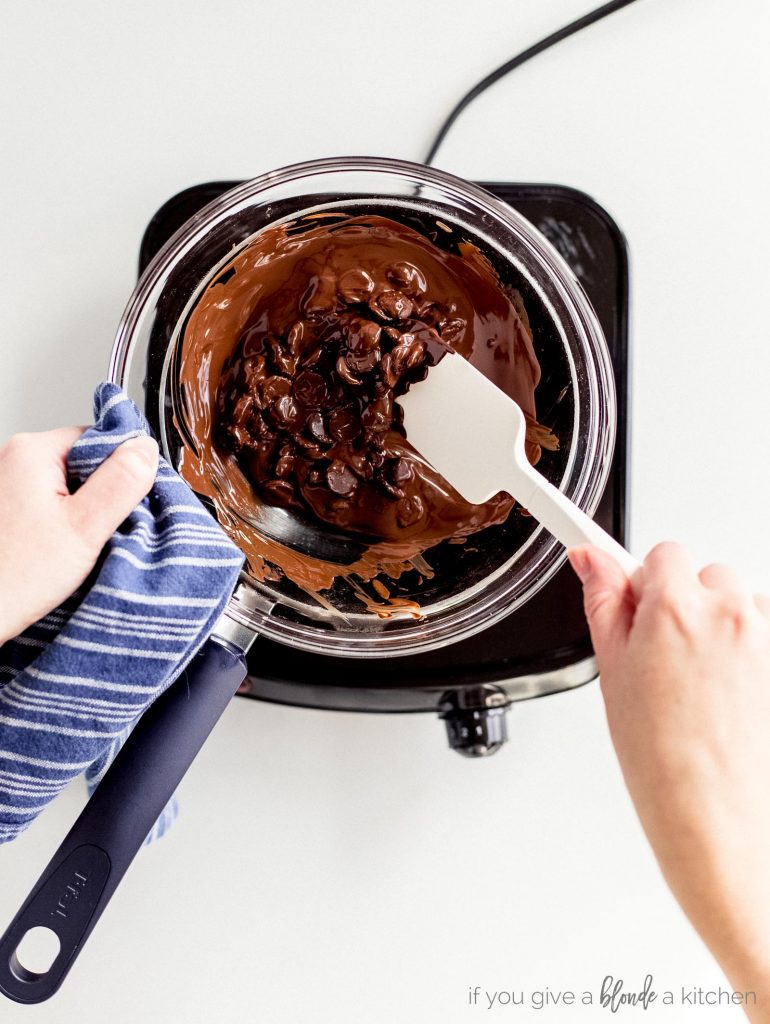 What is a double boiler or Bain-Marie?
A double boiler (or bain-marie) is simply one pot stacked on top of another. You place water in the lower pot and heat it to barely a simmer. The steam from the lower pot gently heats the upper pot where the chocolate is gradually melted. This method prevents the chocolate from burning. I suggest using a double boiler when melting chocolate because it guarantees even melting and you are less likely to burn the chocolate!
How to make a double boiler
If you don't have a double boiler set, it is very easy to make one. Just add a bit of water to a sauce pan and place a heat resistant bowl on top so it is resting on the edges of the pan, but not touching the water. Heat water on low. Put chopped chocolate or chocolate chips in the bowl, stir often, and watch it melt. Remove bowl from the heat once the chocolate is melted to prevent burning.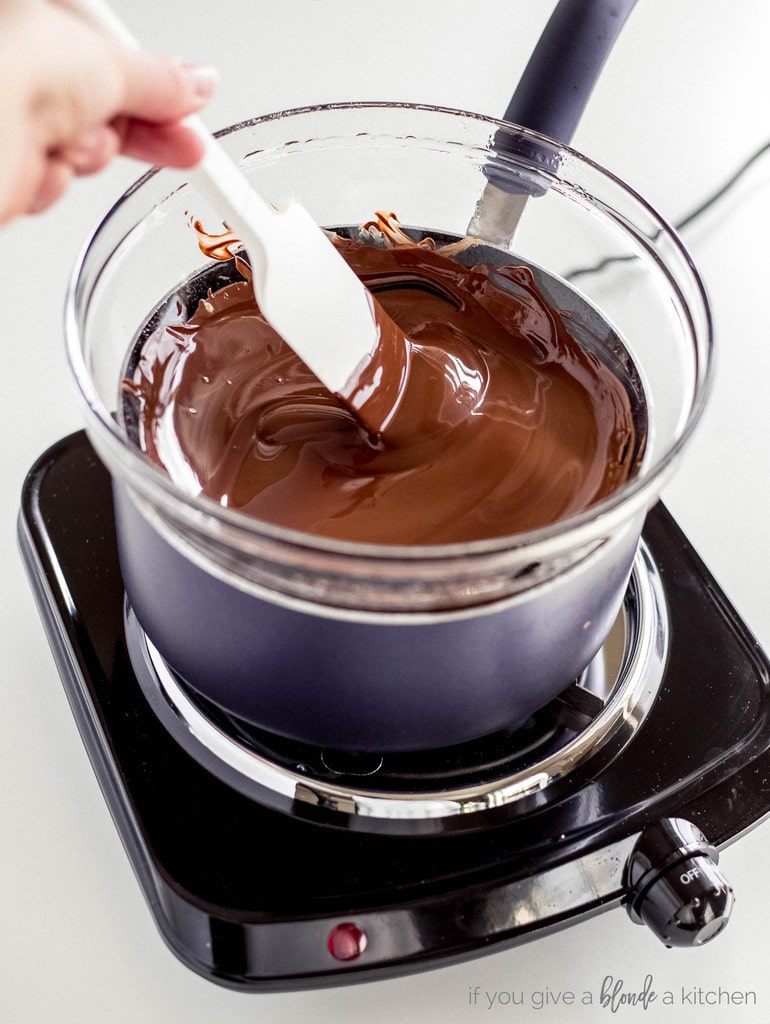 How to melt chocolate in microwave
You can use a microwave to melt chocolate too. Place chocolate chips in a microwave safe bowl. Heat in the microwave on 50% power level. This lower power level is essential. Normal power will not melt the chocolate evenly and will most likely burn the chocolate. a
Timing is roughly 1 minute for an ounce of chocolate and 3 minutes for 8 ounces of chocolate. Be sure to stop the microwave and stir every 20-30 seconds. This will ensure even melting.
How to melt white chocolate
White chocolate tends to be harder to work with than dark chocolate or semisweet chocolate. It has a lower burning point, which means it heats up more quickly and burn more easily. I recommend heating on very low heat being extra patient. I also find that adding another tablespoon of shortening helps thin out the chocolate a bit and prevent it from seizing up. My favorite white chocolate for melting is Ghirardelli White Chocolate Melting Wafers.
How to melt chocolate for dipping
Melt the chocolate in the microwave of makeshift double boiler by following the instructions above. Once melted, use dipping tools or a fork to dip candies or truffles into the melted chocolate. Place onto a wax-lined plate or baking sheet to harden. If chocolate begins to harden during the dipping process, simply return the bowl of chocolate back to the pot of simmer water or place in the microwave for 30 seconds on 50% power level.
Recipes that use melted chocolate
Now that you've perfected the method for melting chocolate, give these recipes a try. Enjoy!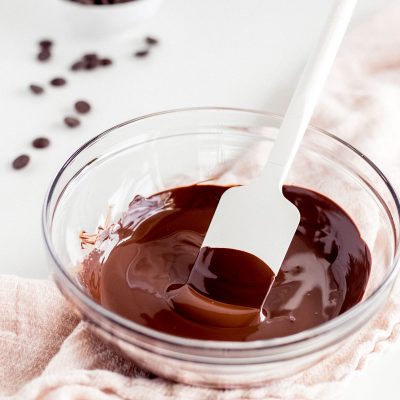 How to Melt Chocolate
Learn how to melt chocolate in a makeshift double boiler or the microwave. This quick and easy how-to guide is helpful for baking and making candy.
Print
Pin
Rate
Ingredients
12

ounces

(2 cups or 240 grams) bittersweet chocolate chips
Instructions
Makeshift Double Boiler Method
In a medium sauce pan, bring 1 cup of water to simmering over low heat. Place a glass bowl (metal works too, but use an oven mitt) on top of the pot so it rests above the simmering water, but doesn't touch it.

Place chocolate chips in the bowl and allow the steam to heat the bowl and melt the chocolate. Stir occasionally until the chocolate chips are melted. Once melted, remove the bowl from the pot and use the melted chocolate for your recipe.
Microwave Method
Place chocolate in a microwave safe bowl. Place the bowl in the microwave and heat for 1 minute at 50% power level. Stir the chocolate and return it to the microwave. Heat again at 50% power level for 20 second intervals, stopping to stir every 20 seconds. Once melted, remove the bowl from the microwave and use for your recipe.
Notes
Reheating melted chocolate: If your chocolate hardens after you melted it, return it to the pot of simmering water and allow it to melt once again. You can also return the bowl to the microwave and heat it in 20 second intervals at 50% power level.
Tips for melting chocolate:
You can also use baking chocolate squares. Chop it up into uniform pieces to guarantee even melting.
Never add water to melted chocolate. The chocolate will seize up and you will no longer be able to work with it.
If you need to thin out melted chocolate, add a tablespoon of shortening for every one cup chocolate.
Suggested tools for melting chocolate:
Double boiler or bain marie – This handy kitchen tool makes melting chocolate a breeze. My grandmother handed down a similar one to my mom and we use it every Christmas.
Medium saucepan and glass bowl – Use both of these to make a makeshift double boiler. The glass bowl works for the microwave method too.
Dipping tools – These tools help for dipping truffles and candy into melted chocolate.
Nutrition
Serving:
2
tablespoons
|
Calories:
115
kcal
|
Carbohydrates:
12
g
|
Protein:
2
g
|
Fat:
7
g
|
Sodium:
23
mg
|
Potassium:
135
mg
|
Fiber:
1
g
|
Sugar:
7
g