This easy flourless chocolate cake recipe is perfect for Valentine's Day. The gluten free cake is thick, decadent and tastes delicious with fresh strawberries.
Happy Valentine's Day all! I went a little crazy with my dessert this year. Instead of making a normal flourless chocolate cake, I slapped a quote on top: "I love you with my whole butt."
I would say my heart, but my butt is bigger 😉
You're probably wondering what inspired me to write BUTT on top of a dessert. Well, it was my sister. She's the genius behind putting sayings on top of my desserts (have you seen the pound cake?)
I figured it would catch people's attention. Also, sometimes feelings are hard to share so why not say it in the form of dessert?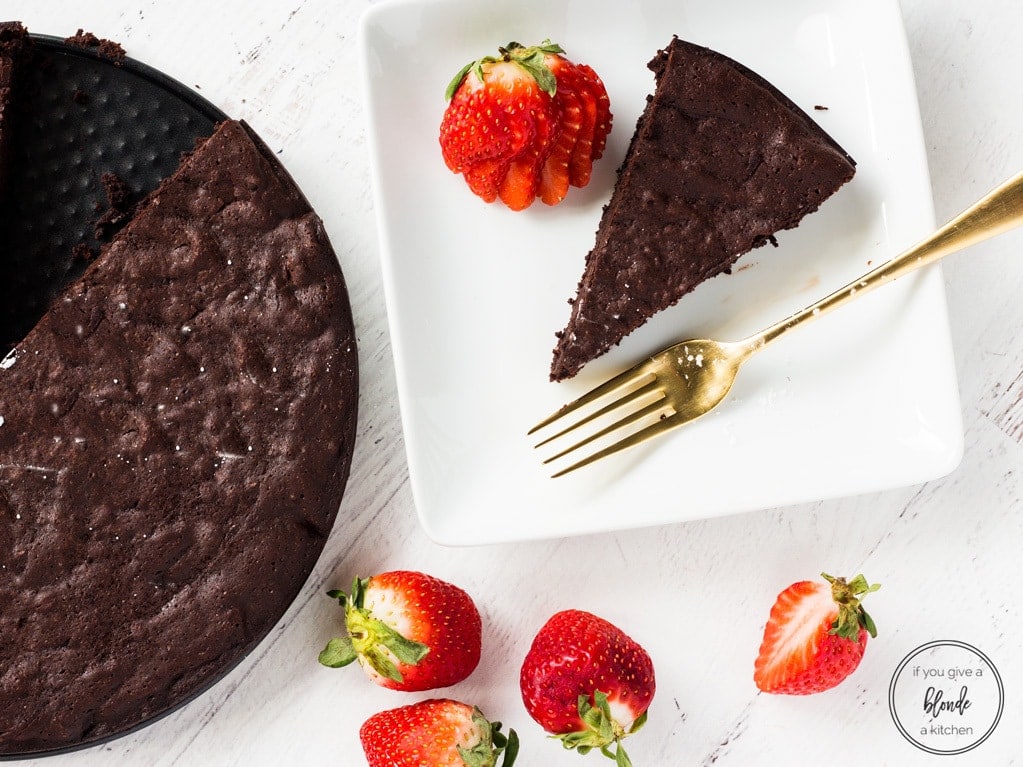 Quotes aside, this easy flourless chocolate cake is delicious. Thick, decadent and oh-so-chocolatey, each bite satisfies your sweet tooth. I love serving the cake with fresh strawberries for garnish and color.
I happened to have chocolate syrup sitting in the fridge so I added a drizzle of that on one of the slices too.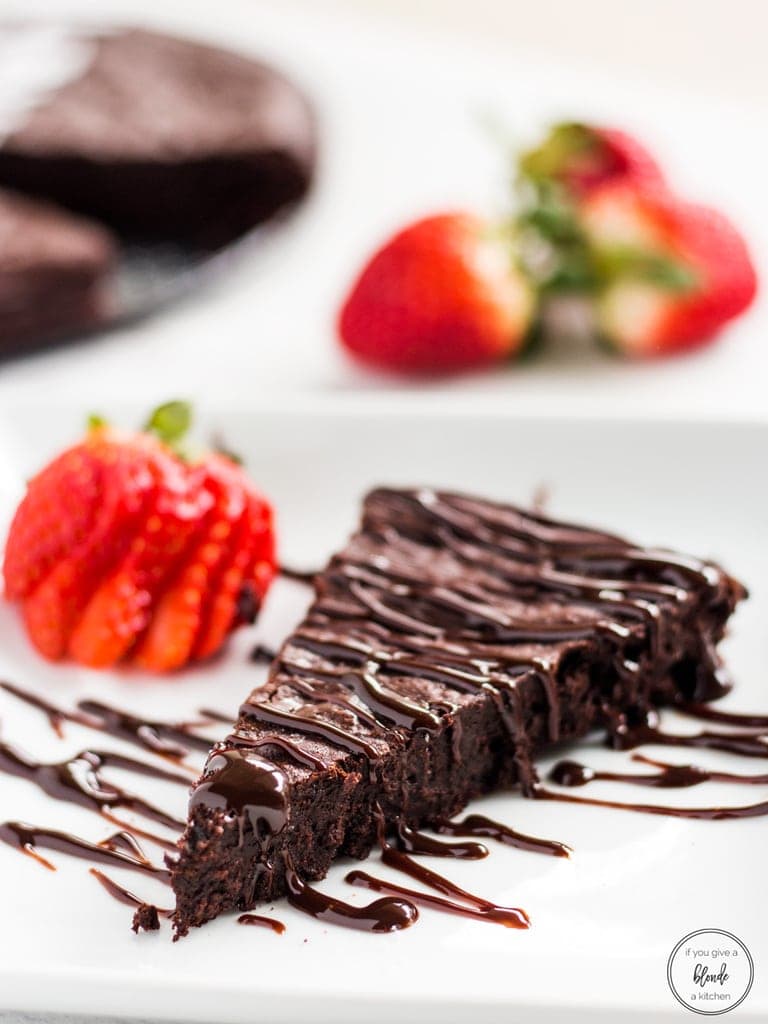 Flourless chocolate cake is easy to make to. Melt the chocolate and butter together, stir in the sugar and vanilla, add the eggs and cocoa. Pour into a springform pan and bake!
I do have a secret ingredient though… I add half a teaspoon of espresso powder. It's completely optional, but it really makes the chocolate sing. I sometimes add it to my chewy, fudgy chocolate brownies too!
Try this easy flourless chocolate cake recipe for Valentine's Day or anytime you're craving chocolate. It is incredibly delicious and perfect for any occasion!
Who would you make this flourless chocolate cake for?
Easy Flourless Chocolate Cake
This easy flourless chocolate cake recipe is perfect for Valentine's Day. The gluten free cake is thick, decadent and tastes delicious with fresh strawberries.
Servings
8
to 10 servings
Ingredients
1

cup

(175 g) semisweet chocolate chips

1/2

cup

(113 g) unsalted butter

3/4

cup

(150 g) granulated sugar

1/4

teaspoon

salt

1

teaspoon

vanilla extract

3

large eggs

lightly beaten

1/2

cup 

unsweetened cocoa powder

sifted

1/2

teaspoon

espresso powder

optional
Instructions
Preheat oven 375 F. Line the bottom of a 9-inch springform pan with parchment paper and grease with nonstick cooking spray (the sides of the pan too!) Set aside.¹

In a large microwave safe bowl, melt the butter and chocolate chips in the microwave for 45 seconds. Stir the mixture until the chocolate chips are completely melted. If necessary, place bowl back in the microwave for another 10 seconds.²

Add sugar, vanilla and salt. Stir with a rubber spatula or wooden spoon until combined, about 20 seconds. Add eggs and stir until incorporated, about 1 minute.

Carefully add the cocoa powder and espresso powder (if desired). Stir just until combined, careful not to overmix.

Pour batter into prepared pan and bake for 25 minutes. Cool on a wire rack for 10 minutes. Run a butter knife around the edges of the pans and turn cake upside down on a plate. The bottom of the cake will be nice and smooth, and is now the top of the cake. Serve warm or at room temp with fresh fruit, powdered sugar or ice cream.
Recipe Notes
¹ A 9-inch round cake pan can be used as well.
² Feel free to continue microwaving the chocolate in 10 second increments until melted. Stir after every 10 seconds.
² Cover with plastic wrap and store at room temperature or in the fridge for up to one week.