Homemade Strawberry Ice Cream
This post may contain affiliate sales links. Please see my
privacy policy
for details.
Try making homemade strawberry ice cream this summer! It is naturally flavored with fresh strawberries and has a super thick and creamy texture. This is a classic treat for a hot summer day!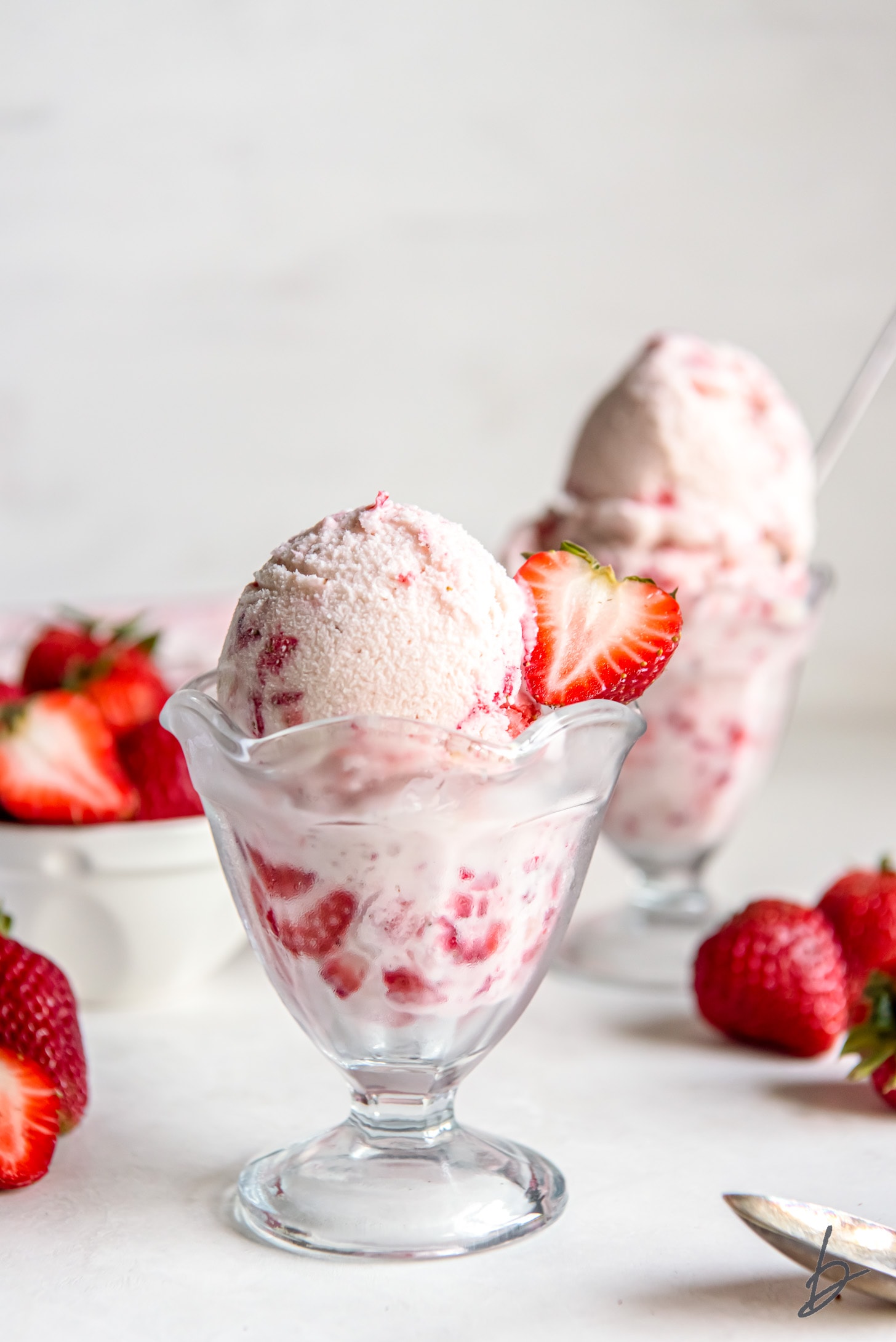 Summer calls for ice cream and one of my favorite flavors is strawberry. I love the bright pink hue and bits of berries in every bite. This easy recipe makes a sweet and fruity ice cream that is churned for the perfect consistency. I suggest making this when strawberries are in season for the best flavor!
Why You Will Love This Recipe
Classic ingredients. Milk, cream, sugar and vanilla make the most delicious foundation. Fresh in-season strawberries make for a natural fruity flavor.
No eggs. You don't have to worry about raw eggs or tempering them!
Delicious taste and texture. The strawberry flavor really shines in this recipe and the consistency is super soft and creamy.
Perfect summer treat! Hot days are best cooled off with homemade ice cream. Kids will love this dessert too!
Ingredient Notes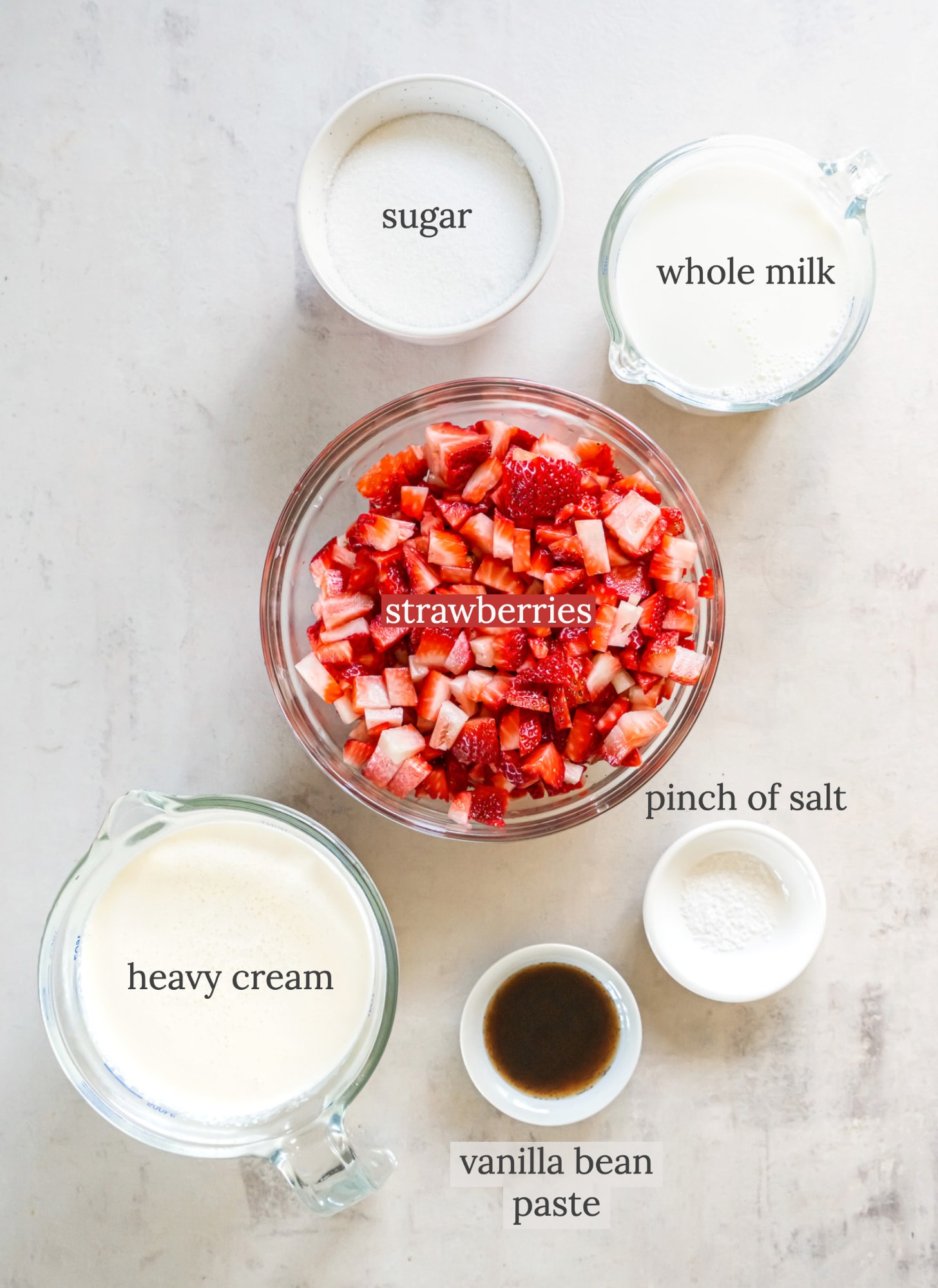 Strawberries: Use fresh strawberries when they are in season (April to July) for the best flavor!
Sugar: Sugar adds sweetness and helps release the juices from the berries.
Heavy cream: Full-fat heavy cream provides, well, a creamy texture!
Milk: Use whole milk to guarantee a rich taste and creamy consistency.
Vanilla bean paste: For a more concentrated vanilla flavor, I like to use a paste, but pure vanilla extract is also a good option.
Recipe Variations
Add some mix-ins! After churning, mix in your favorite treats. I prefer 1 cup dark chocolate chips, but other options include chopped nuts (walnuts, pecans or macadamia nuts) shredded coconut, crushed graham crackers or mini marshmallows.
Make ice cream sandwiches. Place a scoop of ice cream between two cookies. I suggest my chocolate chip cookies recipe to make a homemade chipwich. Other good cookie options include sprinkle sugar cookies or use chocolate cake mix cookies.
Get creative with toppings. Try homemade whipped cream and some sprinkles, or add a drizzle of hot fudge sauce for a chocolate-covered strawberry effect. Caramel sauce and balsamic vinegar (yes, it works!) are also options. For extra berry flavor, try strawberry whipped cream!
Try different fruit. This recipe works well with other berries, such as blueberries, raspberries, blackberries and cherries (pit removed). You can also use peaches or apricots (skin and pit removed).
How to make strawberry ice cream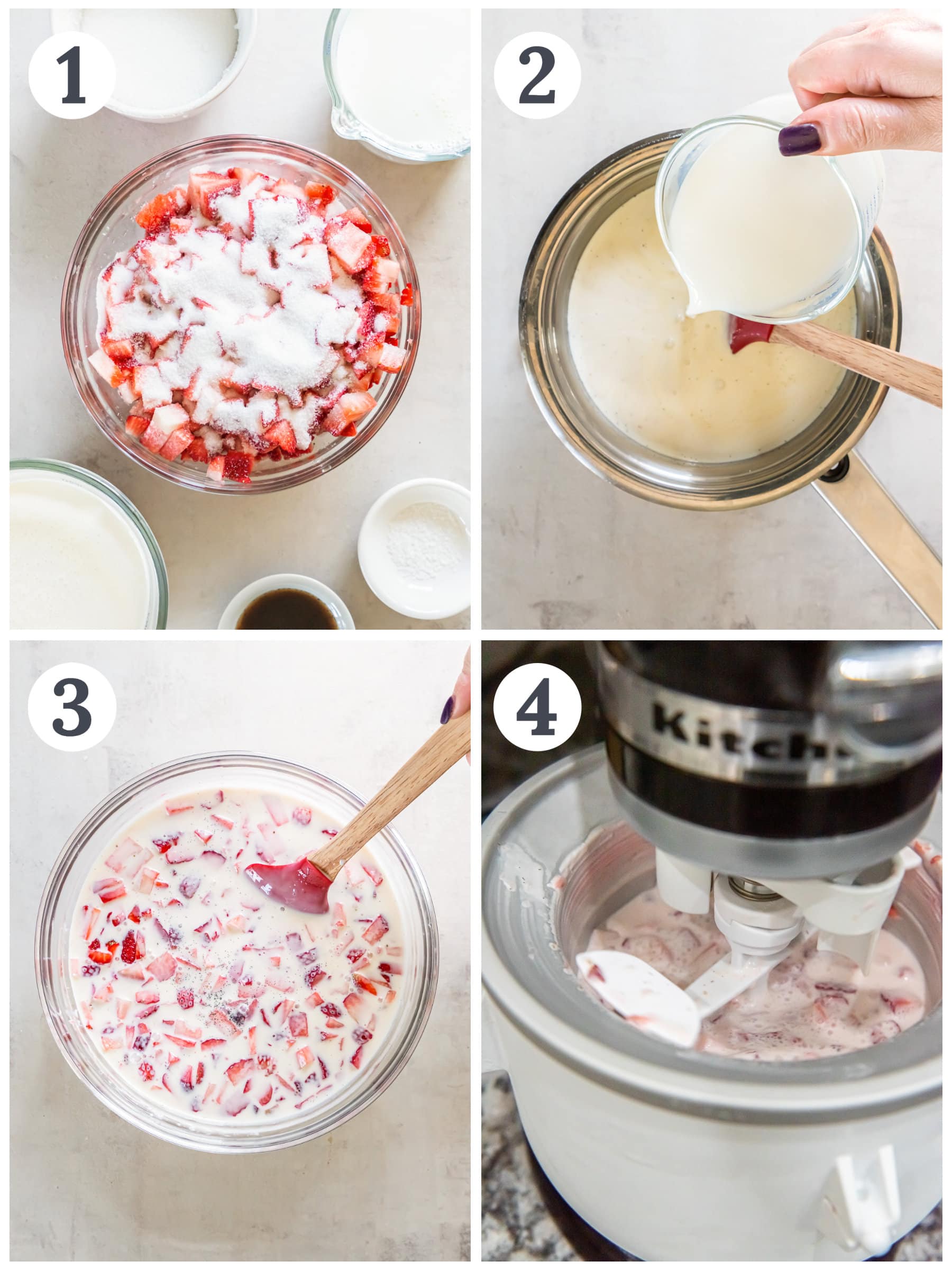 Prepare strawberries: Toss strawberries in 1/4 cup sugar and let them sit. This helps the strawberries release their juices. For a more pink effect, mash about a third of the berries after they've sat for 20 minutes.
Heat cream and sugar: Place 1 cup cream, sugar and vanilla bean paste in a saucepan and heat until sugar dissolves (this prevents a grainy texture). Remove from heat and whisk in the rest of the cream and milk. Let mixture cool.
Chill ingredients: Pour wet ingredients over strawberries and place bowl in the refrigerator to chill for an hour.
Churn: Pour mixture into ice cream maker and churn according to manufacturer's instructions, usually about 30 to 60 minutes. Transfer mixture to an airtight container and freeze for at least 4 hours.
Expert Tips
Remember to freeze the bowl before churning. This usually requires at least 12 hours. I put my bowl in the freezer the night before. A cold bowl also helps achieve that thick, creamy texture.
Use fresh ingredients. This will make the ice cream last longer and taste fresher! On that note, use whole, full-fat ingredients and forget the calories. Believe me, it makes for a creamier, richer ice cream. After all, it is a treat!
Macerate the strawberries. Letting the berries sit in sugar allows them to release their juices and create more flavor. If you don't want large pieces of strawberries in your ice cream, you can mash the berries after they have released their juices. Do not discard juices (that's more flavor!)
Let the mixture chill for an hour before churning. This step allows the flavors to get to know each other before everything is frozen! Use the full hour for best results. Churn for the full amount of time as well. This incorporates air, which guarantees a soft and fluffy texture.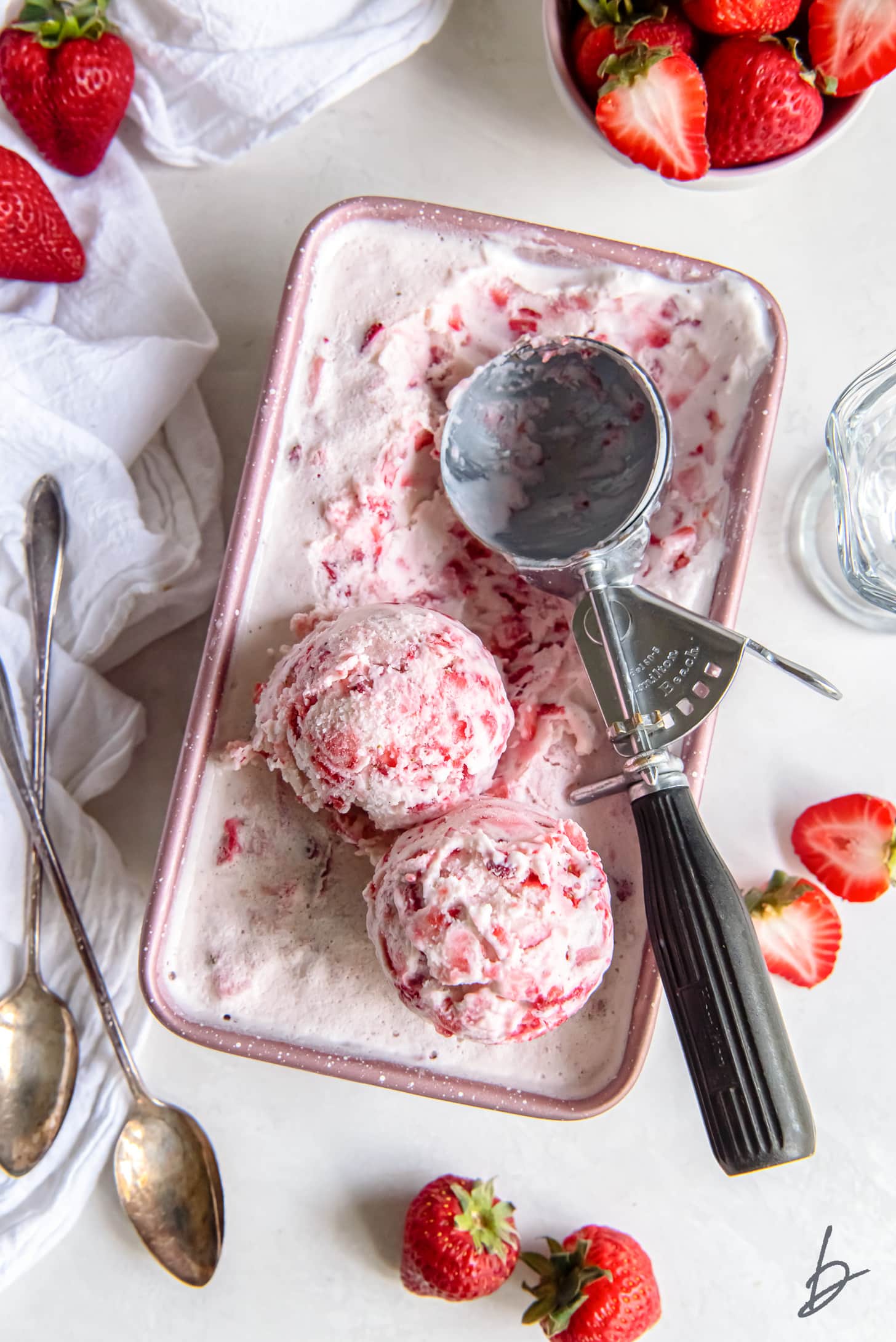 Make Ahead and Storage Tips
Make ahead: The strawberries may be made ahead and stored in the refrigerator for up to 24 hours. This is a good time to put the bowl for the ice cream machine in the freezer as well.
Storage: Keep in an airtight container in the freezer for up to 3 months. I recommend a proper ice cream container to prevent any freezer burn. Alternatively, place plastic wrap directly on top of the ice cream to prevent ice crystals from forming.
Frequently Asked Questions
Can I use frozen strawberries?
Yes! Defrost the frozen berries and cut them into small pieces if they are in big chunks before using them in the recipe.
Can make this recipe without an ice cream machine?
I have not attempted this particular recipe without the machine. You can try combining the ingredients in a blender instead of churning it, but the texture will not be as smooth and creamy.
Why is my strawberry ice cream icy?
Most likely it had prolonged exposure to air in the freezer. You can prevent this by placing plastic wrap directly on top of the ice cream or using a good ice cream container with a lid.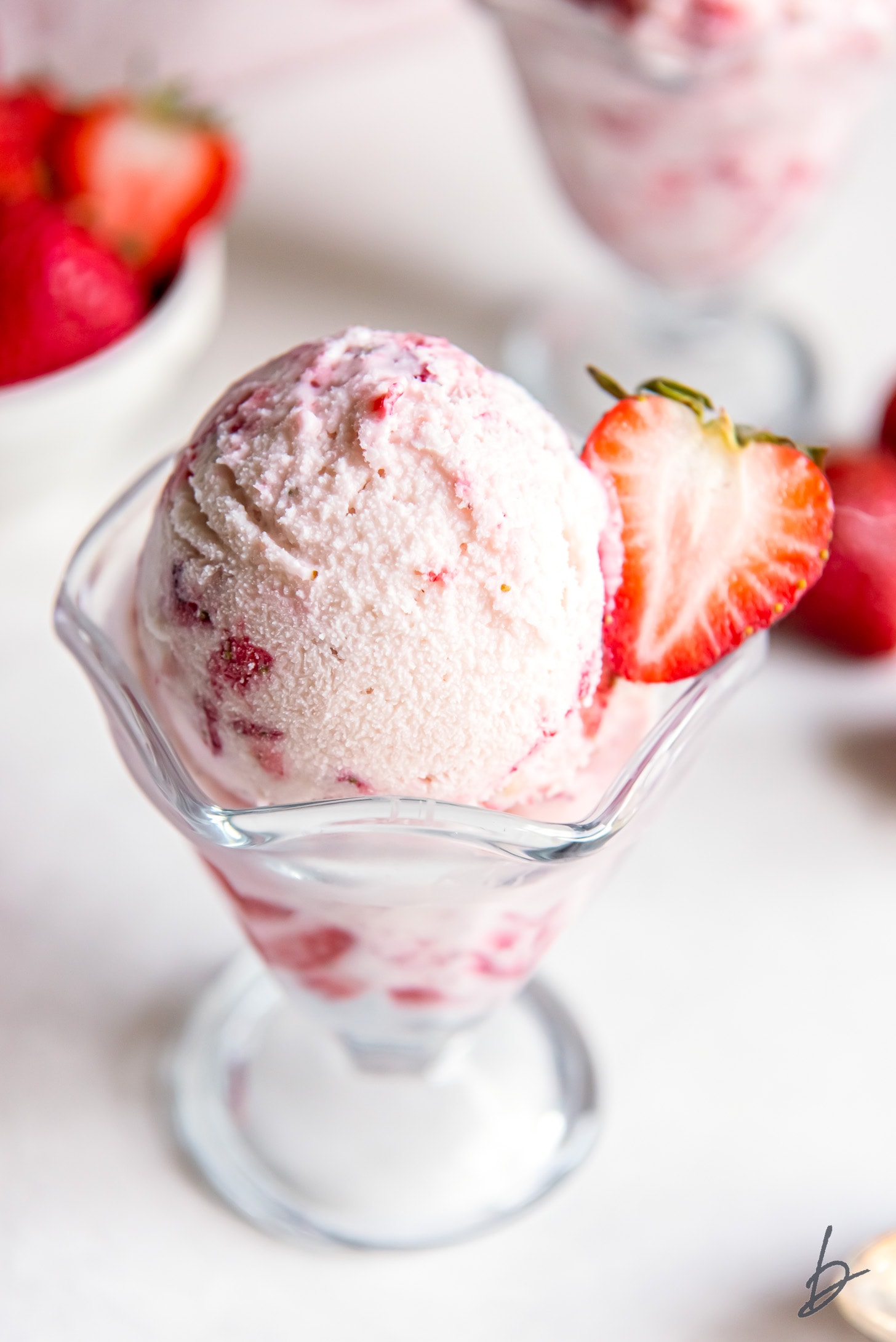 Related Recipes
Here are some more recipe favorites for warm summer days.
Did you love this recipe? Please leave a 5-star 🌟🌟🌟🌟🌟 rating in the recipe card below and if you REALLY loved it, consider leaving a comment further down the page.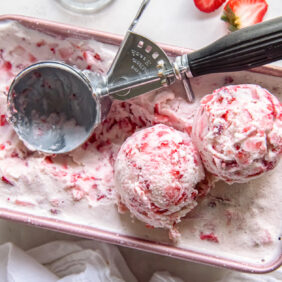 Get the Recipe:
Homemade Strawberry Ice Cream
Try making homemade strawberry ice cream this summer! It is naturally flavored with fresh strawberries and has a super thick and creamy texture.
Ingredients
1

pound

fresh strawberries

,

about 3 cups diced

¾

cup

(150 g) granulated sugar

,

divided

1 ¾

cups

(414 ml) heavy cream

Pinch

sea salt

½

tablespoon

vanilla bean paste

,

or extract

1 ¼

cup

(295 ml) whole milk
Instructions 
Place the bowl of your ice cream maker in the freezer for at least 12 hours before starting the recipe.

Place the diced strawberries in a large bowl. Sprinkle ¼ cup of sugar over them and allow them to sit for 15-20 minutes, until the strawberries have begun to release their juices. Mash about one third of the berries if you'd like a nice pink hue.

Meanwhile, pour 1 cup of cream into a large saucepan set over medium heat and add the remaining sugar, salt and vanilla bean paste. Warm the mixture just until the sugar dissolves, then remove the saucepan from the heat and whisk in the remaining cream and milk.

Allow the mixture to cool for 15 minutes, then pour it over the prepared strawberries, stir, and chill, uncovered, in the refrigerator for at least 1 hour.

When ready to churn, give the mixture a stir and pour into the bowl of an ice cream maker. Churn according to the manufacturer's instructions, which is usually about 30 to 60 minutes or until the mixture rises to the top and the motor slows down.

Transfer the churned mixture to an airtight container and place in the freezer for at least 3 hours, until frozen solid. When ready to serve, let the ice cream sit at room temperature for about 10 minutes before scooping.
Notes
Store in a secure airtight container in the freezer for up to 3 months. Strawberries: If you don't want large chunks of berries in your ice cream, you can mash all of the berries after they have macerated in the sugar. Do not discard juices.
Serving:
0.5
cup
,
Calories:
294
kcal
,
Carbohydrates:
27
g
,
Protein:
3
g
,
Fat:
20
g
,
Saturated Fat:
13
g
,
Polyunsaturated Fat:
1
g
,
Monounsaturated Fat:
5
g
,
Cholesterol:
63
mg
,
Sodium:
29
mg
,
Potassium:
194
mg
,
Fiber:
1
g
,
Sugar:
25
g
,
Vitamin A:
834
IU
,
Vitamin C:
34
mg
,
Calcium:
91
mg
,
Iron:
1
mg