Learn how to make one of the best summertime desserts—the Chipwich. This chocolate chip cookie ice cream sandwich is simply delicious and easy to make.
Take a nice long look at that photo. How good does that chocolate chip cookie ice cream sandwich look? Best of all, it is so easy to make. The homemade Chipwich is creamy vanilla ice cream sandwiched between two chocolate chip cookies and loaded with mini chocolate chips.
I loved Chipwiches when I was a kid. With two desserts in one, the Good Humor ice cream sandwich was unquestionably one of my favorites. Now as an adult I realize how easy it is to make your own cookie ice cream sandwich and it's ten times better. I'll tell you why.

The secret to a delicious homemade cookie ice cream sandwich? Using the best chocolate chip cookie recipe, of course. Nothing beats a good chocolate chip cookie. So when you sandwich two together with ice cream, you are most certainly in for a treat.
A key step in making these homemade Chipwiches is freezing the cookies after they're done cooling. You'd think all you have to do is sandwich ice cream between freshly-baked cookies, but that's not the case. (Although, I do recommend setting a cookie or two aside to snack on while the rest of them sit in the freezer.)
Freezing the cookies makes them sturdier and hardens the melted chocolate chips. You need stiff cookies in order to sandwich the ice cream in between otherwise you'll have a crumbly cookie mess. Don't worry though, the chilled cookies will maintain their deliciousness!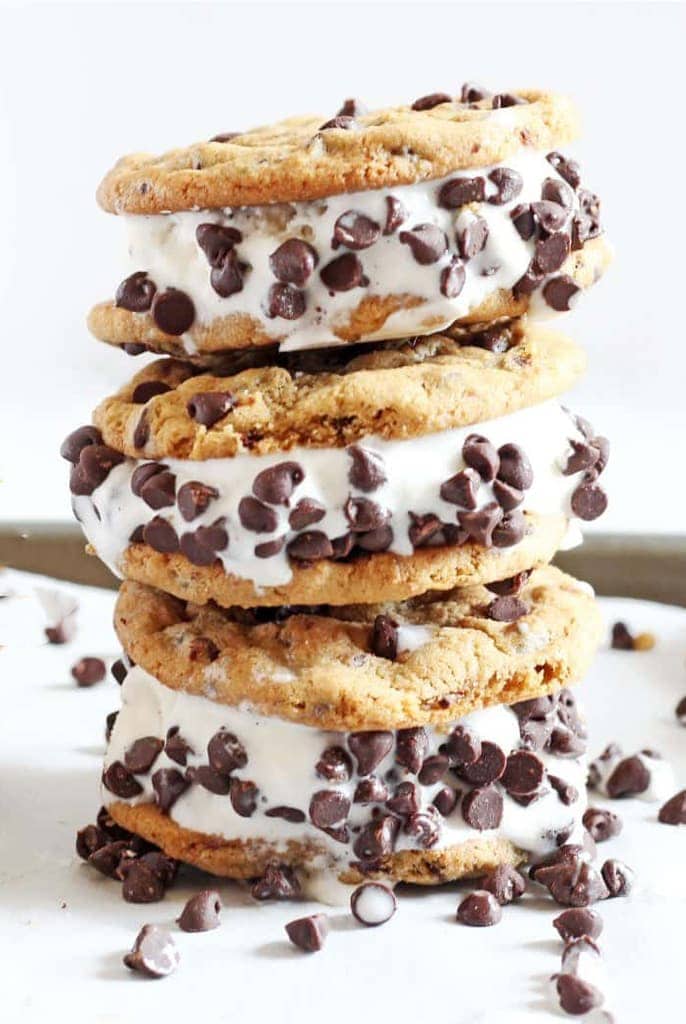 One more secret to a perfect cookie ice cream sandwich: Good quality vanilla ice cream. I'm talking slow-churned vanilla from your local ice cream shop. After all, if you're going to make a homemade Chipwich, you might as well hit it out of the ball park, right?
I suggest wrapping them individually so they are easy to grab on a hot summer's night. Enjoy!

The Homemade Chipwich: Chocolate Chip Cookie Ice Cream Sandwich
Learn how to make one of the best summertime desserts—the Chipwich. This chocolate chip cookie ice cream sandwich is simply delicious and easy to make.

Print
Pin
Rate
Ingredients
Chocolate Chip Cookies
1 1/4

cups

unbleached all-purpose flour

1/2

teaspoon

baking soda

1/2

teaspoon

salt

7

tablespoons

unsalted butter

room temperature

3/4

cups

brown sugar

packed

2

tablespoons

granulated sugar

1

egg

1

teaspoon

vanilla

1

cup

mini chocolate chips
Ice Cream Sandwiches
Chocolate chip cookies

Vanilla Ice Cream

about half gallon

1

cup

mini chocolate chips
Instructions
Chocolate Chip Cookies
Preheat oven to 350° F. Line a baking sheet with parchment paper and set aside.

In a medium bowl, whisk together the flour, baking soda and salt. Set aside.

In the bowl of a stand mixer fitted with a paddle attachment, beat on medium speed the butter, brown sugar and granulated sugar until light and fluffy, about four minutes. Scrape down the sides of the bowl when necessary. Add the egg and vanilla. Beat until combined, 20 to 30 seconds.

With the mixer on low, slowly add the flour mixture to the dough. Careful not to over beat. With a wooden spoon or rubber spatula, stir in the chocolate chips by hand.

Scoop about 2 tablespoons of cookie dough, shape into a ball, and place onto the prepared baking sheet. Repeat placing each ball of cookie dough about 1- to 2-inches apart. Bake for about 12 minutes or until the edges start to turn brown. Cool on the pan for 5 minutes and then transfer to a wire rack to cool completely. Transfer to the freezer for 20-30 minutes.
Ice Cream Sandwich Assembly
Take one cookie and place a scoop of ice cream (about 1/4 cup) on the flat side of the cookie. Top with flat side of second cookie to make a sandwich.

Place mini chocolate chips in a bowl or on plate. Roll sides of the sandwich in the chips. Serve immediately or wrap tightly in plastic wrap and freeze.
Notes
*Transferring the chocolate chip cookies to the freezer is essential. If you try to make the sandwiches with warm or room temperature cookies, the cookies will break when you press the ice cream between them. You will also get chocolate chips all over your hands!