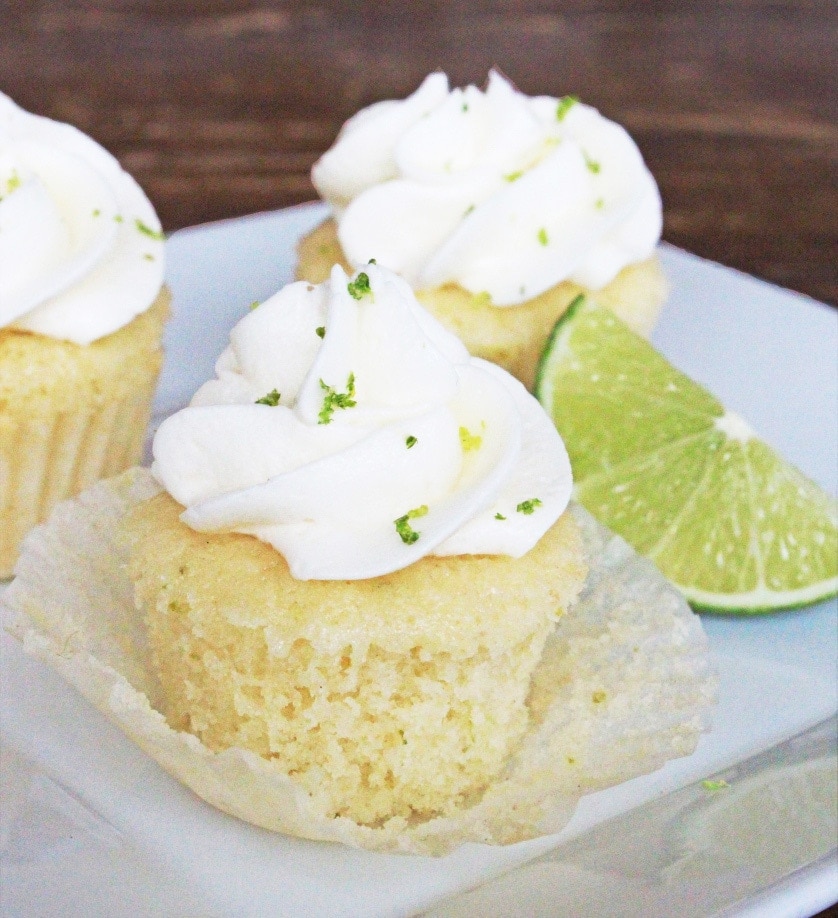 Happy Cinco de Mayo mis amigos! It is becoming a trend for me to bake boozy cupcakes whenever a holiday rolls around so you can guess what I made for this fiesta… Margarita Cupcakes! Sprinkled with lime zest and brushed with tequila, these little shots of margarita deliciousness make for a fitting dessert on Cinco de Drinko, I mean Mayo.
Cinco de Mayo is an inexcusable opportunity to enjoy some authentic Mexican food—enchiladas, chili relleno, guacamole—you name it! Of course the first drink people think of when they hear Cinco de Mayo is a margarita. Tangy and salty, margaritas are a classic Mexican cocktail—perfect inspiration for a boozy cupcake.

This weekend I was raring to go, full baking mode. After checking my ingredients list, I made a quick trip to the super market and the liquor store. Let me tell you, I got a few looks when I was checking out with Jose Cuervo at 9:30 a.m. Little did they know that the agave nectar was going to make some tasty cupcake shots.
With ingredients at the ready and my Cinco de Mayo playlisto on, I baked up these little suckers. Flavored with fresh-squeezed lime juice and tequila, it is pretty much your basic cupcake recipe. However, there is an added bonus when baking these cupcakes—you have all the ingredients for a homemade margarita. So whip up a marg, turn up some music and get baking!

Haley D. Williams
Yields 36
Margarita Cupcakes
20 minPrep Time
25 minCook Time
45 minTotal Time
Ingredients
Cupcakes

11/2 cups all-purpose flour
11/2 teaspoons baking powder
1/4 teaspoon salt
1/2 cup unsalted butter, at room temperature
1 cup granulated sugar
2 eggs, at room temperature
Zest and juice of 11/2 limes
2 tablespoons tequila
1/4 teaspoon vanilla extract
1/2 cup buttermilk

Brush the Cupcakes

1 to 2 tablespoons tequila

Tequila-Lime Frosting

1 cup unsalted butter, at room temperature
23/4 cups powdered sugar
1 to 2 tablespoons of fresh lime juice, to taste
2 tablespoons tequila
Pinch of coarse salt
Instructions
Preheat the oven to 325 degrees F. Line a muffin tin with paper liners; set aside.
In a medium bowl, whisk together the flour, baking powder and salt; set aside.
In an electric mixer on medium-high speed, beat the butter and sugar together until pale, light, and fluffy (about 5 minutes).
Reduce the mixer speed to medium and add the eggs one at at time, mixing thoroughly after each addition.
Scrape the sides of the bowl and add the lime zest, lime juice, vanilla extract and tequila. Mix until combined. (The mixture may start to look curdled at this point, but don't worry, it will all turn out in the end!)
Reduce the mixer speed low. Add the dry ingredients in three batches, alternating with the buttermilk in two batches. Mix only until just incorporated, using a rubber spatula to give it one last mix by hand while scraping the edge of the bowl.
Divide the batter between the muffin cups, filling them about three-quarters full. Bake for approximately 25 minutes, rotating the pan at the halfway point. Cupcakes are done when they are slightly golden and a toothpick inserted in the center shows only moist crumbs attached,
Allow cupcakes to cool for 5 to 10 minute, and then move to a cooling rack. Brush the tops of the cupcakes with the 1 to 2 tablespoons of tequila. Set the cupcakes aside to cool completely before frosting them.
To make the frosting, whip the butter on medium-high speed of an electric mixer using the whisk attachment for 5 minutes. Reduce the speed to medium-low, and gradually add the powdered sugar, mixing and scraping the sides of the bowl until all is incorporated. Mix on medium speed for about 30 seconds. Add the lime juice, tequila and salt. Mix on medium-high speed until incorporated and fluffy. Frost cupcakes and garnish with lime zest, an additional sprinkling of salt and a lime wedge.
7.6.4
42
https://www.ifyougiveablondeakitchen.com/2014/05/05/margarita-cupcakes/
If You Give a Blonde a Kitchen
Recipe from Brown Eyed Baker.