Momofuku Crack Pie is seriously addicting. A combination of salty and sweet, the pie has a crispy oat cookie crust and an ooey gooey filling.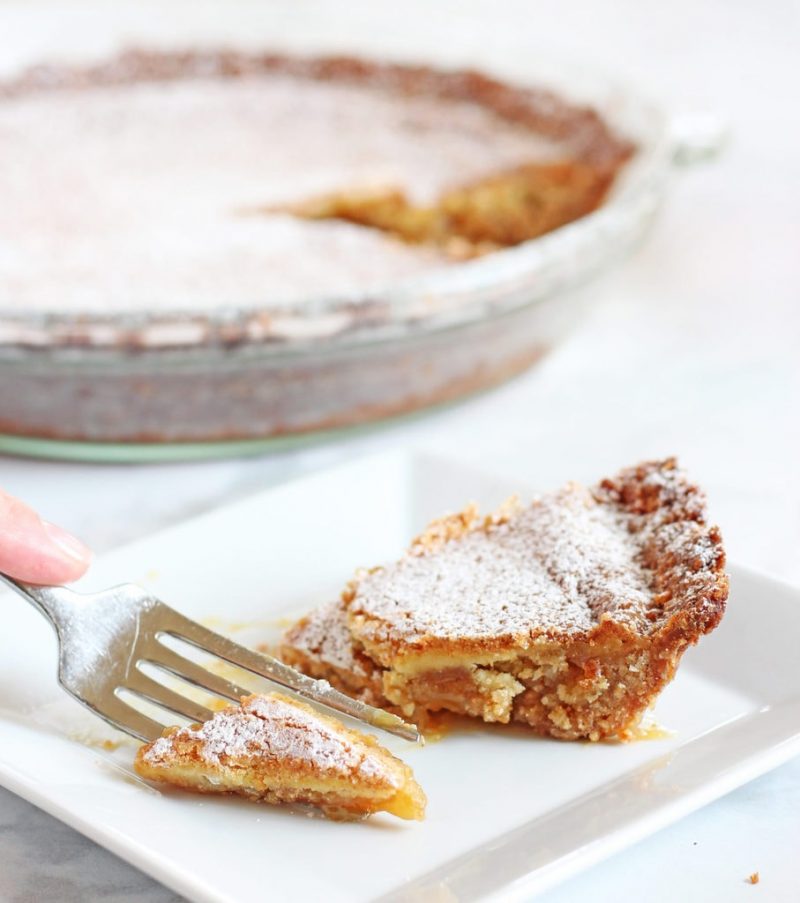 Thanksgiving is on the horizon and while I'm a huge fan of apple pie and pecan pie, there is one unconventional pie I absolutely love—crack pie. Yes, that's right, crack pie, more specifically, Momofuku's crack pie.
The first time I experienced the notorious Momofuku crack pie was at the Union Square Christmas Market two years ago. I had heard stories about this pie and wanted to know if this confection lived up to its reputation.
It did and to be honest I wasn't surprised because treats from the Momomfuku Milk Bar usually go above and beyond my expectations.
The head baker Christina Tosi is a dessert mastermind (she pretty much invented cereal milk ice cream).
So when the holiday season started to creep up, that slice of Momofuku crack pie crossed my mind once again and this time I wanted to try and make it myself.
Finding Christina's recipe wasn't difficult (it's on Bon Appetit as well as in her Milk Bar cookbook). But making it and getting the right consistency takes talent.
The oatmeal cookie crust is a recipe in itself. You bake an oatmeal cookie dough on a sheet, let it cool and then crumble it up. At this stage, it's hard not to break off a piece of cookie for yourself!
Resist the urge and mix it with butter and brown sugar, then press the mixture into a pie dish for the crust. The crust is the perfect cookie consistency to hold the gooey buttery filling.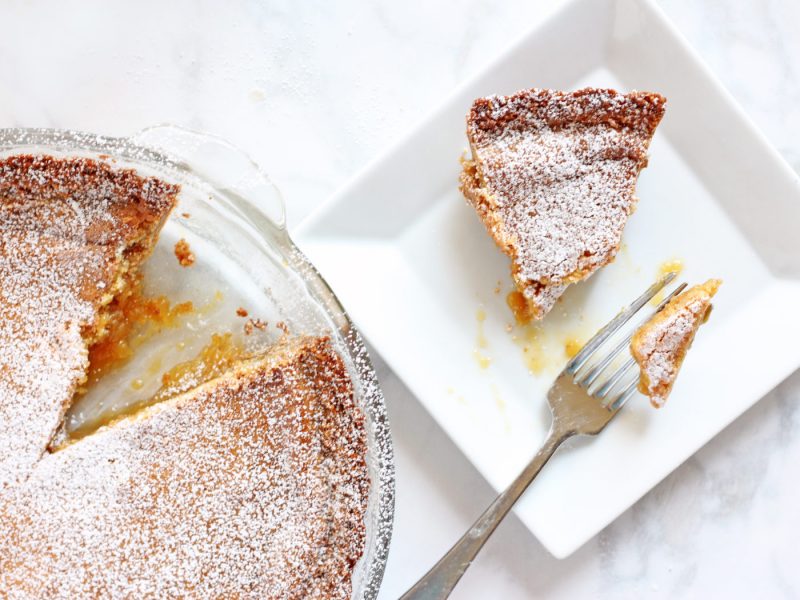 The filling, oh the filling. Words can't even describe the filling in Momofuku's crack pie. Well, except maybe that it's as addicting as crack.
Smooth, buttery, gooey and tooth-achingly sweet, need I go on?
Okay, I will. For those of you who are not a fan of fruit pies or nut pies, then Momofuku crack pie is the pie for you. It's basically a giant cookie with a gooey center dusted with confectioners' sugar.
Far from a traditional pie, but still earns the name pie for its creative crust and irresistible filling.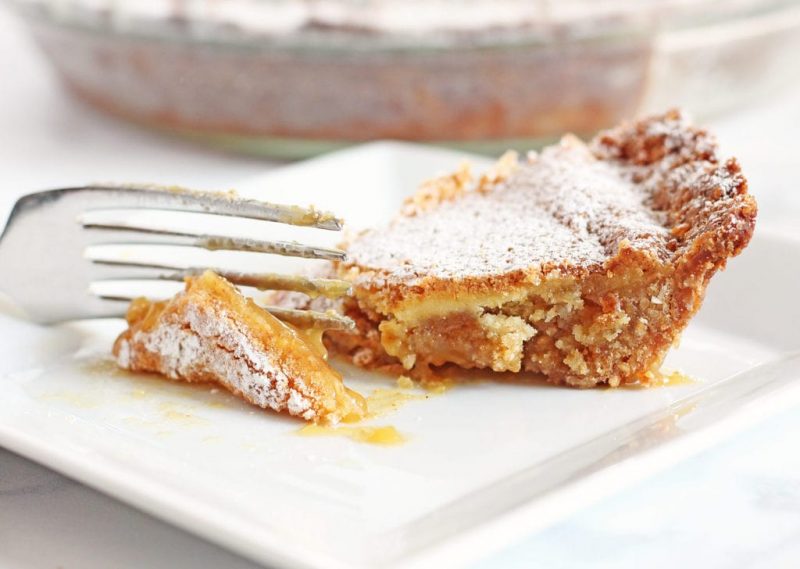 Did I mention this pie is kept in the fridge? Which means when you serve it cold, the bites of crack pie just melt away in your mouth leaving the crunchy cookie crust.
And crack pie is not limited to the holiday season. This pie can be eaten any time of year.
In fact, I brought it over to a friend's house the other day for her birthday. Beats a birthday cake any day if you ask me!
Copycat Momofuku Crack Pie
Momofuku Crack Pie is seriously addicting. A combination of salty and sweet, the pie has a crispy oat cookie crust and an ooey gooey filling.
Total Time
1
hour
10
minutes
Ingredients
Oat Cookie Crust
Nonstick vegetable oil spray

9

tablespoons

(1 stick plus 1 tablespoon) unsalted butter, room temperature, divided

5 1/2

tablespoons

packed golden brown sugar, divided

2

tablespoons

sugar

1

large egg

3/4

cup

plus 2 tablespoons old-fashioned oats

1/2

cup

all purpose flour

1/8

teaspoon

baking powder

1/8

teaspoon

baking soda

1/4

teaspoon

generous salt
Filling
3/4

cup

sugar

1/2

cup

packed golden brown sugar

1

tablespoon

nonfat dry milk powder

1/4

teaspoon

salt

1/2

cup

(1 stick) unsalted butter, melted, cooled slightly

6 1/2

tablespoons

heavy whipping cream

4

large egg yolks

1

teaspoon

vanilla extract

Powdered sugar

for dusting
Instructions
Oat Cookie Crust
Preheat oven to 350°F. Line 13x9x2-inch baking pan with parchment paper and coat with nonstick spray. Combine 6 tablespoons butter, 4 tablespoons brown sugar, and 2 tablespoons sugar in medium bowl. Using an electric mixer, beat mixture until light and fluffy, about 2 minutes. Scrape down the sides of the bowl as necessary. Add egg and beat until pale and fluffy. Add oats, flour, baking powder, baking soda, and salt and beat until well blended, about 1 minute.

Turn oat mixture out onto prepared baking pan; press out evenly to edges of pan. If the dough is sticking to your fingers, wet them with water and continue pressing oat mixture out evenly. Cookie layer should be about 3/8-inch thick.

Bake until light golden on top, 17 to 18 minutes. Transfer baking pan to rack and cool cookie completely.

Using hands, crumble oat cookie into large bowl; add 3 tablespoons butter and 1 1/2 tablespoons brown sugar. Rub in with fingertips until mixture is moist enough to stick together. Transfer cookie crust mixture to 9-inch-diameter glass pie dish. Using fingers, press mixture evenly onto bottom and up sides of pie dish. Place pie dish with crust on rimmed baking sheet.
Filling
Position rack in center of oven and preheat to 350° F. Whisk both sugars, milk powder, and salt in medium bowl to blend. Add melted butter and whisk until blended. Add cream, then egg yolks and vanilla, and whisk until well blended.

Pour filling into crust. Bake pie 30 minutes (filling may begin to bubble). Reduce oven temperature to 325° F. Continue to bake pie until filling is brown in spots and set around edges but center still moves slightly when pie dish is gently shaken, about 20 minutes longer. Cool pie 2 hours in pie dish on rack. Chill uncovered overnight.

Sift powdered sugar lightly over top of pie. Cut pie into wedges and serve cold.
Recipe Notes
· DO AHEAD: Can be made 2 days ahead. Cover; keep chilled.
· Store covered in the refrigerator.
Recipe by Christina Tosi | Momofuku Milk Bar New York, New York