Red velvet sandwich cookies are chewy and filled with cream cheese frosting. Try this dessert recipe for Christmas or Valentine's Day!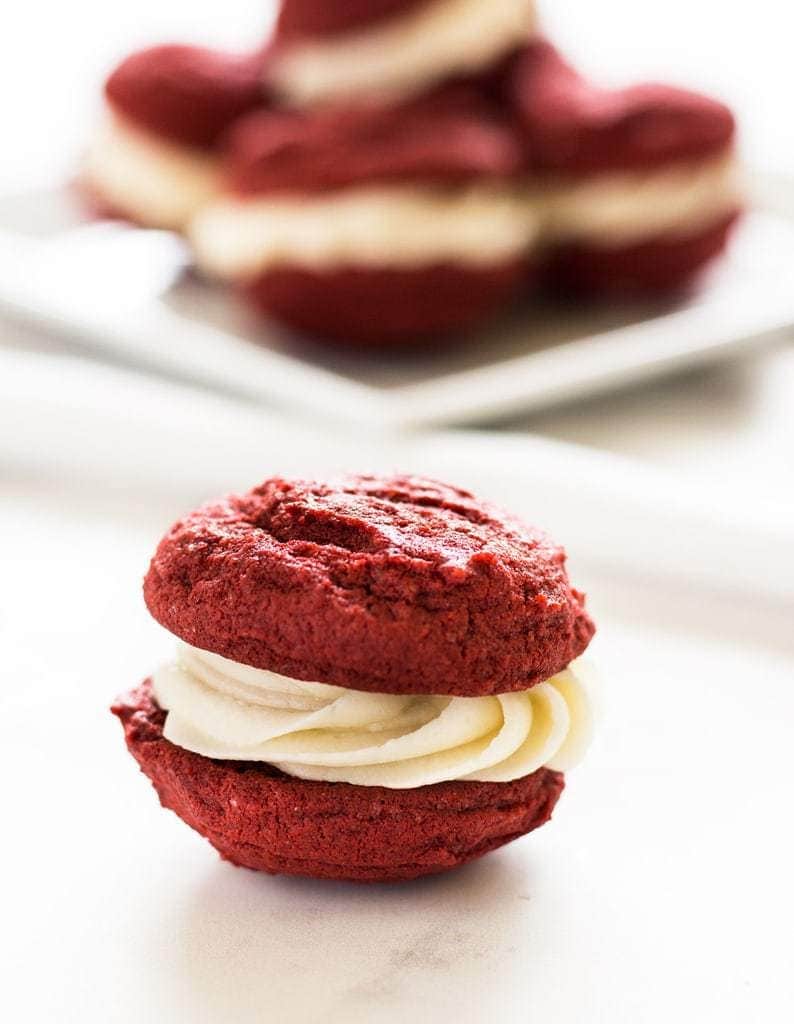 Who here is a red velvet cake fan? You're in luck. I have made delicious red velvet sandwich cookies that taste just like the cake. Filled with smooth cream cheese frosting, these chewy cookies are unbelievably good.
So we all know what red velvet cake tastes like, right? It's a slightly cocoa-y irresistible flavor. Now, imagine that as a cookie. It's just as good (if not better) than you think.
Red velvet cookies are chewy, thick and easy to make. Just like any drop cookie, you have your flour, butter, eggs, sugar, etc. But to make these cookie red velvet you need a couple tablespoons cocoa powder and a couple teaspoons red food dye.
And just like that there you have red velvet cookies! They were an excellent consistency (sturdy, but tender and chewy) for making cookie sandwiches. Cream cheese frosting was the obvious filling.
Cream cheese frosting is so sweet and smooth. If it was socially acceptable, I would take spoonfuls of the frosting for dessert. Thankfully, a red velvet cookie works just as well as a spoon when it comes to consuming cream cheese frosting.
I used a frosting bag and tip to fill the cookies, but a knife or spoon works just as well! I personally like the swirl of frosting peeking out between the two cookies.
The deep red color is perfect for the holidays too! Red velvet sandwich cookies are a perfect addition to the Christmas cookie plate. They remind me a lot of Santa's red suit! There's no doubt in my mind that he would be a fan 😉
And this cookie isn't limited to December. When Valentine's Day rolls around, make red velvet cookie sandwiches for your sweetheart! He/she will adore this sweet treat. It's also a good dessert to make for a friend's birthday if they are a red velvet fan!
If I had to describe these cookies in one sentence, I would say, "A red velvet sandwich cookie is like eating red velvet cake with your hands."
What? It's true! No utensils needed. Just grab a cookie and get your red velvet fix!
Tools needed to make red velvet sandwich cookies:
Yields 20 sandwich cookies
Red Velvet Sandwich Cookies
Red velvet sandwich cookies are chewy and filled with cream cheese frosting. Try this dessert recipe for Christmas or Valentine's Day!
25 minPrep Time
10 minCook Time
35 minTotal Time
Ingredients
Red Velvet Cookies:

1 1/3 cup (170 g) all-purpose flour
2 tablespoons unsweetened cocoa powder
1/2 teaspoon baking soda
1/2 teaspoon baking powder
1/4 teaspoon salt
1/2 cup (113 g or 1 stick) unsalted butter, softened
1/2 cup (100 g) granulated sugar
1/4 cup (50 g) light brown sugar, packed
1 large egg
1 teaspoon pure vanilla extract
2 to 3 teaspoons red gel food coloring*

Cream Cheese Filling:

1/2 cup (110 g or half block) cream cheese, softened
1/4 cup (57 g) unsalted butter, softened
2 1/2 cups (312 g) powdered sugar, sifted
1 teaspoon pure vanilla extract
Instructions
Red Velvet Cookies:

In a medium bowl, whisk together the flour, cocoa, baking soda, baking powder and salt. Set aside.
In the bowl of a stand mixer (or using a hand mixer), beat together butter, granulated sugar, and brown sugar on medium speed until light and fluffy, about 3 minutes. Scrape down the sides and add the egg, mixing on low speed until combined. Beat in the vanilla and red food coloring until well incorporated.
With the mixer on low, slowly add the flour mixture and beat until just combined, scraping down the sides of the bowl as necessary. Chill the dough in the refrigerator for 15 to 20 minutes.
Preheat the oven to 350° F. Line cookie sheets with parchment paper. Remove the chilled dough from the refrigerator, and use a cookie scoop or spoon to make balls of dough 1-inch in diameter. Place on the prepared baking sheet 2-inches apart. Bake on the middle rack of the oven for 8 to 10 minutes, or until the cookies appear dry on top. Cool on a wire rack for 3 minutes, then remove the cookies from the pan and cool completely on the wire rack.

Cream Cheese Filling:

In the bowl of a stand mixer (or using a hand mixer), beat cream cheese and butter on medium high until light and fluffy, about 3 minutes. Lower the mixer speed to low and slowly add the sifted powdered sugar and beat until combined. Add the vanilla extract and increase the speed to medium high and beat for 2 minutes until the filling is creamy and thick.
Transfer the cream cheese filling to a frosting bag fitted with desired tip and pipe the filling onto the bottom of half of the cookies, and top with the other half. Alternatively, the filling can be spread on the cookie with a knife. Serve at room temperature and enjoy!
Notes
¹ I recommend using gel food coloring. If you are using liquid, up the amount to 1 1/2 tablespoons or use slightly more or less for desired color. The dough will become slightly darker when flour and cocoa are added.
² Store cookie sandwiches in an airtight container in the refrigerator for up to five days.
7.6.6
195
https://www.ifyougiveablondeakitchen.com/2017/07/23/red-velvet-sandwich-cookies/
If You Give a Blonde a Kitchen
Inspired by Flavor the Moments.