Foodie's Travel Guide: Tulum, Mexico
This post may contain affiliate sales links. Please see my
privacy policy
for details.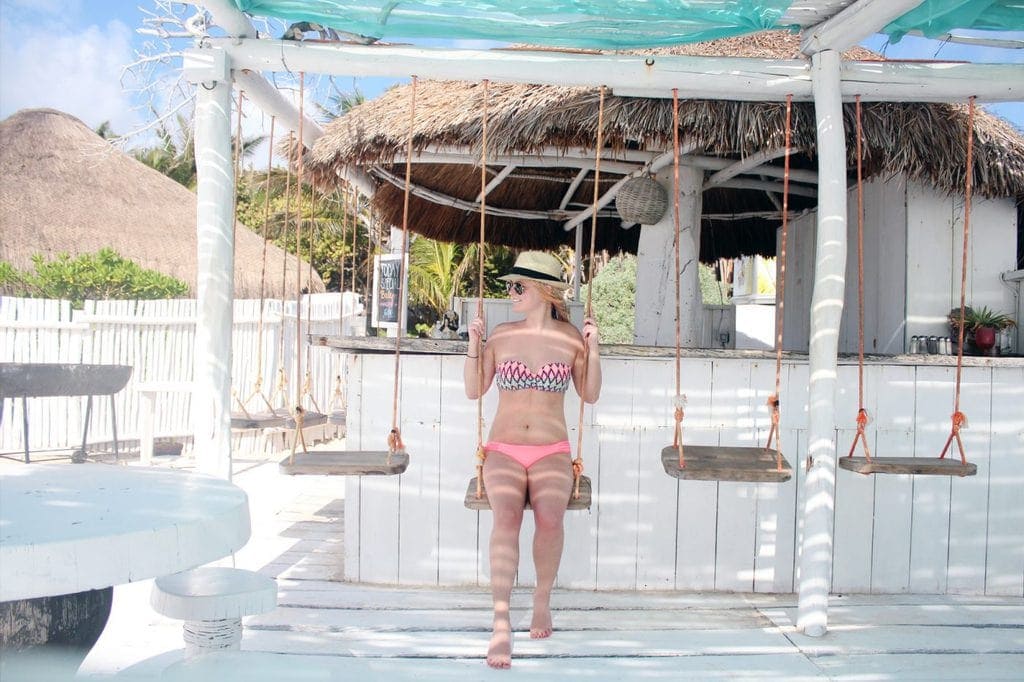 Tulum, a peaceful paradise just under two hours south of Cancun muddled with eco-friendly boutique hotels, travelers from around the globe, and (most importantly) authentic local cuisine. I spent a mere five days in the tropical getaway, but had every opportunity to satisfy my wanderlust and palette alike.
One of my friends warned me described Tulum as "A hipster mecca with man buns around every corner." As a girl born and raised in southern Connecticut this may have turned me off, but in fact it sparked my interest and made the locale all the more intriguing. After my trip I wouldn't describe Tulum as a hipster mecca, but rather a destination for millennials with a serious case of wanderlust, but who also just want to sit on the beach and drink margaritas (aka me).

Me at Hartwood restaurant sipping on their watermelon mojito—yum!
Prepping for the trip was easy since no one staying in Tulum is expected to wear more than their bathing suit, cut-off jeans and sunglasses (although I packed a maxi dress just in case because you never know). I spent more time researching where to eat than what to wear. Here's the rundown (in no particular order) of my favorite spots to eat while staying in Tulum.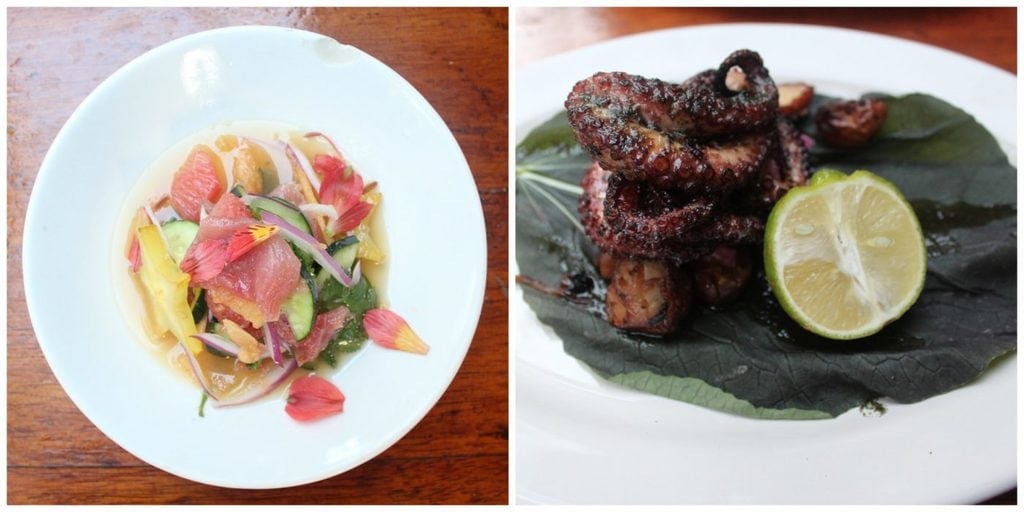 Hartwood's ceviche appetizer and octopus entrée
Hartwood. This will most likely be the first restaurant that will pop up when you're planning your trip to Tulum. And yes, you have to get in line at 2 p.m. to put your name down for a reservation and then come back later for your reserved time, but dear Lord it's worth it. I had the pleasure of making friends with a fellow New Yorker while waiting in line and I ended up eating dinner with him and his girlfriend, which meant more food to share amongst the three of us! The Mayan inspired cuisine concocted by Chef Eric Werner uses fresh local ingredients. The tuna ceviche, ribs and mackerel were my favorite of the eight dishes we ordered. We were hesitant to order the ribs because how can a seaside town do better ribs than America? Well, prepare to be impressed—the meat fell off the bones and into our bellies. Meanwhile, the tender mackerel was served with grilled pineapple and sautéed spinach, which soaked up the pineapple juices.
Just when we thought we couldn't eat anymore the waitress shared the dessert menu and we caved. We ordered a cinnamon ice cream and cheese ice cream (sounds odd, but it was superb), but the real star of the show was the cheesecake. This cheesecake guys… I've never had such a thing in my entire life. It had an almost meringue like consistency with a tangy taste compliments of the lime. It sat upon a thick, buttery graham cracker crust nearly three-quarters-inch thick. Sprinkled on top was a pecan brittle—the cherry on top. (P.S. You can buy the Hartwood cook book here).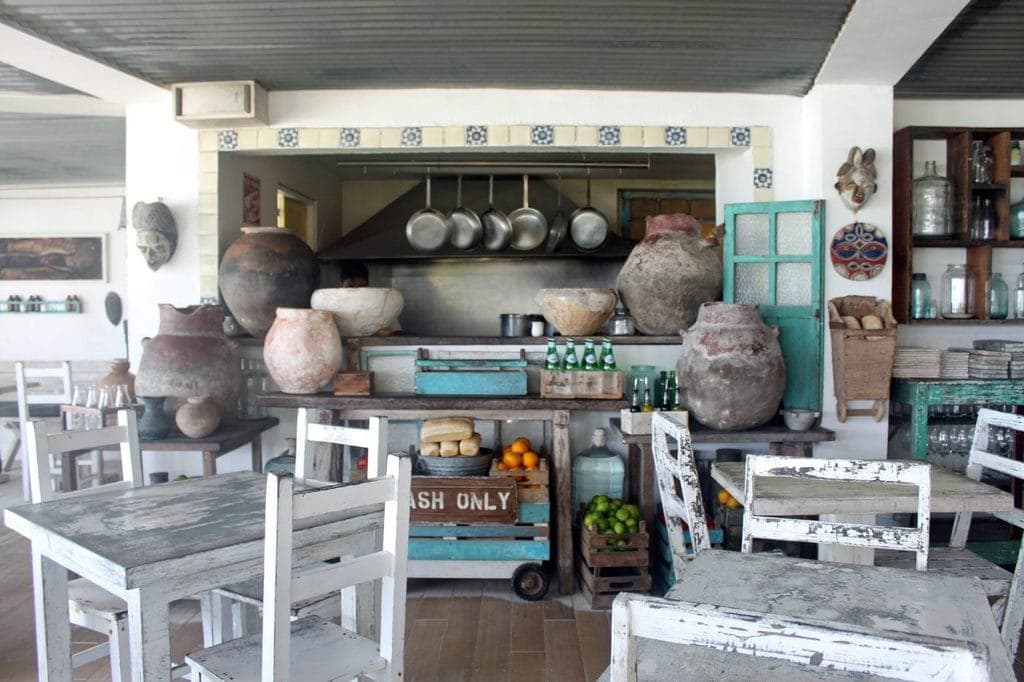 The rustic chic Posada Margherita
Posada Margherita. My friend Kelly Edwards tipped me off to this restaurant and I thank her for it. While I would have been perfectly content eating Mexican seafood during my stay, I'm happy to have visited this Italian hot spot. Half the waitstaff and kitchen staff are from Italy so you know the food is good. The pasta is made fresh and the drinks are on point. While I was sipping my wine and sitting under a sign that reads "Life is better at the bar," I noticed a few interior design books on display behind the bar. Turns out Axel Vervoordt designed this restaurant, which probably explains why Lucy Laucht described the restaurant as an "Instagram dream."
For dinner I ordered zucchini pasta with grilled shrimp and crushed tomatoes in a white wine garlic sauce. Yes, it's just as good as it sounds. Again, the dessert was what really made an impression on me. The tiramisu was topped with a super fine, bittersweet cocoa while the mascarpone was creamy and smooth. The espresso soaked cookie base was without a doubt homemade. Its cake-like consistency melded well with the espresso and complimented the rich mascarpone. In one bite, the light cookie bottom and generous dusting of cocoa on top protected the rich mascarpone and espresso middle. I can't recall having a better tiramisu and I lived in Italy for three months.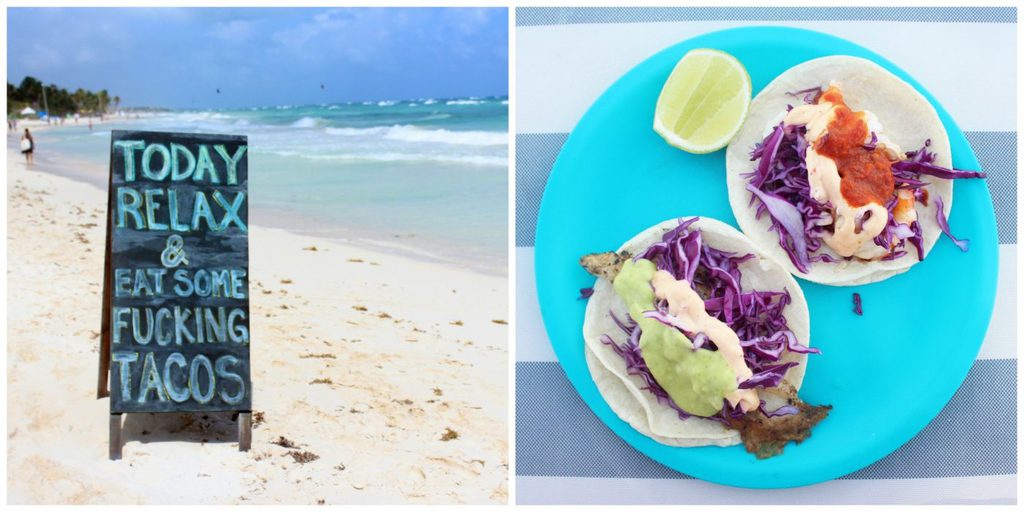 I think La Taqueria Eufemia's sign says it all
La Taqueria Eufemia. "Relax and eat some fucking tacos." Now if that sign on the beach doesn't make you want to eat here, then I don't know what will. The locals working at my hotel told me to go to this taqueria, which was a 25 minute walk down the beach. I'm happy to report that the sign isn't just a ploy to get you to eat tacos (I mean it is, but with good reason). The fish tacos are fresh and you can dress them with your choice of salsas, onions, avocado and more at the bar then bring them to a lounge chair on the beach. Also, their drinks are the size of your head—the watermelon margarita was my favorite. (Btw, their wifi password is fuckingtacos).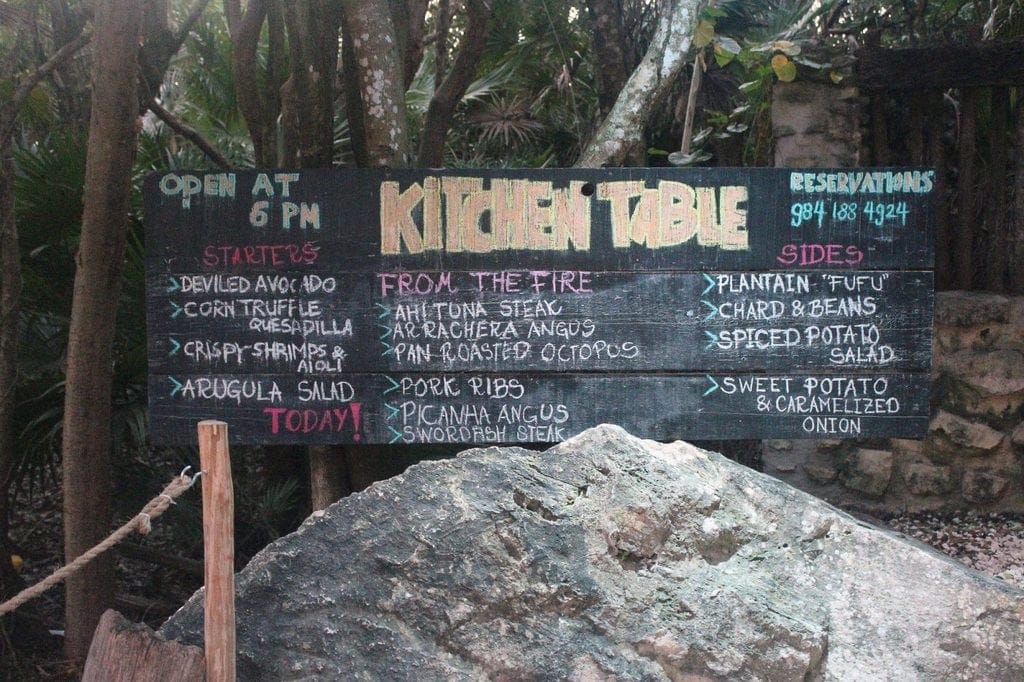 The Kitchen Table. I almost missed this gem before making my way back to the states. My last night in Tulum I ate at this open air restaurant, which is a little further up the coast outside the Tulum National Park. To start, I ordered a deviled avocado, which was a cross between a deviled egg and guacamole. It is half an avocado filled with an egg aioli mixture and served with tortilla chips—absolutely delicious (get the recipe here). For the main meal, I ordered the octopus, which comes in one piece on an iron skillet with a side of caramelized onions and roasted sweet potatoes. If you're a little skeeved out by a whole octopus, I heard the ribs and tuna steak are worth trying too. Definitely make reservations here if you can, otherwise you'll have a bit of a wait.
Other restaurants worth mentioning… Gitano is a bohemian jungle restaurant with a mezcal bar on the Tulum beach strip where the talented mixologists serve up delicious cocktails. Zamas has a beautiful dining area protruding from the beach. It's the perfect spot for breakfast (order the huevos rancheros) as well as dinner at sunset when there is live music. Across the street Mateo's has 2-for-1 happy hour from 5 to 7 p.m. plus some tacos worth trying. And if you or a friend are on a restricted diet, Restaurare is arguably the best vegan restaurant in the area.
P.S. To those considering taking a solo vacation, I highly recommend it. If a blonde 20-something girl from New York can travel to Mexico and make it back in one piece than I think anyone can. Message me if you have any questions about solo travel or Tulum!