The Best Vanilla Buttercream Frosting
This post may contain affiliate sales links. Please see my
privacy policy
for details.
Five minutes is all you need to achieve the best vanilla buttercream frosting. This recipe is quick, easy and versatile. You will want to use it for all your desserts! The frosting turns out rich and creamy every time.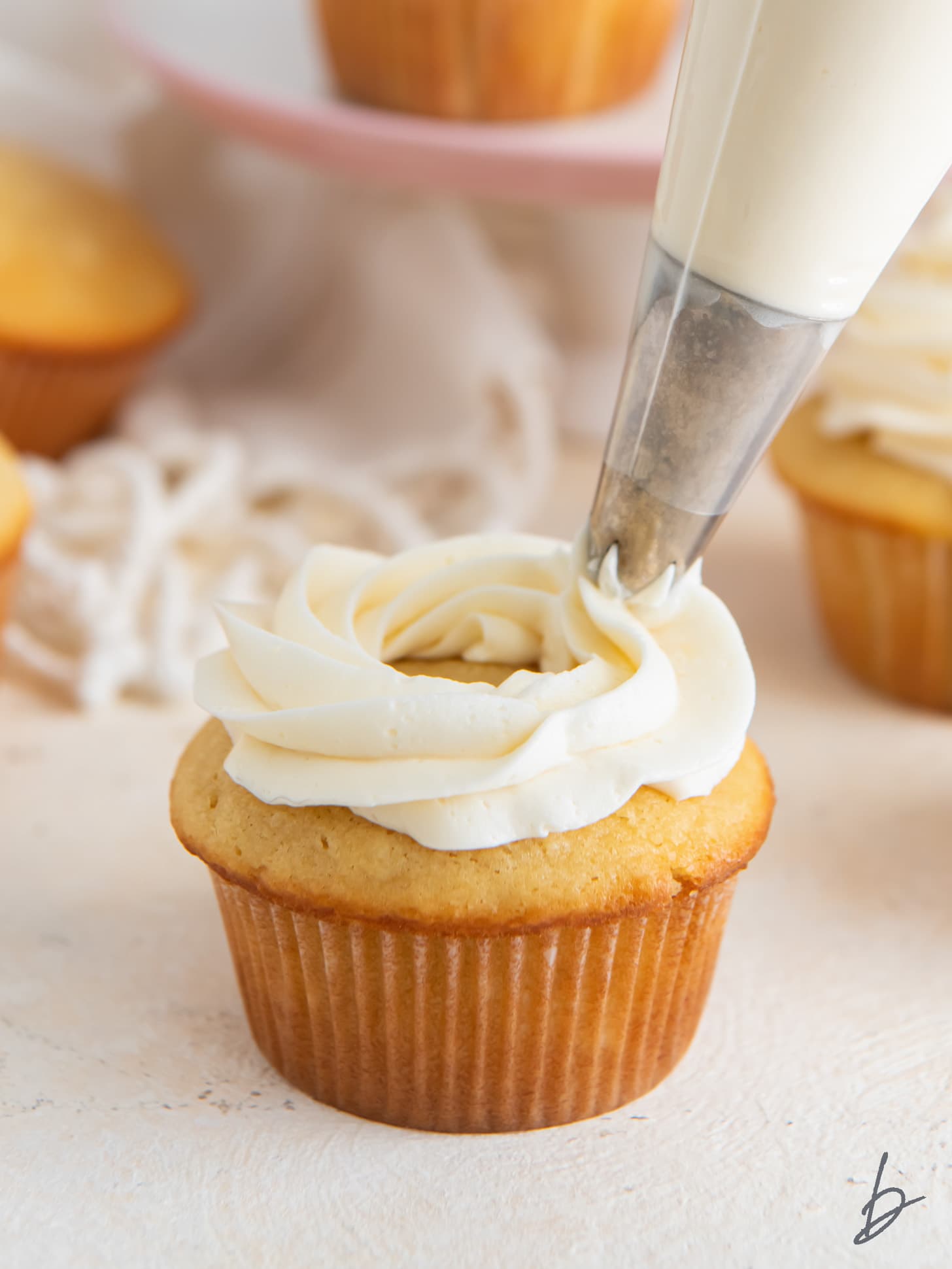 American buttercream is a classic topping for cupcakes and cakes. It even makes a good filling for whoopie pies and cookie sandwiches. This frosting has been a favorite of mine for years because it is simple and delicious without being overly sweet.
Why you will love this recipe
Quick and easy: You only need 5 common baking ingredients to make this homemade buttercream frosting and it's ready in 5 minutes!
Not too sweet: The ratio of butter to sugar is the perfect balance of rich, creamy and sweet.
Versatile: This is an excellent frosting base to add different flavorings, spices or food dye.
Pairs well with numerous desserts. Use it to decorate cakes and cupcakes, or frost some cookies, sandwich whoopie pies, fill macarons—the list goes on!
Super pipeable: It holds its shape whether you're frosting a layered cake, cupcakes or piping flowers for decoration.
Ingredients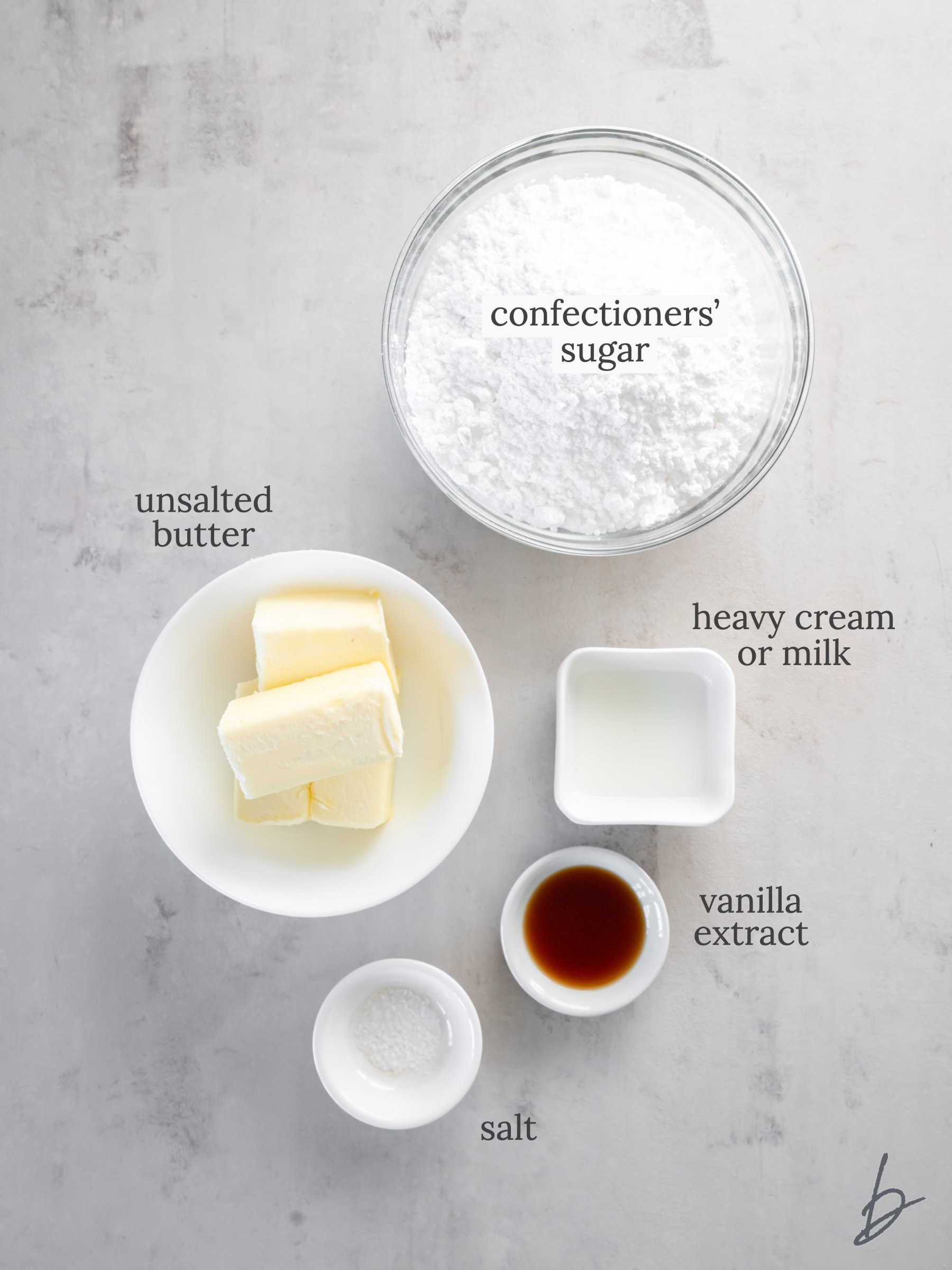 Unsalted butter is the base for this frosting. Make sure it is at room temperature for best results.
Confectioners' sugar, also known as powdered sugar, makes the frosting sweet. Sift the sugar so there are no clumps and you achieve a smooth texture.
Vanilla extract provides flavor to the frosting. Use pure vanilla extract or homemade (not imitation) for the best taste.
Heavy cream or milk thins the frosting slightly so it is easier to spread on your desserts. If piping, I suggest using heavy cream since it's more stable than milk. Make sure it is room temperature.
Salt is key to offsetting the sweetness. Add just a pinch and it makes a world of difference!
Recipe variations
Try different flavors and extracts. I use this exact recipe base to make my lemon buttercream and cinnamon buttercream. Other flavors additions include 1/4 teaspoon almond extract, peppermint extract or coconut extract (reduce vanilla to 1 teaspoon). You can also make coffee buttercream by combining 2 teaspoons instant espresso with the heavy cream.
Make it chocolate. Replace 1/2 cup confectioners' sugar with 1/2 cup unsweetened cocoa powder. It tastes delicious on chocolate sheet cake.
Dye it. Use gel food coloring to dye the buttercream. Start with mixing in 1 to 2 drops. Add more until desired color is reached. I suggest waiting to add the cream/milk until after coloring so the consistency isn't too thin.
Substitute shortening for half the butter. This is more stable and better for humid or warmer climates. It also creates a "crusted" layer that can be lightly touched without leaving a mark. I do not recommend using only shortening as it will affect the flavor.
Add cream cheese. Swap 1/2 cup butter for 1/2 cup block cream cheese. It will be very slightly tangier in taste, but still rich and creamy.
How to make buttercream frosting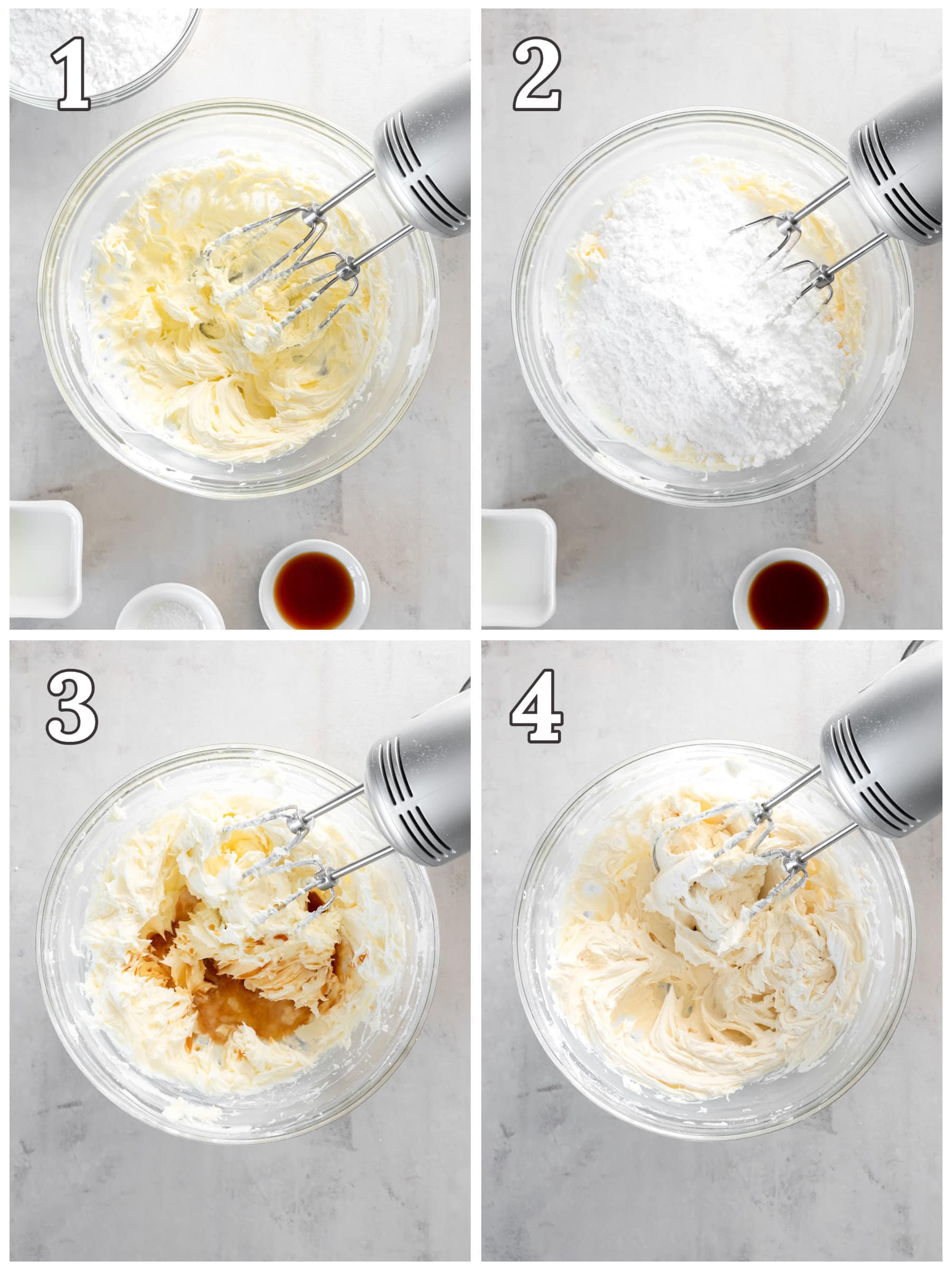 Beat butter until smooth. Use a stand mixer or hand mixer for this step. Mix for about 2 to 3 minutes until creamy.
Add confectioners' sugar. Spoon the sugar in with the butter while the mixer is running on low. Beat until incorporated, scraping down the sides and bottom of the bowl as necessary.
Mix in vanilla extract just until incorporated.
Add cream or milk one tablespoon at a time until desired consistency is reached. Taste and add a pinch or two of salt as necessary to offset sweetness.
Expert tips
Sift the confectioners' sugar to remove any large clumps. This will make your frosting super creamy. For an even smoother frosting for sheet cakes, add an extra Tablespoon of cream.
Use room temperature butter, which is 65 to 67 degrees F. It should be soft and slightly cool to the touch, but not greasy.
Scrape down the bowl with a rubber spatula to guarantee all the ingredients are thoroughly incorporated. Get the sides and bottom of the bowl!
Don't over whip the frosting otherwise it will be too light and airy. If you do get air holes in your buttercream, use a rubber spatula to press the frosting against side of the bowl to get ride of the bubbles (this will take a few minutes).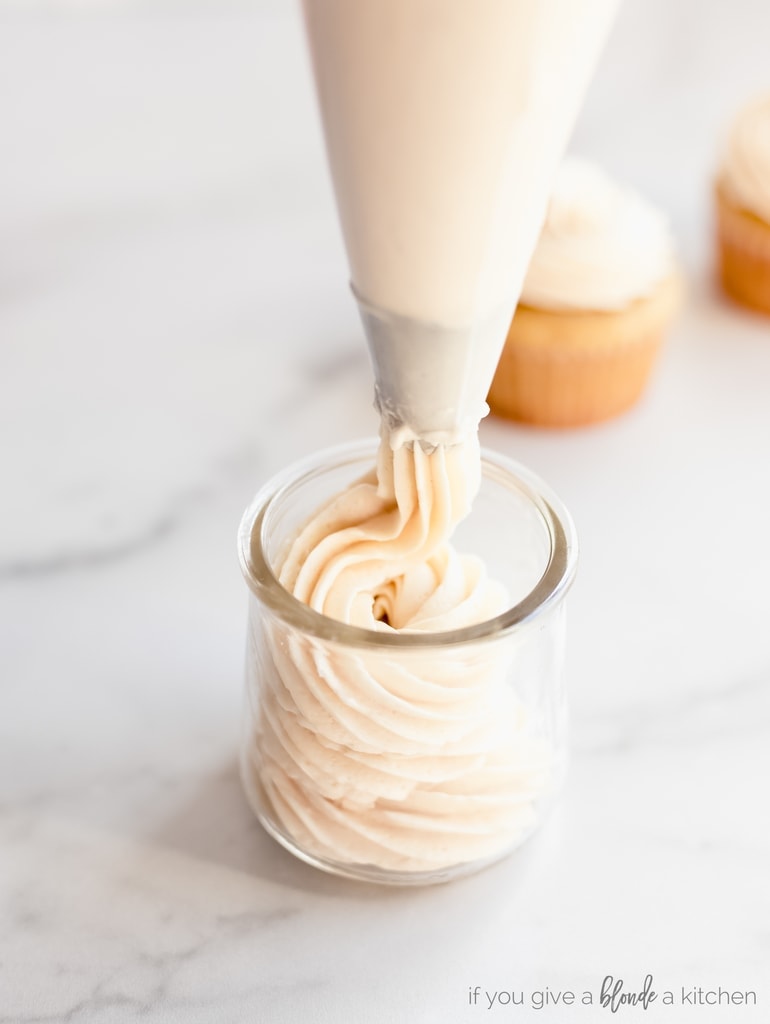 Troubleshooting buttercream frosting
Too thin: Most like the butter is too warm. Place the mixing bowl in the refrigerator for 1 hour then mix again for 10 seconds. If it's still too thin, add more confectioners' sugar until it has thickened up. Alternatively, try 1 Tablespoon of cornstarch.
Too thick: Add more milk or cream 1 teaspoon at a time, mixing after each addition, until desired consistency is reached.
Grainy: The confectioners' sugar needs to be sifted to remove larger clumps. If that's not the issue, then the butter and/or cream were too cold. To fix it, let the frosting sit for a few hours and give it another mix or add a little more milk.
Melting: The butter is too warm or you're baking in a humid climate. Place the frosting in the refrigerator for an hour, then mix for 10 seconds before using.
Too sweet: Add a pinch of salt to offset the sweetness. Mix the frosting for 10 more seconds, taste and add more salt if necessary.
Make ahead and storage tips
Storage: Desserts with buttercream frosting will keep at room temperature for up to 24 hours. To prevent the frosting from "crusting," keep desserts in an airtight container.
Refrigerate in an airtight container for up to 2 weeks. Bring to room temperature before using. I suggest using an electric mixer to give the frosting another mix before using. The texture will be smoother and more consistent for decorating.
Freeze in an airtight container for up to 3 months. Defrost in the refrigerator before bringing to room temperature and using.
Frequently Asked Questions
Can I use salted butter?
I do not recommend salted butter. Every butter brand has a different amount of salt added. You have more control over the recipe if you add the salt yourself.
How to make buttercream less yellow
Use a pale butter, which is usually cheaper. If the frosting is still too yellow for your liking, add a super tiny drop of purple gel food coloring.
Can I double the recipe?
Yes, but be wary of the size of your stand mixer. I can fit 1.5 times the recipe in my 5-quart KitchenAid stand mixer. If you need more, make it in batches.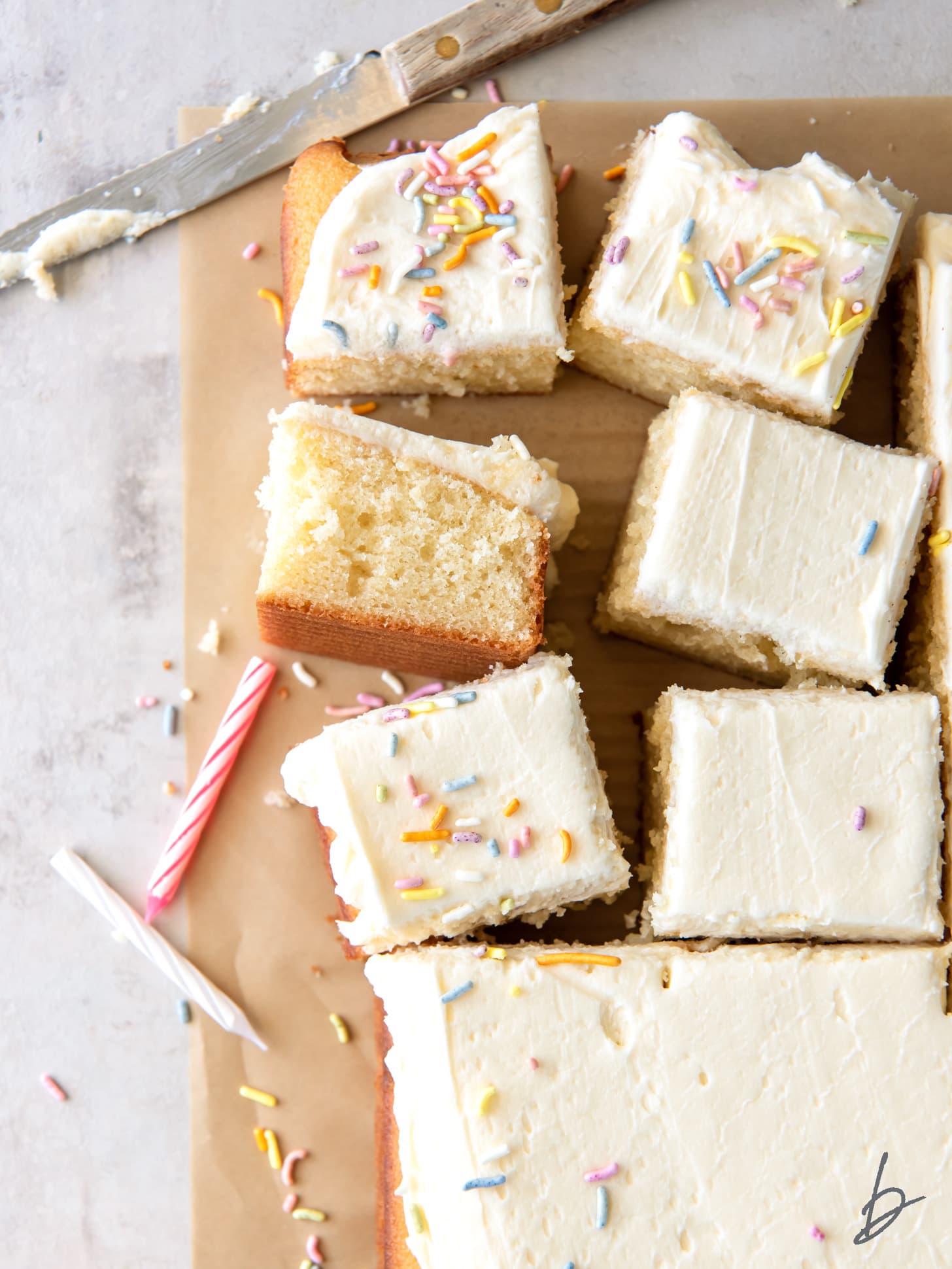 Related recipes
Try using vanilla buttercream on these desserts next.
Did you love this recipe? Please leave a 5-star 🌟🌟🌟🌟🌟 rating in the recipe card below and if you REALLY loved it, consider leaving a comment further down the page.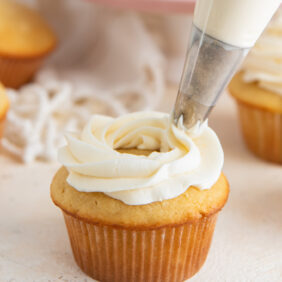 Get the Recipe:
The Best Vanilla Buttercream Frosting
Five minutes is all you need to achieve the best vanilla buttercream frosting. This recipe is quick, easy and versatile.
Ingredients
1

cup

(226 g or 2 sticks) unsalted butter

,

room temperature

2 ½

cups

(300 g) confectioners' sugar

,

sifted

2

teaspoons

pure vanilla extract

Pinch

salt

2-3

Tablespoons

heavy cream or whole milk

,

room temperature
Instructions 
In the bowl of a stand mixer, whip the butter using the paddle attachment (whisk attachment works too). Beat until creamy, about 2 minutes.

With the mixer on low speed, gradually add in the confectioners' sugar until completely incorporated.

With the mixer on medium speed, add the vanilla and mix until combined. Add heavy cream one Tablespoon at a time until desired consistency is reached. Add a pinch of salt and mix until combined.

Transfer to a frosting bag with tip and frost away!
Notes
Serving size is approximately 2 1/2 Tablespoons. Quantity: The recipe yields approximately 2 cups of frosting, which frosts 16 to 18 cupcakes or a thin layer on a 9×13 sheet cake. For layered cakes or 24 cupcakes, I suggest multiplying this recipe by 1.5. Store in an airtight container in the refrigerator for up to 2 weeks. Bring to room temperature and mix again before using. When frosting is on a cake or cupcake it is safe to stay at room temperature for 24 hours. Freeze: Transfer frosting to a freezer bag and remove all the air. Place in the freezer and store for up to a month. Defrost in the refrigerator before bringing to room temperature.
Serving:
3
Tbs
,
Calories:
229
kcal
,
Carbohydrates:
33
g
,
Protein:
0.2
g
,
Fat:
11
g
,
Saturated Fat:
7
g
,
Polyunsaturated Fat:
0.4
g
,
Monounsaturated Fat:
3
g
,
Trans Fat:
0.4
g
,
Cholesterol:
30
mg
,
Sodium:
3
mg
,
Potassium:
6
mg
,
Sugar:
32
g
,
Vitamin A:
353
IU
,
Vitamin C:
0.01
mg
,
Calcium:
5
mg
,
Iron:
0.02
mg