Mini Blueberry Pies
This post may contain affiliate sales links. Please see my
privacy policy
for details.
Mini blueberry pies are a delicious bite-sized treat. The star garnish makes the pies a patriotic dessert for Memorial Day or the Fourth of July!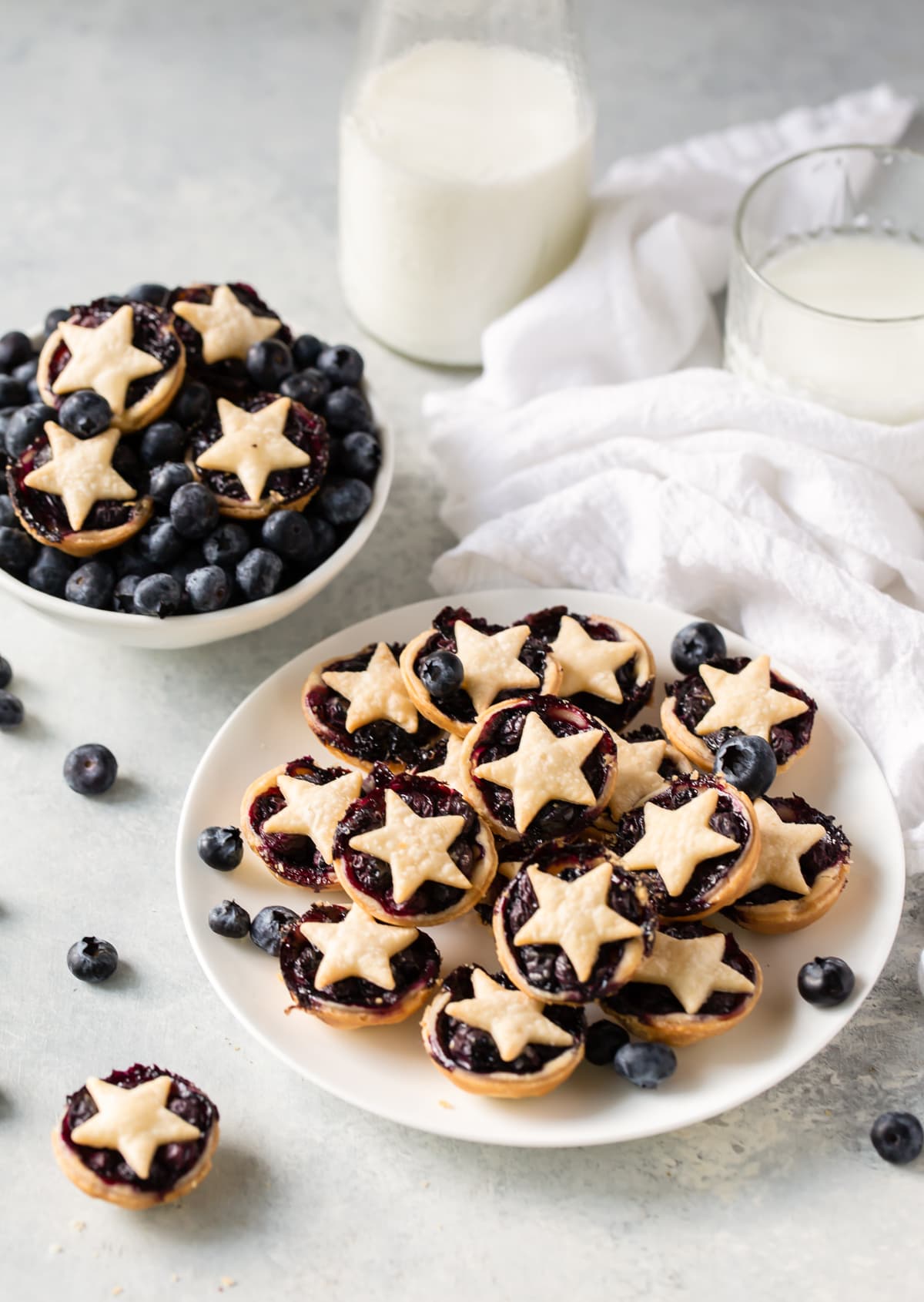 Ahh finally… summer is arriving. Beach picnics and barbecues, the days of outdoor entertaining are here! For Memorial Day I volunteered to bring dessert so I baked mini blueberry pies topped with little stars! The dessert dish obviously needed a patriotic flare for the national holiday and what's more American than pie? I reached for my favorite fruit (blueberries!) and headed to the kitchen to get baking.
Why this recipe works: You can use homemade pie crust or store-bought pie crust. The filling is simple and can be made with fresh or frozen blueberries. Baking the star crust topping separately helps keep the star shape for a patriotic appearance.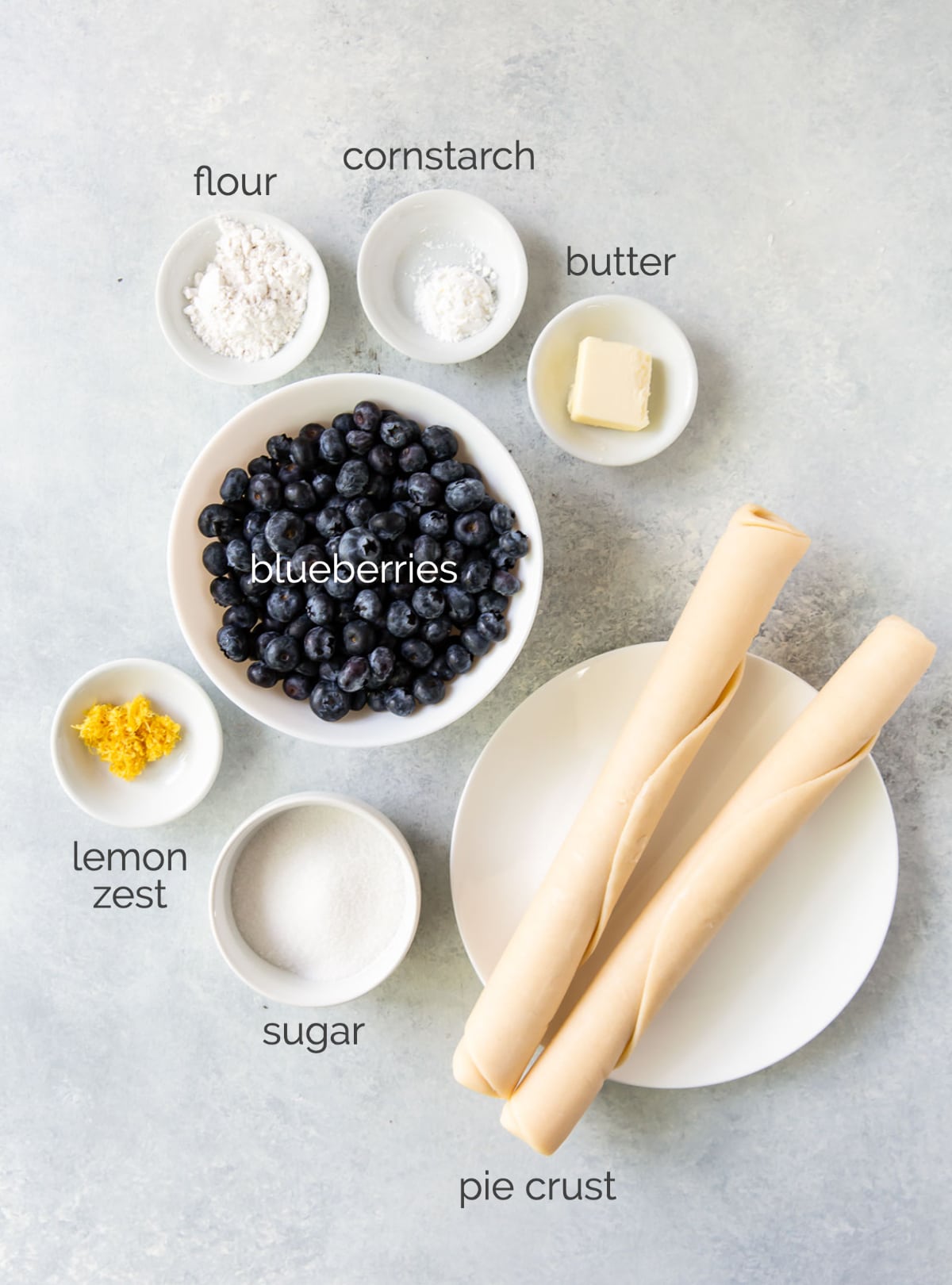 Helpful tips
Bake the stars before baking the pies and have them at the ready when the mini pies come out of the oven. Putting the stars on the berries while they are juicy and warm will help the stars stick to the mini pies. If you are making mini blueberry pies for an event, I suggest making them the day of or the day before for best flavor.
Frequently Asked Questions
Can mini pies be made ahead of time?
Yes, you can bake the pies and freeze them ahead of time. Make sure to let the pies cool completely before putting them in an airtight container. Store in the freezer for up to 1 month before defrosting in the refrigerator overnight.
Can I use frozen blueberries?
Yes, but defrost the blueberries first and discard the juices (or simmer them down until thick and you can use them in the filling).
Why do you freeze the pies before baking?
It prevents the crust from shrinking. It's not 100% necessary, but it does help.
Why are the star cut outs baked separately?
If you bake the stars on top of the mini pies, the deep color of the blueberry filling seeps into the doughy stars. For the best looking mini pies, bake the stars separately!
Can I make these pies in a standard muffin tin?
Yes, but the baking time will be longer. I suggest baking at 400 degrees F for 25 minutes.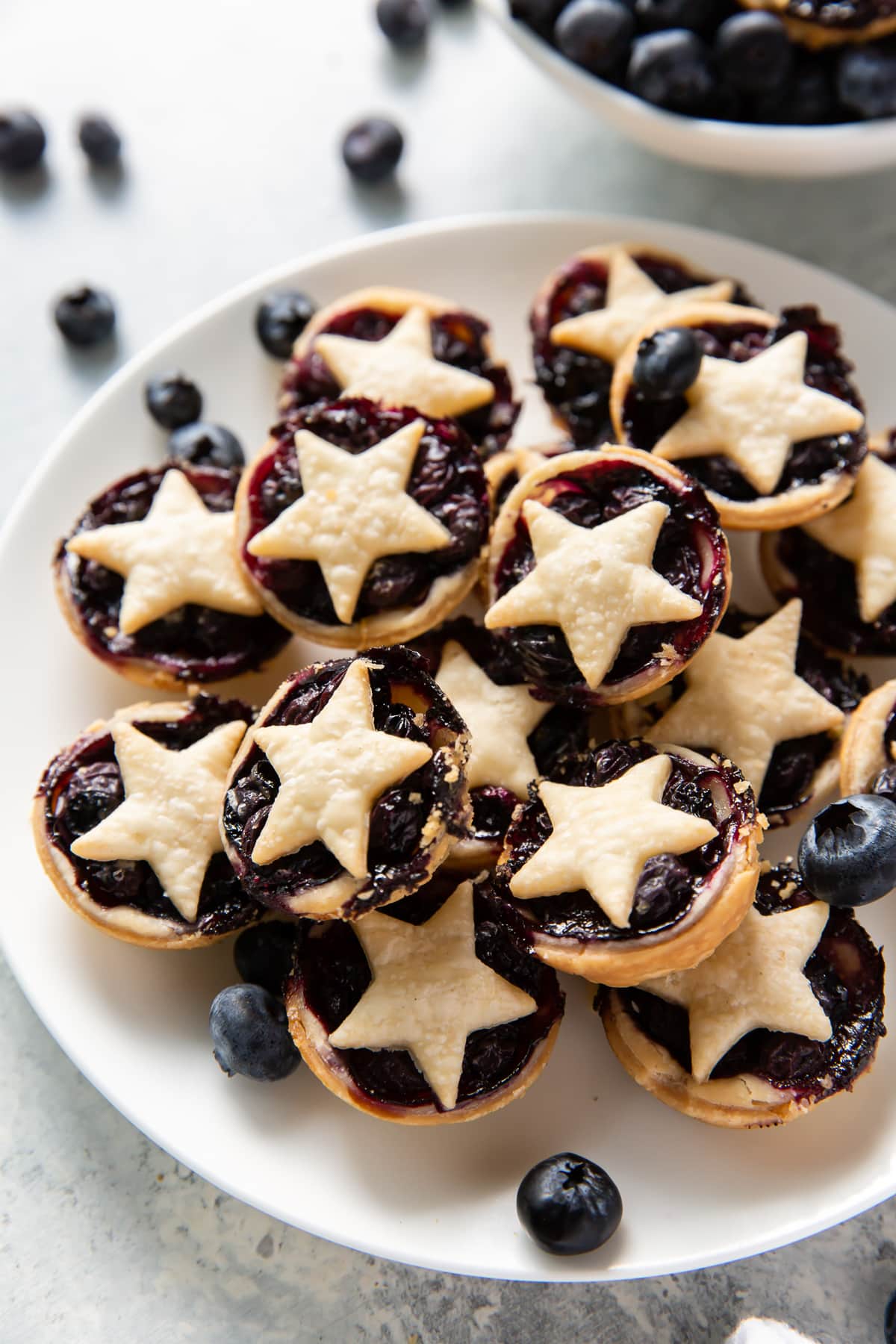 Related recipes
Looking for a full-size pie? Try my blueberry crumble pie. It has the most delicious oat crumble topping. Another popular blueberry dessert is blueberry cobbler. The warm biscuit topping paired with bubbling blueberries it so good with a scoop of vanilla ice cream.
If mini pies are more your thing, then definitely try these mini pecan pies. They have chocolate in them for the Kentucky Derby, but I also enjoy making them for Thanksgiving! You could also try these mini apple pies made in a regular muffin tin.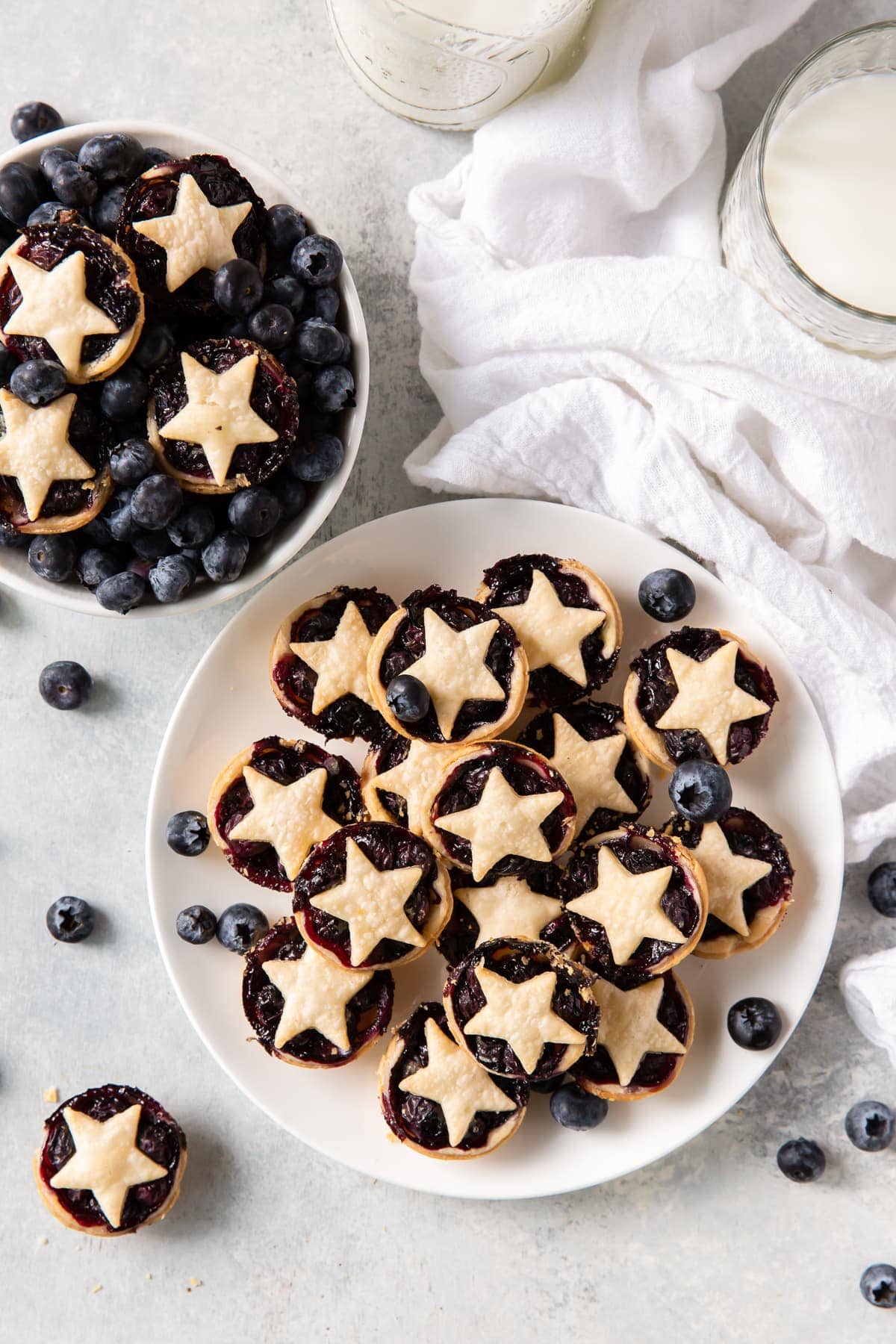 The patriotic flare will be a hit at the Memorial Day picnic (just like my 4th of July cookies). Guests will also be a fan of the mini size. I don't know about you, but when I'm at a picnic, I tend to load up my plate with a little bit of everything. These mini blueberry pies are literally two bites. Believe me, I gave them a test run, but you may want two or three pies!
Mini blueberry pies are undoubtedly a crowd pleaser and with the star topping they make the perfect patriotic dessert! You can make them ahead of time and freeze them or bake them the day before. If you try this recipe remember to leave a review. Enjoy the long weekend and here's to a fun-filled summer!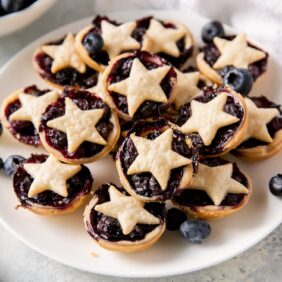 Get the Recipe:
Mini Blueberry Pies
Mini blueberry pies are a delicious bite-sized treat. The star garnish makes the pies a patriotic dessert for Memorial Day or the Fourth of July!
Ingredients
1

double pie crust recipe

,

(2 crusts total, store bought works well too)

2

cups

blueberries

1

tablespoon

flour

1

teaspoon

cornstarch

3

tablespoon

sugar

1

teaspoon

lemon zest

1

tablespoon

unsalted butter

,

room temperature
Instructions 
Use a 2-inch circle cutter to cut circles out of the pie dough. Take a mini muffin tin and place one circle in each opening.

Roll out the remaining pie dough, and use a star-shaped cookie cutter to make the cut out stars. Place stars on a cookie sheet lined with parchment paper. Set aside.

In a medium bowl, mix the blueberries, sugar, flour, cornstarch and lemon zest, tossing with hands or a large spoon. Divide this filling between the prepared bottom crusts. Dot the berries with butter.

Place the muffin tin with prepared mini blueberry pies on a rimmed baking sheet and freeze or refrigerate until firm, about 15 to 20 minutes. During this time, preheat oven to 375° F.

Bake star cutouts at 375° F for 5 to 7 minutes, or until light golden. Let stars cool and keep them within reach for when the pies are finished baking.

Bake mini pies at 375° F until golden and juices are bubbling, about 18 to 20 minutes. Remove from the oven and immediately place a star on top of each mini pies. Let cool completely on a wire rack. Serve at room temperature.
Notes
Frozen vs fresh blueberries: Fresh blueberries work well in this recipe, but so do frozen blueberries! Defrost the berries in a mesh strainer with a bowl below to catch the excess water/juices. To prevent waste, you can cook the berry drippings until thickened and use in the pie filling as well.  Store mini blueberry pies in an airtight container at room temperature (or the fridge if more than 1 day). Serve at room temperature. Mini blueberry pies may also be frozen. Once the pies have cooled completely, remove them from the pan and place them in the freezer for 1 hour to set. Then place the pies in an airtight container and freeze for up to 3 months. If freezing the pies for longer than a week, I suggest wrapping the pies individually with plastic wrap or aluminum foil to prevent freezer burn.
Serving:
1
pie
,
Calories:
51
kcal
,
Carbohydrates:
7
g
,
Protein:
1
g
,
Fat:
2
g
,
Saturated Fat:
1
g
,
Polyunsaturated Fat:
1
g
,
Monounsaturated Fat:
1
g
,
Trans Fat:
1
g
,
Cholesterol:
1
mg
,
Sodium:
29
mg
,
Potassium:
17
mg
,
Fiber:
1
g
,
Sugar:
3
g
,
Vitamin A:
21
IU
,
Vitamin C:
1
mg
,
Calcium:
2
mg
,
Iron:
1
mg