Mini Chocolate Pretzel Cupcakes
This post may contain affiliate sales links. Please see my
privacy policy
for details.
Mini chocolate pretzel cupcakes are like chocolate-covered pretzels in cupcake form. Pretzel buttercream is the perfect sweet and salty combo atop light, rich chocolate cupcakes.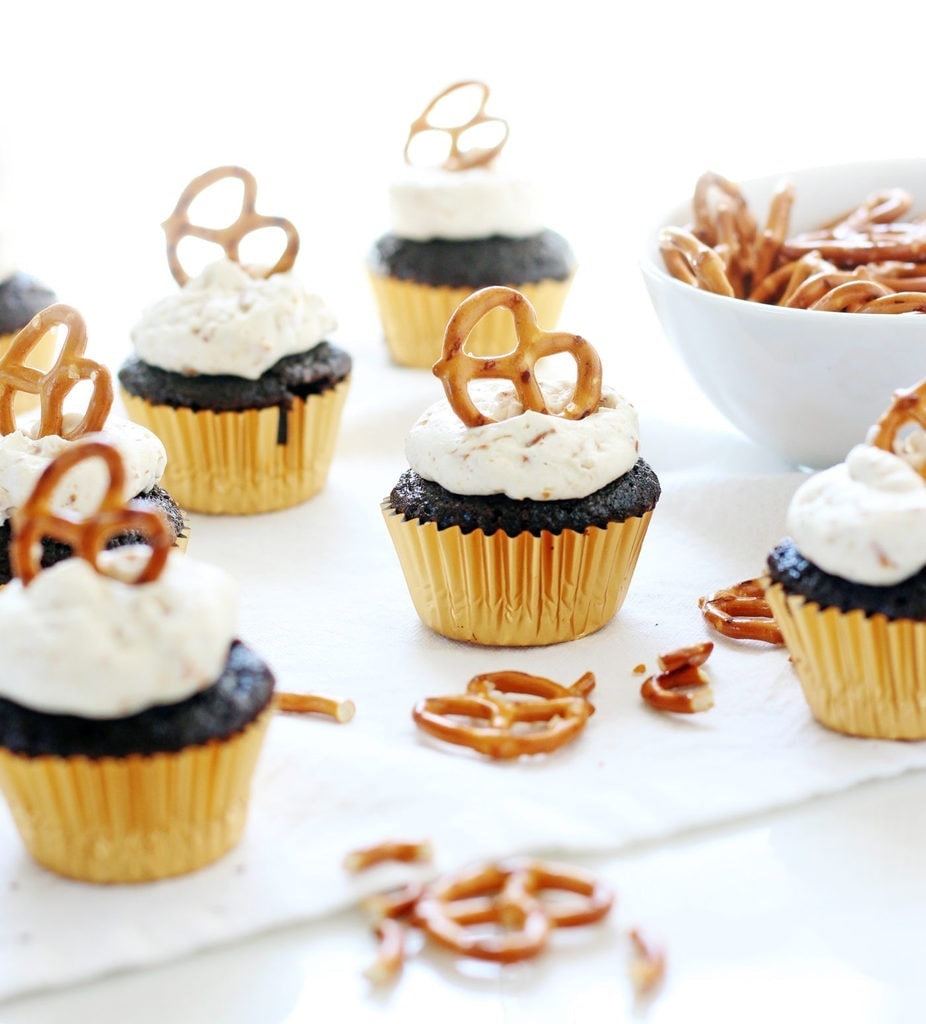 My sweet and salty obsession is back again and this time in cupcake form. Chocolate pretzel cupcakes made their debut at The Bar Method Darien grand opening this weekend making these sweet treats worth the tough and fun barre workout.
I'm going to do something a little different today in my blog post and talk about my personal life *gasp*. Yes, I know I usually just go on and on about why butter makes things better and how tooth-achingly sweet my latest confection is (don't worry I'll get to that too). But I'm at a very exciting part in my life where I am following two of my biggest passions.
The first is of course baking and blogging my recipes to my adoring fans, I mean, loyal readers 😉 The second passion is The Bar Method. The barre workout has been part of my daily routine for almost two and a half years now.  Just like baking, I can't imagine my life without it.
I was first introduced to The Bar Method in my hometown of Fairfield, CT (#tuckyeahfairfield), and then continued taking classes in SoHo, NYC, where I met two inspiring, strong, talented women, Anna Trepenier and Lara Meehan. Little did I know they were going to be opening their own studio and I would be training to become an instructor!
Which brings me to this lovely studio in Darien, Connecticut. It opened this weekend and I'm thrilled to be a BMD OG. I'm almost finished with my instructor training and cannot contain my excitement for the studio opening IT'S SO GORGEOUS. I don't type in all caps, so when I do, you know it's legit.
So of course I volunteered myself to bake a sweet treat for opening day. Aaaaaand we're back to sweet tooth Haley where she talks about ingredients, texture, flavors, etc.
My first thought for Bar Method dessert was pretzels. Any true Bar Method addict would know why… we have an exercise called pretzel! I would tell you why it's called that, but instead I'm just going to encourage you to try a class 😉
And my second thought for a gran opening treat was cupcakes. Cupcakes (and cake) are for celebrations and this was without a doubt a time to celebrate. I love chocolate-covered pretzels and I wanted to mimic that in cupcake form so I made chocolate pretzel cupcakes.

I took my favorite chocolate cupcake recipe and put it to use. I opted for mini cupcakes because it seemed fitting for the grand opening where people will be coming in and out of the studio taking class or just to check out the stunning space.
The chocolate cupcakes are very rich in flavor and light in texture, but the real fun begins with the frosting. I mulled over adding pretzels to my buttercream frosting for a while. I wasn't sure what the texture would be like and if the taste would be weird. But then my inner sweet-and-salty gal was like, "Are you serious right now? This shit is gonna be amazing."
So I listened to her. I crushed up pretzels and made pretzel buttercream frosting. My sweet-and-salty side was right—pretzels do work in buttercream! They add a little crunch and a bit of salt to a buttery, sweet frosting.
And the pretzel buttercream frosting tastes even better on top of a chocolate cupcake. It really had me thinking of chocolate-covered pretzels. Soft, pillowy chocolate pretzel cupcakes are exactly what I want to be greeted with after a Bar Method class. Well, that and a mimosa.
Those lucky Bar Method Darien clients got both at the grand opening. With that type of reward, there's no doubt in my mind that the workout was well worth it. Try the recipe (and Bar Method) to see what you're missing out on!
Get the Recipe:
Mini Chocolate Pretzel Cupcakes
Mini chocolate pretzel cupcakes are like chocolate-covered pretzels in cupcake form. Pretzel buttercream is the perfect sweet and salty combo atop light, rich chocolate cupcakes.

Ingredients
Mini Chocolate Cupcakes
1

cup

all-purpose flour

1

cup

granulated sugar

½

cup

cocoa

1

teaspoon

baking powder

½

teaspoon

baking soda

½

teaspoon

salt

½

teaspoon

espresso powder

½

cup

milk

¼

cup

vegetable oil

1

egg

½

teaspoon

vanilla

½

cup

boiling water
Pretzel Buttercream
1

cup

(2 sticks) unsalted butter

2 ½

cups

powdered sugar

,

sifted

2

teaspoons

vanilla extract

2

tablespoons

milk

¾

cup

finely ground pretzels
Instructions 
Mini Chocolate Cupcakes
Preheat oven to 325º F. Place small cupcake liners in mini muffin tin. Spray lightly with cooking spray.

In a large bowl, whisk together flour, sugar, cocoa, baking powder, baking soda, salt and espresso powder. Set aside.

In the bowl of a stand mixer fitted with a paddle attachment, mix milk, vegetable oil, eggs, and vanilla until combined. With the mixer on low, slowly add the flour mixture to the bowl. Mix together on medium speed until well combined. Reduce speed and carefully add boiling water to the cake batter. Beat on high speed for about 1 minute to add air to the batter.

Evenly distribute cake batter. Each cupcake liner should be about 2/3 full.

Place in the oven and bake 12 minutes or until a toothpick inserted in the center comes out clean.

Remove from the oven and allow the cupcakes to cool completely.
Pretzel Buttercream
In the bowl of a stand mixer fitted with a whisk, cream together butter and powdered sugar. Stir in vanilla extract and one tablespoon of milk. Add up to one more tablespoon of milk to reach desired consistency. Fold in the ground pretzels.

Transfer frosting to a piping bag fitted with a round tip.* Pipe frosting onto cupcakes. Garnish with a mini pretzel.
Notes
*I used a Wilton 1A tip. I suggest a simple round tip because the pretzel bits can be finicky. If you're having trouble piping, just spoon frosting onto the cupcake and smooth with an offset spatula.
Store cupcakes at room temperature in an airtight container.
Cupcake recipe inspired by Add a Pinch.