Fluffy pumpkin pancakes taste like clouds of pumpkin pie! This easy recipe is a must try for a festive fall breakfast.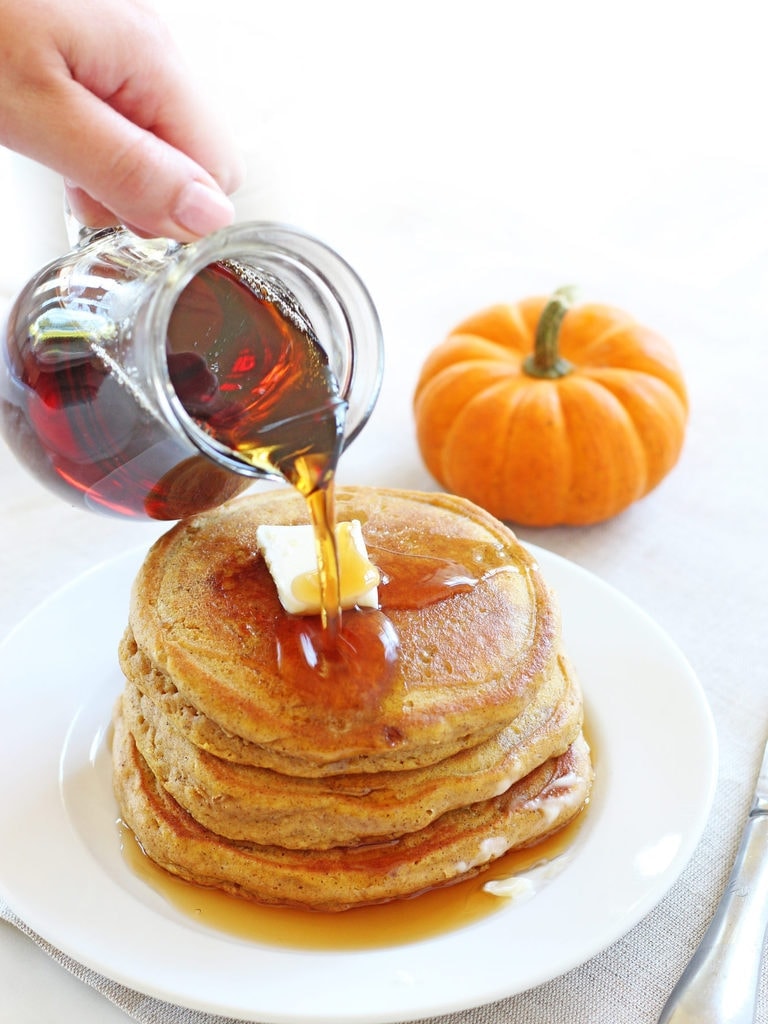 Ahhh, fall is here ladies and gents. And I don't know about you, but for me crisp fall mornings call for a mug of hot coffee and fluffy pumpkin pancakes. Roll on out of bed, throw on a cozy sweater and embrace the season.
This time of year I feel especially lucky living in New England. I get the full fall experience. Yep, I'm talking pumpkin picking, leaf peeping—the whole shebang. Now I'm not sure this comes with the territory, but either way this New England upbringing has made me a huge fan of pumpkin spice flavored food and drinks.
Enter pumpkin spice pancakes and pumpkin spice coffee. These two items are what I consider the ultimate fall breakfast duo.
When it comes to how you take your morning coffee, I'm all about a shot of creamer. Just enough to cut the bitterness of coffee and add some flavor. And when fall arrives, I eagerly wait the arrival of pumpkin spice flavored coffee creamers. So of course I was overjoyed when I saw International Delight® Pumpkin Pie Spice Coffee Creamer on the shelves.
My first thought was, "Yes, I can kill two birds with one stone—satisfy my caffeine addiction and get me pumpkin spice fix." My second thought was, "What pumpkin spice-flavored dessert should I make this weekend?"
Well, with coffee on my mind, I was thinking breakfast foods and started craving pancakes.

To be honest, I'm usually a fruit and yogurt type of gal in the morning, but every now and then I treat myself to a stack of fluffy pancakes. This weekend I wanted those pancakes to be pumpkin spice and my family did not argue. Of course, they never argue anyway when I offer to make breakfast!
I woke up, made a fresh pot of coffee and got to work with my pancake batter. There are three components that makes these pancakes the ultimate fluffy pumpkin pancakes.
One, there is real pumpkin purée in the mix. Two, a medley of fall spices are whisked in for flavor. Three, pumpkin pie spice coffee creamer makes those flavors come alive.

Yes, coffee creamer in pancakes is kind of a secret ingredient, especially when it's flavored coffee creamer. You can swap it in where recipes call for milk. And not only does it keep the pancakes moist, but also gives them added flavor.
After pouring the pumpkin pie spice in my coffee, it went straight over to the measuring cup and into the batter.

And the other reason these pancakes are the best—you know, aside from being pumpkin-flavored—is because they are so darn fluffy. Just check out this pic above… All fluff with a side of pumpkin pie spice. The ingredients provide a delicate balance of flavor and fluffiness (Can I use that word for pancakes? I think so.)
Needless to say these pumpkin spice pancakes were a hit with my family. We were sitting around the kitchen table eating stacks of pancakes and sipping our morning coffee. I'm pretty sure all of us had seconds, which doesn't usually happen at breakfast, but it did with these pancakes!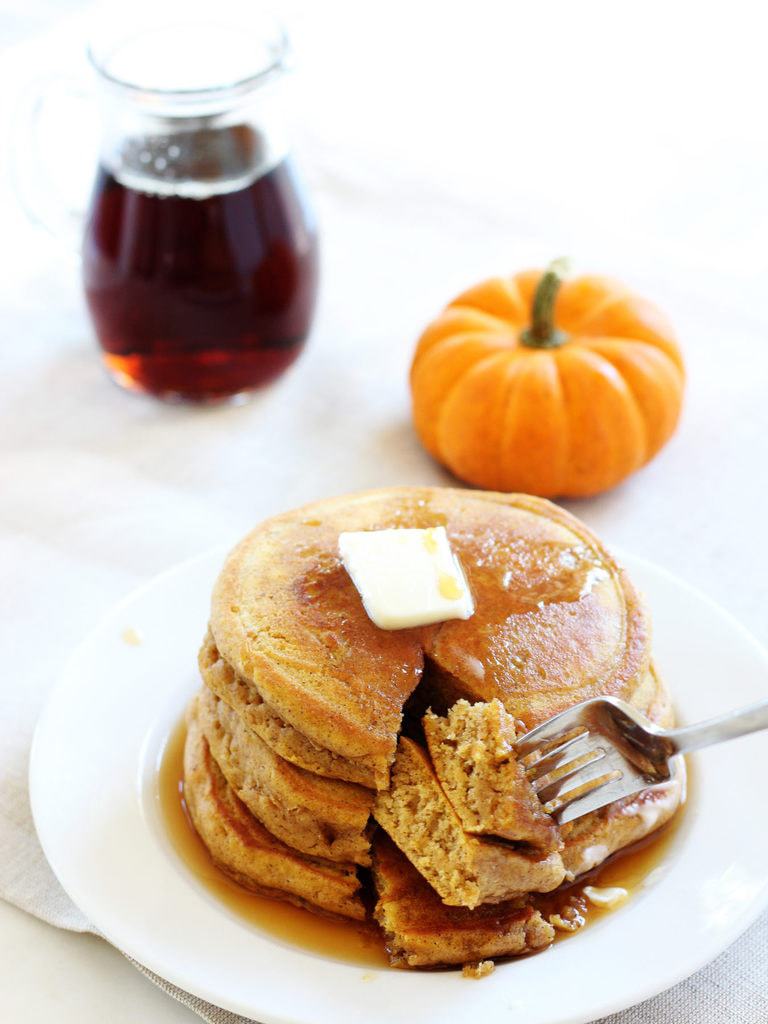 So my advice to my other fall fanatics is to wake up in the morning, brew a hot pot of coffee and get some fluffy pumpkin pancakes on the griddle. Oh, and don't forget the secret ingredient 😉
Fluffy Pumpkin Pancakes
Fluffy pumpkin pancakes taste like clouds of pumpkin pie! This easy recipe is a must try for a festive fall breakfast.

Print
Pin
Rate
Ingredients
1 1/4

cups

all-purpose flour

2

tablespoons

light brown sugar

2

teaspoons

baking powder

1/2

teaspoon

salt

1

teaspoon

cinnamon

1/2

teaspoon

ginger

1/2

teaspoon

nutmeg

1/4

teaspoon

ground cloves

1/2

cup

pumpkin spice coffee creamer*

1/2

cup

low-fat milk

1/3

cup

canned pumpkin pureé

2

tablespoons

melted butter

1

egg
Instructions
In a large bowl, whisk together flour, light brown sugar, baking powder, salt and spices (cinnamon, ginger, nutmeg, cloves). Set aside.

In a medium bowl, mix together milk, pumpkin pureé, butter and egg until combined. Fold pumpkin mixture into dry ingredients and stir until fully incorporated.

Spray a skillet with nonstick spray and bring to a medium heat. Pour about 1/4 cup batter for each pancake. Cook pancakes about 3 minutes per side. The pancakes are ready to flip when the edges start to set and some air bubbles may rise to the surface. Serve immediately with butter and syrup. (Oh, and a cup of coffee!)
Notes
Pumpkin spice coffee creamer can be substituted with whole milk or low-fat milk.
Recipe can be easily doubled (just make sure you use a bigger bowl!)