Homemade Pumpkin Pie Spice
This post may contain affiliate sales links. Please see my
privacy policy
for details.
Homemade pumpkin pie spice is easy to make from scratch using cinnamon, ginger, nutmeg, cloves and allspice.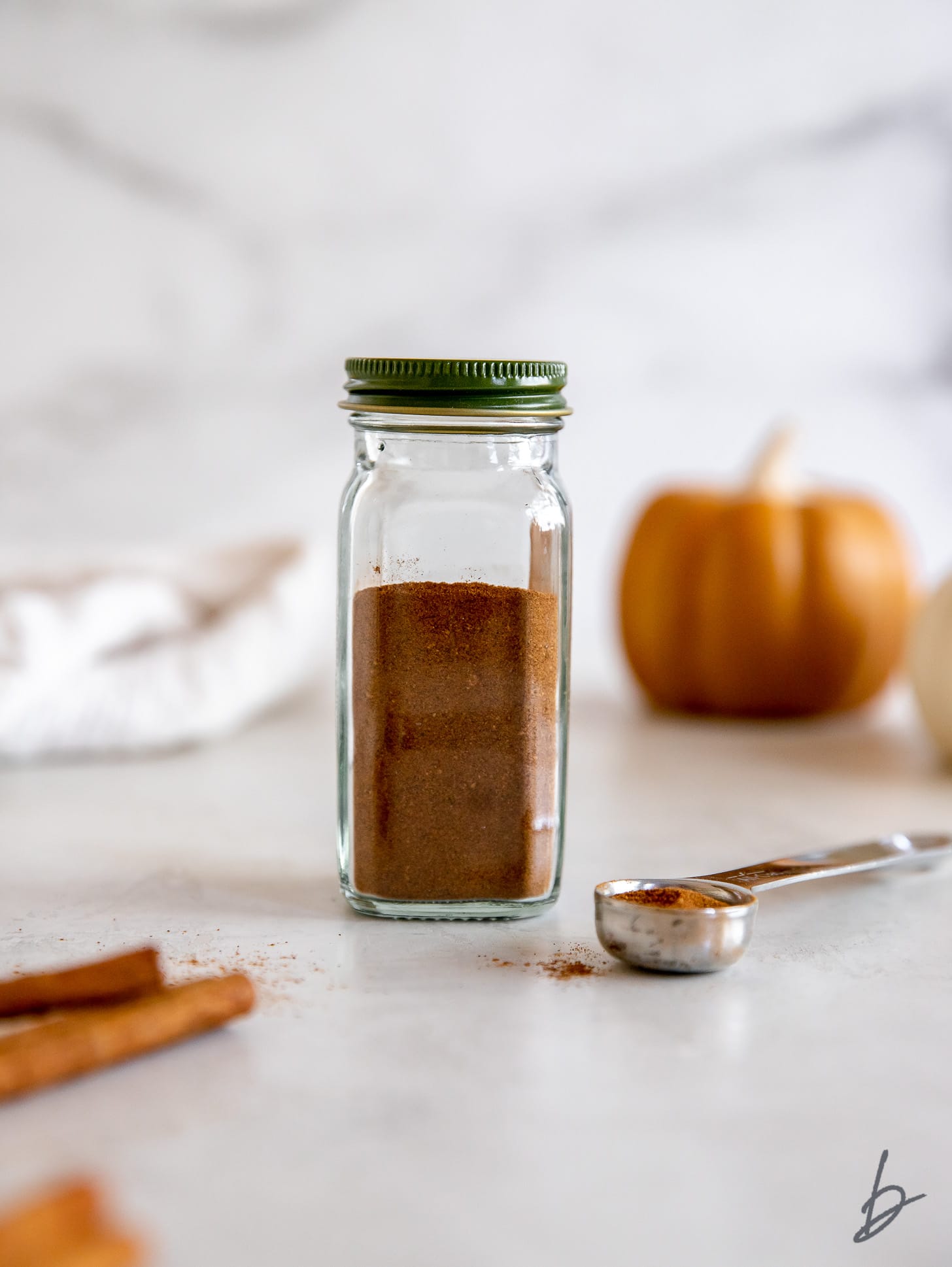 One spice blend I always have on hand in the fall is pumpkin pie spice. It's so easy to make from scratch and you can use it in a variety of baking recipes. When you have pumpkin pie spice on hand, you don't have to measure the individual spices!
Why this recipe works: It uses all the spices found in pumpkin pie. You can use more cinnamon for a softer flavor or more ginger and cloves for an intense taste. This recipe also doubles and triples easily.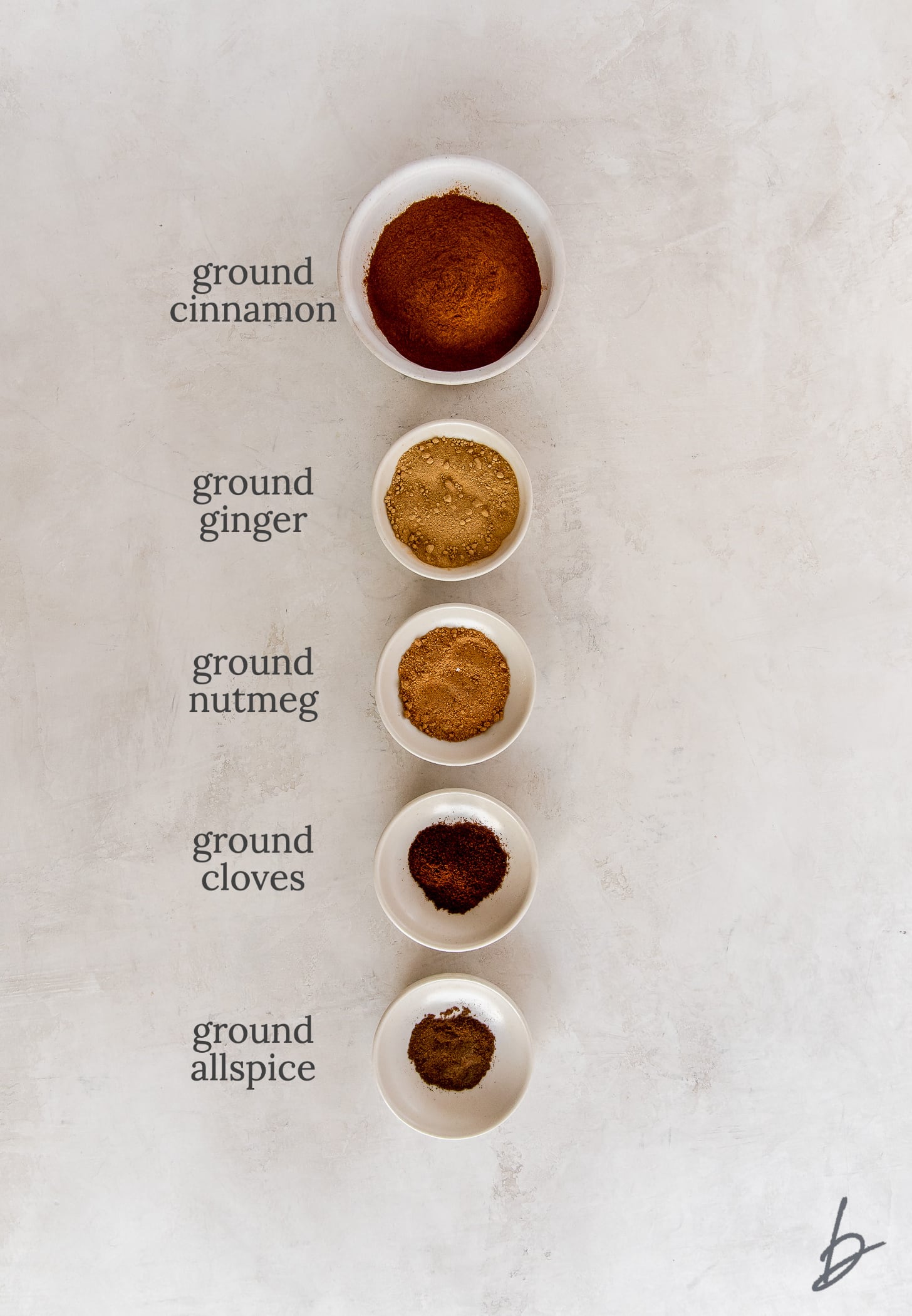 Ingredient notes
Pumpkin pie spice uses a ratio of common spices. Make sure they are all fresh and not expired so your spice blend has the best flavor. If you're unsure, smell the individual spices and if they have lost their scent then it's best to replace them. Here's what's in pumpkin pie spice:
Ground cinnamon
Ground ginger
Ground nutmeg
Ground cloves
Ground allspice
How to make pumpkin pie spice
In a small bowl, whisk together to ground cinnamon, ginger, nutmeg, cloves and allspice.
Place the blend in a small airtight container and store in your spice cabinet until ready to use.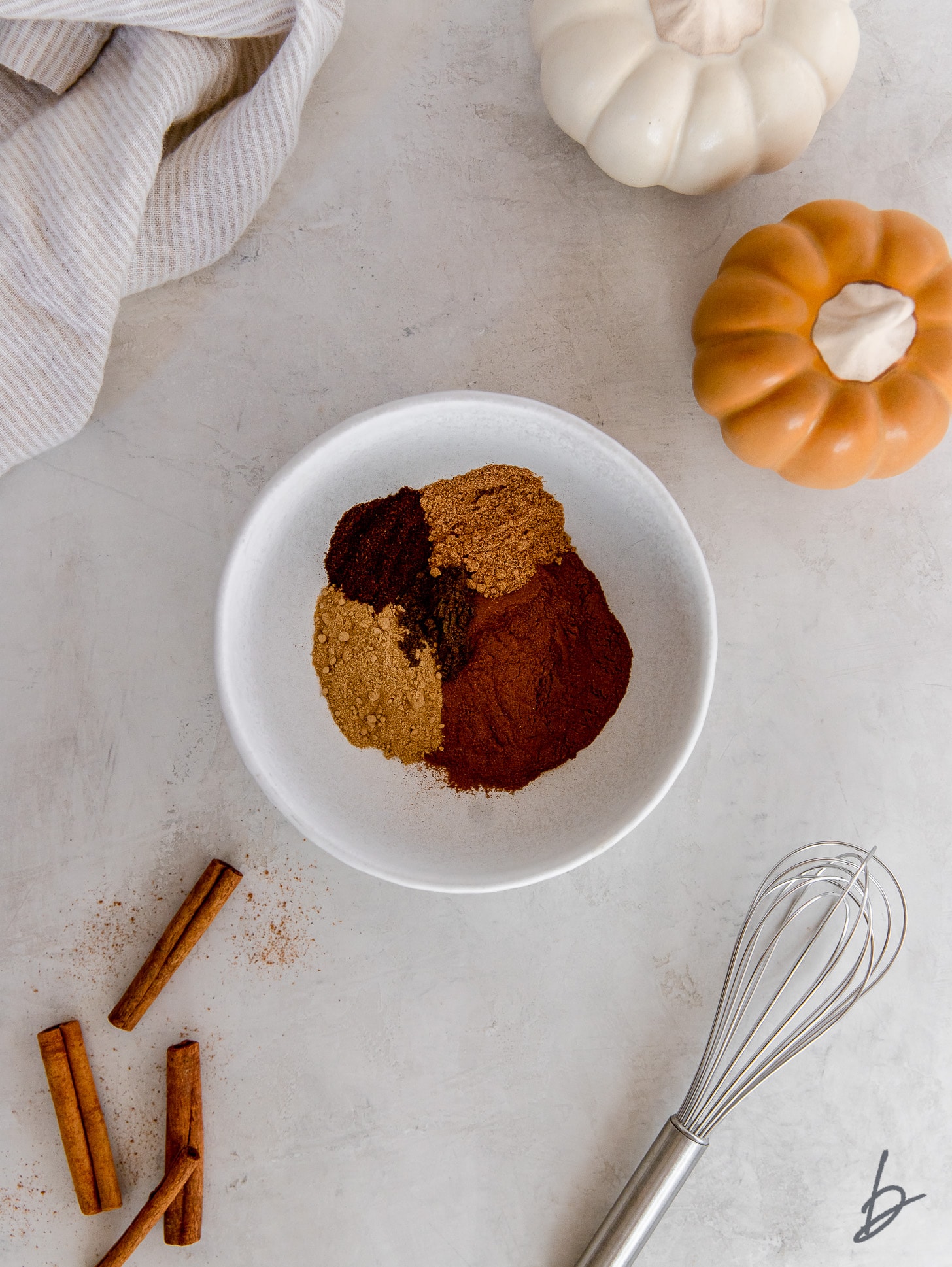 Substituting pumpkin pie spice in recipes
If a pumpkin spice recipe calls for individual spices, but you want to use your homemade pumpkin pie spice, then this is how you substitute it. Add up the measurements of all the spices and that is the measurement of pumpkin pie spice you would use.
For example, my pumpkin snickerdoodles recipe calls for 1 ½ teaspoon ground cinnamon ½ teaspoon ground ginger ½ teaspoon ground nutmeg and ¼ teaspoon ground allspice. 1 ½ + ½ +½ + ¼  equates to 2 3/4 teaspoons. Substitute these spices with 2 3/4 teaspoon pumpkin pie spice.
Frequently Asked Questions
Does pumpkin pie spice expire?
Yes, but the date depends on how fresh your individual spices were when you made the spice blend. If your spices were fresh, the pumpkin pie spice will keep for 3 years.
How to store pumpkin pie spice
Place the spice blend in an airtight container. I prefer little mason jars or empty spice containers. Remember to label the container with the expiration date!
Are allspice and cloves interchangeable in pumpkin pie spice?
Yes. When in ground form, allspice and cloves have a similar pungent flavor. Allspice tends to be a little more peppery while cloves are slightly sweet. I recommend using at least one if not both in pumpkin pie spice.
Can I make pumpkin pie spice without cloves?
Yes, you can omit the cloves entirely or substitute it with the same measurement of cardamom (that's what Trader Joe's pumpkin pie spice mix uses).
Can I double or triple this recipe?
Yes, if you are making a lot of pumpkin desserts I recommend doubling this pumpkin pie spice recipe.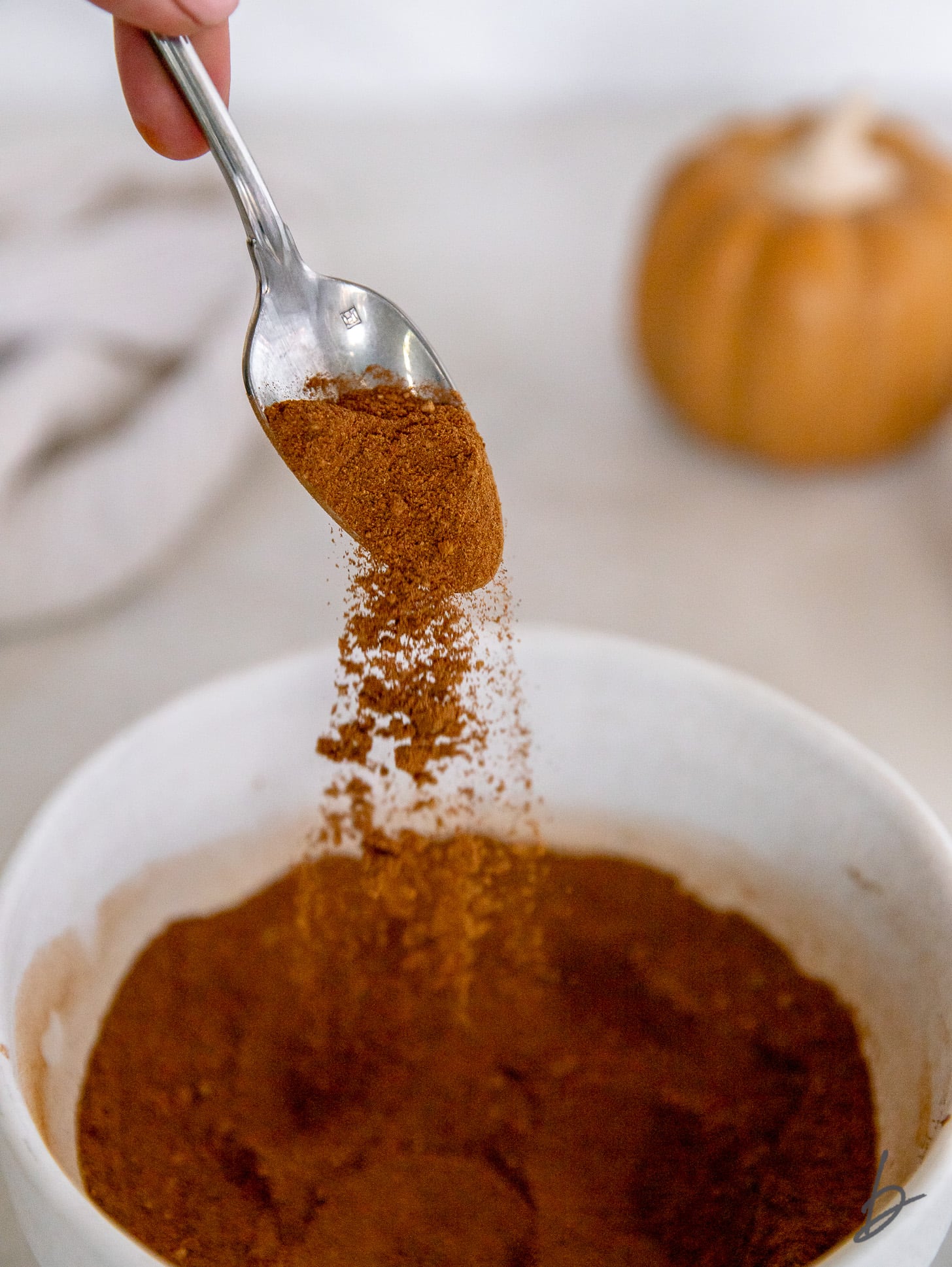 Related recipes
There are so many uses for pumpkin pie spice. You can add 1/2 teaspoon to overnight oats with chopped apple and pecans. You can also use it in pancake batter like I did for my fluffy pumpkin pancakes. My personal favorite are pumpkin muffins with streusel topping.
If you're looking for something sweeter, then my pumpkin cupcakes with cream cheese frosting are a delicious option. At Thanksgiving homemade pumpkin pie from scratch is a must or you can try these bite-sized pumpkin pies.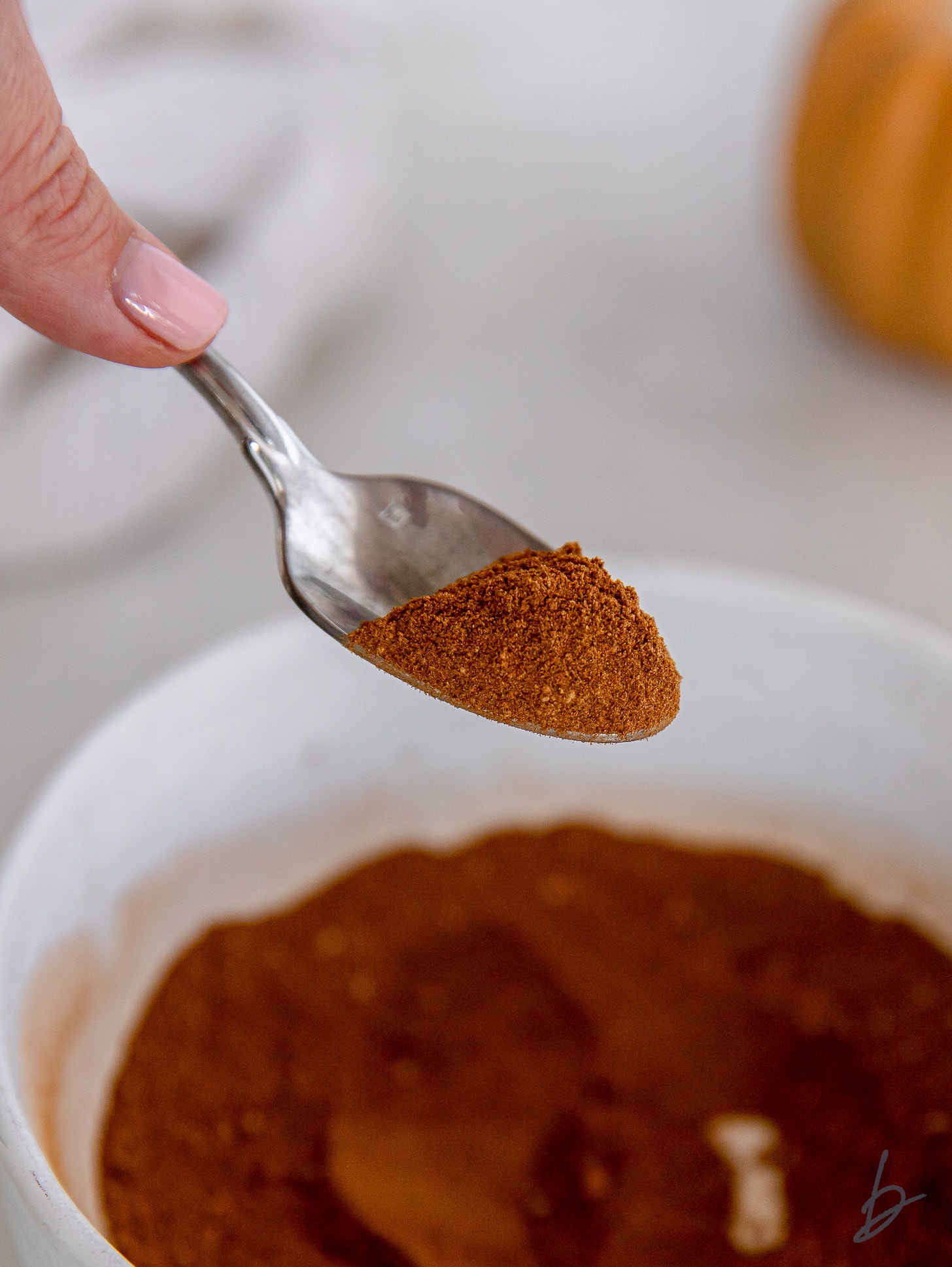 Can you believe how easy it is to make your own pumpkin pie spice? Honestly, I never buy the blend at the store because I can just make it at home and use it in whatever fall recipe I'm making. Homemade pumpkin pie spice can be doubled and tripled easily if you are making a lot of pumpkin desserts this fall!
If you used this pumpkin pie spice, tap the stars to leave a review or leave a comment. I read each and every comment from readers!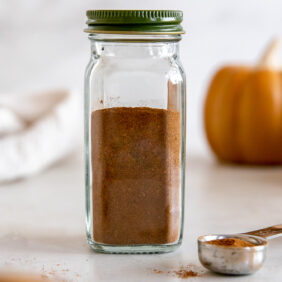 Get the Recipe:
Homemade Pumpkin Pie Spice
Homemade pumpkin pie spice is easy to make from scratch using cinnamon, ginger, nutmeg, cloves and allspice.
Ingredients
3

Tablespoons

ground cinnamon

1

Tablespoon

ground ginger

2

teaspoons

ground nutmeg

1

teaspoon

ground cloves

1

teaspoon

ground allspice
Instructions 
Add cinnamon, ginger, nutmeg, cloves and allspice to a small bowl and whisk to combine. Use as directed in recipe or store in an airtight container until ready to use.
Notes
Ratio adjustments: If you like a milder pumpkin spice, add another teaspoon of cinnamon. If you like spicer, stronger flavor, increase cloves and allspice to 1 1/2 teaspoon each. Cloves vs. allspice: Cloves have a slightly sweeter flavor and allspice has a subtle pepper flavor. However, both spices are similar and pungent so they are interchangeable if you don't have one on hand. If you do not have cloves, then omit it and increase the measurement of allspice (or vice versa). I do recommend using at least one of the two for flavor.
Serving:
0.5
teaspoon
,
Calories:
3
kcal
,
Carbohydrates:
1
g
,
Protein:
0.1
g
,
Fat:
0.1
g
,
Saturated Fat:
0.04
g
,
Polyunsaturated Fat:
0.01
g
,
Monounsaturated Fat:
0.01
g
,
Sodium:
0.4
mg
,
Potassium:
7
mg
,
Fiber:
1
g
,
Sugar:
0.1
g
,
Vitamin A:
3
IU
,
Vitamin C:
0.1
mg
,
Calcium:
9
mg
,
Iron:
0.1
mg