No Knead Artisan Bread Recipe
This post may contain affiliate sales links. Please see my
privacy policy
for details.
No knead artisan bread is a recipe that requires only 4 ingredients. Making artisan bread from scratch is easy and will impress your friends and family!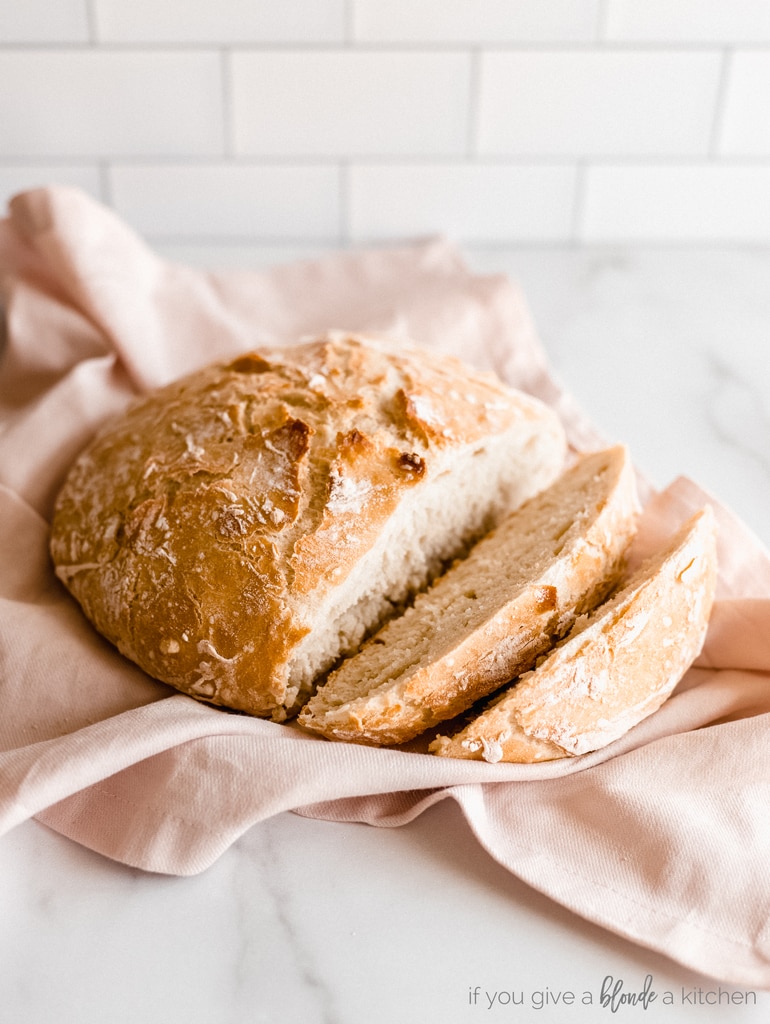 There are certain recipes that everyone should master in the kitchen and bread is one of them. This no knead bread recipe is simple to learn and will without a doubt impress house guests. Many think that in order to make good bread from scratch a bread maker is necessary (or at the very least a lot of kneading by hand). I will even admit that I once believed one of the two were needed.
Lucky for all of us, that turns out to be false. Good artisan bread is achievable sans bread maker (as for the hand kneading, you can leave the arm work out for the gym). What you will need is a dutch oven. Le Creuset makes a high-quality dutch oven that lasts for decades, but there are also more budget-friendly options too (like this less expensive dutch oven).
What is artisan bread? Artisan bread is a fresh, homemade bread with a crusty exterior giving it a rustic appearance. An artisan is a person who works with their hands, which many bread makers do. On the contrary, this bread recipe requires very little work with your hands as there is no kneading involved!
Ingredients overview
All-purpose flour: I like that this recipe does not use bread flour because all-purpose is an ingredient that I always have in my pantry.
Yeast: Instant yeast works best in the recipe, however active dry yeast may be used as well. If you use active dry yeast, allow bread to rise a little longer.
Salt: Coarse kosher salt is ideal for taste. Table salt works in a pinch (pun intended).
Room temperature water: Warm water makes yeast work more quickly, so room temperature slows down the rising process and yields a better flavor.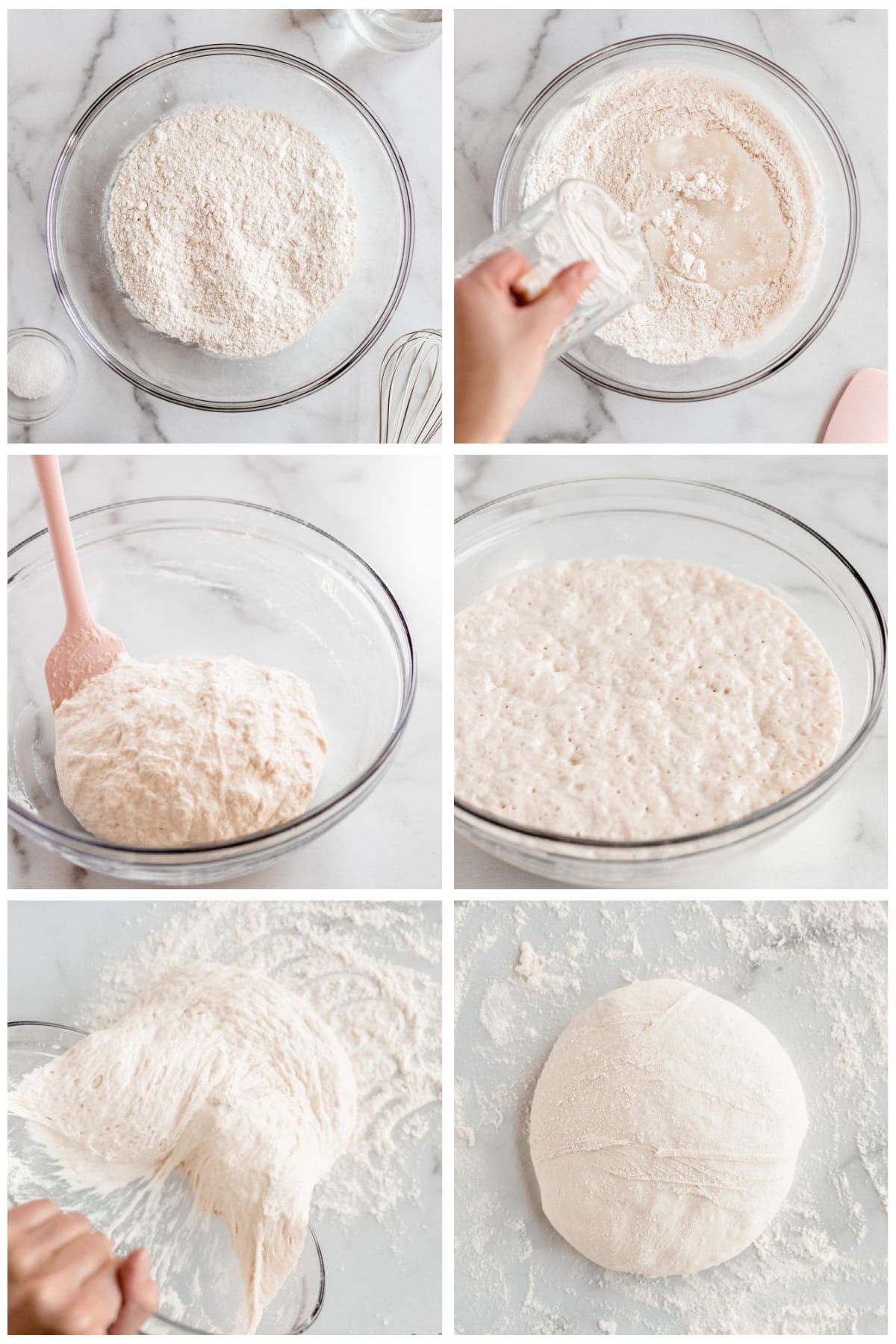 How to make no knead bread
Whisk the flour, salt and yeast together. Use a big bowl so the dough has room to rise.
Add the water. Use a spatula, wooden spoon or your hands to combine the ingredients into a shaggy ball. Make sure all the flour is moistened. The dough will be sticky.
Let dough rise. Cover the bowl tightly with plastic wrap. Allow dough to rise at room temperature for 12 to 18 hours.
Preheat oven to 450 F. Place your dutch oven pot in the preheated oven and allow the pot to heat up for at least 30 minutes.
Shape dough into ball. Place risen dough on a floured work surface. Shape it into a ball tucking any loose seams underneath the ball. Remember no kneading!
Bake bread in the dutch oven. Remove heated dutch oven pot and place the dough ball inside. Cover with a lid and return the pot to the oven. Bake for 30 minutes with the lid on. Remove the lid and bake for 15 more minutes.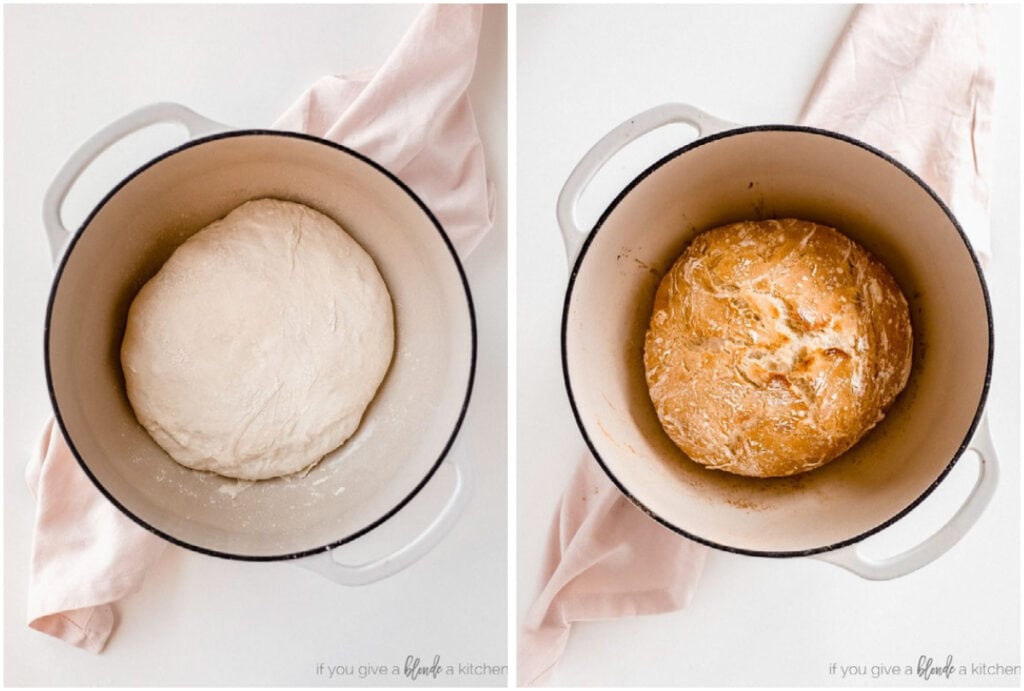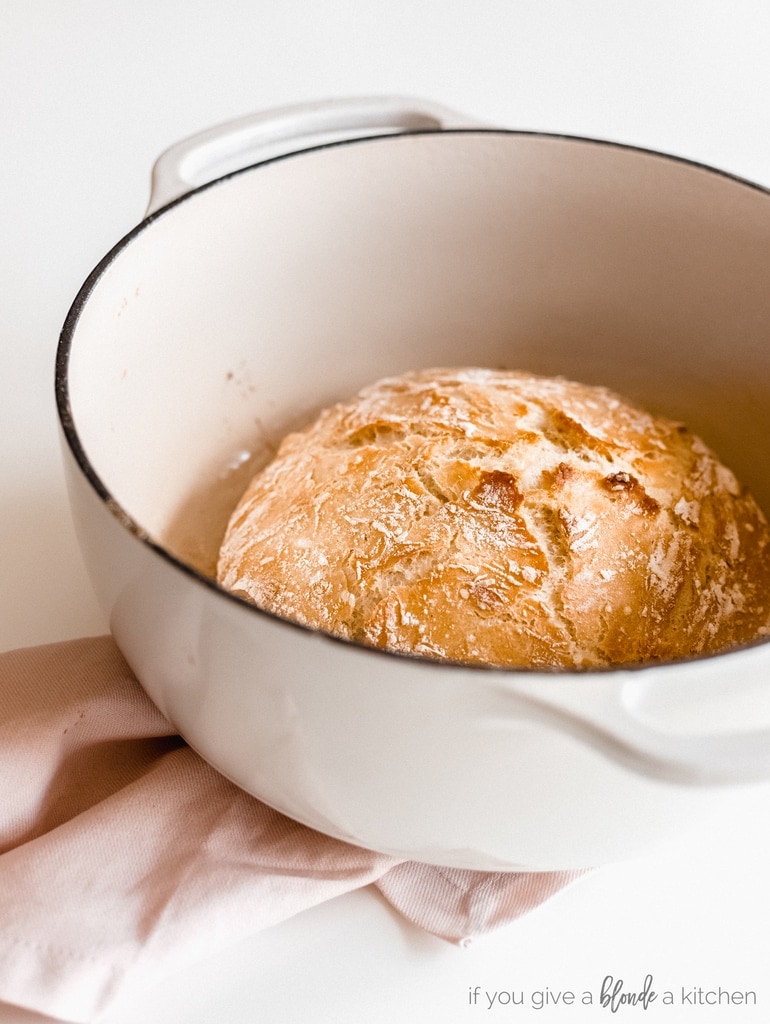 How to store bread
No knead bread can be stored in a paper bag or bread bag for a couple days. Keep the bread in dark cool place is best (like a bread drawer). It's best when eaten within two or three days, but once stale can be used in recipes such as french onion soup, Thanksgiving stuffing, and homemade croutons.
High altitude adjustments
This recipe was written and tested at sea level, but I have also made this bread at high altitude 5,280 feet in Denver, Colorado. After multiple recipe tests, I found that the only adjustment is reducing the amount of yeast to 1/4 teaspoon. If you are baking at higher altitudes, consider adding more water 1 Tablespoon at a time. Flour is dryer at higher altitudes and absorbs more water.
Frequently Asked Questions
Can I add herbs and spices to no knead bread?
Yes! A tablespoon and a half of dried spices is the perfect amount. Options include rosemary, fennel, thyme, tarragon, dill or an Italian blend.
Can I add flax?
Yes, about 2 tablespoons of flax seeds can be added with the dry ingredients.
Can I add honey?
Yes, 2 to 3 tablespoons of liquid honey can be added with the water.
Can I add raisins?
Yes, 1 cup raisins or dried cranberries may be added with the dry ingredients. The flour will coat the dried fruit so they distribute evenly (similar to my Irish soda bread).
Can I refrigerate no knead bread dough?
Yes, allow bread dough to rise first, then keep it covered and refrigerate for up to three days before baking.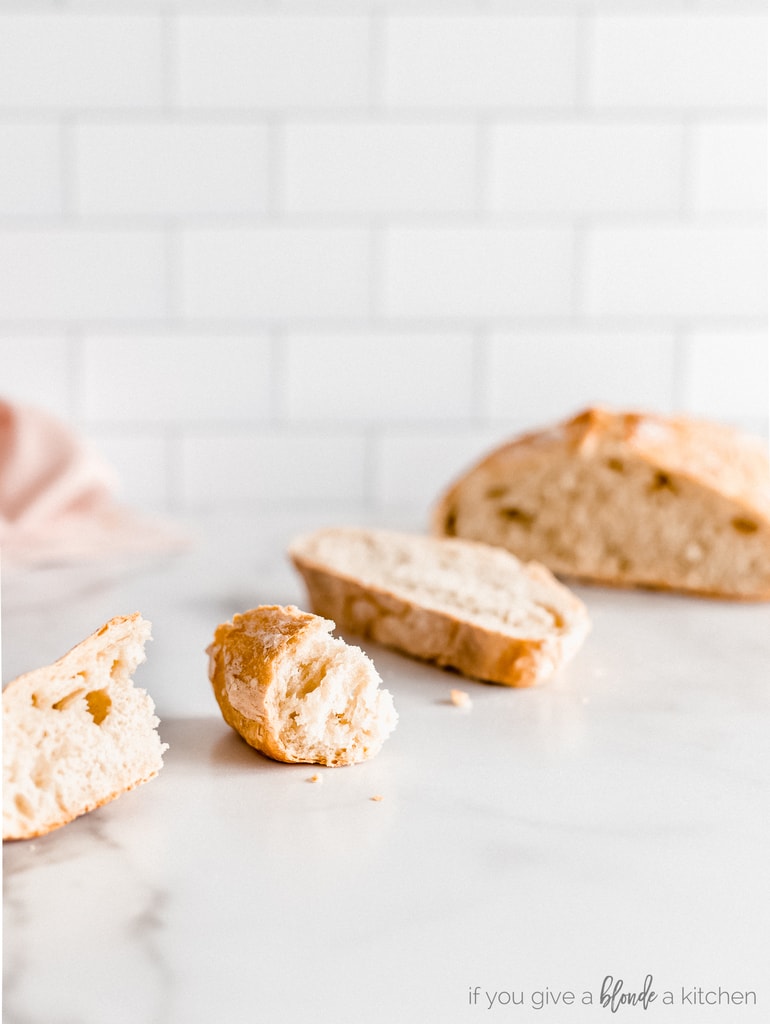 This bread is just like the loaves at the bakery. Tender, soft bread with the absolute crunchiest crust. I once was watching Barefoot Contessa and Ina mentioned that the key to knowing a bread is good is by how crunchy its crust is. Well, if that's the tell tale sign of a good bread, then this no-knead artisan bread passes.
Not only does this bread taste and look like it came from the bakery, it makes your entire kitchen smell like a bakery too! So if you have ever had the desire to make bread in your kitchen, now is the time to try. No kneading, no bread machine, no excuses!
Get the Recipe:
No Knead Bread
No knead bread is a recipe that everyone should have on hand. Making artisan bread from scratch is easy and will impress your friends and family!
Ingredients
3

cups

(360 g) all-purpose flour

1 ¾

teaspoon

salt

½

teaspoon

yeast

,

see notes

1 ½

cups

(355 ml) warm water (about 110° F)
Instructions 
In a large bowl, whisk together flour, salt and yeast. Pour in warm water and stir mixture with a wooden spoon (or with your hands, best tool in the kitchen!) until a shaggy ball forms. Cover bowl tightly with plastic wrap and allow to rise for 12 – 18 hours at room temperature. The dough will double in size and have tiny bubbles.

Preheat oven to 450° F. Once the oven has reached 450°, place a 5 or 6 quart quart cast iron pot covered with a lid into the preheated oven. Heat pot for 30 minutes.

Meanwhile, turn dough out onto a heavily floured cloth towel then shape dough into a ball. Push any seams on the underside of the ball. Cover dough with cloth and allow to rest while pot is heating.

Carefully remove pot from oven. With floured hands, carefully drop dough into hot pot (you DO NOT need to grease the pot) cover with lid, then immediately return pot to oven and bake 30 minutes (at 450°).

After 30 minutes, remove lid from pot and bake uncovered for 15 minutes.

Remove from oven and allow bread to cool on a cooling rack. Once completely cooled, bread stores well in an open paper bag–it helps the bread maintain it's crisp crust.
Notes
Yeast: Instant yeast works best, but active dry yeast works too. If using active dry yeast, rising times may be slightly longer (look for dough to double in size).
Storing no knead bread: Keep in a paper bag or bread bag for up to three days. Best when eaten within one day of baking.
Suggested tools:
Cast iron dutch oven – the weight and heat of a dutch oven allows bread to bake and create a crusty exterior. This is the one I own and love it. 
Kitchen scale – weighs the ingredients for exact measurements.
High altitude adjustments: Dough rises more quickly at high altitude due to less air pressure. Here are the changes I made in Denver, CO (altitude 5,280 ft/1,609 m). At high altitude use 1/4 teaspoon yeast. You will likely need a little more water since flour is dryer at high altitude. (Note: This recipe was written for sea level).
Serving:
1
slice
,
Calories:
173
kcal
,
Carbohydrates:
36
g
,
Protein:
5
g
,
Fat:
1
g
,
Saturated Fat:
1
g
,
Sodium:
510
mg
,
Potassium:
57
mg
,
Fiber:
1
g
,
Sugar:
1
g
,
Calcium:
7
mg
,
Iron:
2
mg