Five-ingredient easy homemade cannoli dip recipe takes 15 minutes to make and can be stored in the fridge up to two days before serving.

Cannoli filling is, in my opinion, like an Italian cheesecake. Two different types of Italian cheese—ricotta and mascarpone—melded together and sweetened with a bit of vanilla and confectioners' sugar. But instead of serving it on a graham cracker crust (like our American cheesecake), it is served inside a fried shell, or in the case of this cannoli dip, with wafer cookies.
Leave it to Americans to take a lovely Italian dessert and make it into a dip. Don't get me wrong, I'm not complaining, but you must admit it is very American to do such a thing. Take the filling from a cannoli, spoon it into a bowl and serve with wafer cookies. Sounds like a recipe for deliciousness.

If you think about it, cannoli dip is an easier way to eat the Italian dessert. There's no chance of the filling falling out the back end or the entire shell crumbling when bitten into. Not to mention you save time by not having to fill each cannoli shell and dipping the ends in mini chocolate chips. Just fold in the chocolate chips (maybe a sprinkle a few on top for presentation) and serve with a plate of wafer cookies.
I would serve cannoli dip at a birthday party or a holiday party. What occasion would you serve this dip for? The possibilities are endless!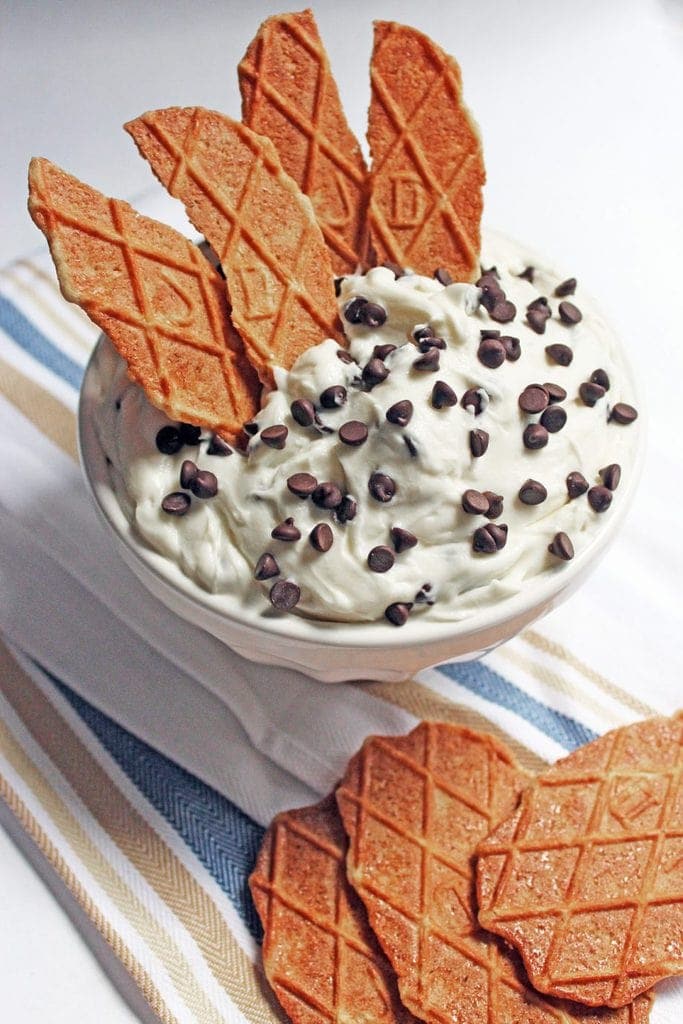 I found these wafer cookies at Whole Foods and I'm sure there are similar cookies at other local grocery stores. If you can't find wafers, you can always serve this cannoli dip with graham crackers or vanilla wafers!
Maybe when I'm feeling more adventurous I will make my own cannoli shells (or perhaps homemade cannoli chips?) and serve it with the filling. In the meantime, this easy cannoli dip is the perfect treat for large parties. Just take a wafer cookie, dip and enjoy!
Ingredients
1 (15 ounce) container ricotta cheese, drained (about 2 cups)
1 (8 ounce) package mascarpone cheese (about 1 cup)
1 1/2 cups confectioners' sugar, sifted
1 teaspoon vanilla extract
1 cup miniature semisweet chocolate chips
Instructions
In a medium bowl, beat ricotta cheese and cream cheese together until smooth. Slowly add the confectioners' sugar and vanilla. Continue to mix until the sugar is completely incorporated. With a rubber spatula or large spoon, fold the mini chocolate chips into the cheese mixture.
Cover the bowl in plastic wrap and chill in the fridge for at least 10 minutes or up to two days. Serve with pizzelle cookies or waffle cones broken into chip-size pieces to scoop cannoli dip and enjoy!
Notes
Cream cheese may be substituted for mascarpone.
6.8
http://www.ifyougiveablondeakitchen.com/2016/02/06/easy-cannoli-dip/
If You Give a Blonde a Kitchen
Inspired by
allrecipes
.