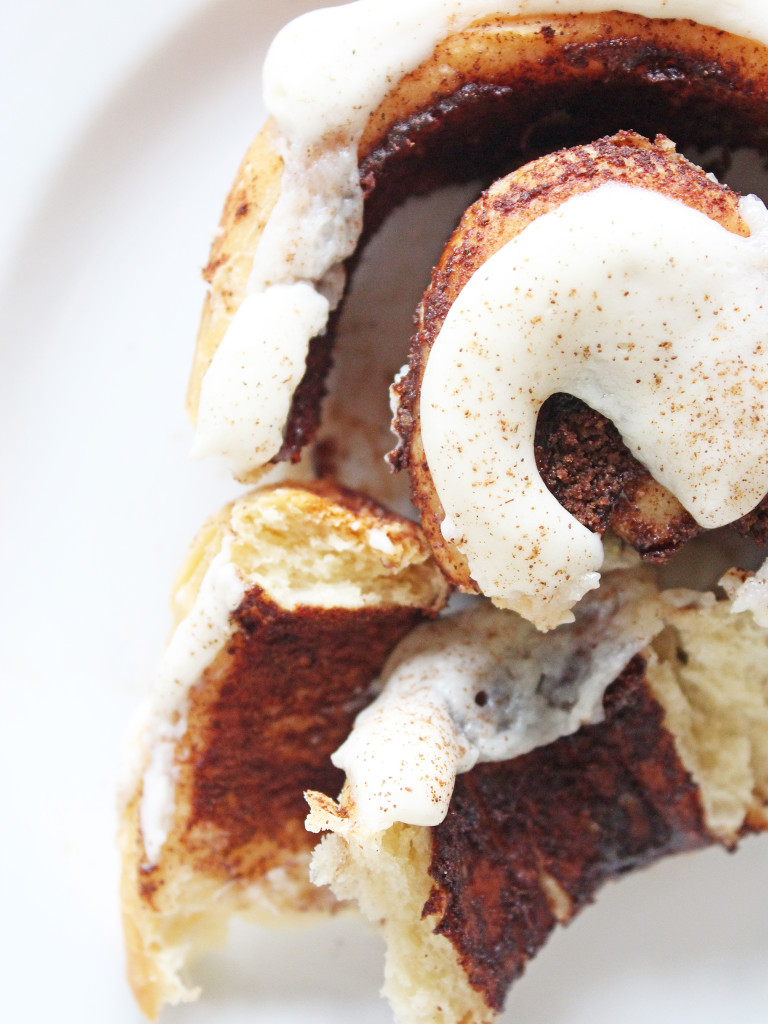 What is it about cinnamon rolls that leaves you wanting more? Is it the flaky roll? The cinnamon sugar swirl? The ooey, gooey cream cheese glaze? It's safe to say that it's all three and they're even better homemade using this recipe.
It's been a while since I made cinnamon rolls from scratch. Years perhaps. And when that craving for cinnamon rolls comes around, there are very few things that can satisfy it. So I listened to my sweet tooth once again and started reaching for my ingredients.
Before we get into the recipe, let me start off by saying that homemade cinnamon rolls are not the easiest of recipes. They are completely doable if you can follow instructions and have a few free hours. It's really just a bit of assembly—sprinkling the cinnamon sugar filling, rolling out the dough and slicing the log into disks—and waiting for the dough to rise (give yourself 3 hours). I do suggest using a dough hook
 for your KitchenAid to give the dough the perfect amount of kneading.
With that said, every step taken to assemble to rolls and minute spent waiting for the dough to rise is well worth it. Your patience will be rewarded with that ooey, gooey, flaky cinnamon roll that I mentioned earlier. You know what they say, goods things come to those who wait and these cinnamon rolls are well worth the wait.
Haley D. Williams
Yields 12
Cinnamon Rolls with Cream Cheese Icing
3 hrPrep Time
25 minCook Time
3 hr, 25 Total Time
Ingredients
Dough

1/2 cup milk
8 tablespoons (1 stick) unsalted butter, room temperature
1/2 cup warm water
2 1/4 teaspoons instant yeast
1/2 cup sugar
1 large egg plus 2 large egg yolks
2 teaspoons vanilla extract
1 1/2 teaspoon salt
4 to 4 1/4 cups unbleached, all-purpose flour, plus extra for dusting work surface

Icing

8 ounces cream cheese, softened but still cool
2 tablespoons corn syrup
2 tablespoons heavy cream
3/4 cup to 1 cup confectioners' sugar, sifted
1 teaspoon vanilla extract
Pinch of salt

Filling

3/4 cup packed light brown sugar
3 tablespoons ground cinnamon
Pinch of salt
Instructions
For the dough

Heat the milk and butter in a small sauce pan over medium heat until it melt (this can also be done in the microwave). Remove the pan from the heat and set aside until the mixture is lukewarm. If it separates, give it a little stir.
In the bowl of a stand mixer fitted with a paddle, mix together the water, yeast, sugar, egg and yolks, and vanilla until well mixed. Add the salt, milk mixture and 2 cups of the flour, and mix at medium speed until thoroughly blended, about 1 minute.
Switch to the dough hook and add the remaining 2 cups of flour, and knead at medium speed until the dough is smooth and clears the sides of the bowl, about 10 minutes. If dough is not clearing the sides, add a tablespoon or two of flour.
Scrape the dough onto a lightly floured work surface and shape the dough into a round. Place it in a large bowl that is very lightly oiled (either using non-stick spray or canola oil on a paper towel) and cover the bowl with plastic wrap. Leave in a warm, draft-free spot until doubled in bulk, 1 1/2 to 2 hours.

For the Icing

While the dough rises, combine all of the icing ingredients* in the bowl of a standing mixer (or using a hand mixer) and blend together at low speed until roughly combined, about 1 minute. Increase speed to high and mix until the icing is uniformly smooth and free of cream cheese lumps, about 2 minutes. Transfer icing to a small bowl and refrigerate.

To Roll and Fill the Dough

After the dough has doubled in size, punch it down and turn it out onto a lightly floured work surface. Using a rolling pin, shape the dough into a 16 by 12-inch rectangle with the long side facing you.
Mix together the filling ingredients in a small bowl and sprinkle the filling evenly over the dough, leaving a 1/2-inch border at the edge farthest away from you.
Beginning with the long edge closest to you, use both hands to roll the dough, pinching it with your fingertips as you go. (Some of the filling may sprinkle out the ends, don't worry!) Moisten the top border (where you left that 1/2-inch space) with water and seal the roll. Lightly dust the roll with flour and press on the ends if necessary to make a uniform 16-inch cylinder.
Grease a 13 by 9-inch baking dish. Place a piece of dental floss under the rolled dough, 1 inch from the end. Bring the floss up around the dough and cross it over the top, cutting through the dough and filling. Repeat at 1-inch intervals. Place the rolls, cut-side up, evenly in the prepared baking dish. Cover with plastic wrap and place in a warm, draft-free spot until doubled in bulk, 1 1/2 to 2 hours.

To Bake the Rolls

When the rolls are almost fully risen, adjust an oven rack to the middle position and heat the oven to 350° F. Bake the rolls until they are very light golden, about 25 to 30 minutes.
Cool in the pan for 5 minutes. Very carefully, holding the baking dish by the handles, invert rolls onto a wire rack to cool for 5 more minutes. Turn the rolls upright on a large serving plate. Transfer icing to an icing bag, or use a spatula, to spread the icing on the cinnamon rolls. Serve immediately.
Notes
*For the icing, I advise starting with 3/4 cup confectioners' sugar and then gradually add the remaining 1/4 cup until your reach your desired consistency. 3/4 cup will result in a thinner icing, while 1 cup will provide a frosting-like consistency.
7.6.4
79
https://www.ifyougiveablondeakitchen.com/2015/12/01/cinnamon-rolls-with-cream-cheese-icing/
If You Give a Blonde a Kitchen
Recipe inspired by Baking Illustrated.