Seven Must-Have Baking Cookbooks
This post may contain affiliate sales links. Please see my
privacy policy
for details.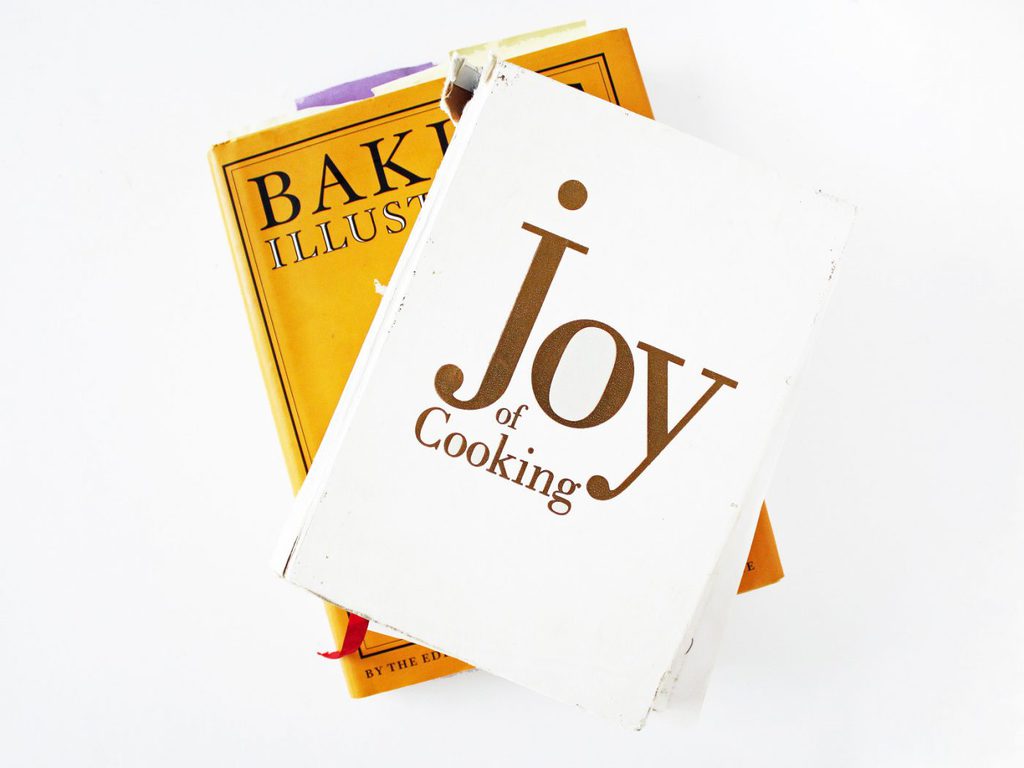 I would be lost without my baking cookbooks. As wonderful as the internet is, there is something to be said for a well-written cookbook with a compilation of tried-and-true recipes for the home baker. I have put together my must-have list of baking cookbooks that I recommend for bakers of all levels.
When it comes to baking cookbooks, I look for a few things: Reliable recipes with crystal-clear instructions; a glossary of important terms and techniques for reference; and a distinct voice. Now that can be Julia Child writing a recipe for croissants as if she was right there in your kitchen telling it to you or it can be the editors of Cook's Illustrated Magazine giving you a lesson in pie crusts as if you were sitting in a baking class. Either way I want baking cookbooks to educate (and entertain) me while making me a better baker. With that said, I have compiled a list of baking cookbooks that meet those qualifications. Enjoy!
Seven Must-Have Baking Cookbooks
Title . . . Joy of Cooking (Get it here.
)
Author . . . Irma S. Rombauer, Marion Rombauer Becker and Ethan Becker
Why you need it . . . Julia Child called it "a fundamental resource for any American cook." I named mine "The Notorious J.O.C." No matter how you refer to the Joy of Cooking, it is a staple in the library of cookbooks. My mom's JOC is coming apart at the seams from all the use. I referenced the conversion charts and ingredient substitutions so often I basically have them memorized. The newer JOC editions have illustrations that focus on techniques, (think everything from knife skills to splitting cake layers).
Must-try recipes . . . Butter spritz cookies, apple pie, coffee cake
Title . . . Baking Illustrated: A Best Recipe Classic (Get it here.
)
Author . . . Cook's Illustrated Magazine Editors
Why you need it . . . I have learned SO much valuable baking information from this book. Before every recipe the editors share their trial-and-error methods to perfect the dish. For instance, why you need to flour your blueberries before adding them to muffins or what happens when you add an extra egg to your brownies. It helps you understand the science behind baking, which ultimately makes you an educated (and better) baker.
Must-try recipes . . . Triple chocolate brownies, congo bars, almond biscotti
Title . . . Baking with Julia: Savor the Joys of Baking with America's Best Bakers (Get it here.
)
Author . . .  Dorie Greenspan with an introduction by Julia Child
Why you need it . . . If you watched the PBS show Baking with Julia in the '90s (or reruns today), then you will appreciate this book. It is the hardcopy version of the episodes where she invited prominent bakers such as Marcel Desaulniers and Martha Stewart into her home in Cambridge, Mass. Julia mentions in the introduction, "These are the building blocks upon which hundreds of pastry and cake recipes are based." I appreciate the step-by-step photographs that demonstrate the European baking techniques Julia learned in France. To make the cookbook an even more enjoyable read, Dorie Greenspan threads the recipes together with her words of wisdom.
Must-try recipes . . . Brioche, meringues, croissants, flaky pie crust
Title . . . Baking: From My Home to Yours (Get it here.)
Author . . . Dorie Greenspan
Why you need it . . . Dorie has made the rounds in the culinary industry working with the likes of Julia Child, Pierre Homme, Daniel Boulud, and more. It's as if you took a bit of each of their talents, stirred them together with Dorie's innate passion for baking and this cookbook was the result. She writes her recipes like Julia, reveals the secrets to some of Pierre's legendary desserts and makes everything tangible to the at-home baker. In her Dessertmaker's Glossary, Dorie divulges her how-to's and tricks in the kitchen.
Must-try recipes . . . Raisin swirl bread, sticky buns, toasted almond scones
Title . . . The Fannie Farmer Baking Book (Get it here.
)
Author . . . Marion Cunningham
Why you need it . . . This is where you find the good ole-fashion, American-rooted recipes. Fannie Farmer garnered attention in Boston during the late 1800s and her recipes are still around today because they are tried-and-true. It's perfect for those of you who are beginners in baking. You will learn basic techniques (such as beating eggs), what to look for in a recipe and what to avoid, as well as when and where it's okay to substitute ingredients.
Must try recipes . . . Chocolate chip cookies, lemon squares, devil's food cake
Title . . . The King Arthur Flour Baker's Companion: The All-Purpose Baking Cookbook (Get it here.
)
Author . . . King Arthur Flour
Why you need it . . . King Arthur Flour has been around for over 220 years. So when they released this book in 2003, they invited the baking community to become experts in flour and all the recipes that use it. This cookbook is perfect for those who appreciate a homemade loaf of bread. Yeast breads, quick breads, flat breads, sourdoughs—it's all here, plus much more.
Must-try recipes . . . Biscuits, buttermilk waffles, beignets
Title . . . The Baking Bible (Get it here.
)
Author . . . Rose Levy Beranbaum
Why you need it . . . If you are a serious home baker, Rose Levy Beranbaum's bible collection should be in your kitchen. This is her most extensive "bible" and includes every type of dessert imagineable with her renowned meticulous recipe instructions. You will fine-tune all five senses when baking with Rose.
Must try recipes . . . Red rose cake, mango bango cheesecake, white chocolate buttercream
This page may contain affiliate links. If you purchase one or more of the products after clicking one of my links, I receive a small commission (the price you pay is not affected). Thanks!