Butter spritz cookies are perfect for any holiday, especially Christmas! These tree-shaped cookies are buttery, sweet and easy to make.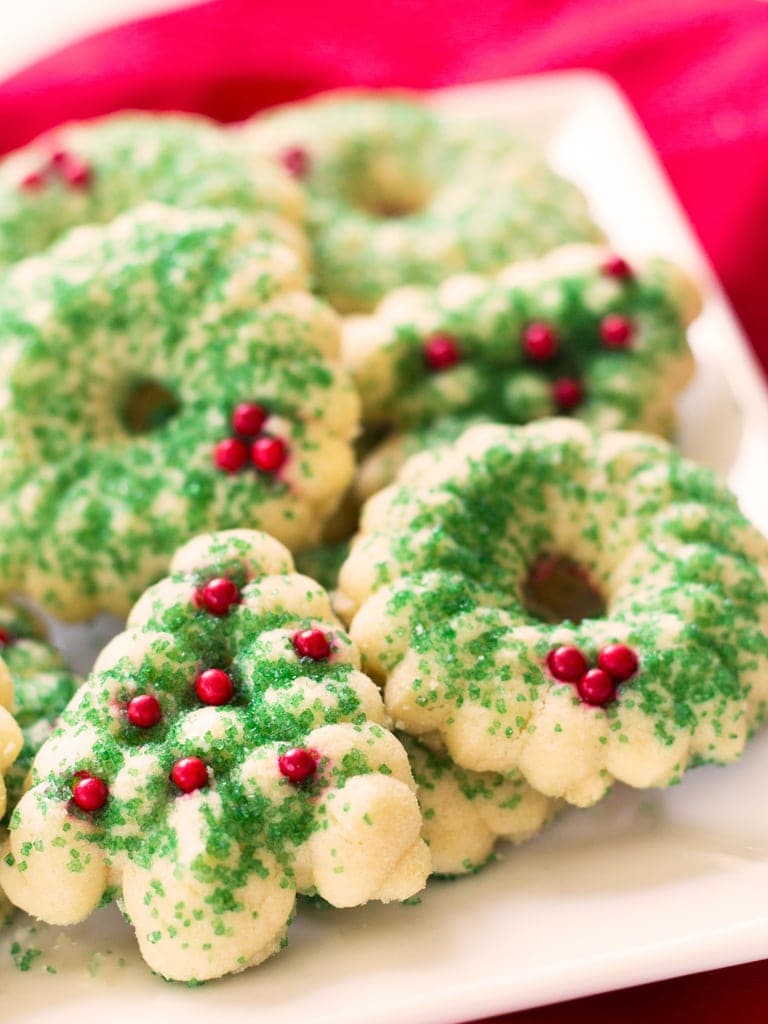 The air is getting chilly and the Christmas Day is in sight, which of course means more baking! I use all the red and green decorations in my baking repertoire and go to town. Today I made tree and wreath-shaped butter spritz cookies with plenty of sprinkles!
Butter spritz cookies have got to be one of my favorite cookies. My mom would make them all the time when I was growing up. It didn't matter if it was Christmas, Valentine's Day or just an ordinary Tuesday, butter spritz cookies are always a good idea.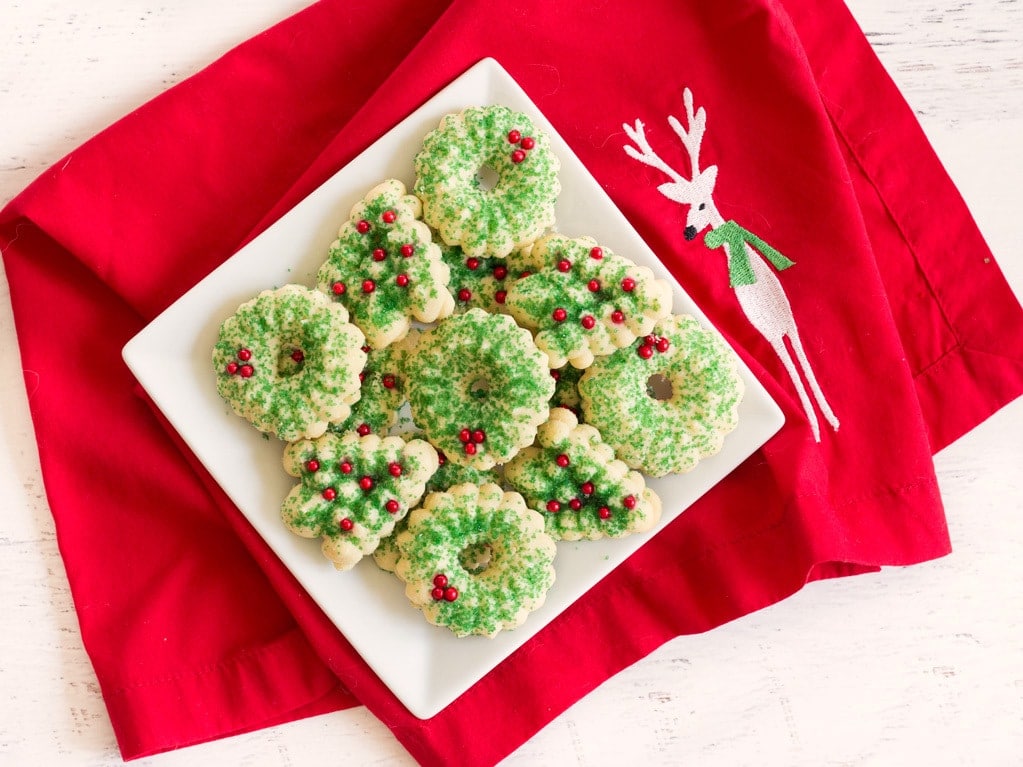 What are spritz cookies?
Spritz cookies are butter cookies that are made using a cookie press. They taste like sugar cookies, but more buttery. The work "spritz" originates from the German word "spritzen," which means to squirt. The cookie dough squirts or spritz out of the cookie press and onto the baking sheet.
How to make spritz cookies
This recipe has been passed down for a couple generations in my family. I'm pretty sure it originated from the first publication of Joy of Cooking (maybe). The recipe calls for butter, sugar, egg yolks, vanilla extract, almond extract and flour. Follow these instructions:
Preheat oven to 350 F. Grease cookie sheets and set aside.
Beat butter and sugar in the bowl of a stand mixer.
Add the egg yolks and vanilla. Almond extract is optional, but recommended for flavor.
Mix in flour and salt. Stir just until incorporated.
Transfer the dough to your cookie press fit with desired disc. Press onto prepared cookie sheet.
Bake for 10 minutes at 350 F.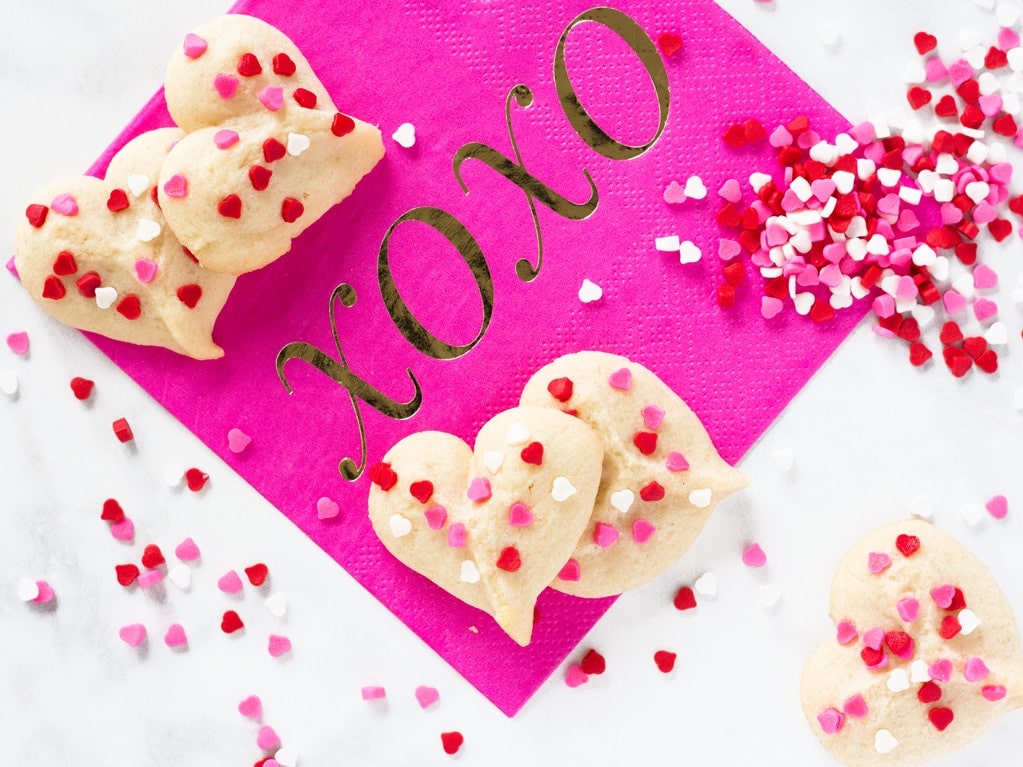 Almond spritz cookies
I think what makes these spritz cookies better than most is the use of almond extract. I love a sweet buttery cookie that has a hint of almond flavoring. That taste is irresistible to me (check out my almond bars if you love the flavor too). As good as almond extract is though, the cookies need something to balance them out, which is where the vanilla extract comes in. It steadies out the flavor so the almond isn't too overwhelming.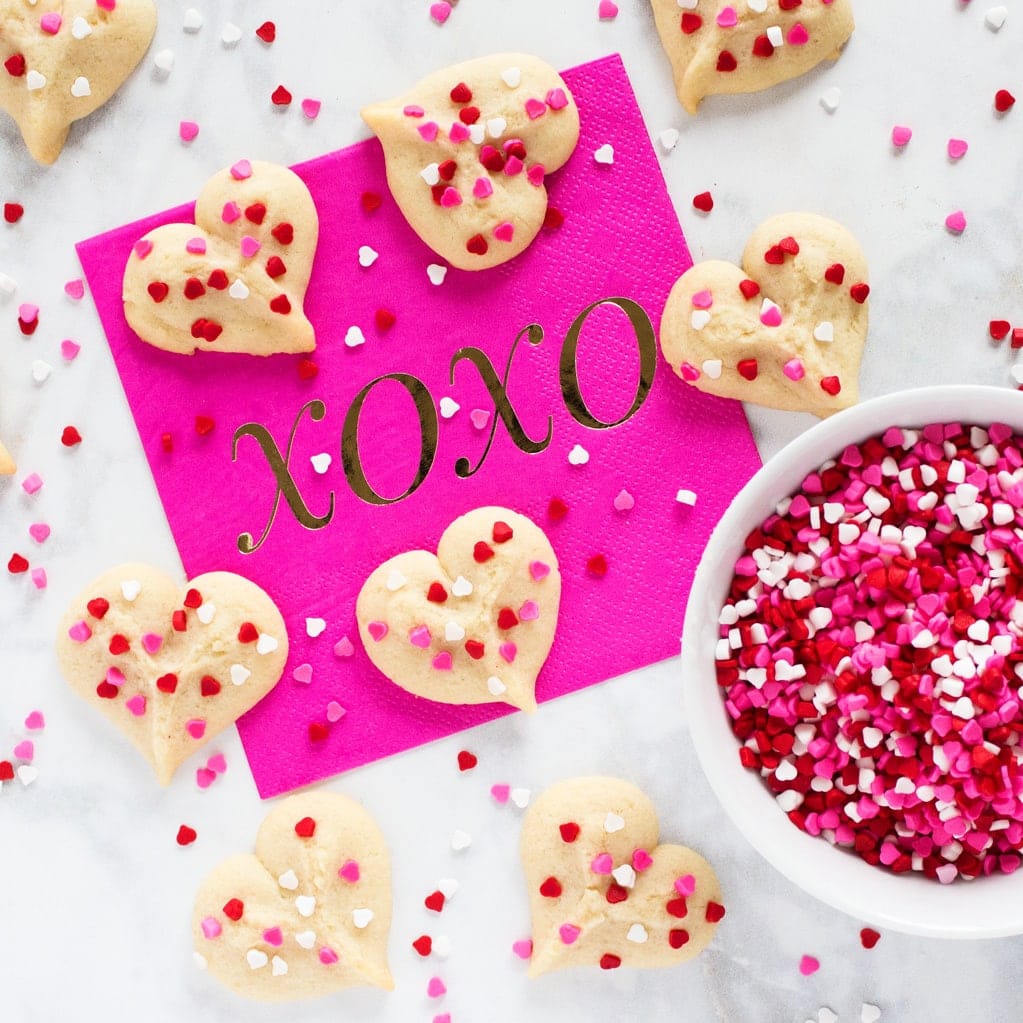 How to decorate spritz cookies
This is my favorite part! There are a few ways you can decorate spritz cookies. Obviously sprinkles are a nice touch and can be swapped out for the holidays. As you can see, I made heart spritz cookies for Valentine's Day. Speaking from experience, I have found that sugar sprinkles stick to the cookies better than normal sprinkles.
Other decorating ideas include dipping the cookies in chocolate and sprinkling with chopped nuts such as almonds or hazelnuts. You can also dye the cookie dough festive colors before pressing it onto the cookie sheet. More discs provide for festive shapes!
FAQ about spritz cookies
Can you make spritz cookies without a cookie press? Yes, place dough on floured work surface and roll it out to 1/4-inch thick. Use cookie cutters or a knife to cut the dough into shapes and bake.
What is the best spritz cookie press? The OXO brand makes a good one (available on Amazon here). My mom has an antique one that I personally love.
Can you refrigerate spritz cookie dough? Yes, chill the dough in an airtight container for up to 3 days. Bring dough to room temperature before pressing dough onto the cookie sheet.
Can you freeze spritz cookie dough? Yes, wrap the dough tightly in plastic wrap. Freeze for up to 3 months. Defrost in the refrigerator before bringing to room temperature and pressing dough onto cookie sheet.
Why won't my spritz cookies come out? Try greasing the tube with butter. If that doesn't work, the dough consistency might be off. If it's too dry, try adding a tablespoon of milk to the dough.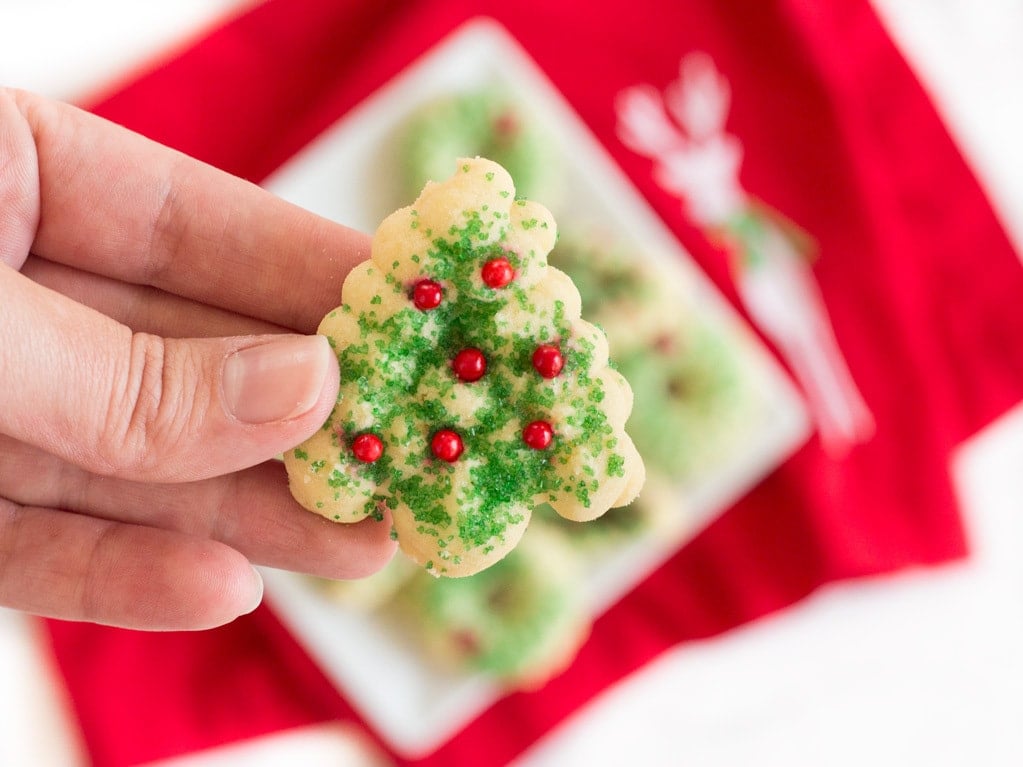 More cookie recipes
'Tis the season, right? Here are a few more cookie recipes to add to your holiday cookie plate.
Holiday Butter Spritz Cookies
Butter spritz cookies are perfect for any holiday, especially Valentine's Day! These heart-shaped cookies are buttery, sweet and easy to make.
Print
Pin
Rate
Ingredients
1

cup

(227 grams) unsalted butter,

room temperature

1/2

cup

(100 grams) granulated white sugar

2

large egg yolks

1 1/2

teaspoons

pure vanilla extract

3/4

teaspoon

almond extract

optional

2

cups

(250 grams) all purpose flour,

sifted

1/4

teaspoon

salt

Holiday sprinkles
Instructions
Preheat your oven to 350° F. Grease two baking sheets and set aside.¹

In the bowl of your electric mixer, or with a hand mixer, beat the butter and sugar until fluffy (2-3 minutes). Add the egg yolks and vanilla extract. Beat until incorporated. Scrape down the sides of the bowl as needed.

With the mixer on low, slowly add the flour and salt. Beat until incorporated, about 1 minute.

Scrape some of the dough into your cookie press that has been fitted with a decorative disc (follow manufacturer's instructions). Hold the cookie press perpendicular to your baking sheet, and press out the cookies.² Continue to press out the cookies, spacing about 2 inches apart. Decorate with desired sprinkles.

Bake cookies for 10 to 12 minutes or just until the edges of the cookies are turning golden. Gently transfer the cookies to a wire rack to cool completely. Store cookies in a covered container for up to a week.³
Notes
For this recipe I suggest greasing cookie sheets as opposed to lining them with parchment paper. When I used parchment paper, the pressed cookie dough wouldn't release from the cookie press.
If you find the dough is too soft, because the shape of the cookies is not clearly defined, then chill the dough.
Dough can be refrigerated for up to three days or stored in the freezer for up to a month. Allow frozen dough to defrost in the refrigerator then bring it to room temperature.
Suggested tools: Cookie press, stand mixer or hand mixer