This easy cut out sugar cookie recipe makes a simple sugar cookie made with cookie cutters. This is the perfect Christmas cookie as it holds frosting and can be made into truffles!
25 Days of Baking: Day 18
"SANTA! OH MY GOD! Santa's coming! There's so much to do!" Like bake these easy cut out sugar cookies!
It's that time of year again to make Santa's cookies. But which are his favorite? Christmas sugar cookies of course. Santa loves seeing all the creativity and love put into decorating his cookies, just ask Buddy the Elf
!
Before I jump in to the decorating though, let me introduce you to my favorite sugar cookie recipe. It easy, delicious and perfect for gifting around the holidays.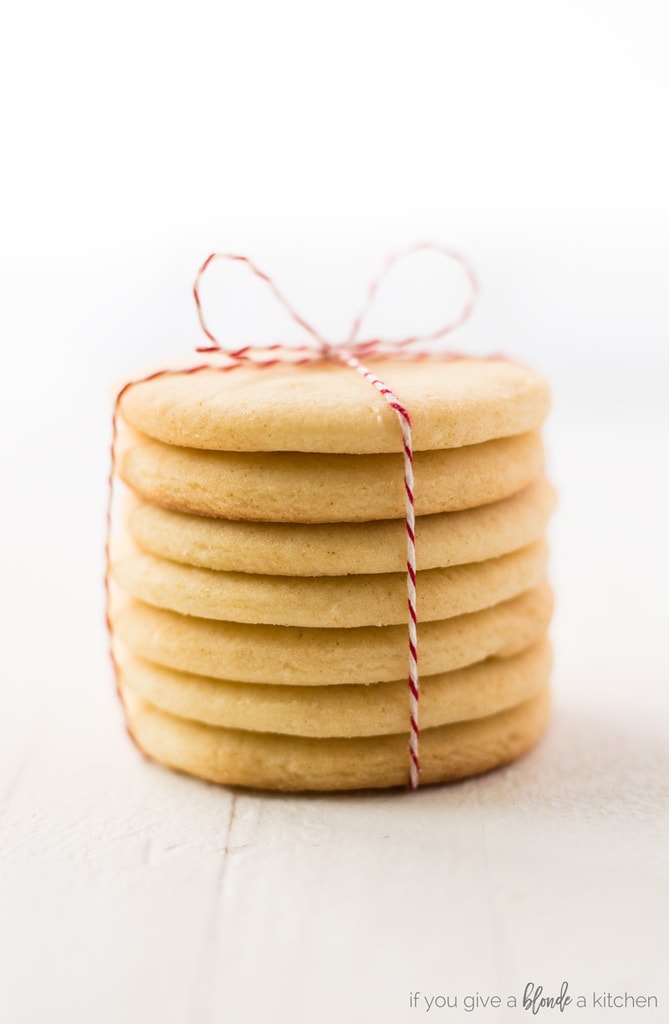 The recipe calls for confectioner's sugar as opposed to granulated sugar, which makes the cookies extra soft and melt-in-your-mouth perfection.
I always use a mix of almond extract and vanilla extract (teaspoon of each) for the perfect flavor balance. However, you can go full vanilla or almond if you prefer!
But perhaps my favorite thing about this recipe is that it requires no chilling. Yep, no need to wait an hour to refrigerate the dough. Simply mix the ingredients together and get right into rolling out the dough and cutting out cookies!
The cookies come out of the oven smelling delicious and as they cool they set into a sturdy, not quite hard, texture. You know, the kind of sugar cookies that can hold some frosting 😉
I've made this recipe with a simple circle cookie cutter and turned the cookies into sugar cookie truffles. Probably the best decision I ever made. The truffles are so popular at Christmas time!
Easy cut out sugar cookie recipe perks…
No chilling necessary for the dough
The recipe doubles easily
The royal icing hardens nicely for cookie stacking and gifting purposes
If you leave them out for Santa, I guarantee he will return the favor under the tree
Hurry down the chimney tonight… "Santa Baby" by Eartha Kitt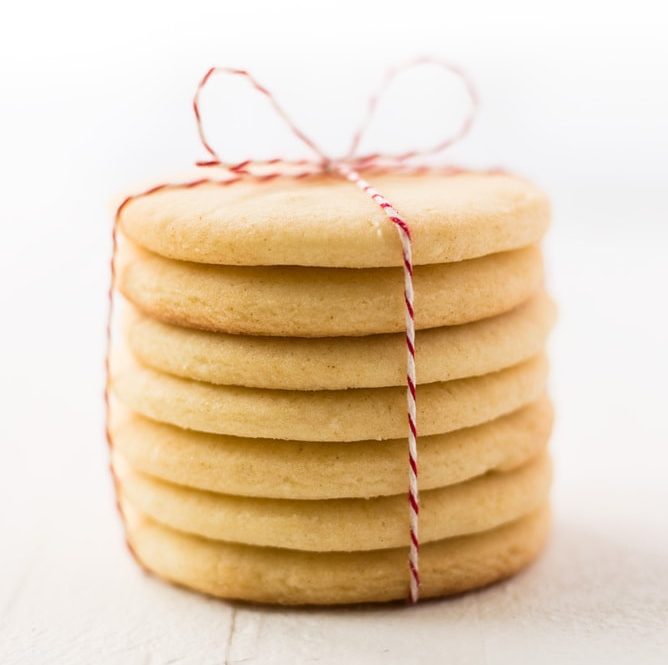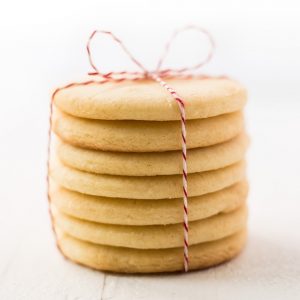 Easy Cut Out Sugar Cookie Recipe
This easy cut out sugar cookie recipe makes a simple sugar cookie made with cookie cutters. This is the perfect Christmas cookie as it holds frosting and can be made into truffles!
Print
Pin
Rate
Ingredients
2 1/2

cups

(312 g) all-purpose flour

2

teaspoons

baking powder

1

teaspoon

salt

1

cup

(226 g or 2 sticks) unsalted butter,

room temperature

1 1/2

cup

(187 g) confectioners' sugar

1

egg

2

teaspoons

vanilla extract

or almond extract
Instructions
Preheat oven to 400° F. Line baking sheets with parchment paper and set aside.

In a bowl, whisk together the flour, baking powder, and salt. Set aside.

In a large bowl, combine softened butter and confectioners' sugar using a hand mixer.¹ Beat until light and fluffy, about 1 to 2 minutes. Add the egg and vanilla, and beat until thoroughly incorporated, about 30 seconds. Scrape down sides as necessary.

With mixer on low, slowly add flour mixture to the bowl. The dough is ready when most of it sticks to the paddle. When touched, it has a little give, but does not stick to fingers.

Flour the work surface and roll dough to about 1/4 inch thick, using flour for dusting as necessary. Use cookie cutters to cut cookies and place on prepared baking sheet. Gather scraps and reroll dough when necessary.

Bake for 7 to 8 minutes, rotating halfway through. Allow cookies to cool on baking sheet for 2 minutes, then transfer to wire rack to cool completely.
Notes
Alternatively, you can use a stand mixer fitted with a paddle attachment.
If using different cookie cutter shapes, place cookies of similar size on the same baking sheet as they will bake at the same rate.
Store baked sugar cookies in an airtight container at room temperature for up to a week.
Sugar cookie dough can be stored in the refrigerator for a week or plastic wrapped in the freezer for 1 month. Let dough come to room temperature before rolling and baking.
If you would like to ice your sugar cookies, I suggest using this royal icing recipe! I use it every year for Christmas and gift the cookies to friends and family.
Meringue powder is the best ingredient to use for royal icing, but it can be hard to find. If you can't find it at your local grocery to or specialty cook store, try Amazon.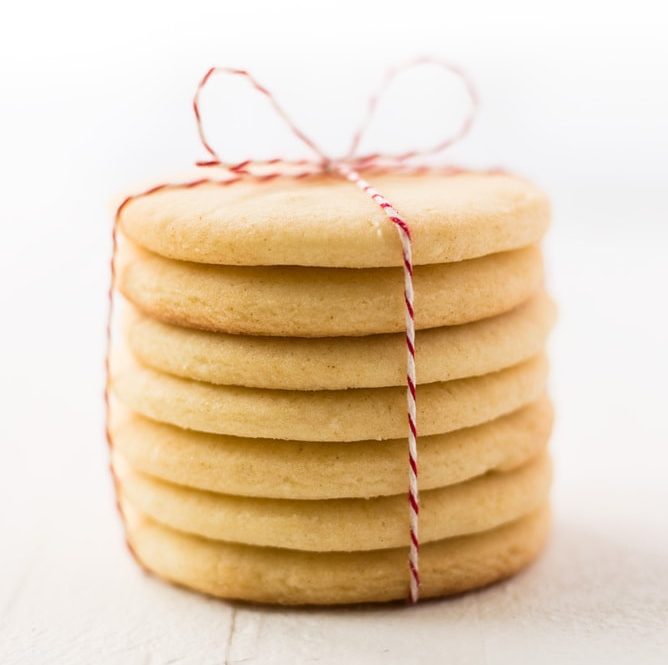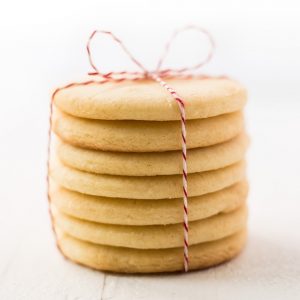 Ingredients
4

cups

(500 g) confectioners' sugar

sifted

4

tablespoons

meringue powder

2

teaspoons

vanilla extract

1/2

cup

plus 2 tbsp warm water
Instructions
In the bowl of a stand mixer fitted with the whisk attachment, combine confectioners' sugar and meringue powder on low speed, about 10 seconds.

Add the vanilla to the water and slowly add it to the dry ingredients while mixing. At first the icing will be very liquid-like.

Continue to mix it at medium-high speed until it is fluffy and stiff peaks form, about 7-10 minutes. Stop the mixer as soon as the icing becomes stiff (mixing times are approximate).¹

Put icing in different bowls and mix with food coloring of your choice. Transfer to pastry bags with desired tip and ice away!
Notes
Over mixing and oil-containing extracts can keep the icing from setting up, so keep this in mind as you work.
It is best to ice sugar cookies the day after you bake them. This keeps the oils (aka butter) in the cookies from seeping into the icing.
Recipe from The Sweet Adventures of Sugarbelle
If you like this easy cut out sugar cookie recipe, try these recipes…