No Bake Peanut Butter Balls with Rice Krispies
This post may contain affiliate sales links. Please see my
privacy policy
for details.
No bake peanut butter balls are made with only five ingredients⁠—peanut butter, butter, Rice Krispies, confectioners' sugar and chocolate. They are so easy to make and a crowd pleaser!
The 25 Days of Christmas Baking continues with Day 17. Peanut butter balls are one of the easiest treats to make. My mom makes dozens of them every Christmas and gifts them to neighbors and friends. I suggest purchasing a few cookie tins or boxes to hold all the peanut butter balls you will share!
The best part of this recipe is that you can make it in under 30 minutes and with only 5 ingredients. All you need is creamy peanut butter, butter, confectioner's sugar, Rice Krispies and chocolate.
Why this recipe works: The dynamic duo of peanut butter and chocolate is irresistible, especially with the sweet and salty combination going on. The recipe is no bake and yields plenty of peanut butter balls to share.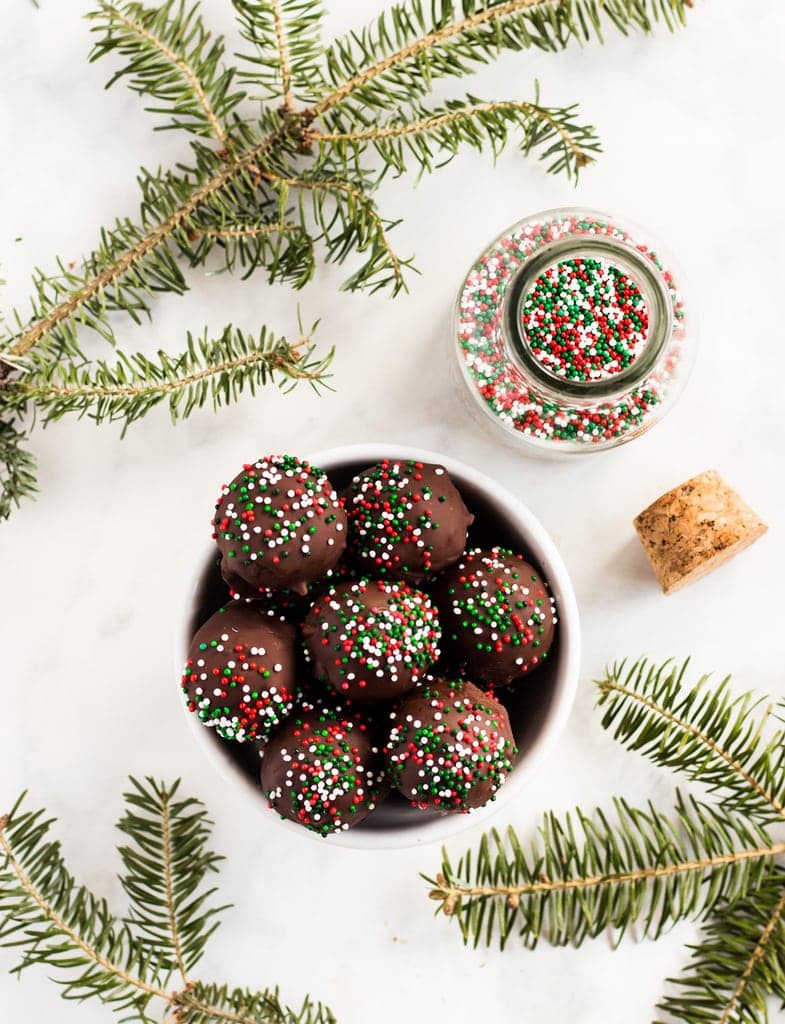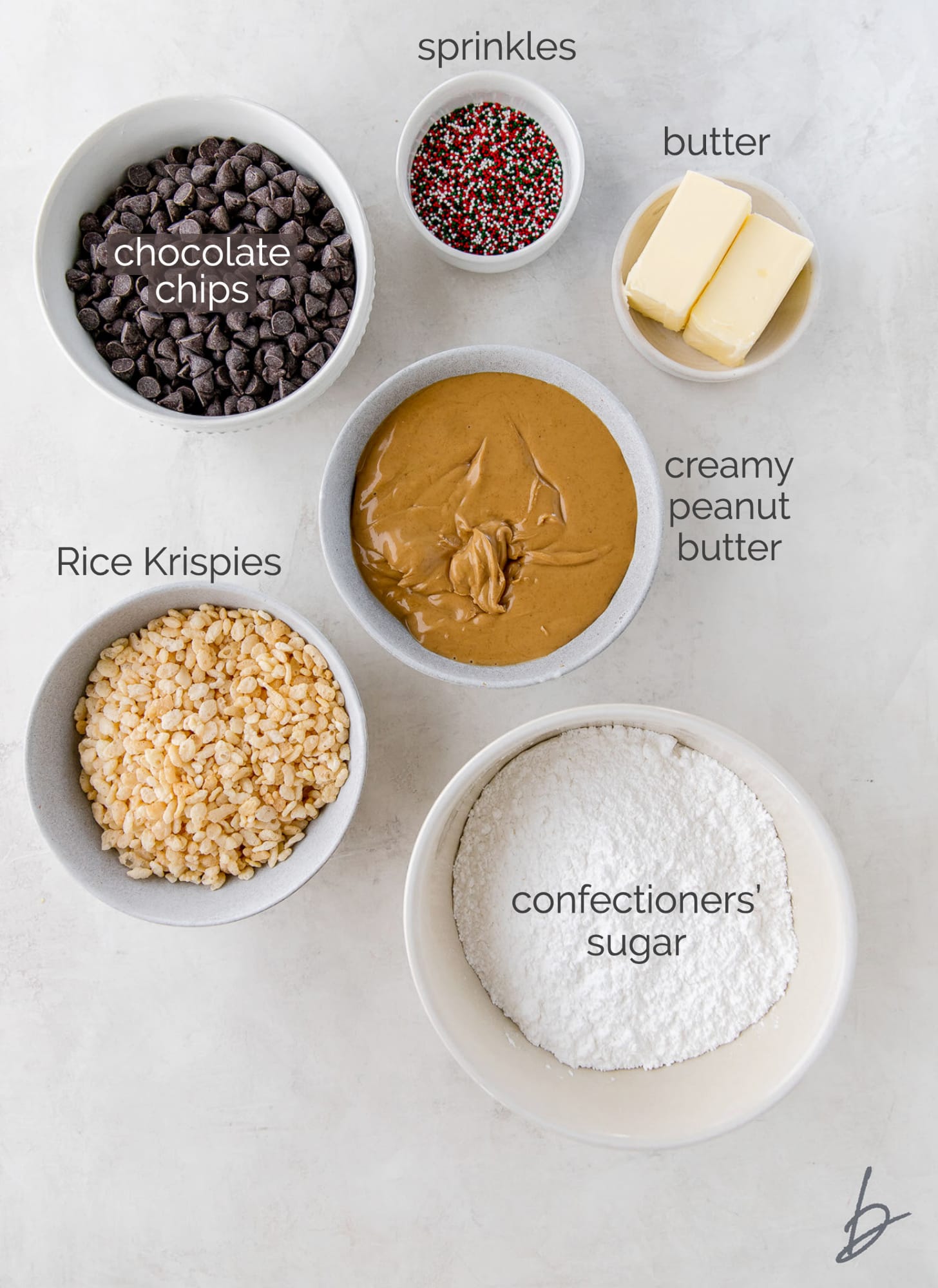 How to Make Peanut Butter Balls
Make the dough: Mix the peanut butter and butter first, then beat in the confectioner's sugar until smooth and finish off by stirring in the Rice Krispies by hand.
Form balls: Scoop the mixture into 1-inch balls and place on a parchment lined baking sheet.
Chill the balls: Place baking sheet in the refrigerator for 1 hour or the freezer for 15 minutes. This will help the balls keep their round shape.
Melt the chocolate: Place chocolate in a microwave safe bowl and heat it at 50% power level for 1 to 2 minutes, stopping every 30 seconds to stir until melted.
Dip the balls: Dip the chilled peanut butter balls in chocolate. Add sprinkles immediately after if desired.
Do you make a lot of chocolate-dipped desserts? I highly recommend getting these dipping tools! I use them for all my dessert truffles.
Tips for dipping peanut butter balls
If you want peanut butter balls to look round, then I have a few tips for you. First off, use good quality chocolate (I like Ghirardelli or baking chocolate). The chocolate melts more evenly and comes out smooth when dipped in chocolate.
For tips on melting chocolate, check out my post for how to melt chocolate, which includes how to use a double boiler to melt chocolate. If at any point the chocolate is starting to thicken up and harden, return it to the microwave for 15 seconds at 50% power level.
When dipping the balls, tap the dipping tool on the side of the bowl to remove excess chocolate then use a toothpick or knife to remove excess on the bottom. The toothpick/knife also helps cleanly transfer the peanut butter back to the baking sheet lined with wax paper or parchment paper. Remember to immediately add the sprinkles as the chocolate will harden up quickly.
Frequently Asked Questions
What is the best peanut butter to use?
Creamy peanut butter is the way to go. Avoid any peanut butter that is separated in the jar (where the oil is on top). Opt for a peanut butter that is "no-stir." I typically use Skippy All Natural. You can also use crunchy peanut butter, but the balls won't form a perfect sphere.
Do peanut butter balls need Rice Krispies?
In my opinion, Rice Krispies is what makes these peanut butter balls better than most. They add a crisp texture to each bite and makes the peanut butter slightly less overwhelming. When adding them in, stir gently and avoid over mixing so the cereal maintains its texture. If you don't like the texture, you can leave them out.
How to store peanut butter balls:
Store in an airtight container or holiday tin at room temperature for a week or in the refrigerator for 2 weeks.
Can you freeze peanut butter balls?
Yes, place the balls in an airtight container or plastic bag with parchment between layers so the balls don't stick together. Freeze for up to 3 months. Alternatively, you can freeze the dough before rolling it into ball (also for 3 months).
Related peanut butter recipes
I think we can all agree that peanut butter and chocolate is the ultimate duo, right? Here are a few of my favorite recipes featuring the killer combo…
Peanut butter blossoms are a favorite when it comes to Christmas cookies! Chocolate peanut butter bars have a shortbread crust, peanut butter filling and chocolate topping. Chocolate covered peanut butter popsicles are an easy and fun dessert year round!
No bake peanut butter balls always seem to disappear within days. If that is any indication of how good they are, then I highly recommend making them for Christmas! Don't forget to save a handful for yourself. Trust me, you will want them. If you liked this peanut butter balls recipe, leave a review below and tag @ifyougiveablondeakitchen on social media.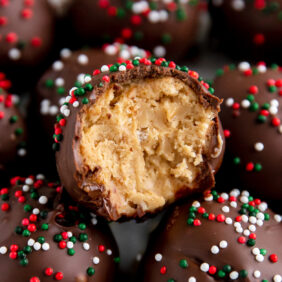 Get the Recipe:
Peanut Butter Balls
No bake peanut butter balls are made with only five ingredients. So easy to make and the best treat for peanut butter chocolate lovers!
Ingredients
1 ½

cups

(400 g) no-stir creamy peanut butter

,

(one 16 ounce jar)

3

cups

(360 g) confectioner's sugar

½

cup

(113 g or 1 stick) unsalted butter

,

room temperature

2

cups

(50 g) Rice Krispies

2

cups

(350 g) dark or semisweet chocolate chips

,

for dipping
Instructions 
In a stand mixer fitted with a paddle attachment, combine peanut butter and butter. Slowly add confectioner's sugar and then Rice Krispies. Mixing just until combined.

Scoop a full tablespoon. Roll into 1-inch balls and place on baking sheet lined with parchment paper or wax paper.

Place in freezer for at least 15 minutes to prevent misshaped balls.

When ready to dip balls, prepare a baking sheet lined with parchment paper. Place chocolate chips in a microwave-safe bowl and heat in the microwave on 50% power level. Start with 1 minute, stir the chips. Repeat on 50% power level, stirring every 20 seconds, until smooth.

Dip balls in melted chocolate and transfer to lined baking sheet. Immediately add sprinkles if desired. Once all the balls are covered in chocolate, place in fridge to firm up. Store in an air tight container in the fridge or at room temperature.
Notes
Measuring confectioners' sugar: I've done this recipe with sifted and unsifted confectioners' sugar—both work well! Just be sure to measure before sifting.
Tips for melting chocolate: If the chocolate starts to firm up during the dipping process, place back in the microwave for another 20 seconds. Never add water to melted chocolate! 
Tips for dipping balls in chocolate: I use these dipping tools  to dip any type of truffle in chocolate. The tools make it easier and make a nice smooth, rounded finish on each ball. Scrape the bottom of the balls with the skewer or tooth pick to remove excess chocolate before placing on prepared baking sheet.
Store peanut butter balls in an airtight container with parchment paper between layers. Keep at room temperature or in the fridge for up to a week. Peanut butter balls can also be stored in the freezer for up to a month.
Serving:
1
ball
,
Calories:
166
kcal
,
Carbohydrates:
17
g
,
Protein:
3
g
,
Fat:
10
g
,
Saturated Fat:
5
g
,
Cholesterol:
6
mg
,
Sodium:
62
mg
,
Potassium:
122
mg
,
Fiber:
1
g
,
Sugar:
13
g
,
Vitamin A:
164
IU
,
Vitamin C:
1
mg
,
Calcium:
32
mg
,
Iron:
1
mg